Description - Memorial Object
Floor slab of Pouwels Jansz. (van Dirckxhorn)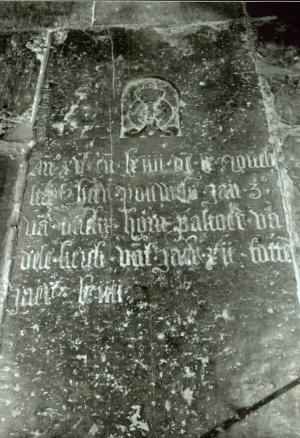 MeMO memorial object ID and name
MeMO memorial object ID
1032
Name
Floor slab of Pouwels Jansz. (van Dirckxhorn)
Holding institution(s)
Holding institution(s)

Haringhuizen, Willibrorduskerk

Category
Type
Tomb monument, tomb slab or floor slab (physical object)
Classification
Tomb slab or floor slab
Short description
Stone slab with an inscription in the centre, and a chalice inside a niche above
Remarks about category
General date
General date
1550-1600
Artist(s)
Artist(s)
Original institution(s)
Still in original institution?
yes

Location inside the institution
In situ?
(Probable) original location

in the church/chapel (exact location unknown)

Argumentation
Related memorial objects in the same institution
Additional remarks (original location)

Additional remarks

Memorial piece
Function
Specification
Additional remarks
Memorial monument or floor slab
Function
liturgical/religious
Grave findings
Additional remarks

Original function
Change in function
Remarks about function
Name
Pouwels Jansz. (van Dirckxhorn)
Specification

Members of the commemorated party
Commemorated person(s)

[2776] Pouwels Jansz. (van Dirckxhorn) (male)

Commemorated institution(s)

Relation between commemorated persons
not applicable (only one person mentioned/depicted)
Relation specification
Additional remarks
Name
Composition of the commissioning party
Specification

Members of the commissioning party
Commissioning person(s)
Commissioning Institution(s)

Relation between commissioning party and commemorated party
Relation specification
Additional remarks
Material(s)
Specification
blue limestone
Traces of polychromy?
Reuse of older objects

Dimensions (cm)
Height x width x depth
200 x 85 x 0

Completeness
Condition
The slab is worn
Conservation
Technical research
Specification (technical research)

Alterations
Alterations
Specification

Additional remarks
The dimensions are estimates
Provenance
Provenance
Marks of ownership
Type(s) of mark(s) of ownership
Specification

Belonje, J.; Bloys van Treslong Prins, P.C., Genealogische en heraldische gedenkwaardigheden in en uit de kerken der provincie Noord-Holland. Deel III Eenigenburg tot Hoorn (Noorderkerk) (Utrecht 1929), 255; no. 1

Other documentation
SKKN: inv. no. 23-7, photo no. 53.127.5
Additional remarks
Additional remarks
Tomb or floor slab (front) of [1032] Floor slab of Pouwels Jansz. (van Dirckxhorn)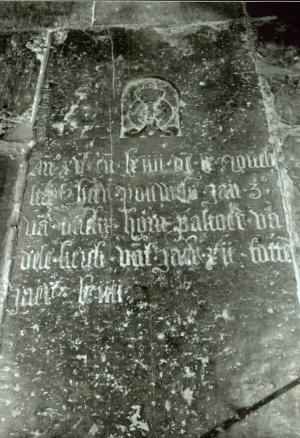 Indication of part
Indication of part
Tomb or floor slab (front)
Short description
Short description
Stone slab with an inscription in the centre, and a chalice inside a niche above
Dimensions (cm)
Height x Width x Depth
200 x 85 x 0
Date
Year
1564
Specified date
1564/11/09
Argumentation

date of death given on the object

Specification
Additional remarks
Holding institution
Holding institution
Haringhuizen, Willibrorduskerk
Collection
Collection identifier
Online description link
Alternative or previous collections
Alternative of previous identifiers
Accessibility
Remarks about holding institution
The slab is located in the eastside of the church, in front of the pulpit
Contract
Contract
Artist(s)
Filiation
Filiation
Additional remarks
Additional remarks
Inscriptions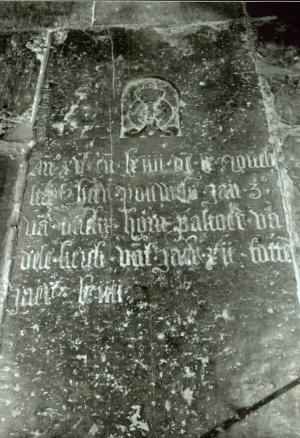 Indication of part
Indication of part
Tomb or floor slab (front)
Place of the inscription
Place of the inscription
across the centre of the slab
Language(s)
Languages
Language specification
Transcription
Transcription
Anno XVc ende LXIIII den IX november starf heer Pouwels Jan zoon van Dirckx horn pastoer van [de]se kerck vant jaer XII totten jaer LXIIII.
Translation
English translation
In the year 1500 and 64 on November 9 died sir Pouwels Jansz. van/from Dirckxhorn, priest of this church from the year 12 to the year 64.
Dutch translation
In het jaar 1500 en 64 op 9 november stierf heer Pouwels Jansz. van/uit Dirckxhorn, pastoor van deze kerk van het jaar 12 tot het jaar 64.
Lay–out
Lay-out
Gothic textualis
Inscription mentioning
Name
[2776] Pouwels Jansz. (van Dirckxhorn) (male)
Sex
male
Argumentation
the person is being commemorated
Additional remarks
Additional remarks
It is unclear whether the commemorated person originated from Dirkshorn or whether this is his surname. Both may also be true.
Decorations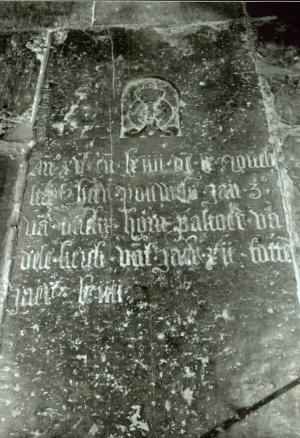 Indication of part
Indication of the part
Tomb or floor slab (front)
Type(s) of decoration(s)
Type(s) of decoration(s)
Description of the decoration(s)
Description of the decoration(s)
chalice, host and paten in a niche
Depicted allegories
Depicted allegories
Additional remarks
Additional remarks
Person Description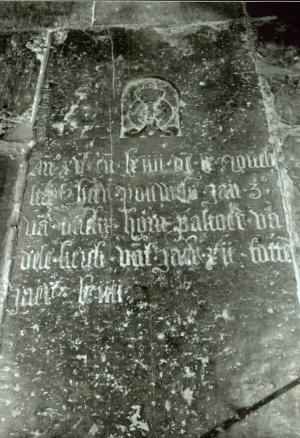 Personal identification number
Personal identification number
2776
Personal details
Name
Pouwels Jansz. (van Dirckxhorn)
Sex
male
Year/date of birth
Year/date of death
1564/11/09
Additional remarks
It is unclear whether he originated from Dirkshorn or whether this is his surname. Both may also be true.
Social standing
Status
secular clergy
Arguments

mentioned in the inscription
attribute of the portrayed/commemorated person (e.g. a priest's chalice)

Specification
Member of a convent
Religious order
Specification
Member of secular clergy
Type of secular clergy
(parish or chantry) priest
Specification
parish priest of Haringhuizen (1512-1564)
Additional remarks
Additional remarks