Description - Memorial Object
Floor slab of Tjerck van Walta (alias Jongema) and Tieth van Herema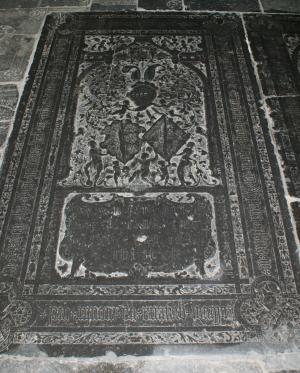 MeMO memorial object ID and name
MeMO memorial object ID
109
Name
Floor slab of Tjerck van Walta (alias Jongema) and Tieth van Herema
Holding institution(s)
Holding institution(s)
Category
Type
Tomb monument, tomb slab or floor slab (physical object)
Classification
Tomb slab or floor slab
Short description
Stone slab with effaced allied arms held by figures under an arch, an inscription in a cartouche below, an inscription and decorations along the edge, and quatrefoils with effaced allied arms in the corners
Remarks about category
General date
General date
1525-1575
Artist(s)
Artist(s)
Original institution(s)
Still in original institution?
unknown

Location inside the institution
In situ?
(Probable) original location

in the church/chapel (exact location unknown)

Argumentation
Related memorial objects in the same institution
Additional remarks (original location)

Additional remarks
The Martinikerk houses floor slabs that originate from three different churches: the Martinikerk and the Broerekerk in Bolsward (the latter was destroyed by fire in 1980) and the former Elandskerk in Amsterdam.

Memorial piece
Function
Specification
Additional remarks
Memorial monument or floor slab
Function
liturgical/religious, social and didactic
Grave findings
Additional remarks
• Commemorated on the object are a married couple, (members of) a nuclear family or (members of) an extended family: see Commemorated party. • Inscription(s) and/or decoration(s) with a didactic statement, usually with references to the mortality of mankind / variations on 'Remember that you will die'.

Original function
Change in function
Remarks about function
Name
Tjerck van Walta (alias Jongema) and Tydt Heerama (Tieth van Herema)
Specification

Members of the commemorated party
Commemorated person(s)

[96] Tydt Heerama (Tieth van Herema) (female)
[95] Tjerck van Walta (alias Jongema) (male)

Commemorated institution(s)

Relation between commemorated persons
married couple
Relation specification
Additional remarks
Name
Composition of the commissioning party
Specification

Members of the commissioning party
Commissioning person(s)
Commissioning Institution(s)

Relation between commissioning party and commemorated party
Relation specification
Additional remarks
Material(s)
Specification
Traces of polychromy?
Reuse of older objects

Dimensions (cm)
Height x width x depth
285 x 173 x 0

Completeness
Complete
Condition
Good condition, apart from the effaced heraldry
Conservation
Technical research
Specification (technical research)

Alterations
Alterations
Specification

Additional remarks
Provenance
Provenance
Marks of ownership
Type(s) of mark(s) of ownership
Specification

Ligtenberg, Raphael, Grafzerken der XVIe eeuw in Friesland ( 1915), 9
Martinikerk Bolsward, Graven in de Martinikerk, http://martinikerkbolsward.nl/martinikerk/gravenindemartinikerk; Section 10, number 45
Vos, Rik; Leeman, Fred, Het nieuwe ornament ('s Gravenhage 1986), 142
Walle, Hessel de, Friezen uit vroeger eeuwen; Opschriften uit Friesland, 1280-1811 (Franeker 2007), 74, 75
Wierstra, Simon, Genealogische bestanden van de oude Friese adel en aanverwante families tot 1800, http://www.simonwierstra.nl/index6.htm

Other documentation
SKKN: inv. no. 8833-22
Additional remarks
Additional remarks
The Fries Museum in Leeuwarden is in possession of a drawing of the slab
Tomb or floor slab (front) of [109] Floor slab of Tjerck van Walta (alias Jongema) and Tieth van Herema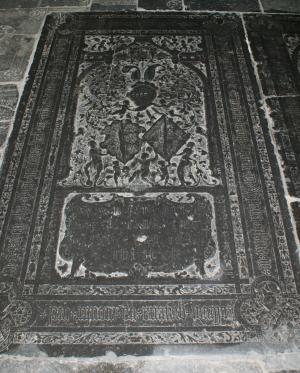 Indication of part
Indication of part
Tomb or floor slab (front)
Short description
Short description
Stone slab with effaced allied arms held by figures under an arch, an inscription in a cartouche below, an inscription and decorations along the edge, and quatrefoils with effaced allied arms in the corners
Dimensions (cm)
Height x Width x Depth
285 x 173 x 0
Date
Year
1545
Specified date
Argumentation

date given on the object (not date of death)

Specification
On the slab: 'B 1545 G'
Additional remarks
Holding institution
Holding institution
Bolsward, Martinikerk
Collection
Collection identifier
Online description link
Alternative or previous collections
Alternative of previous identifiers
Accessibility
Remarks about holding institution
The slab is located in the antechoir ('voorkoor')
Contract
Contract
Artist(s)

Identity
Name
Benedictus Gerbrants
Attribution
Specification
On the slab: 'B 1545 G'
Assignment
Role
not specified
Specification

Additional remarks
Filiation
Filiation
The slab is stylistically similar to 'Floor slab of Catharina van Cammingha (and Tjaard van Juwinga (Jongema))', MeMO Memorial Object ID 110, in the same church
Additional remarks
Additional remarks
Heraldry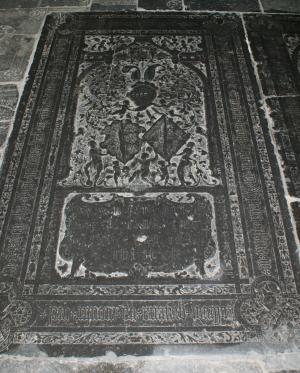 Indication of part
Indication of part
Tomb or floor slab (front)
Place of heraldry
Place of heraldry
in the centre, on the left
Specification of heraldry
Type of heraldry
Allied arms (2 coats of arms in 2 shields, respecting each other)
Specification
Shape of the shield
Late renaissance shield
Specification
Description of the shield
effaced (uitgehakt)
Description of the upper arms (helmet, crest and mantling)
crest: two ostrich feathers (helmteken: twee struisveren)
Remarks
Additional parts of the achievement
Type of supporter

One or two human figures
One or two mythical figures (angels or putti)

Specification
A putto and a boyish figure
Motto
English translation of the motto
Insignia or attributes
Heraldry belonging to
Heraldry belonging to
Additional remarks
Additional remarks
Indication of part
Indication of part
Tomb or floor slab (front)
Place of heraldry
Place of heraldry
in the centre, on the right
Specification of heraldry
Type of heraldry
Allied arms (2 coats of arms in 2 shields, respecting each other)
Specification
Shape of the shield
Lozenge shield
Specification
Description of the shield
effaced (uitgehakt)
Description of the upper arms (helmet, crest and mantling)
Remarks
Additional parts of the achievement
Type of supporter

One or two human figures
One or two mythical figures (angels or putti)

Specification
A putto and a girlish figure
Motto
English translation of the motto
Insignia or attributes
Heraldry belonging to
Heraldry belonging to
Additional remarks
Additional remarks
Indication of part
Indication of part
Tomb or floor slab (front)
Place of heraldry
Place of heraldry
in the upper left corner, inside a quatrefoil
Specification of heraldry
Type of heraldry
Allied arms (2 coats of arms in 2 shields, respecting each other)
Specification
Shape of the shield
Specification
late renaissance & lozenge shield
Description of the shield
effaced (uitgehakt)
Description of the upper arms (helmet, crest and mantling)
crest: two ostrich feathers (helmteken: twee struisveren)
Remarks
Additional parts of the achievement
Type of supporter
Specification
Motto
English translation of the motto
Insignia or attributes
Heraldry belonging to
Heraldry belonging to
Additional remarks
Additional remarks
Indication of part
Indication of part
Tomb or floor slab (front)
Place of heraldry
Place of heraldry
in the lower left corner, inside a quatrefoil
Specification of heraldry
Type of heraldry
Allied arms (2 coats of arms in 2 shields, respecting each other)
Specification
Shape of the shield
Specification
late renaissance & lozenge shield
Description of the shield
effaced (uitgehakt)
Description of the upper arms (helmet, crest and mantling)
crest: an issuant jumping stag contourny (helmteken: een uitkomend omgewend springend hert)
Remarks
Additional parts of the achievement
Type of supporter
Specification
Motto
English translation of the motto
Insignia or attributes
Heraldry belonging to
Heraldry belonging to
Additional remarks
Additional remarks
Indication of part
Indication of part
Tomb or floor slab (front)
Place of heraldry
Place of heraldry
in the upper right corner, inside a quatrefoil
Specification of heraldry
Type of heraldry
Allied arms (2 coats of arms in 2 shields, respecting each other)
Specification
Shape of the shield
Specification
late renaissance & lozenge shield
Description of the shield
effaced (uitgehakt)
Description of the upper arms (helmet, crest and mantling)
rest: two ostrich feathers (helmteken: twee struisveren)
Remarks
Additional parts of the achievement
Type of supporter
Specification
Motto
English translation of the motto
Insignia or attributes
Heraldry belonging to
Heraldry belonging to
Additional remarks
Additional remarks
Indication of part
Indication of part
Tomb or floor slab (front)
Place of heraldry
Place of heraldry
in the lower right corner, inside a quatrefoil
Specification of heraldry
Type of heraldry
Allied arms (2 coats of arms in 2 shields, respecting each other)
Specification
Shape of the shield
Specification
late renaissance & lozenge shield
Description of the shield
effaced (uitgehakt)
Description of the upper arms (helmet, crest and mantling)
crest: an issuant jumping stag (helmteken: een uitkomend springend hert)
Remarks
Additional parts of the achievement
Type of supporter
Specification
Motto
English translation of the motto
Insignia or attributes
Heraldry belonging to
Heraldry belonging to
Additional remarks
Additional remarks
Inscriptions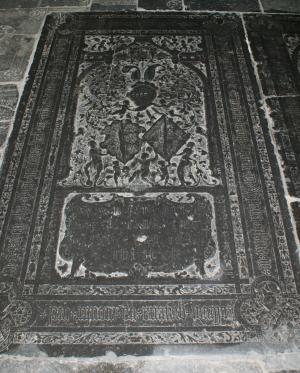 Indication of part
Indication of part
Tomb or floor slab (front)
Place of the inscription
Place of the inscription
on a small banderole held by the supporters of the central allied arms
Language(s)
Languages
Language specification
Transcription
Transcription
Wal / [ta?] - [H?]ee / rama
Translation
English translation
Walta? - Herema?
Dutch translation
Lay–out
Lay-out
Incised Roman majuscules
Inscription mentioning
Additional remarks
Additional remarks
Indication of part
Indication of part
Tomb or floor slab (front)
Place of the inscription
Place of the inscription
along all four edges of the slab
Language(s)
Languages
Language specification
Transcription
Transcription
Int iaer ons heren M Vc ende XXII den XI may sterf den eerenvhesten herscip Tyerck van Walta, oldman in Bolswardt, grytman van Wonser deel. Ende anno XVc ende XLVI den XII novembris sterf die eerbare vrow Tydt Heerama, syn wyf.
Translation
English translation
In the year of our Lord 1500 and 22, the 11th of May, died the honourable lordship Tjerck van Walta, alderman in Bolsward, mayor of Wonseradeel. And in the year 1500 and 46, the 12th of November, died the honourable lady Tieth van Herema, his wife.
Dutch translation
Lay–out
Lay-out
Raised Gothic textualis
Inscription mentioning
Name
[96] Tydt Heerama (Tieth van Herema) (female)
Sex
female
Argumentation
the person is being commemorated
Name
[95] Tjerck van Walta (alias Jongema) (male)
Sex
male
Argumentation
the person is being commemorated
Additional remarks
Additional remarks
Bolswardt is abbreviated as Bolsw'dt
Indication of part
Indication of part
Tomb or floor slab (front)
Place of the inscription
Place of the inscription
on the dividing line between the central heraldry and the cartouche, and in the cartouche itself
Language(s)
Languages
Language specification
Transcription
Transcription
Eccli 38 / Memor esto iudicy mei, sic enim erit et tuum: mihi heri & tibi hodie.
Translation
English translation
Ecclesiasticus 38 / Remember my judgment, for thine shall be likewise: yesterday for me, and today for thee.
Dutch translation
Ecclesiasticus 38 / Wees gedachtig aan mijn oordeel, want ook dat van jou zal zo zijn: gister voor mij, vandaag voor jou.
Lay–out
Lay-out
Raised Roman majuscules
Inscription mentioning
Additional remarks
Additional remarks
Taken from Ecclesiasticus 38:23.
Decorations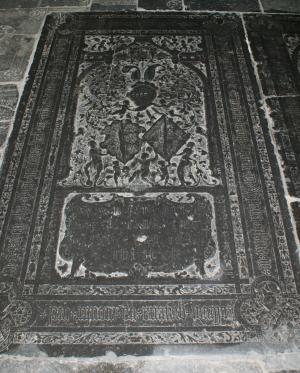 Indication of part
Indication of the part
Tomb or floor slab (front)
Type(s) of decoration(s)
Type(s) of decoration(s)

angels, putti or cherubs
banderole(s)
flowers/plants
mythical figures and/or creatures
fruit
architectural decorations
human figures (incl. skeletons and skulls)

Description of the decoration(s)
Description of the decoration(s)
putti (one holding a skull?); animal heads; foliage; herms; satyrs; vases
Depicted allegories
Depicted allegories
Additional remarks
Additional remarks
Person Description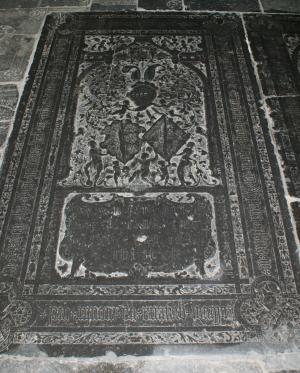 Personal identification number
Personal identification number
95
Personal details
Name
Tjerck van Walta (alias Jongema)
Sex
male
Year/date of birth
Year/date of death
1522/05/11
Additional remarks
Son of Tjerck Juwinga (Jongema) van Walta and Ebel van Walta. Tjerck was married to Tieth van Herema. He lived in the Waltastate, an estate in Tjerkwerd. Tjerck owned property in Tjerkwerd and Tzum (1511/1514). As a member of the so-called Vetkopers party, he rebelled against the Duke of Saxony.
Social standing
Status
nobility
Arguments

according to literature
mentioned in the inscription

Specification
included in the list of Frisian noblemen (1505); mayor of Wonseradeel; alderman in Bolsward
Member of a convent
Religious order
Specification
Member of secular clergy
Type of secular clergy
Specification
Additional remarks
Additional remarks
Personal identification number
Personal identification number
96
Personal details
Name
Tydt Heerama (Tieth van Herema)
Sex
female
Year/date of birth
Year/date of death
1546/11/12
Additional remarks
Daughter of Johan van Herema and Gerlant van Donia. Tieth was married to Tjerck van Walta (alias Jongema). She may have remarried a member of the Sjaerda family.
Social standing
Status
nobility
Arguments
Specification
Member of a convent
Religious order
Specification
Member of secular clergy
Type of secular clergy
Specification
Additional remarks
Additional remarks