Description - Memorial Object
Floor slab of Reyner Bywema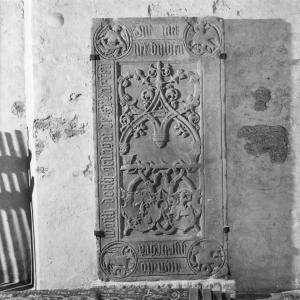 MeMO memorial object ID and name
MeMO memorial object ID
11
Name
Floor slab of Reyner Bywema
Holding institution(s)
Holding institution(s)
Category
Type
Tomb monument, tomb slab or floor slab (physical object)
Classification
Tomb slab or floor slab
Short description
Stone slab with an architectural tracery with pointed arch, heraldry below, an inscription along the edges, medallions with the evangelist symbols in the corners
Remarks about category
General date
General date
1525-1575
Artist(s)
Artist(s)
Original institution(s)
Still in original institution?
unknown

Location inside the institution
In situ?
(Probable) original location
Argumentation
Related memorial objects in the same institution
Additional remarks (original location)

Additional remarks

Memorial piece
Function
Specification
Additional remarks
Memorial monument or floor slab
Function
liturgical/religious and historical/political
Grave findings
Additional remarks
The inscription refers to a historical fact: the commemorated person was murdered.

Original function
Change in function
Remarks about function
Name
Reyner Bywem[a?] (Reyner Bywema)
Specification

Members of the commemorated party
Commemorated person(s)

[5700] Reyner Bywem[a?] (Reyner Bywema) (male)

Commemorated institution(s)

Relation between commemorated persons
no relation (only one person mentioned/depicted)
Relation specification
Additional remarks
Name
Composition of the commissioning party
Specification

Members of the commissioning party
Commissioning person(s)
Commissioning Institution(s)

Relation between commissioning party and commemorated party
Relation specification
Additional remarks
Material(s)
Specification
Sandstone
Traces of polychromy?
Reuse of older objects

Dimensions (cm)
Height x width x depth
200 x 101 x 0

Completeness
Parts of the inscription have been lost; otherwise complete
Condition
A little bit worn, but fair
Conservation
Technical research
Specification (technical research)

Alterations
Alterations
Specification

Additional remarks
Provenance
Provenance
Marks of ownership
Type(s) of mark(s) of ownership
Specification

Alma, Redmer, Groninger gedenkwaardigheden, http://www.redmeralma.nl; 283
Ozinga, M.D., De Nederlandsche Monumenten van Geschiedenis en Kunst, deel VI De Provincie Groningen, eerste stuk: Oost-Groningen ('s Gravenhage 1940), 13, vi-1
Pathuis, A., Groninger gedenkwaardigheden; teksten, wapens en huismerken van 1298-1814 (Assen/Amsterdam 1977), 99; no. 283

Other documentation
Inventory SKKN: no. 589-62
Additional remarks
Additional remarks
Tomb or floor slab (front) of [11] Floor slab of Reyner Bywema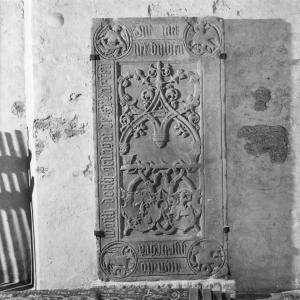 Indication of part
Indication of part
Tomb or floor slab (front)
Short description
Short description
Stone slab with an architectural tracery with pointed arch, heraldry below, an inscription along the edges, medallions with the evangelist symbols in the corners
Dimensions (cm)
Height x Width x Depth
200 x 101 x 0
Date
Year
1500-1550
Specified date
Argumentation

based on stylistic research

Specification
Additional remarks
Some of the decorations are Gothic, some Renaissance in style
Holding institution
Holding institution
Appingedam, Nicolaïkerk
Collection
Collection identifier
Online description link
Alternative or previous collections
Alternative of previous identifiers
Accessibility
Remarks about holding institution
Contract
Contract
Artist(s)
Filiation
Filiation
Additional remarks
Additional remarks
Heraldry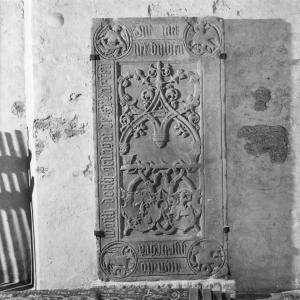 Indication of part
Indication of part
Tomb or floor slab (front)
Place of heraldry
Place of heraldry
central field, below the arch, left
Specification of heraldry
Type of heraldry
Allied arms (2 coats of arms in 2 shields, respecting each other)
Specification
Shape of the shield
Late renaissance shield
Specification
Description of the shield
a fleur de lys between in dexter chief and sinister base an escallop and in sinister chief and dexter base a six-pointed star (een lelie tussen rechtsboven en linksonder een st-jacobsschelp en linksboven en rechtsonder een zespuntige ster)
Description of the upper arms (helmet, crest and mantling)
Remarks
Additional parts of the achievement
Type of supporter
Specification
Motto
English translation of the motto
Insignia or attributes
Heraldry belonging to
Heraldry belonging to
Additional remarks
Additional remarks
Indication of part
Indication of part
Tomb or floor slab (front)
Place of heraldry
Place of heraldry
central field, below the arch, right
Specification of heraldry
Type of heraldry
Allied arms (2 coats of arms in 2 shields, respecting each other)
Specification
Shape of the shield
Late renaissance shield
Specification
Description of the shield
an armed reguardant rider on a horse brandishing a sword (?) (een omziende gewapende ruiter op een paard met een zwaard (?) in de hand)
Description of the upper arms (helmet, crest and mantling)
Remarks
Additional parts of the achievement
Type of supporter
Specification
Motto
English translation of the motto
Insignia or attributes
Heraldry belonging to
Heraldry belonging to
Additional remarks
Additional remarks
Inscriptions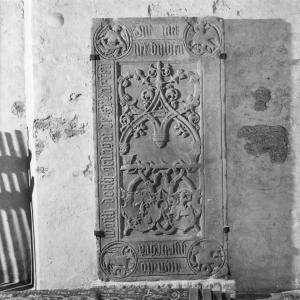 Indication of part
Indication of part
Tomb or floor slab (front)
Place of the inscription
Place of the inscription
on the edge
Language(s)
Languages
Language specification
Transcription
Transcription
Int jaer [...] augusto wordt doeth geslagen de erbae Reyner Bywem[a?], hyr begraven.
Translation
English translation
In the year of [...], in August, was beaten to death the honourable Reyner Bywem[a?], buried here.
Dutch translation
Lay–out
Lay-out
Raised Gothic textualis
Inscription mentioning
Name
[5700] Reyner Bywem[a?] (Reyner Bywema) (male)
Sex
male
Argumentation
the person is being commemorated
Additional remarks
Additional remarks
A double text band at the top and bottom, a single band on the left. Has the band on the right been worn away or left blank?
Decorations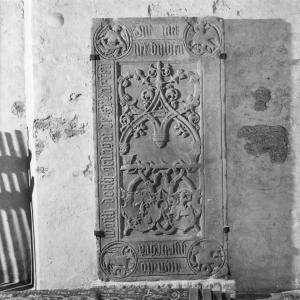 Indication of part
Indication of the part
Tomb or floor slab (front)
Type(s) of decoration(s)
Type(s) of decoration(s)

scrollwork and/or strapwork
architectural decorations
evangelist symbols

Description of the decoration(s)
Description of the decoration(s)
In the corners of the slab there are medaillons with the evangelist symbols. The upper decorations of the central part are Gothic, the lower decorations, bearing the coats of arms, Renaissance in style; also a small piece of strapwork at the top of the round arch
Depicted allegories
Depicted allegories
Additional remarks
Additional remarks
Person Description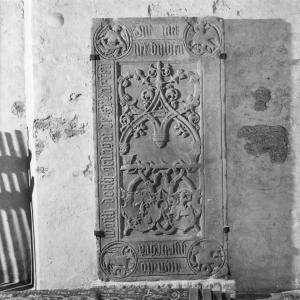 Personal identification number
Personal identification number
5700
Personal details
Name
Reyner Bywem[a?] (Reyner Bywema)
Sex
male
Year/date of birth
Year/date of death
Additional remarks
Reyner Bywem[a?] was murdered. He died in August, year unknown.
Social standing
Status
Arguments
Specification
Member of a convent
Religious order
Specification
Member of secular clergy
Type of secular clergy
Specification
Additional remarks
Additional remarks