Description - Memorial Object
Floor slab of Gijsbrecht Egberts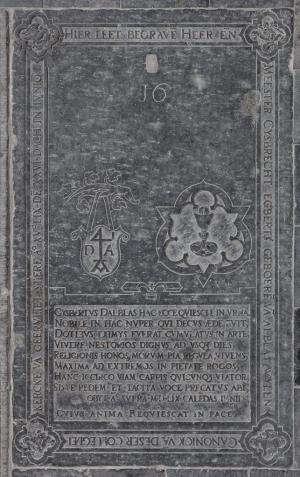 MeMO memorial object ID and name
MeMO memorial object ID
1229
Name
Floor slab of Gijsbrecht Egberts
Holding institution(s)
Holding institution(s)

Geervliet, Onze-Lieve-Vrouwekerk

Category
Type
Tomb monument, tomb slab or floor slab (physical object)
Classification
Tomb slab or floor slab
Short description
Stone slab with a mark on a heraldic shield and a chalice and host inside a trefoil in the central field, a Latin inscription in the text field below, an inscription along the edge, and quatrefoils with the evangelist symbols in the corners
Remarks about category
General date
General date
1525-1575
Artist(s)
Artist(s)
Original institution(s)

Original institution
[31] Onze Lieve Vrouwekerk (Our Lady's Church), Geervliet
Arguments

the memorial object is still in the original institution
the institution/community is mentioned in the text

Specification
The inscription indicates that Gijsbrecht Egberts was a canon of the collegiate church of Geervliet

Still in original institution?
yes

Location inside the institution
In situ?
(Probable) original location

in the church/chapel (exact location unknown)

Argumentation
Related memorial objects in the same institution
Additional remarks (original location)

Additional remarks

Memorial piece
Function
Specification
Additional remarks
Memorial monument or floor slab
Function
liturgical/religious
Grave findings
Additional remarks

Original function
Change in function
Remarks about function
Name
Gijsbrecht Egberts
Specification

Members of the commemorated party
Commemorated person(s)

[3102] Gijsbrecht Egberts (male)

Commemorated institution(s)

Relation between commemorated persons
not applicable (only one person mentioned/depicted)
Relation specification
Additional remarks
Name
Composition of the commissioning party
Specification

Members of the commissioning party
Commissioning person(s)
Commissioning Institution(s)

Relation between commissioning party and commemorated party
Relation specification
Additional remarks
Material(s)
Specification
Traces of polychromy?
Reuse of older objects

Dimensions (cm)
Height x width x depth
234 x 145 x 0

Completeness
Complete
Condition
Good
Conservation
A lewis-hole above the incised number 16 towards the top of the slab appears to have been filled with cement
Technical research
Specification (technical research)

Alterations
Alterations
Specification

Additional remarks
Provenance
Provenance
Marks of ownership
Type(s) of mark(s) of ownership
Specification

Bloys van Treslong Prins, P.C., Genealogische en heraldische gedenkwaardigheden in en uit de kerken der provincie Zuid-Holland, part I (Utrecht 1922), 221
Don, P., De Nederlandse Monumenten van Geschiedenis en Kunst. VII: Provincie Zuidholland: Voorne-Putten (Zwolle and Zeist 1992), 209

Other documentation
Additional remarks
Additional remarks
Incised number: 16
Tomb or floor slab (front) of [1229] Floor slab of Gijsbrecht Egberts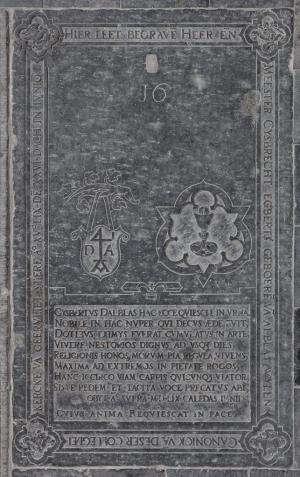 Indication of part
Indication of part
Tomb or floor slab (front)
Short description
Short description
Stone slab with a mark on a heraldic shield and a chalice and host inside a trefoil in the central field, a Latin inscription in the text field below, an inscription along the edge, and quatrefoils with the evangelist symbols in the corners
Dimensions (cm)
Height x Width x Depth
234 x 145 x 0
Date
Year
1559
Specified date
1559/06/26
Argumentation

date of death given on the object

Specification
Additional remarks
Holding institution
Holding institution
Geervliet, Onze-Lieve-Vrouwekerk
Collection
Collection identifier
Online description link
Alternative or previous collections
Alternative of previous identifiers
Accessibility
Remarks about holding institution
The slab is situated in the chancel
Contract
Contract
Artist(s)
Filiation
Filiation
Additional remarks
Additional remarks
Heraldry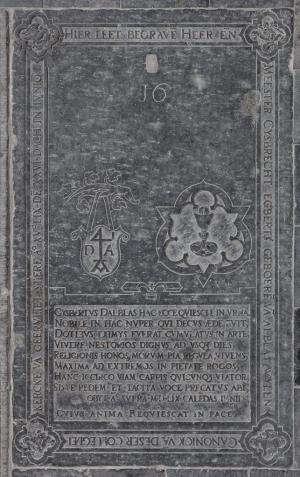 Indication of part
Indication of part
Tomb or floor slab (front)
Place of heraldry
Place of heraldry
in the centre of the slab, on the left
Specification of heraldry
Type of heraldry
Personal use of family arms (one undivided shield)
Specification
Shape of the shield
Late renaissance shield
Specification
Description of the shield
a mark between the letters D and A (een merk met aan weerszijden de letters D en A)
Description of the upper arms (helmet, crest and mantling)
Remarks
Additional parts of the achievement
Type of supporter

Other (guige or band, tree, branch)

Specification
Suspended from a leafy branch
Motto
English translation of the motto
Insignia or attributes
Heraldry belonging to
Heraldry belonging to
Gijsbrecht Egberts

Person details
Person details

[3102] Gijsbrecht Egberts (male)

Additional remarks
Additional remarks
Inscriptions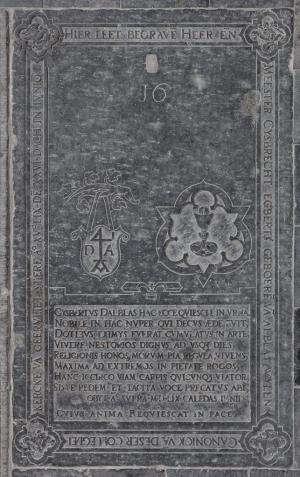 Indication of part
Indication of part
Tomb or floor slab (front)
Place of the inscription
Place of the inscription
along all four edges of the slab
Language(s)
Languages
Language specification
Transcription
Transcription
Hier leet begraven Heer ende Meester Gijsbrecht Egberts geboeren van Alblas, wijlen canonick van deser collegiael kercke van Geervliet, sterf anno XVc LIX den XXVI dach in Junio.
Translation
English translation
Here lies buried sir and master Gijsbrecht Egberts, born in Alblas, late canon of this collegiate church of Geervliet, died in the year 1559 on the 26th day in June.
Dutch translation
Lay–out
Lay-out
Raised Roman majuscules
Inscription mentioning
Name
[3102] Gijsbrecht Egberts (male)
Sex
male
Argumentation
the person is being commemorated
Additional remarks
Additional remarks
Indication of part
Indication of part
Tomb or floor slab (front)
Place of the inscription
Place of the inscription
text field in the lower part of the slab
Language(s)
Languages
Language specification
Transcription
Transcription
Gijsbertus Dalblas hac, ecce, quiescit in urna, / nobile in hac nuper qui decus aede fuit. / Dotibus eximiis fuerat cumulatus in arte, / vivere Nestorios dignus ad usque dies, / religionis honos, morum pia regula vivens, / maxima ad extremos in pietate rogos. / Hanc iccirco viam carpis quicunque viator, / siste pedem et tacita voce precatus abi. - Obiit anno supra MDLIX Calendas Iunii, cuius anima requiescat in pace.
Translation
English translation
Behold, here in this grave lies Gijsbert of Alblas, who not long ago was still an honourable ornament to this church. He was gifted with exceptional talents in the arts, worthy to live until the days of Nestor, a jewel of religion, a pious rule of morality in living person, of the utmost devotion until his last hour. Therefore, you, traveller, whoever comes this way, halt your step here and depart after you have said a prayer with silent voice. - He died in the aforesaid year 1559 on the calends of June, whose soul may rest in peace.
Dutch translation
Zie, in dit graf rust Gijsbrecht van Alblas, die niet lang geleden nog een eervol sieraad was voor deze kerk. Hij beschikte over uitzonderlijke talenten in de kunsten, en was waardig om tot in de dagen van Nestor te leven. Hij was een juweel in de godsdienst, een levende vrome regel van zeden, van hoogste devotie tot zijn allerlaatste uur. Dus, gij reiziger, wie ook maar hierheen komt, stop hier en vertrek pas na met stille stem een gebed gezegd te hebben. Hij stierf in het voornoemde jaar 1559 op de kalenden van Juni, wiens ziel moge rusten in vrede.
Lay–out
Lay-out
Raised Roman majuscules
Inscription mentioning
Name
[3102] Gijsbrecht Egberts (male)
Sex
male
Argumentation
the person is being commemorated
Additional remarks
Additional remarks
Distichs. The expression 'ad extremos rogos' (literally: 'to the ultimate funeral pile') may be a quotation from Ovid, Ars II 110.
Decorations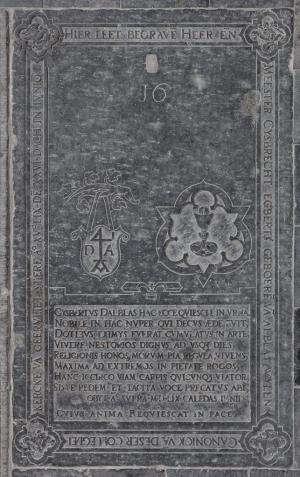 Indication of part
Indication of the part
Tomb or floor slab (front)
Type(s) of decoration(s)
Type(s) of decoration(s)

evangelist symbols
chalice (and host)

Description of the decoration(s)
Description of the decoration(s)
A chalice and host in a trefoil in the central field (right) and quatrefoils with the evangelist symbols in the corners
Depicted allegories
Depicted allegories
Additional remarks
Additional remarks
Person Description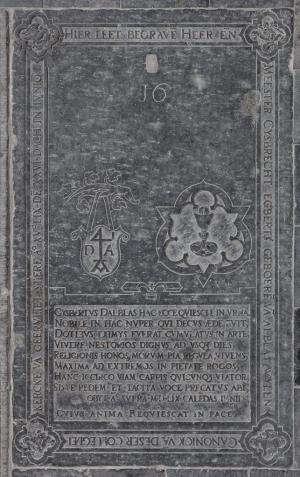 Personal identification number
Personal identification number
3102
Personal details
Name
Gijsbrecht Egberts
Sex
male
Year/date of birth
Year/date of death
1559/06/26
Additional remarks
Gijsbrecht Egberts was born in Alblas
Social standing
Status
secular clergy
Arguments

attribute of the portrayed/commemorated person (e.g. a priest's chalice)
mentioned in the inscription

Specification
Member of a convent
Religious order
Specification
Member of secular clergy
Type of secular clergy
canon
Specification
Gijsbrecht Egberts was a canon of the collegiate church of Geervliet
Additional remarks
Additional remarks