Description - Memorial Object
Floor slab of Johan Dil(?)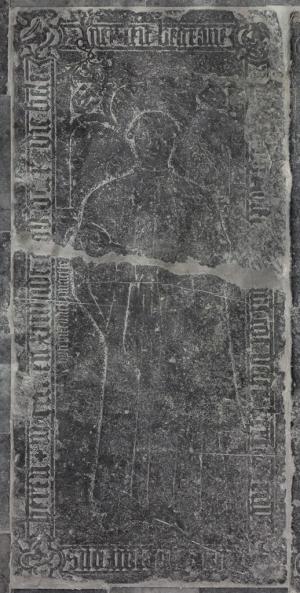 MeMO memorial object ID and name
MeMO memorial object ID
1231
Name
Floor slab of Johan Dil(?)
Holding institution(s)
Holding institution(s)

Geervliet, Onze-Lieve-Vrouwekerk

Category
Type
Tomb monument, tomb slab or floor slab (physical object)
Classification
Tomb slab or floor slab
Short description
Worn and broken stone slab with the incised effigy of a canon, a heraldic shield on either side, an inscription along the edge, and quatrefoils with the evangelist symbols in the corners
Remarks about category
General date
General date
1475-1525
Artist(s)
Artist(s)
Original institution(s)

Original institution
[31] Onze Lieve Vrouwekerk (Our Lady's Church), Geervliet
Arguments

the memorial object is still in the original institution
the institution/community is mentioned in the text

Specification
If the transcription is correct, the deceased was a parish priest and canon of the collegiate church of Geervliet

Still in original institution?
yes

Location inside the institution
In situ?
(Probable) original location

in the church/chapel (exact location unknown)

Argumentation
Related memorial objects in the same institution
Additional remarks (original location)

Additional remarks

Memorial piece
Function
Specification
Additional remarks
Memorial monument or floor slab
Function
liturgical/religious
Grave findings
Additional remarks

Original function
Change in function
Remarks about function
Name
Johan Dil(?)
Specification

Members of the commemorated party
Commemorated person(s)

[3104] Johan Dil(?) (male)

Commemorated institution(s)

Relation between commemorated persons
not applicable (only one person mentioned/depicted)
Relation specification
Additional remarks
Name
Composition of the commissioning party
Specification

Members of the commissioning party
Commissioning person(s)
Commissioning Institution(s)

Relation between commissioning party and commemorated party
Relation specification
Additional remarks
Material(s)
Specification
Traces of polychromy?
Reuse of older objects

Dimensions (cm)
Height x width x depth
235 x 112 x 0

Completeness
The slab itself is complete
Condition
Broken and badly worn
Conservation
Technical research
Specification (technical research)

Alterations
Alterations
Specification

Additional remarks
Provenance
Provenance
Marks of ownership
Type(s) of mark(s) of ownership
Specification

Bloys van Treslong Prins, P.C., Genealogische en heraldische gedenkwaardigheden in en uit de kerken der provincie Zuid-Holland, part I (Utrecht 1922), 222

Other documentation
Additional remarks
Additional remarks
Tomb or floor slab (front) of [1231] Floor slab of Johan Dil(?)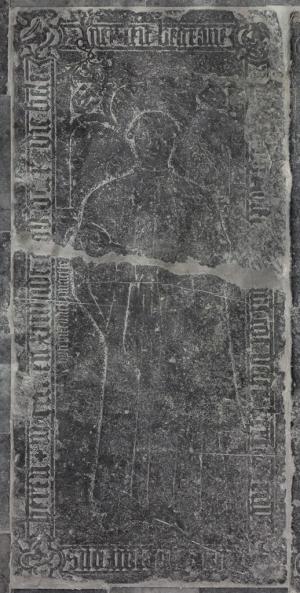 Indication of part
Indication of part
Tomb or floor slab (front)
Short description
Short description
Worn and broken stone slab with the incised effigy of a canon, a heraldic shield on either side, an inscription along the edge, and quatrefoils with the evangelist symbols in the corners
Dimensions (cm)
Height x Width x Depth
235 x 112 x 0
Date
Year
1492
Specified date
1492/03/06
Argumentation

date of death given on the object

Specification
Additional remarks
Holding institution
Holding institution
Geervliet, Onze-Lieve-Vrouwekerk
Collection
Collection identifier
Online description link
Alternative or previous collections
Alternative of previous identifiers
Accessibility
Remarks about holding institution
The slab is situated in the chancel, rather confusingly to the right of the slab of Maritgen where that of Maritgen's husband Bouwen Willemszoon should be (see MeMO memorial objects IDs 1246 and 1247).
Contract
Contract
Artist(s)
Filiation
Filiation
Additional remarks
Additional remarks
Portraits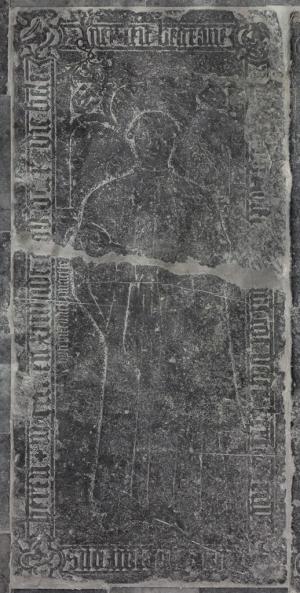 Indication of part
Indication of part
Tomb or floor slab (front)
Place of the portrait
Place of the portrait
in the central field
Portrait of
Name
Johan Dil(?)
Sex
male
Argumentation

based on text(s) on the memorial object

Specification
The inscription is almost illegible and the name is based on a doubtful transcription by Bloys van Treslong Prins (1922)
Portrait — portraiture
Physical state of the portrayed person
cannot be determined
Argumentation
Specification
Posture
standing
Manner of portrayal
The figure appears to be standing under a trefoil-headed arch; his hands may be held in prayer
Portrait — clothing, attributes and insignia

Clothing
Type of clothing
clothes of an ecclesiastical office holder
Short description
A surplice and almuce? The slab is too badly worn to be certain.
Attributes
Attributes
Specification
Insignia
Insignia
Specification
Remarks about clothing

Additional remarks
Heraldry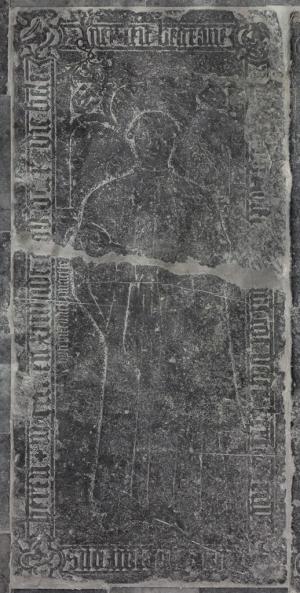 Indication of part
Indication of part
Tomb or floor slab (front)
Place of heraldry
Place of heraldry
two identical shields on the spandrels above the effigy
Specification of heraldry
Type of heraldry
Personal use of family arms (one undivided shield)
Specification
Shape of the shield
High gothic shield
Specification
Description of the shield
Unclear: three ermine tails or keys?, 2-1 (Onduidelijk: drie hermelijnstaartjes of sleutels?, 2-1)
Description of the upper arms (helmet, crest and mantling)
Remarks
Additional parts of the achievement
Type of supporter
Specification
Motto
English translation of the motto
Insignia or attributes
Heraldry belonging to
Heraldry belonging to
Johan Dil(?)

Person details
Person details

[3104] Johan Dil(?) (male)

Additional remarks
Additional remarks
Inscriptions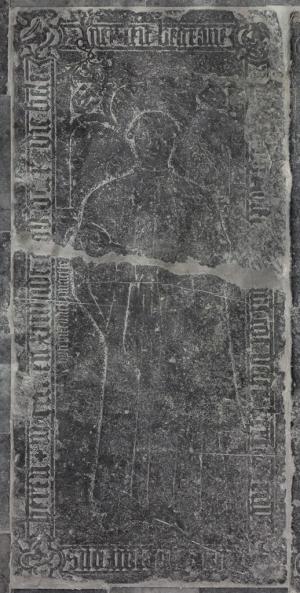 Indication of part
Indication of part
Tomb or floor slab (front)
Place of the inscription
Place of the inscription
along all four edges of the slab
Language(s)
Languages
Language specification
Transcription
Transcription
Hier leit begraven [... ?Heer Johan Dil, pastor en cano]nic tot deser kercke, ende sterf int jair ons Heeren M CCCC ende XCII opten VIten dach in maerte. Bidt voir die siele.
Translation
English translation
Here lies buried [... ?sir Johan Dil, parish priest and] canon in this church and died in the year of our Lord 1492 on the 6th day in March. Pray for the soul.
Dutch translation
Lay–out
Lay-out
Raised Gothic textualis
Inscription mentioning
Name
[3104] Johan Dil(?) (male)
Sex
male
Argumentation
the person is being commemorated
Additional remarks
Additional remarks
The month and day were added in smaller incised script below the text band - an afterthought? The inscription is now partly illegible, especially along the crucial right edge where the name is given, and the transcription by Bloys van Treslong Prins (1922) is far from reliable.
Decorations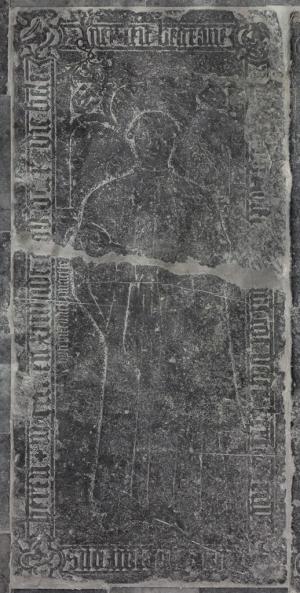 Indication of part
Indication of the part
Tomb or floor slab (front)
Type(s) of decoration(s)
Type(s) of decoration(s)
Description of the decoration(s)
Description of the decoration(s)
Depicted allegories
Depicted allegories
Additional remarks
Additional remarks
Person Description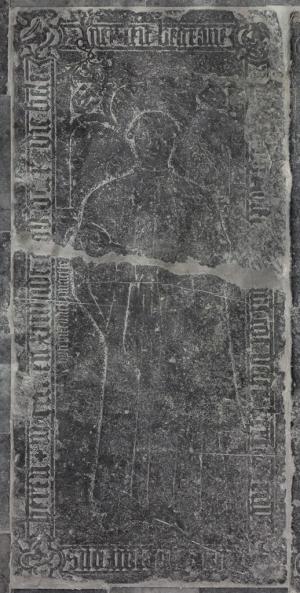 Personal identification number
Personal identification number
3104
Personal details
Name
Johan Dil(?)
Sex
male
Year/date of birth
Year/date of death
1492/03/06
Additional remarks
Social standing
Status
secular clergy
Arguments

mentioned in the inscription
clothing of the portrayed person

Specification
Member of a convent
Religious order
Specification
Member of secular clergy
Type of secular clergy
canon
Specification
If the now worn inscription was read correctly, Johan Dil(?) was a parish priest and canon of the collegiate church of Geervliet
Additional remarks
Additional remarks