Description - Memorial Object
Memorial text commemorating a foundation by Arend (Arnold) Bokelaer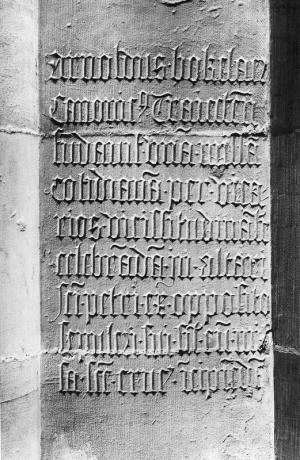 MeMO memorial object ID and name
MeMO memorial object ID
139
Name
Memorial text commemorating a foundation by Arend (Arnold) Bokelaer
Holding institution(s)
Holding institution(s)

Utrecht, Domkerk (St. Maartenskerk)

Category
Type
Memorial item (physical object)
Classification
Separate memorial text
Short description
Memorial text on a pillar regarding the foundation of a daily Mass
Remarks about category
General date
General date
1500-1525
Artist(s)
Artist(s)
Original institution(s)
Still in original institution?
yes

Location inside the institution
In situ?
yes
(Probable) original location

near another memorial object for the commemorated person(s) or relatives
near an altar
in the transept
on a pillar

Argumentation
Related memorial objects in the same institution
Additional remarks (original location)

Additional remarks
The text is inscribed on a pillar on the north side of the south transept, next to the floor slab of Arend Bokelaer. The altar of St Peter was located opposite the pillar and grave.

Memorial piece
Function

liturgical/religious
historical

Specification
Additional remarks
The inscription refers to a historical fact, i.e. the foundation of a Mass. See Additional remarks at the bottom of this page.
Memorial monument or floor slab
Function
Grave findings
Additional remarks

Original function
Change in function
Remarks about function
Name
Arend (Arnold) Bokelaer
Specification

Members of the commemorated party
Commemorated person(s)

[48] Arend (Arnold) Bokelaer (male)

Commemorated institution(s)

Relation between commemorated persons
not applicable (only one person mentioned/depicted)
Relation specification
Additional remarks
Name
Arend (Arnold) Bokelaer
Composition of the commissioning party
Specification

Members of the commissioning party
Commissioning person(s)

[48] Arend (Arnold) Bokelaer (male)

Commissioning Institution(s)

Relation between commissioning party and commemorated party
The commissioning party was the commemorated party
Relation specification
Additional remarks
The founder probably had this text publicly inscribed to guarantee the liturgical services being fulfilled in accordance to his wishes, compare MeMO memorial object IDs 853, 903, 910, 2956 and 3412. For a similar arrangement for the care of the poor, see MeMO memorial object ID 3933.
Material(s)
Specification
sandstone
Traces of polychromy?
Reuse of older objects

Dimensions (cm)
Height x width x depth
75 x 35 x 0

Completeness
Complete
Condition
In reasonable condition
Conservation
The text was probably retouched during restoration
Technical research
Specification (technical research)

Alterations
Alterations
Specification

Additional remarks
Provenance
Provenance
Marks of ownership
Type(s) of mark(s) of ownership
Specification

Bloys van Treslong Prins, P.C., Genealogische en heraldische gedenkwaardigheden in en uit de provincie Utrecht (Utrecht 1919), 211; no. 64
Borst, P., et al., Graven en begraven in de Dom van Utrecht (Bunnik 1997), 108; A
Groot, A. de, De Dom van Utrecht in de zestiende eeuw. Inrichting, decoratie en gebruik van de katholieke kathedraal (Amsterdam 2011), 83, 128, 289, 342, 405
Haslinghuis, E.J.; Peeters, C.J.A.C., De Nederlandse Monumenten van Geschiedenis en Kunst, dl. II, De provincie Utrecht, Eerste stuk, De gemeente Utrecht, Tweede aflevering, De Dom van Utrecht ('s-Gravenhage 1965), 399; 5

Other documentation
SKKN: inv. no. 967-252, photo no. 967-252_1 (SKKN record of 1978: inv. no. 57); RCE: object no. 52.928, adlib priref 20232291
Additional remarks
Additional remarks
The text on the pillar stipulates that a daily Mass was to be celebrated at the altar of St Peter, opposite the pillar and the grave of Arend Bokelaer. The altar was also known as the 'Bokelearsaltaar' (altar of Bokelaer) in the 16th century.
Single piece (front) of [139] Memorial text commemorating a foundation by Arend (Arnold) Bokelaer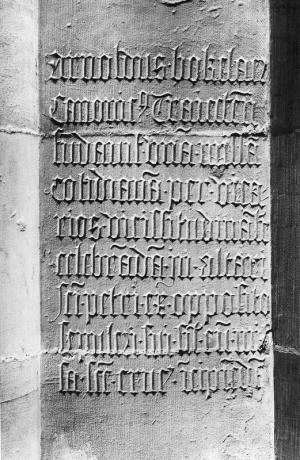 Indication of part
Indication of part
Single piece (front)
Short description
Short description
Memorial text on a pillar regarding the foundation of a daily Mass
Dimensions (cm)
Height x Width x Depth
75 x 35 x 0
Date
Year
ca.1514
Specified date
Argumentation

based on historical evidence (in literature)

Specification
Additional remarks
Archival documents indicate that the daily Masses may have commenced in 1514
Holding institution
Holding institution
Utrecht, Domkerk (St. Maartenskerk)
Collection
Collection identifier
Online description link
Alternative or previous collections
Alternative of previous identifiers
Accessibility
Remarks about holding institution
The pillar is located on the north side of the south transept, next to the floor slab of Arend Bokelaer
Contract
Contract
Artist(s)
Filiation
Filiation
Additional remarks
Additional remarks
Inscriptions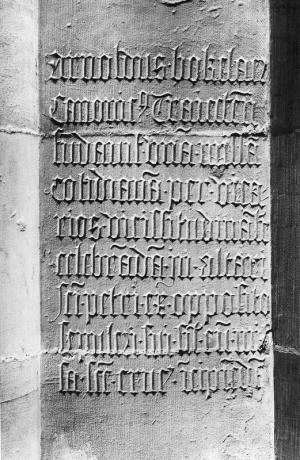 Indication of part
Indication of part
Single piece (front)
Place of the inscription
Place of the inscription
west side of the pillar
Language(s)
Languages
Language specification
Transcription
Transcription
Arnoldus Bokelaer, canonicus Traiectensis, fundavit unam missam cotidianam, per vicarios vicissitudinales celebrandam in altari Sancti Petri, ex opposito sepulcri sui filii, cum missa Sancte Crucis incipiendam.
Translation
English translation
Arend Bokelaer, canon of the Dom Church of Utrecht, founded a daily Mass, to be celebrated by the alternate chantry priests at the altar of St Peter, situated opposite the grave of his sun, starting with the Mass of the Holy Cross.
Dutch translation
Arend Bokelaer, kanunnik van de Domkerk van Utrecht, fundeerde een dagelijkse mis, te celebreren door de wisselende vicarissen op het altaar van Petrus, gelegen tegenover het graf van zijn zoon, te beginnen met de Mis van het Heilige Kruis.
Lay–out
Lay-out
Gothic textualis
Inscription mentioning
Name
[48] Arend (Arnold) Bokelaer (male)
Sex
male
Argumentation
the person is being commemorated
Additional remarks
Additional remarks
Person Description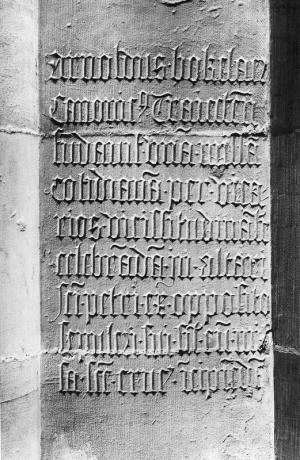 Personal identification number
Personal identification number
48
Personal details
Name
Arend (Arnold) Bokelaer
Sex
male
Year/date of birth
Year/date of death
1522/11/22
Additional remarks
He may have originated from Dordrecht
Social standing
Status
secular clergy
Arguments

mentioned in the inscription

Specification
Member of a convent
Religious order
Specification
Member of secular clergy
Type of secular clergy
canon
Specification
canon at the St. Maartenskerk/Domkerk (St Martin's Church/Dom Church) in Utrecht from 22 September 1487; parish priest of the Buurkerk in Utrecht (1499-1522); parish priest in Wassenaar?
Additional remarks
Additional remarks
He founded a daily Mass at the altar of St Peter in the St. Maartenskerk/Domkerk in Utrecht