Description - Memorial Object
Sarcophagus lid of unknown person(s) (fragment(s))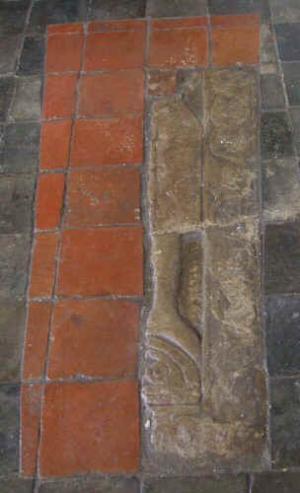 MeMO memorial object ID and name
MeMO memorial object ID
1398
Name
Sarcophagus lid of unknown person(s) (fragment(s))
Holding institution(s)
Holding institution(s)

Rolde, Jacobuskerk (Nederlands Hervormde Kerk)

Category
Type
Tomb monument, tomb slab or floor slab (physical object)
Classification
Sarcophagus (lid)
Short description
Fragment of a stone lid with an effigy and decorations along the edge
Remarks about category
General date
General date
1150-1200
Artist(s)
Artist(s)
Original institution(s)
Still in original institution?
probably yes

Location inside the institution
In situ?
(Probable) original location
Argumentation
Related memorial objects in the same institution
Additional remarks (original location)

Additional remarks

Memorial piece
Function
Specification
Additional remarks
Memorial monument or floor slab
Function
liturgical/religious; no information on possible other functions
Grave findings
Additional remarks
No information is available about possible other functions, because only a fragment of the lid of the sarcophagus remains

Original function
Change in function
Remarks about function
Name
Specification

Members of the commemorated party
Commemorated person(s)
Commemorated institution(s)

Relation between commemorated persons
Relation specification
Additional remarks
Name
Composition of the commissioning party
Specification

Members of the commissioning party
Commissioning person(s)
Commissioning Institution(s)

Relation between commissioning party and commemorated party
Relation specification
Additional remarks
Material(s)
Specification
sandstone
Traces of polychromy?
Reuse of older objects

Dimensions (cm)
Height x width x depth

Completeness
Incomplete: a fragment. Part of the right-hand side of the original lid.
Condition
The fragment is broken and damaged
Conservation
Technical research
Specification (technical research)

Alterations
Alterations
Specification

Additional remarks
Provenance
Provenance
Marks of ownership
Type(s) of mark(s) of ownership
Specification

Broekhoven, Sabine; Stenvert, Ronald; Kolman, Chris; Ginkel-Meester, Saskia van, Monumenten in Nederland, Drenthe (Zwolle/Zeist 2001), 172
Knottnerus, J., Oude Drentse Kerken in beeld 2, http://home.kpn.nl/n1357/rolde_17.htm

Other documentation
Additional remarks
Additional remarks
Sarcophagus (lid) of [1398] Sarcophagus lid of unknown person(s) (fragment(s))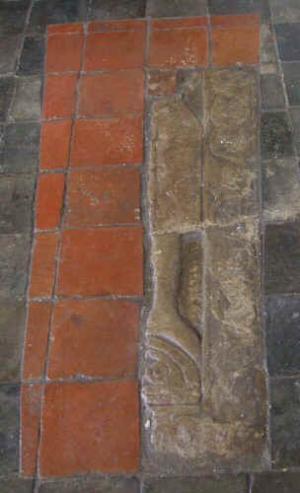 Indication of part
Indication of part
Sarcophagus (lid)
Short description
Short description
Fragment of a stone lid with an effigy and decorations along the edge
Dimensions (cm)
Height x Width x Depth
Date
Year
1150-1200
Specified date
Argumentation

based on stylistic research

Specification
Additional remarks
Holding institution
Holding institution
Rolde, Jacobuskerk (Nederlands Hervormde Kerk)
Collection
Collection identifier
Online description link
Alternative or previous collections
Alternative of previous identifiers
Accessibility
Remarks about holding institution
The lid is located in the choir
Contract
Contract
Artist(s)
Filiation
Filiation
This lid shares similarities with lids in Janum and Roodkerk, respectively MeMO Memorial Object ID 1348 and 1366
Additional remarks
Additional remarks
Portraits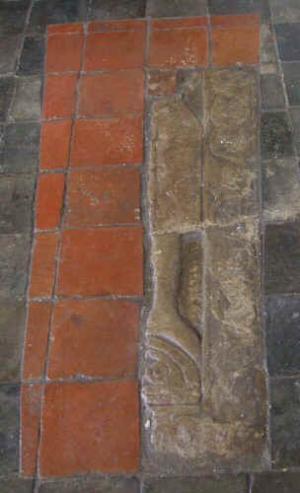 Indication of part
Indication of part
Sarcophagus (lid)
Place of the portrait
Place of the portrait
in the centre of the (original) lid
Portrait of
Name
Sex
Argumentation
Specification
Portrait — portraiture
Physical state of the portrayed person
cannot be determined
Argumentation
Specification
Posture
standing
Manner of portrayal
Standing on a mirrored volute? The hands may have been raised in front of the chest, possibly in prayer (orant position). The feet are turned outward.
Portrait — clothing, attributes and insignia

Clothing
Type of clothing
Short description
a knee-length tunic with a belt
Attributes
Attributes
Specification
Insignia
Insignia
Specification
Remarks about clothing

Additional remarks
The effigy is incomplete. In its original state, it most likely resembled the effigies on lids in Janum and Roodkerk, respectively MeMO Memorial Object ID 1348 and 1366.
Decorations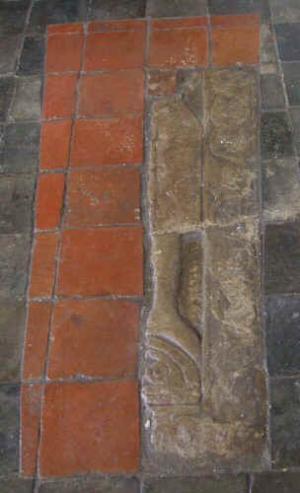 Indication of part
Indication of the part
Sarcophagus (lid)
Type(s) of decoration(s)
Type(s) of decoration(s)

flowers/plants
scrollwork and/or strapwork

Description of the decoration(s)
Description of the decoration(s)
(part of) a mirrored volute motif at the bottom; leaves (or fruit?) between scrollwork on the edge
Depicted allegories
Depicted allegories
Additional remarks
Additional remarks