Description - Memorial Object
Stone tablet of a memorial sculpture of Hendrik Raescop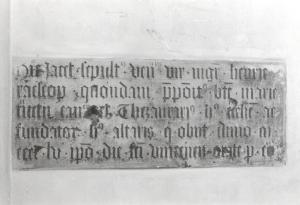 MeMO memorial object ID and name
MeMO memorial object ID
141
Name
Stone tablet of a memorial sculpture of Hendrik Raescop
Holding institution(s)
Holding institution(s)

Utrecht, Domkerk (St. Maartenskerk)

Category
Type
Memorial item (physical object)
Classification
Single piece (sculpture)
Short description
Stone tablet of a memorial sculpture with a memorial text
Remarks about category
General date
General date
1425-1475
Artist(s)
Artist(s)
Original institution(s)
Still in original institution?
yes

Location inside the institution
In situ?
yes
(Probable) original location

in a chapel
near another memorial object for the commemorated person(s) or relatives
near an altar

Argumentation
Raescop's memorial piece has always been located in the 'Blasiuskapel' (chapel of St Blaise), which in the 15th century was known as the 'Raescopkapel' (chapel of Raescop). From the text on the memorial piece we can gather that it was placed near the grave of Raescop and near or above an altar which was founded by him. Archival records have revealed that Raescop was the founder of the altar of All Saints. He founded a daily Mass at this altar in 1451. Raescop's grave was located in the chapel as well.
Related memorial objects in the same institution
Additional remarks (original location)

Additional remarks

Memorial piece
Function

liturgical/religious
historical

Specification
Additional remarks
• The inscription refers to historical fact(s), i.e. the foundation of an altar. • No information is available about possible other functions: a religious image may be missing.
Memorial monument or floor slab
Function
Grave findings
Additional remarks

Original function
Change in function
Remarks about function
Name
Henricus Raescop (Hendrik Raescop)
Specification

Members of the commemorated party
Commemorated person(s)

[141] Henricus Raescop (Hendrik Raescop) (male)

Commemorated institution(s)

Relation between commemorated persons
not applicable (only one person mentioned/depicted)
Relation specification
Additional remarks
Name
Composition of the commissioning party
Specification

Members of the commissioning party
Commissioning person(s)
Commissioning Institution(s)

Relation between commissioning party and commemorated party
Relation specification
Additional remarks
Material(s)
Specification
sandstone; paint
Traces of polychromy?
Reuse of older objects

Dimensions (cm)
Height x width x depth
33 x 60 x 0

Completeness
The shape of the tablet suggests that it was originally surmounted by a religious image. Perhaps also heraldic shields are missing.
Condition
The text is slightly damaged
Conservation
The letters have been retouched with black paint
Technical research
Specification (technical research)

Alterations
Alterations
Specification

Additional remarks
Provenance
Provenance
The memorial piece has been in the church of old
Marks of ownership
Type(s) of mark(s) of ownership
Specification

Bloys van Treslong Prins, P.C., Genealogische en heraldische gedenkwaardigheden in en uit de provincie Utrecht (Utrecht 1919), 212; no. 76
Borst, P., et al., Graven en begraven in de Dom van Utrecht (Bunnik 1997), 115; I
Groot, A. de, De Dom van Utrecht in de zestiende eeuw. Inrichting, decoratie en gebruik van de katholieke kathedraal (Amsterdam 2011), 81, 284, 342; no. 47
Haslinghuis, E.J.; Peeters, C.J.A.C., De Nederlandse Monumenten van Geschiedenis en Kunst, dl. II, De provincie Utrecht, Eerste stuk, De gemeente Utrecht, Tweede aflevering, De Dom van Utrecht ('s-Gravenhage 1965), 293, 398; 2

Other documentation
SKKN: inv. no. 967-248, photo no. 967-248_2 (SKKN record of 1978: inv. no. 53)
Additional remarks
Additional remarks
Single piece (front) of [141] Stone tablet of a memorial sculpture of Hendrik Raescop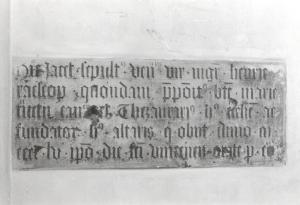 Indication of part
Indication of part
Single piece (front)
Short description
Short description
Stone tablet of a memorial sculpture with a memorial text
Dimensions (cm)
Height x Width x Depth
33 x 60 x 0
Date
Year
1455
Specified date
1455/01/22
Argumentation

date of death given on the object

Specification
Additional remarks
Holding institution
Holding institution
Utrecht, Domkerk (St. Maartenskerk)
Collection
Collection identifier
Online description link
Alternative or previous collections
Alternative of previous identifiers
Accessibility
No longer visible for visitors
Remarks about holding institution
The tablet is located in the 'Blasiuskapel' (chapel of St Blaise), which currently serves as storage space. It is built into the west wall, to the left of the ladies' room.
Contract
Contract
Artist(s)
Filiation
Filiation
Additional remarks
Additional remarks
Inscriptions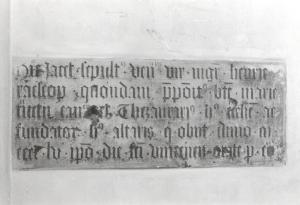 Indication of part
Indication of part
Single piece (front)
Place of the inscription
Place of the inscription
across the tablet
Language(s)
Languages
Language specification
Transcription
Transcription
Hic iacet sepultus venerabilis magister Henricus Raescop, quondam prepositus beate Marie Traiectensis, canonicus et thesaurarius huius ecclesie ac fundator huius altaris, qui obiit anno MCCCCLV ipso die Sancti Vincencii. Orate pro eo.
Translation
English translation
Here lies buried the venerable master Hendrik Raescop, former provost of St. Mary's Church in Utrecht, canon and treasurer of this church and also founder of this altar, who died in the year 1455 on St. Vincent's Day. Pray for him.
Dutch translation
Hier ligt begraven de eerbiedwaardige meester Hendrik Raescop, voorheen proost van de Mariakerk in Utrecht, kanunnik en thesaurier van deze kerk en ook stichter van dit altaar, die stierf in het jaar 1455 op St. Vincentsdag. Bidt voor hem.
Lay–out
Lay-out
Gothic textualis
Inscription mentioning
Name
[141] Henricus Raescop (Hendrik Raescop) (male)
Sex
male
Argumentation
the person is being commemorated
Additional remarks
Additional remarks
The memorial text mentions that the grave of the commerated person and the altar he founded is located nearby. • St Vincent's Day is on January 22.
Person Description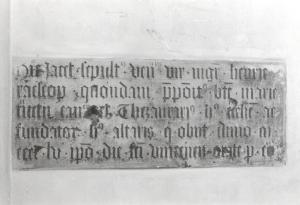 Personal identification number
Personal identification number
141
Personal details
Name
Henricus Raescop (Hendrik Raescop)
Sex
male
Year/date of birth
Year/date of death
1455/01/22
Additional remarks
Founder of the altar of All Saints in the St. Maartenskerk/Domkerk (St Martin's Church/Dom Church) in Utrecht. He founded a daily Mass at this altar in 1451. Raescop was also buried in the St. Maartenskerk/Domkerk.
Social standing
Status
secular clergy
Arguments

mentioned in the inscription

Specification
Member of a convent
Religious order
Specification
Member of secular clergy
Type of secular clergy
canon
Specification
canon and treasurer of the St. Maartenskerk/Domkerk in Utrecht, respectively from 1419 and 1432; provost of the Mariakerk (St Mary's Church) in Utrecht in the period 1440-1452
Additional remarks
Additional remarks