Description - Memorial Object
Floor slab(?) of an unknown person and an unknown priest (fragment(s))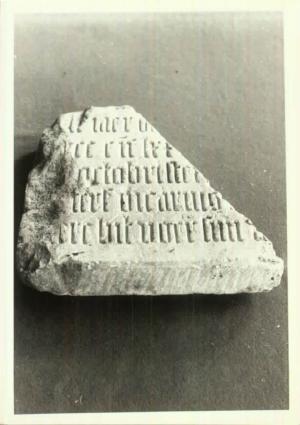 MeMO memorial object ID and name
MeMO memorial object ID
1415
Name
Floor slab(?) of an unknown person and an unknown priest (fragment(s))
Holding institution(s)
Holding institution(s)
Category
Type
Tomb monument, tomb slab or floor slab (physical object)
Classification
Tomb slab or floor slab
Short description
Fragment of a stone slab(?) with inscription(s)
Remarks about category
General date
General date
1450-1500
Artist(s)
Artist(s)
Original institution(s)
Still in original institution?
probably yes

Location inside the institution
In situ?
(Probable) original location

in the church/chapel (exact location unknown)

Argumentation
Related memorial objects in the same institution
Additional remarks (original location)

Additional remarks

Memorial piece
Function
Specification
Additional remarks
Memorial monument or floor slab
Function
liturgical/religious and social
Grave findings
Additional remarks
For social function: see Commemorated party. • No information is available about possible other functions, because the object is too damaged. It is not even certain that the fragment was originally part of a floor slab, covering a grave.

Original function
Change in function
Remarks about function
Name
Specification

Members of the commemorated party
Commemorated person(s)

[6533] unknown person (unknown)
[6534] unknown priest (male)

Commemorated institution(s)

Relation between commemorated persons
relation (type of relation unknown)
Relation specification
Additional remarks
The mention of the persons in one inscription suggests a relationship, but its nature is unknown
Name
Composition of the commissioning party
Specification

Members of the commissioning party
Commissioning person(s)
Commissioning Institution(s)

Relation between commissioning party and commemorated party
Relation specification
Additional remarks
Material(s)
Specification
Traces of polychromy?
Reuse of older objects

Dimensions (cm)
Height x width x depth
29 x 28 x 0

Completeness
Incomplete: a fragment. Possibly the lower left corner of a floor slab.
Condition
Conservation
Technical research
Specification (technical research)

Alterations
Alterations
Specification

Additional remarks
Provenance
Provenance
The fragment was discovered by an employee of the SKKN while making an inventory of the church
Marks of ownership
Type(s) of mark(s) of ownership
Specification
Other documentation
SKKN: inv. no. 3813-19
Additional remarks
Additional remarks
Tomb or floor slab (front) of [1415] Floor slab(?) of an unknown person and an unknown priest (fragment(s))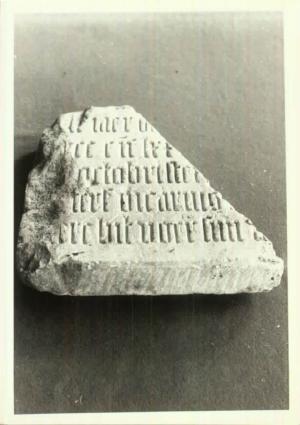 Indication of part
Indication of part
Tomb or floor slab (front)
Short description
Short description
Fragment of a stone slab(?) with inscription(s)
Dimensions (cm)
Height x Width x Depth
29 x 28 x 0
Date
Year
1470-1489
Specified date
????/10/??
Argumentation

date of death given on the object

Specification
Between 1470 and 1489, see Inscriptions. If the person who is commemorated first died in the 1490s, then the date would probably have read MCCCCXC[...].
Additional remarks
The fragmentary state of the stone makes it impossible to determine the exact date of death
Holding institution
Holding institution
Amersfoort, Joriskerk
Collection
Collection identifier
Online description link
Alternative or previous collections
Alternative of previous identifiers
Accessibility
Remarks about holding institution
The fragment is located in the consistory
Contract
Contract
Artist(s)
Filiation
Filiation
Additional remarks
Additional remarks
Inscriptions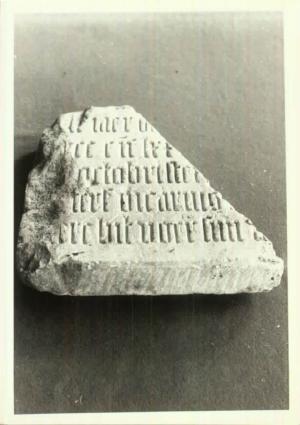 Indication of part
Indication of part
Tomb or floor slab (front)
Place of the inscription
Place of the inscription
covering the surface of the fragment
Language(s)
Languages
Language specification
Transcription
Transcription
[I]nt iaer o[ns heren MC]CCC ende LXX[...] octobri ster[f] [...] [s]terf vicarius [...]ere bit voir sijn s[iel].
Translation
English translation
In the year of Our Lord 1400 and LXX[...] October died [...] died chantry priest [...] pray for his soul.
Dutch translation
Lay–out
Lay-out
Gothic textualis
Inscription mentioning
Name
[6534] unknown priest (male)
Sex
male
Argumentation
the person is being commemorated
Name
[6533] unknown person (unknown)
Sex
unknown
Argumentation
the person is being commemorated
Additional remarks
Additional remarks
The slab (?) commemorated at least two persons. The word 'died' occurs twice in the remaining inscription.
Person Description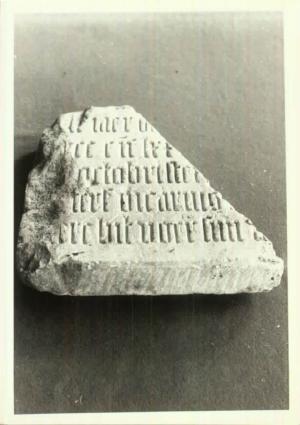 Personal identification number
Personal identification number
6533
Personal details
Name
unknown person
Sex
unknown
Year/date of birth
Year/date of death
Additional remarks
He/she probably died between 1470 and 1489, in the month of October
Social standing
Status
Arguments
Specification
Member of a convent
Religious order
Specification
Member of secular clergy
Type of secular clergy
Specification
Additional remarks
Additional remarks
Personal identification number
Personal identification number
6534
Personal details
Name
unknown priest
Sex
male
Year/date of birth
Year/date of death
Additional remarks
Social standing
Status
secular clergy
Arguments

mentioned in the inscription

Specification
Member of a convent
Religious order
Specification
Member of secular clergy
Type of secular clergy
(parish or chantry) priest
Specification
chantry priest ('vicarius'), possibly of the St. Joriskerk (St George's Church) in Amersfoort
Additional remarks
Additional remarks