Description - Memorial Object
Floor slab of Hendrik Valckenaer and Oda van Zuylen van Nyevelt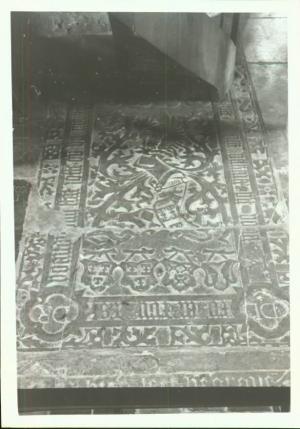 MeMO memorial object ID and name
MeMO memorial object ID
1462
Name
Floor slab of Hendrik Valckenaer and Oda van Zuylen van Nyevelt
Holding institution(s)
Holding institution(s)
Category
Type
Tomb monument, tomb slab or floor slab (physical object)
Classification
Tomb slab or floor slab
Short description
Richly decorated stone slab with a per pale coat of arms in the centre, four heraldic shields above and below, quatrefoils in the corners, and floral decorations and an inscription along the edge
Remarks about category
General date
General date
1500-1550
Artist(s)
Artist(s)
Original institution(s)
Still in original institution?
yes

Location inside the institution
In situ?
(Probable) original location

in the church/chapel (exact location unknown)

Argumentation
Related memorial objects in the same institution
Additional remarks (original location)

Additional remarks

Memorial piece
Function
Specification
Additional remarks
Memorial monument or floor slab
Function
liturgical/religious and social
Grave findings
Additional remarks
Commemorated on the object are a married couple, (members of) a nuclear family or (members of) an extended family: see Commemorated party.

Original function
Change in function
Remarks about function
Name
Henrick Valckenaer and Oyen van Nievelt (Hendrik Valckenaer and Oda van Zuylen van Nyevelt)
Specification

Members of the commemorated party
Commemorated person(s)

[3466] Oyen van Nievelt (Oda van Zuylen van Nyevelt) (female)
[3465] Henrick Valckenaer (Hendrik Valckenaer) (male)

Commemorated institution(s)

Relation between commemorated persons
married couple
Relation specification
Additional remarks
Name
Composition of the commissioning party
Specification

Members of the commissioning party
Commissioning person(s)
Commissioning Institution(s)

Relation between commissioning party and commemorated party
Relation specification
Additional remarks
Material(s)
Specification
blue limestone
Traces of polychromy?
Reuse of older objects

Dimensions (cm)
Height x width x depth
210 x 120 x 0

Completeness
Incomplete. The slab has been cut down in size: part of the lower half of the slab was cut off (near the break).
Condition
The slab is damaged and slightly worn. Break filled with cement.
Conservation
Technical research
Specification (technical research)

Alterations
Alterations
Specification

Additional remarks
Provenance
Provenance
Marks of ownership
Type(s) of mark(s) of ownership
Specification

Bloys van Treslong Prins, P.C., Genealogische en heraldische gedenkwaardigheden in en uit de kerken der provincie Utrecht (Utrecht 1919), 142; no. 1

Other documentation
SKKN: inv. no. 4208-13, photo no. 50.65.15
Additional remarks
Additional remarks
Letters in the quatrefoils in the corners (DR/DL). Their meaning is unclear.
Tomb or floor slab (front) of [1462] Floor slab of Hendrik Valckenaer and Oda van Zuylen van Nyevelt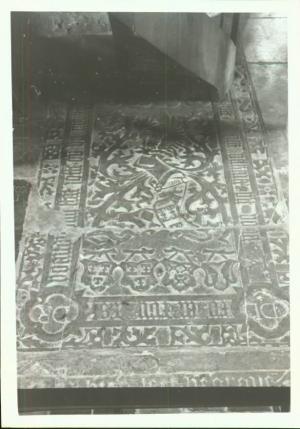 Indication of part
Indication of part
Tomb or floor slab (front)
Short description
Short description
Richly decorated stone slab with a per pale coat of arms in the centre, four heraldic shields above and below, quatrefoils in the corners, and floral decorations and an inscription along the edge
Dimensions (cm)
Height x Width x Depth
210 x 120 x 0
Date
Year
1517
Specified date
Argumentation

based on historical and/or technical research

Specification
earliest date of death mentioned on the slab
Additional remarks
Holding institution
Holding institution
Rhenen, Cunerakerk
Collection
Collection identifier
Online description link
Alternative or previous collections
Alternative of previous identifiers
Accessibility
Remarks about holding institution
The slab is located under the organ staircase
Contract
Contract
Artist(s)
Filiation
Filiation
Additional remarks
Additional remarks
Heraldry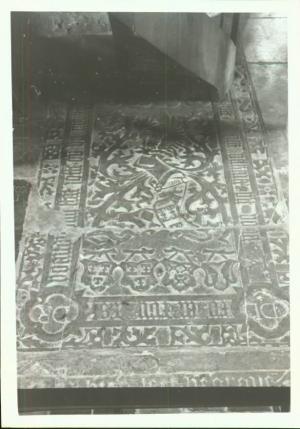 Indication of part
Indication of part
Tomb or floor slab (front)
Place of heraldry
Place of heraldry
centre of the slab
Specification of heraldry
Type of heraldry
Marshalled arms (2 coats of arms in one shield per pale or per fess)
Specification
Shape of the shield
Late renaissance shield
Specification
Description of the shield
per pale, I: three lozenges conjoined in pale; II: three zules, 2-1 (gedeeld, I: drie aanstotende ruiten, paalsgewijs geplaatst; II: drie zuilen, 2-1)
Description of the upper arms (helmet, crest and mantling)
crest: an issuant eagle, wings elevated (helmteken: een uitkomende adelaar)
Remarks
Additional parts of the achievement
Type of supporter
Specification
Motto
English translation of the motto
Insignia or attributes
Heraldry belonging to
Heraldry belonging to
Valckenaer-Van Zuylen van Nyevelt

Person details
Person details

[3466] Oyen van Nievelt (Oda van Zuylen van Nyevelt) (female)
[3465] Henrick Valckenaer (Hendrik Valckenaer) (male)

Additional remarks
Additional remarks
Indication of part
Indication of part
Tomb or floor slab (front)
Place of heraldry
Place of heraldry
top of the slab, first from the left
Specification of heraldry
Type of heraldry
Personal use of family arms (one undivided shield)
Specification
Shape of the shield
Late renaissance shield
Specification
Description of the shield
three lozenges, conjoined in pale (drie aanstotende ruiten, paalsgewijs geplaatst)
Description of the upper arms (helmet, crest and mantling)
Remarks
Additional parts of the achievement
Type of supporter

Other (guige or band, tree, branch)

Specification
Hanging from a bare branch
Motto
English translation of the motto
Insignia or attributes
Heraldry belonging to
Heraldry belonging to
Valckenaer

Person details
Person details

Additional remarks
Additional remarks
Indication of part
Indication of part
Tomb or floor slab (front)
Place of heraldry
Place of heraldry
top of the slab, second from the left
Specification of heraldry
Type of heraldry
Personal use of family arms (one undivided shield)
Specification
Shape of the shield
Late renaissance shield
Specification
Description of the shield
three crampons, 2-1 (drie weerhaken, 2-1)
Description of the upper arms (helmet, crest and mantling)
Remarks
Additional parts of the achievement
Type of supporter

Other (guige or band, tree, branch)

Specification
Hanging from a bare branch
Motto
English translation of the motto
Insignia or attributes
Heraldry belonging to
Heraldry belonging to
Boetzelaer

Person details
Person details

Additional remarks
Additional remarks
Indication of part
Indication of part
Tomb or floor slab (front)
Place of heraldry
Place of heraldry
top of the slab, third shield from the left
Specification of heraldry
Type of heraldry
Personal use of family arms (one undivided shield)
Specification
Shape of the shield
Late renaissance shield
Specification
Description of the shield
in a chief three lozenges (in een schildhoofd drie ruiten, naast elkaar)
Description of the upper arms (helmet, crest and mantling)
Remarks
Additional parts of the achievement
Type of supporter

Other (guige or band, tree, branch)

Specification
Hanging from a bare branch
Motto
English translation of the motto
Insignia or attributes
Heraldry belonging to
Heraldry belonging to
Freys

Person details
Person details

Additional remarks
Additional remarks
Indication of part
Indication of part
Tomb or floor slab (front)
Place of heraldry
Place of heraldry
top of the slab, fourth shield from the left
Specification of heraldry
Type of heraldry
Personal use of family arms (one undivided shield)
Specification
Shape of the shield
Late renaissance shield
Specification
Description of the shield
a lion, over all a label (een leeuw, over alles heen een barensteel)
Description of the upper arms (helmet, crest and mantling)
Remarks
Additional parts of the achievement
Type of supporter

Other (guige or band, tree, branch)

Specification
Hanging from a bare branch
Motto
English translation of the motto
Insignia or attributes
Heraldry belonging to
Heraldry belonging to
Langerak

Person details
Person details

Additional remarks
Additional remarks
Indication of part
Indication of part
Tomb or floor slab (front)
Place of heraldry
Place of heraldry
bottom of the slab, first shield from the left
Specification of heraldry
Type of heraldry
Personal use of family arms (one undivided shield)
Specification
Shape of the shield
Late renaissance shield
Specification
Description of the shield
three zules, 2-1 (drie zuilen, 2-1)
Description of the upper arms (helmet, crest and mantling)
Remarks
Additional parts of the achievement
Type of supporter

Other (guige or band, tree, branch)

Specification
Hanging from a bare branch
Motto
English translation of the motto
Insignia or attributes
Heraldry belonging to
Heraldry belonging to
Van Zuylen (van Nyevelt)

Person details
Person details

Additional remarks
Additional remarks
Indication of part
Indication of part
Tomb or floor slab (front)
Place of heraldry
Place of heraldry
bottom of the slab, second shield from the left
Specification of heraldry
Type of heraldry
Personal use of family arms (one undivided shield)
Specification
Shape of the shield
Late renaissance shield
Specification
Description of the shield
three zules, 2-1 (drie zuilen, 2-1)
Description of the upper arms (helmet, crest and mantling)
Remarks
Additional parts of the achievement
Type of supporter

Other (guige or band, tree, branch)

Specification
Hanging from a bare branch
Motto
English translation of the motto
Insignia or attributes
Heraldry belonging to
Heraldry belonging to
Van Zuylen (van Nyevelt)

Person details
Person details

Additional remarks
Additional remarks
Indication of part
Indication of part
Tomb or floor slab (front)
Place of heraldry
Place of heraldry
bottom of the slab, third shield from the left
Specification of heraldry
Type of heraldry
Personal use of family arms (one undivided shield)
Specification
Shape of the shield
Late renaissance shield
Specification
Description of the shield
three mill-rinds, 2-1 (drie molenijzers, 2-1)
Description of the upper arms (helmet, crest and mantling)
Remarks
Additional parts of the achievement
Type of supporter

Other (guige or band, tree, branch)

Specification
Hanging from a bare branch
Motto
English translation of the motto
Insignia or attributes
Heraldry belonging to
Heraldry belonging to
Montfoort

Person details
Person details

Additional remarks
Additional remarks
Indication of part
Indication of part
Tomb or floor slab (front)
Place of heraldry
Place of heraldry
bottom of the slab, fourth shield from the left
Specification of heraldry
Type of heraldry
Personal use of family arms (one undivided shield)
Specification
Shape of the shield
Late renaissance shield
Specification
Description of the shield
two addorsed salmons in pale (twee afgewende zalmen naast elkaar)
Description of the upper arms (helmet, crest and mantling)
Remarks
Additional parts of the achievement
Type of supporter

Other (guige or band, tree, branch)

Specification
Hanging from a bare branch
Motto
English translation of the motto
Insignia or attributes
Heraldry belonging to
Heraldry belonging to
De Wit

Person details
Person details

Additional remarks
Additional remarks
Inscriptions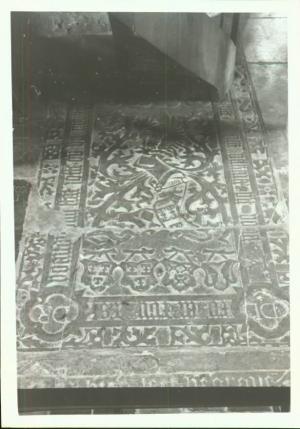 Indication of part
Indication of part
Tomb or floor slab (front)
Place of the inscription
Place of the inscription
along all four edges of the slab
Language(s)
Languages
Language specification
Transcription
Transcription
Anno MCCCCC ende XXXI sterf Henrick Valckenaer. Bit vo[or de s]iel. Anno XVc ende XVII des voen[...] Juny starf Joffer Oyen van Nievelt. Bit voor de ziel.
Translation
English translation
In the year 1500 and 31 died Hendrik Valckenaer. Pray for the soul. In the year 1500 and 17 on the [?] June died mistress Oda van Nyevelt. Pray for the soul.
Dutch translation
Lay–out
Lay-out
Gothic textualis
Inscription mentioning
Name
[3465] Henrick Valckenaer (Hendrik Valckenaer) (male)
Sex
male
Argumentation
the person is being commemorated
Name
[3466] Oyen van Nievelt (Oda van Zuylen van Nyevelt) (female)
Sex
female
Argumentation
the person is being commemorated
Additional remarks
Additional remarks
The bracketed text is missing
Decorations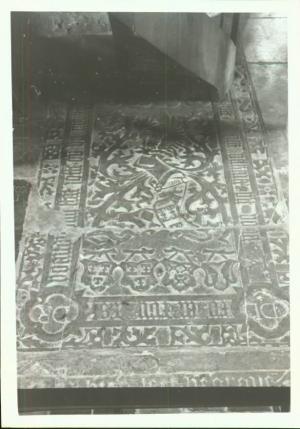 Indication of part
Indication of the part
Tomb or floor slab (front)
Type(s) of decoration(s)
Type(s) of decoration(s)
Description of the decoration(s)
Description of the decoration(s)
flowers and foliage along the edge
Depicted allegories
Depicted allegories
Additional remarks
Additional remarks
Person Description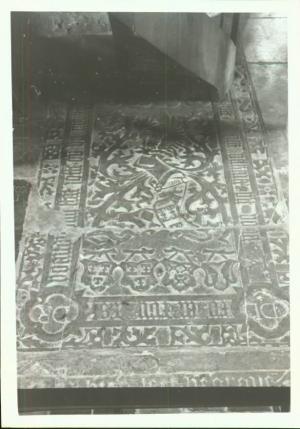 Personal identification number
Personal identification number
3465
Personal details
Name
Henrick Valckenaer (Hendrik Valckenaer)
Sex
male
Year/date of birth
Year/date of death
1531
Additional remarks
Son of Hendrik Valckenaer and Cunegonda van Boetzelaer. He was married to Oda (Odilia/Oyen) van Zuylen van Nyevelt.
Social standing
Status
patriciate
Arguments
Specification
marshal of the Oversticht
Member of a convent
Religious order
Specification
Member of secular clergy
Type of secular clergy
Specification
Additional remarks
Additional remarks
Personal identification number
Personal identification number
3466
Personal details
Name
Oyen van Nievelt (Oda van Zuylen van Nyevelt)
Sex
female
Year/date of birth
Year/date of death
1517/06/17
Additional remarks
First name: Oda, Odilia or Oyen. Daughter of Gerrit van Zuylen van Nyevelt and Hillegonda van Zuylen van Nyevelt. She was married to Hendrik Valckenaer.
Social standing
Status
Arguments
Specification
Member of a convent
Religious order
Specification
Member of secular clergy
Type of secular clergy
Specification
Additional remarks
Additional remarks