Description - Memorial Object
Stone tablet of a memorial piece of Gerhard van Texell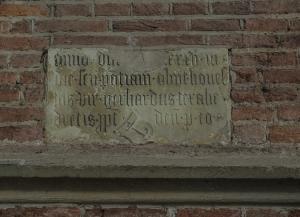 MeMO memorial object ID and name
MeMO memorial object ID
1463
Name
Stone tablet of a memorial piece of Gerhard van Texell
Holding institution(s)
Holding institution(s)
Category
Type
Memorial item (physical object)
Classification
Single piece (sculpture)
Short description
Stone tablet with an inscription and a heraldic shield
Remarks about category
General date
General date
1475-1500
Artist(s)
Artist(s)
Original institution(s)
Still in original institution?
yes

Location inside the institution
In situ?
unclear
(Probable) original location
Argumentation
Related memorial objects in the same institution
Additional remarks (original location)

Additional remarks

Memorial piece
Function
Specification
Additional remarks
Memorial monument or floor slab
Function
Grave findings
Additional remarks

Original function
Change in function
Remarks about function
Name
Gerhardus Texalie (Gerhard van Texell)
Specification

Members of the commemorated party
Commemorated person(s)

[3472] Gerhardus Texalie (Gerhard van Texell) (male)

Commemorated institution(s)

Relation between commemorated persons
not applicable (only one person mentioned/depicted)
Relation specification
Additional remarks
Name
Composition of the commissioning party
Specification

Members of the commissioning party
Commissioning person(s)
Commissioning Institution(s)

Relation between commissioning party and commemorated party
Relation specification
Additional remarks
Material(s)
Specification
blonde sandstone
Traces of polychromy?
(traces of) black paint in the inscription
Reuse of older objects

Dimensions (cm)
Height x width x depth
35 x 59 x 0

Completeness
Part of the tablet's upper section is lost and has been filled with cement
Condition
Damages along the edges
Conservation
Technical research
Specification (technical research)

Alterations
Alterations
Specification

Additional remarks
Provenance
Provenance
Marks of ownership
Type(s) of mark(s) of ownership
Specification

Dubbe, B., Interieur en inventaris tot 1800, in: Mekking, Aart J.J., De Grote of Lebuinuskerk te Deventer: de 'Dom' van het Oversticht veelzijdig bekeken (Zutphen 1992), 234-279, 259; figure 221
Koch, A.C.F.; Kuile, E.H. ter, De Nederlandse monumenten van geschiedenis en kunst IV. De provincie Overijssel, 2e stuk: Zuid-Salland (The Hague 1964), 54
Kolman, Chris; Olde Meierink, B.; Stenvert, Ronald, Monumenten in Nederland, Overijssel (Zwolle/Zeist 1998), 101

Other documentation
• SKKN inv. no. 10009-15, photo no. 50.842.6. • HCO Deventer, Beeldbank: 10_FK2_2 : 1194 : 5364
Additional remarks
Additional remarks
Single piece (front) of [1463] Stone tablet of a memorial piece of Gerhard van Texell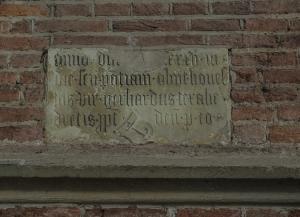 Indication of part
Indication of part
Single piece (front)
Short description
Short description
Stone tablet with an inscription and a heraldic shield
Dimensions (cm)
Height x Width x Depth
35 x 59 x 0
Date
Year
1485
Specified date
1485/01/14
Argumentation

date of death given on the object

Specification
Additional remarks
Holding institution
Holding institution
Deventer, Lebuinuskerk
Collection
Collection identifier
Online description link
Alternative or previous collections
Alternative of previous identifiers
Accessibility
Remarks about holding institution
The tablet is located high to the right of the northern entrance, built into a brick wall
Contract
Contract
Artist(s)
Filiation
Filiation
Additional remarks
Additional remarks
Heraldry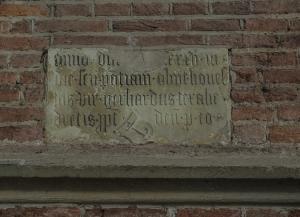 Indication of part
Indication of part
Single piece (front)
Place of heraldry
Place of heraldry
at the bottom of the tablet
Specification of heraldry
Type of heraldry
Personal use of family arms (one undivided shield)
Specification
Shape of the shield
Tournament shield
Specification
Description of the shield
an anchor (een anker)
Description of the upper arms (helmet, crest and mantling)
Remarks
Additional parts of the achievement
Type of supporter
Specification
Motto
English translation of the motto
Insignia or attributes
Heraldry belonging to
Heraldry belonging to
Van Texell?

Person details
Person details

[3472] Gerhardus Texalie (Gerhard van Texell) (male)

Additional remarks
Additional remarks
See MeMO memorial object ID 3973, in the same church
Inscriptions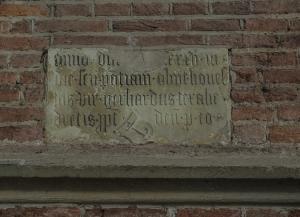 Indication of part
Indication of part
Single piece (front)
Place of the inscription
Place of the inscription
across the tablet
Language(s)
Languages
Language specification
Transcription
Transcription
Anno domini [Mo CCCCo L]XXXVo in die sanctissimi Pontiani obiit honestus vir Gerhardus Texalie. Dretis propitium deum pro eo.
Translation
English translation
In the year of the Lord 1485 on the (feast) day of the most holy Pontianus died the honourable man Gerhard van Texell. May you pray for him to the merciful God.
Dutch translation
In het jaar des Heren 1485 op de (feest)dag van de allerheiligste Pontianus stierf de eerzame man Gerhard van Texell. Bidt voor hem tot de genadige God .
Lay–out
Lay-out
Incised Gothic textualis
Inscription mentioning
Name
[3472] Gerhardus Texalie (Gerhard van Texell) (male)
Sex
male
Argumentation
the person is being commemorated
Additional remarks
Additional remarks
• The bracketed letters are lost. This part of the transcription is taken from Dubbe (1992). • The feast of Pontianus of Spoleto is celebrated on January 14. • The word 'dretis' is most likely an error on the part of the stonemason and should have read 'oretis'.
Person Description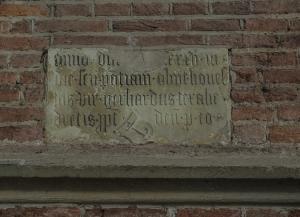 Personal identification number
Personal identification number
3472
Personal details
Name
Gerhardus Texalie (Gerhard van Texell)
Sex
male
Year/date of birth
Year/date of death
1485/01/14
Additional remarks
Gerhard van Texell may have originated from the isle of Texel. A 'Geerd van Texell' is mentioned in an archival record of 1477 (HCO Deventer, entry 0767, number 646-HG).
Social standing
Status
citizen of city
Arguments
Specification
citizen of Deventer (1437); notary of the chapter of St Lebuinus in Deventer
Member of a convent
Religious order
Specification
Member of secular clergy
Type of secular clergy
Specification
Additional remarks
Additional remarks