Description - Memorial Object
Floor slab of Tjalling van Botnia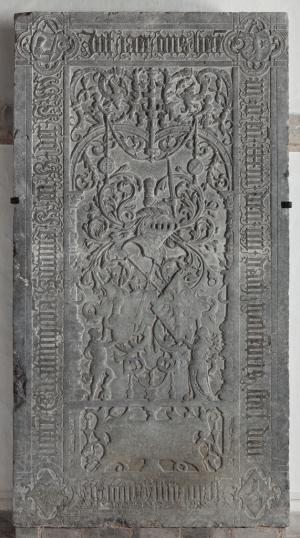 MeMO memorial object ID and name
MeMO memorial object ID
157
Name
Floor slab of Tjalling van Botnia
Holding institution(s)
Holding institution(s)
Category
Type
Tomb monument, tomb slab or floor slab (physical object)
Classification
Tomb slab or floor slab
Short description
Stone slab with allied arms held by human figures under a double arch, a cartouche with worn inscription below, an inscription along the edge, and quatrefoils with heraldic shields in the corners
Remarks about category
General date
General date
1525-1550
Artist(s)
Artist(s)
Original institution(s)
Still in original institution?
yes

Location inside the institution
In situ?
no
(Probable) original location

in the church/chapel (exact location unknown)

Argumentation
Related memorial objects in the same institution
Additional remarks (original location)
Tjalling's second wife and son were buried in the church as well

Additional remarks

Memorial piece
Function
Specification
Additional remarks
Memorial monument or floor slab
Function
liturgical/religious and historical/political
Grave findings
Additional remarks
• Decoration referring to a historical fact, a pilgrimage to Jerusalem. • No information is available about possible other functions, due to a worn inscription.

Original function
Change in function
Remarks about function
Name
Tyalyng van Botnya (Tjalling van Botnia)
Specification

Members of the commemorated party
Commemorated person(s)

[162] Tyalyng van Botnya (Tjalling van Botnia) (male)

Commemorated institution(s)

Relation between commemorated persons
not applicable (only one person mentioned/depicted)
Relation specification
Additional remarks
Name
Composition of the commissioning party
Specification

Members of the commissioning party
Commissioning person(s)
Commissioning Institution(s)

Relation between commissioning party and commemorated party
Relation specification
Additional remarks
Material(s)
Specification
blue limestone
Traces of polychromy?
Reuse of older objects

Dimensions (cm)
Height x width x depth
229 x 121 x 18

Completeness
Complete
Condition
Good
Conservation
Technical research
Specification (technical research)

Alterations
Alterations
Specification

Additional remarks
Provenance
Provenance
Marks of ownership
Type(s) of mark(s) of ownership
Specification

Cannegieter, Dominicus, Grafsteenen, lijkgedichten, gedenkteekenen en wapenborden in de Sint Martinikerk te Franeker, http://www.mpaginae.nl/Franeker/Cannegieter.htm; A 21
Heerma van Voss, A.L., De opgezette grafzerken in de Martinikerk te Franeker, De vrije Fries 40 (1950), 19-34, 26; no. 7
Leeman, Fred; Vos, Rik, Het nieuwe ornament ('s Gravenhage 1986), 140
Ligtenberg, Raphael, Grafzerken der XVIe eeuw in Friesland ( 1915), 7
Vries, O., De Heeren van den Raede. Biografieën en groepsportret van de raadsheren van het Hof van Friesland, 1499-1811 (Hilversum 1999), 205-206; no. 39
Walle, Hessel de, Friezen uit vroeger eeuwen; Opschriften uit Friesland, 1280-1811 (Franeker 2007), 243; no. 1648
Wierstra, Simon, Genealogische bestanden van de oude Friese adel en aanverwante families tot 1800, http://www.simonwierstra.nl/index6.htm
Zandveld, Frits, Register van grafzerken in de Martinikerk te Franeker, http://members.home.nl/frits.zandveld/zerken/zplatte.htm; no. 171

Other documentation
Register of G. van der Heide (1993): record 171
Additional remarks
Additional remarks
Tomb or floor slab (front) of [157] Floor slab of Tjalling van Botnia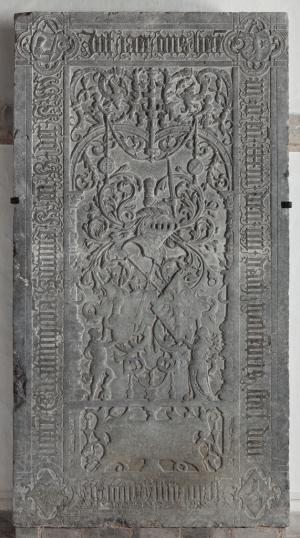 Indication of part
Indication of part
Tomb or floor slab (front)
Short description
Short description
Stone slab with allied arms held by human figures under a double arch, a cartouche with worn inscription below, an inscription along the edge, and quatrefoils with heraldic shields in the corners
Dimensions (cm)
Height x Width x Depth
229 x 121 x 18
Date
Year
1535
Specified date
Argumentation

date given on the object (not date of death)

Specification
date given on a small tablet attached to a column above the double arch, in the centre
Additional remarks
Holding institution
Holding institution
Franeker, Martinikerk
Collection
Collection identifier
Online description link
Alternative or previous collections
Alternative of previous identifiers
Accessibility
Remarks about holding institution
The slab is located in the ambulatory, placed vertically against the northern wall, near column 18 (groundplan Cannegieter and Zandveld)
Contract
Contract
Artist(s)

Identity
Name
Benedictus Gerbrants
Attribution
Specification
The small shield below the allied arms probably shows the signature of the artist: BG.
Assignment
Role
not specified
Specification

Additional remarks
Filiation
Filiation
The floor slab is stylistically similar to the slab of Tjalling's cousin Juw, with whom he went on a pilgrimage to the Holy Land, see MeMO Memorial Object 166
Additional remarks
Additional remarks
Heraldry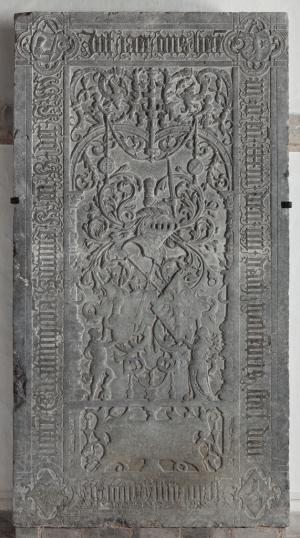 Indication of part
Indication of part
Tomb or floor slab (front)
Place of heraldry
Place of heraldry
in the centre, on the left
Specification of heraldry
Type of heraldry
Allied arms (2 coats of arms in 2 shields, respecting each other)
Specification
Shape of the shield
Late renaissance shield
Specification
Description of the shield
a contourny bowed and armoured arm holding an upright sword (een omgewende gebogen en geharnaste arm die een rechtsopstaande zwaard vasthoudt)
Description of the upper arms (helmet, crest and mantling)
crest: the contourny arm and sword of the arms (helmteken: de omgewende arm en zwaard uit het schild)
Remarks
Additional parts of the achievement
Type of supporter
Specification
A male figure, with one foot standing on a skull
Motto
English translation of the motto
Insignia or attributes
Heraldry belonging to
Heraldry belonging to
Botnia

Person details
Person details

[162] Tyalyng van Botnya (Tjalling van Botnia) (male)

Additional remarks
Additional remarks
Indication of part
Indication of part
Tomb or floor slab (front)
Place of heraldry
Place of heraldry
in the centre, on the right
Specification of heraldry
Type of heraldry
Allied arms (2 coats of arms in 2 shields, respecting each other)
Specification
Shape of the shield
Lozenge shield
Specification
Description of the shield
per pale, I: the Friesian eagle; II: per fess, A: a decrescent, to the sinister two stars in pale; B: three scallop shells, 2-1 (gedeeld, I: de Friese adelaar; II: doorsneden, A: een omgewende wassenaar links vergezeld van twee sterren boven elkaar; B: drie St. Jacobsschelpen, 2-1)
Description of the upper arms (helmet, crest and mantling)
Remarks
Additional parts of the achievement
Type of supporter
Specification
A female figure
Motto
English translation of the motto
Insignia or attributes
Heraldry belonging to
Heraldry belonging to
Hottinga

Person details
Person details

Additional remarks
Additional remarks
Frouck van Hottinga was Tjalling van Botnia's second wife
Indication of part
Indication of part
Tomb or floor slab (front)
Place of heraldry
Place of heraldry
in the upper left corner, inside a quatrefoil
Specification of heraldry
Type of heraldry
Personal use of family arms (one undivided shield)
Specification
Shape of the shield
Tournament shield
Specification
Description of the shield
a contourny bowed and armoured arm holding an upright sword (een omgewende gebogen en geharnaste arm die een rechtsopstaande zwaard vasthoudt)
Description of the upper arms (helmet, crest and mantling)
Remarks
Additional parts of the achievement
Type of supporter

Other (guige or band, tree, branch)

Specification
Suspended from a ring
Motto
English translation of the motto
Insignia or attributes
Heraldry belonging to
Heraldry belonging to
Botnia

Person details
Person details

Additional remarks
Additional remarks
Heraldry of Tjalling's paternal grandfather
Indication of part
Indication of part
Tomb or floor slab (front)
Place of heraldry
Place of heraldry
in the lower left corner, inside a quatrefoil
Specification of heraldry
Type of heraldry
Personal use of family arms (one undivided shield)
Specification
Shape of the shield
Lozenge shield
Specification
Description of the shield
a two-headed eagle (een dubbele adelaar)
Description of the upper arms (helmet, crest and mantling)
Remarks
Additional parts of the achievement
Type of supporter

Other (guige or band, tree, branch)

Specification
Suspended from a ring
Motto
English translation of the motto
Insignia or attributes
Heraldry belonging to
Heraldry belonging to
Jeppema

Person details
Person details

Additional remarks
Additional remarks
Heraldry of Tjalling's maternal grandfather
Indication of part
Indication of part
Tomb or floor slab (front)
Place of heraldry
Place of heraldry
in the upper right corner, inside a quatrefoil
Specification of heraldry
Type of heraldry
Personal use of family arms (one undivided shield)
Specification
Shape of the shield
Tournament shield
Specification
Description of the shield
per pale, I: the Friesian eagle; II: a six-pointed star (gedeeld, I: de Friese adelaar; II: een zespuntige ster)
Description of the upper arms (helmet, crest and mantling)
Remarks
Additional parts of the achievement
Type of supporter

Other (guige or band, tree, branch)

Specification
Suspended from a ring
Motto
English translation of the motto
Insignia or attributes
Heraldry belonging to
Heraldry belonging to
Sybeda

Person details
Person details

Additional remarks
Additional remarks
Heraldry of Tjalling's paternal grandmother
Indication of part
Indication of part
Tomb or floor slab (front)
Place of heraldry
Place of heraldry
in the lower right corner, inside a quatrefoil
Specification of heraldry
Type of heraldry
Personal use of family arms (one undivided shield)
Specification
Shape of the shield
Lozenge shield
Specification
Description of the shield
a lion (een leeuw)
Description of the upper arms (helmet, crest and mantling)
Remarks
Additional parts of the achievement
Type of supporter

Other (guige or band, tree, branch)

Specification
Suspended from a ring
Motto
English translation of the motto
Insignia or attributes
Heraldry belonging to
Heraldry belonging to
Helbada

Person details
Person details

Additional remarks
Additional remarks
Heraldry of Tjalling's maternal grandmother
Inscriptions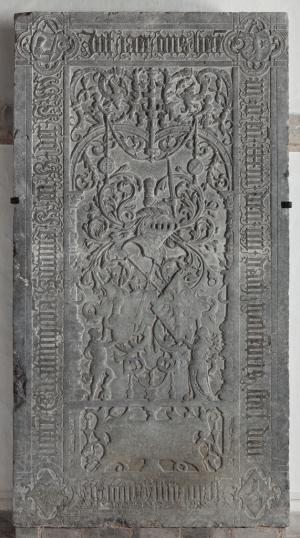 Indication of part
Indication of part
Tomb or floor slab (front)
Place of the inscription
Place of the inscription
along all four edges of the slab
Language(s)
Languages
Language specification
Transcription
Transcription
Int jaer ons heren MVc ende XXXIII, den IIII dach novembris, sterf den gestrengen, erntvesten heeren Tyalying van Botnya, R[idder] ende R[aet] der K[eiserlijcke] M[ajesteit].
Translation
English translation
In the year of Our Lord 1533, the 4th day of November, died the distinguished, venerable lord Tjalling van Botnia, knight and councillor of the Imperial Majesty.
Dutch translation
Lay–out
Lay-out
Raised Gothic textualis
Inscription mentioning
Name
[162] Tyalyng van Botnya (Tjalling van Botnia) (male)
Sex
male
Argumentation
the person is being commemorated
Name
[5622] Charles V, Holy Roman Emperor (male)
Sex
male
Argumentation
the person is used as a reference
Additional remarks
Additional remarks
Indication of part
Indication of part
Tomb or floor slab (front)
Place of the inscription
Place of the inscription
in a cartouche in the lower section of the slab
Language(s)
Languages
Language specification
Transcription
Transcription
Wie(?) [...] / [...] / [...].
Translation
English translation
Dutch translation
Lay–out
Lay-out
Raised Gothic textualis
Inscription mentioning
Additional remarks
Additional remarks
A short inscription, perhaps concerning the mortality of man. The text is badly worn.
Decorations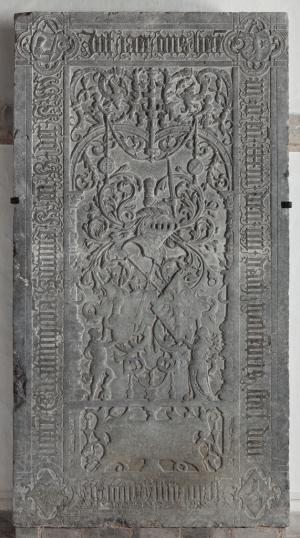 Indication of part
Indication of the part
Tomb or floor slab (front)
Type(s) of decoration(s)
Type(s) of decoration(s)

scrollwork and/or strapwork
architectural decorations
human figures (incl. skeletons and skulls)
flowers/plants

Description of the decoration(s)
Description of the decoration(s)
a double arch surrounded by scrolling leaf patterns in which two children holding a cord from which two medallions are hanging: one showing a Jerusalem cross (left), the other showing two crossed palm branches (right); two human shield supporters, the man on the left standing on a skull
Depicted allegories
Depicted allegories
Additional remarks
Additional remarks
The Jerusalem cross and palm branches indicate that Tjalling van Botnia had made a pilgrimage to the Holy Land
Person Description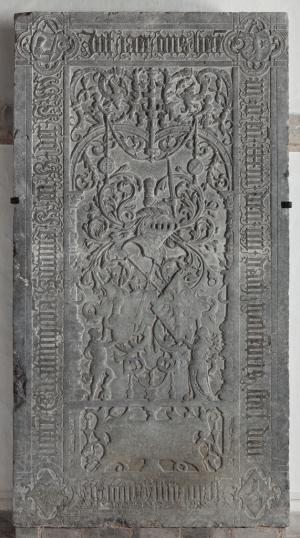 Personal identification number
Personal identification number
162
Personal details
Name
Tyalyng van Botnya (Tjalling van Botnia)
Sex
male
Year/date of birth
Year/date of death
1533/11/04
Additional remarks
Son of Syds van Botnia (also known as Syds Tjaerda) and Ansck van Jeppema. Tjalling was married to: 1) Ansck Sydses van Scheltinga; 2) Frouck Jarichs van Hottinga. He owned property in i.a. Hallum, Blija, Genum, Hantum and Ee. In 1517, Tjalling went on a pilgrimage to the Holy Land together with his cousin Juw van Botnia and Hessel van Martena.
Social standing
Status
nobility
Arguments

according to literature
mentioned in the inscription

Specification
included in a list of Frisian noblemen (1505/01/05); mayor ('grietman') of Ferwerderadeel (1505-1508); mayor ('grietman') of Hennaarderadeel (1513-?); knighted by stadtholder Floris van Egmond on 1 July 1515; councillor at the Frisian Court (1515-1527); councillor extraordinary at the Frisian Court (1527-1533); mayor ('grietman') of Franekeradeel (1517-1533)
Member of a convent
Religious order
Specification
Member of secular clergy
Type of secular clergy
Specification
Additional remarks
Additional remarks
Personal identification number
Personal identification number
5622
Personal details
Name
Charles V, Holy Roman Emperor
Sex
male
Year/date of birth
1500/02/24
Year/date of death
1558/09/21
Additional remarks
Descendant of the House of Habsburg. Eldest son of Philip the Fair and Joanna the Mad. He married his first cousin Isabella of Portugal on 10 March 1526.
Social standing
Status
nobility
Arguments
Specification
Duke of Burgundy, Lord of the Netherlands (1506-1556, since 1543 of all regions, including Friesland since 1524); Count Palatine of Burgundy (1506-1555); King of Spain (1516-1556); King of Italy (1519-1556); Holy Roman Emperor (1519-1556).
Member of a convent
Religious order
Specification
Member of secular clergy
Type of secular clergy
Specification
Additional remarks
Additional remarks