Description - Memorial Object
Floor slab of Janneken, meester Gillis van Alphinsdr.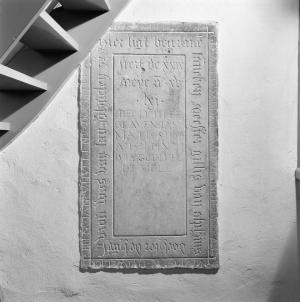 MeMO memorial object ID and name
MeMO memorial object ID
1666
Name
Floor slab of Janneken, meester Gillis van Alphinsdr.
Holding institution(s)
Holding institution(s)

Hoedekenskerke, St. Joriskerk

Category
Type
Tomb monument, tomb slab or floor slab (physical object)
Classification
Tomb slab or floor slab
Short description
Stone slab with an original inscription in the inner text band along the edge and continuing in the central field, and later inscriptions in the outer text band and in the centre
Remarks about category
General date
General date
1525-1575
Artist(s)
Artist(s)
Original institution(s)
Still in original institution?
no

Location inside the institution
In situ?
no
(Probable) original location

in the church/chapel (exact location unknown)

Argumentation
Related memorial objects in the same institution
Additional remarks (original location)

Additional remarks

Memorial piece
Function
Specification
Additional remarks
Memorial monument or floor slab
Function
liturgical/religious
Grave findings
Additional remarks
family grave

Original function
Change in function
Remarks about function
Name
Janneken, meester Gillis van Alphinsdr.
Specification

Members of the commemorated party
Commemorated person(s)

[3745] Janneken, meester Gillis van Alphinsdr. (female)

Commemorated institution(s)

Relation between commemorated persons
Relation specification
Additional remarks
Name
Composition of the commissioning party
Specification

Members of the commissioning party
Commissioning person(s)
Commissioning Institution(s)

Relation between commissioning party and commemorated party
Relation specification
Additional remarks
Material(s)
Specification
Traces of polychromy?
Reuse of older objects

Dimensions (cm)
Height x width x depth
127 x 71 x 0

Completeness
Largely complete
Condition
Good. Only slightly worn.
Conservation
Technical research
Specification (technical research)

Alterations
Alterations
Specification
Inscriptions in Roman majuscules added along the outer edge (see Provenance) and in the centre. The latter commemorates Jan Mauris (d. 1591). He was probably a family member of Janneken, given that her daughter was married to a Frans Mauris.

Additional remarks
Provenance
Provenance
According to the inscription along the outer edge, the slab was first located in the church of Vinningen. In 1608, the slab was removed from Vinningen - which was flooded and lost in 1530 - and transferred to Hoedekenskerke by Frans Mauris, a son-in-law of Janneken. Inscription: 'Anno 1608 is dese serck gheaelt wt de kercke van vinninghe bij Frans Mauris in huiwelick hebben Jan Huelens dochter' (= 'In the year 1608, this slab was taken from the church of Vinningen by Frans Mauris, married to the daughter of Jan Huelen).
Marks of ownership
Type(s) of mark(s) of ownership
Specification

, Voorloopige lijst der Nederlandsche monumenten der geschiedenis en kunst VI: De provincie Zeeland (Utrecht 1922), 71
Abelmann, L.J., De grafzerken in de Hervormde Kerk te Hoedekenskerke., Historisch jaarboek voor Zuid-en Noord Beveland. 5 (1979), 83-115, 86-87, 101; no. 13
Bloys van Treslong Prins, P.C., Genealogische en heraldische gedenkwaardigheden in en uit de kerken der provincie Zeeland (Utrecht 1919), 90; no. 13
Hulsbergen, S.J.M., Hoedekenskerke, Bulletin Stichting Oude Zeeuwse Kerken 9 (1982), 19-24, 19

Other documentation
SKKN: inv. no. 6501-28 (1994/11/07)
Additional remarks
Additional remarks
Tomb or floor slab (front) of [1666] Floor slab of Janneken, meester Gillis van Alphinsdr.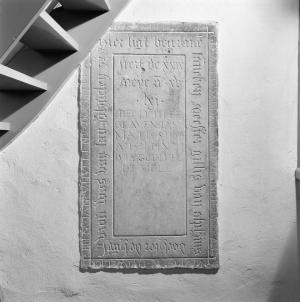 Indication of part
Indication of part
Tomb or floor slab (front)
Short description
Short description
Stone slab with an original inscription in the inner text band along the edge and continuing in the central field, and later inscriptions in the outer text band and in the centre
Dimensions (cm)
Height x Width x Depth
127 x 71 x 0
Date
Year
1559
Specified date
1559/05/29
Argumentation

date of death given on the object

Specification
Additional remarks
Holding institution
Holding institution
Hoedekenskerke, St. Joriskerk
Collection
Collection identifier
Online description link
Alternative or previous collections
Alternative of previous identifiers
Accessibility
Remarks about holding institution
The slab is built into a wall
Contract
Contract
Artist(s)
Filiation
Filiation
Additional remarks
Additional remarks
Inscriptions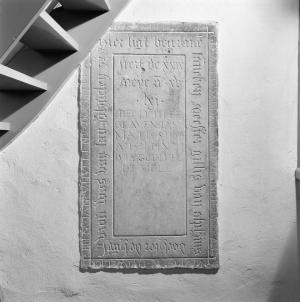 Indication of part
Indication of part
Tomb or floor slab (front)
Place of the inscription
Place of the inscription
in the inner text band along all four edges and continuing in the central field
Language(s)
Languages
Language specification
Transcription
Transcription
Hier ligt begraven Janneken Meester Gillis van Alphinsdochter de huysvrouwe van Jan van Huelen zij sterf den XXIX Meije anno XVc LIX.
Translation
English translation
Here lies buried Janneken, daughter of master Gillis van Alphin, the wife of Jan van Huelen, she died on the 29th of May in the year 1559.
Dutch translation
Lay–out
Lay-out
Incised Gothic textualis
Inscription mentioning
Name
[3745] Janneken, meester Gillis van Alphinsdr. (female)
Sex
female
Argumentation
the person is being commemorated
Name
[3751] Gillis van Alphin (male)
Sex
male
Argumentation
the person is used as a reference
Name
[3750] Jan van Huelen (male)
Sex
male
Argumentation
the person is used as a reference
Additional remarks
Additional remarks
See Physical description and Provenance for the later inscription in the outer text band
Person Description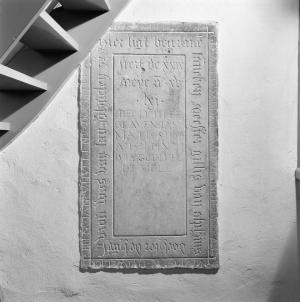 Personal identification number
Personal identification number
3745
Personal details
Name
Janneken, meester Gillis van Alphinsdr.
Sex
female
Year/date of birth
Year/date of death
1559/05/29
Additional remarks
Daughter of master ('meester') Gillis van Alphin. Janneken was married to Jan (van) Huelen, with whom she had at least one daughter.
Social standing
Status
Arguments
Specification
Member of a convent
Religious order
Specification
Member of secular clergy
Type of secular clergy
Specification
Additional remarks
Additional remarks
Personal identification number
Personal identification number
3750
Personal details
Name
Jan van Huelen
Sex
male
Year/date of birth
Year/date of death
Additional remarks
He was married to Janneken, the daughter of master Gillis van Alphin
Social standing
Status
Arguments
Specification
Member of a convent
Religious order
Specification
Member of secular clergy
Type of secular clergy
Specification
Additional remarks
Additional remarks
Personal identification number
Personal identification number
3751
Personal details
Name
Gillis van Alphin
Sex
male
Year/date of birth
Year/date of death
Additional remarks
Father of Janneken, who was married to Jan van Huelen. Gillis is addressed as master ('meester').
Social standing
Status
Arguments
Specification
Member of a convent
Religious order
Specification
Member of secular clergy
Type of secular clergy
Specification
Additional remarks
Additional remarks