Description - Memorial Object
Floor slab of Jacop van Gheel (fragment(s))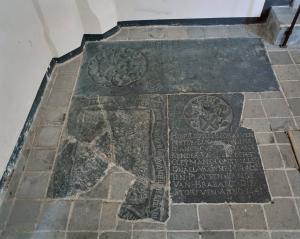 MeMO memorial object ID and name
MeMO memorial object ID
1864
Name
Floor slab of Jacop van Gheel (fragment(s))
Holding institution(s)
Holding institution(s)
Category
Type
Tomb monument, tomb slab or floor slab (physical object)
Classification
Tomb slab or floor slab
Short description
Fragments of a stone slab with a rectangular indent of a lost brass plate in the centre and an inscription on banderoles along the edge
Remarks about category
General date
General date
1475-1500
Artist(s)
Artist(s)
Original institution(s)
Still in original institution?
yes

Location inside the institution
In situ?
no
(Probable) original location

in the church/chapel (exact location unknown)

Argumentation
Related memorial objects in the same institution
Additional remarks (original location)

Additional remarks
The slab was placed in the crossing during the 1957 restoration and relocated once more during the 2007-2008 restoration

Memorial piece
Function
Specification
Additional remarks
Memorial monument or floor slab
Function
liturgical/religious; no information on possible other functions
Grave findings
Additional remarks
No information is available about possible other functions, because the object is too damaged or no photograph is available.

Original function
Change in function
Remarks about function
Name
Jacop van Gheel
Specification

Members of the commemorated party
Commemorated person(s)

[3998] Jacop van Gheel (male)

Commemorated institution(s)

Relation between commemorated persons
not applicable (only one person mentioned/depicted)
Relation specification
Additional remarks
Name
Composition of the commissioning party
Specification

Members of the commissioning party
Commissioning person(s)
Commissioning Institution(s)

Relation between commissioning party and commemorated party
Relation specification
Additional remarks
Material(s)
Specification
Traces of polychromy?
Reuse of older objects

Dimensions (cm)
Height x width x depth
123 x 93 x 0

Completeness
Incomplete: five fragments. The lower part of the slab is missing. The centre was probably inlaid with a brass plate originally.
Condition
Worn
Conservation
Technical research
Specification (technical research)

Alterations
Alterations

heraldry removed
decoration(s) removed

Specification
The brass plate in the centre, now removed, may have featured heraldry and/or a religious symbol (e.g. a chalice)

Additional remarks
Provenance
Provenance
Marks of ownership
Type(s) of mark(s) of ownership
Specification

, Grafzerken in de Hervormde Kerk te Vught, 1958-2007, http://www.lambertuskerkvught.nl/grafzerken; no. 4
Das-Horsmeier, Hanneke, Rondom de Vughtse Lambertus. Een studie over de St. Lambertustoren en de Hervormde Kerk (Vught 1979)

Other documentation
SKKN inventory (1982)
Additional remarks
Additional remarks
Jacop van Gheel's assistant Matthias van der Papendonck also lies buried in the church, see MeMO Memorial Object ID 1863
Tomb or floor slab (front) of [1864] Floor slab of Jacop van Gheel (fragment(s))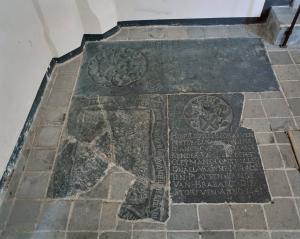 Indication of part
Indication of part
Tomb or floor slab (front)
Short description
Short description
Fragments of a stone slab with a rectangular indent of a lost brass plate in the centre and an inscription on banderoles along the edge
Dimensions (cm)
Height x Width x Depth
123 x 93 x 0
Date
Year
ca.1489-1500
Specified date
Argumentation

date of death given on the object

Specification
The date of death is not legible, but Jacop van Gheel was last recorded in 1489
Additional remarks
Holding institution
Holding institution
Vught, Lambertuskerk
Collection
Collection identifier
Online description link
Alternative or previous collections
Alternative of previous identifiers
Accessibility
Remarks about holding institution
The slab is located in the portal of the church (since 2007-2008)
Contract
Contract
Artist(s)
Filiation
Filiation
Additional remarks
Additional remarks
Inscriptions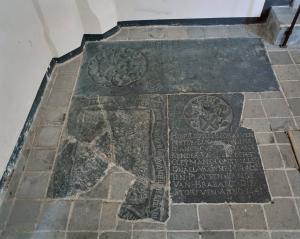 Indication of part
Indication of part
Tomb or floor slab (front)
Place of the inscription
Place of the inscription
on banderoles along all four edges of the slab
Language(s)
Languages
Language specification
Transcription
Transcription
Hier leet begr[a]ven Heer Jacop van Gheel die te sinen XVIII Jaren wert ontfa[ng]en in [...] (o)rden [...] den XXVI dach Junii die sterf anno [...] daghen in September.
Translation
English translation
Here lies buried sir Jacop van Gheel, who was received at the age of eighteen into [...] Order [...] on the 26th day of June, who died in the year [...] day in September.
Dutch translation
Lay–out
Lay-out
Incised Gothic textualis
Inscription mentioning
Name
[3998] Jacop van Gheel (male)
Sex
male
Argumentation
the person is being commemorated
Additional remarks
Additional remarks
Parts of the text are missing. The year of death is worn and illegible.
Decorations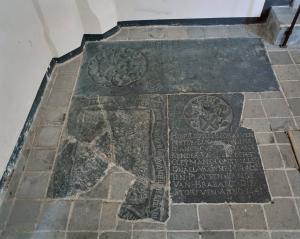 Indication of part
Indication of the part
Tomb or floor slab (front)
Type(s) of decoration(s)
Type(s) of decoration(s)
Description of the decoration(s)
Description of the decoration(s)
Depicted allegories
Depicted allegories
Additional remarks
Additional remarks
Person Description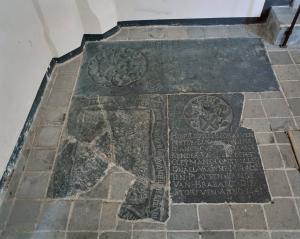 Personal identification number
Personal identification number
3998
Personal details
Name
Jacop van Gheel
Sex
male
Year/date of birth
Year/date of death
>1489
Additional remarks
Jacop's date of death is now illegible beyond 'September'. He is last recorded in 1489.
Social standing
Status
member of a convent/religious order
Arguments

according to literature
mentioned in the inscription

Specification
Member of a convent
Religious order
Teutonic Order
Specification
Commander of the Vught commandry of the Teutonic Order, which he had entered at 18
Member of secular clergy
Type of secular clergy
(parish or chantry) priest
Specification
Parish priest of the St. Lambertuskerk (St Lambert 's Church) in Vught. Jacop was responsible for erecting all the columns in the church. Matthias van Papendonck was his assistant.
Additional remarks
Additional remarks