Description - Memorial Object
Floor slab of [...] van Honselaer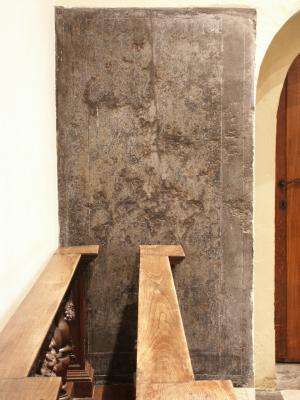 MeMO memorial object ID and name
MeMO memorial object ID
1959
Name
Floor slab of [...] van Honselaer
Holding institution(s)
Holding institution(s)
Category
Type
Tomb monument, tomb slab or floor slab (physical object)
Classification
Tomb slab or floor slab
Short description
Large, badly worn stone slab with heraldry in the centre and traces of inscription along the edge
Remarks about category
General date
General date
1550-1575
Artist(s)
Artist(s)
Original institution(s)
Still in original institution?
yes

Location inside the institution
In situ?
no
(Probable) original location

in the church/chapel (exact location unknown)

Argumentation
Related memorial objects in the same institution
Additional remarks (original location)

Additional remarks

Memorial piece
Function
Specification
Additional remarks
Memorial monument or floor slab
Function
liturgical/religious; no information on possible other functions
Grave findings
Additional remarks
no information is available about possible other functions, because the object is too damaged or no photograph is available

Original function
Change in function
Remarks about function
Name
[...] von Honseler ([...] van Honselaer)
Specification

Members of the commemorated party
Commemorated person(s)

[4152] [...] von Honseler ([...] van Honselaer) (female)

Commemorated institution(s)

Relation between commemorated persons
not applicable (only one person mentioned/depicted)
Relation specification
Additional remarks
Name
Composition of the commissioning party
Specification

Members of the commissioning party
Commissioning person(s)
Commissioning Institution(s)

Relation between commissioning party and commemorated party
Relation specification
Additional remarks
Material(s)
Specification
blue limestone
Traces of polychromy?
Reuse of older objects

Dimensions (cm)
Height x width x depth
187 x 98 x 0

Completeness
Complete
Condition
In very poor condition: the surface of the slab has almost completely worn away
Conservation
Technical research
Specification (technical research)

Alterations
Alterations
Specification

Additional remarks
Provenance
Provenance
Marks of ownership
Type(s) of mark(s) of ownership
Specification

Belonje, J., Genealogische en heraldische gedenkwaardigheden in en uit de kerken der provincie Limburg, Publications de la Société Historique et Archéologique dans le Limbourg 96-97 (1960), , 286; no. 13

Other documentation
SKKN: inv. no. 12825-58, photo no. 12825-58_1
Additional remarks
Additional remarks
In the 19th century, the slabs of the Amelbergakerk - particularly those that were situated near the communion benches - were built into the walls of the side aisles. This relocation was ordered by Mgr. Van Bommel, bishop of Liege. According to Belonje (1961), this slab was placed upside down in the wall.
Tomb or floor slab (front) of [1959] Floor slab of [...] van Honselaer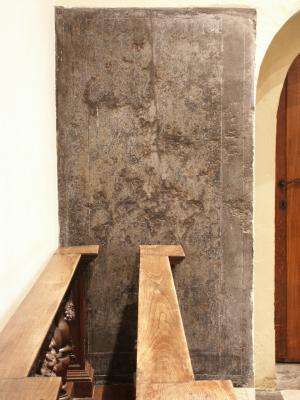 Indication of part
Indication of part
Tomb or floor slab (front)
Short description
Short description
Large, badly worn stone slab with heraldry in the centre and traces of inscription along the edge
Dimensions (cm)
Height x Width x Depth
187 x 98 x 0
Date
Year
ca.1560
Specified date
Argumentation

based on historical and/or technical research

Specification
Additional remarks
Holding institution
Holding institution
Susteren, Amelbergakerk
Collection
Collection identifier
Online description link
Alternative or previous collections
Alternative of previous identifiers
Accessibility
Remarks about holding institution
The slab is built into the wall of the north aisle, west side, in the corner
Contract
Contract
Artist(s)
Filiation
Filiation
Additional remarks
Additional remarks
Heraldry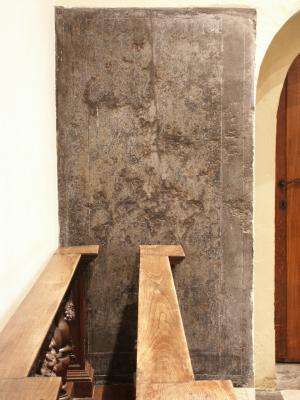 Indication of part
Indication of part
Tomb or floor slab (front)
Place of heraldry
Place of heraldry
in the centre of the slab
Specification of heraldry
Type of heraldry
Allied arms (2 coats of arms in 2 shields, respecting each other)
Specification
Shape of the shield
Specification
Description of the shield
left: in a chief three martlets in fess; right: a fleur de lys (links: in een schildhoofd drie merletten naast elkaar (v. Honselaer); rechts: een lelie (v. Eyll))
Description of the upper arms (helmet, crest and mantling)
Remarks
Additional parts of the achievement
Type of supporter

Other (guige or band, tree, branch)

Specification
Suspended from a ring
Motto
English translation of the motto
Insignia or attributes
Heraldry belonging to
Heraldry belonging to
Van Honselaer-Van Eyll

Person details
Person details

[4152] [...] von Honseler ([...] van Honselaer) (female)

Additional remarks
Additional remarks
Inscriptions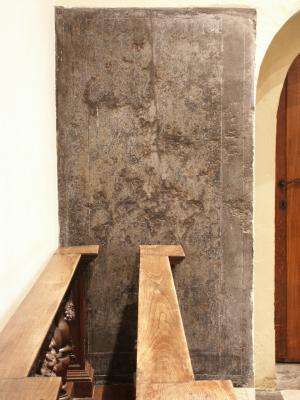 Indication of part
Indication of part
Tomb or floor slab (front)
Place of the inscription
Place of the inscription
possibly along all four edges of the slab originally
Language(s)
Languages
Language specification
Transcription
Transcription
[...] de [...] es [...]e (?) [...]/ von Honseler sie st[...]/ [...]/ [...]
Translation
English translation
Dutch translation
Lay–out
Lay-out
Gothic textualis
Inscription mentioning
Name
[4152] [...] von Honseler ([...] van Honselaer) (female)
Sex
female
Argumentation
the person is being commemorated
Additional remarks
Additional remarks
The inscription is badly worn and consequently hard to read
Person Description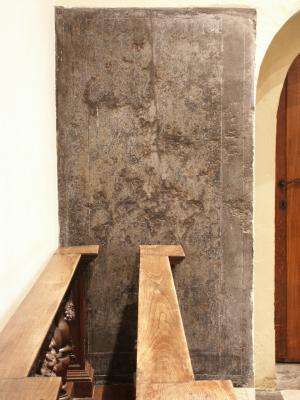 Personal identification number
Personal identification number
4152
Personal details
Name
[...] von Honseler ([...] van Honselaer)
Sex
female
Year/date of birth
Year/date of death
Additional remarks
Daughter of Goossen van Honselaer?
Social standing
Status
member of a convent/religious order
Arguments
Specification
possibly a canoness of the secular convent of noble women in Susteren
Member of a convent
Religious order
Specification
Member of secular clergy
Type of secular clergy
Specification
Additional remarks
Additional remarks