Description - Memorial Object
Floor slab of Hessel van Abbema and Jel van Jelckema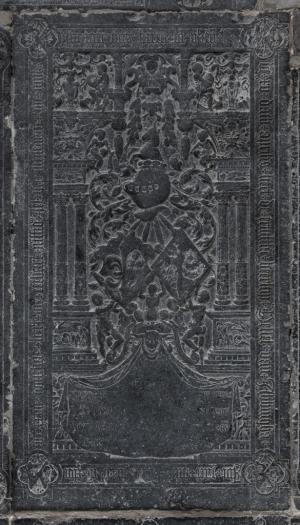 MeMO memorial object ID and name
MeMO memorial object ID
199
Name
Floor slab of Hessel van Abbema and Jel van Jelckema
Holding institution(s)
Holding institution(s)
Category
Type
Tomb monument, tomb slab or floor slab (physical object)
Classification
Tomb slab or floor slab
Short description
Stone slab with allied arms held by putti under an arch with grotesque decorations, a worn inscription at the bottom, an inscription along the edge, and quatrefoils with allied arms in the corners
Remarks about category
General date
General date
1550-1575
Artist(s)
Artist(s)
Original institution(s)
Still in original institution?
probably yes

Location inside the institution
In situ?
(Probable) original location

in the church/chapel (exact location unknown)

Argumentation
Related memorial objects in the same institution
Additional remarks (original location)

Additional remarks

Memorial piece
Function
Specification
Additional remarks
Memorial monument or floor slab
Function
liturgical/religious and social
Grave findings
Additional remarks
• Commemorated on the object are a married couple, (members of) a nuclear family or (members of) an extended family: see Commemorated party. • No information is available about possible other functions, because the object is too damaged or no photograph is available.

Original function
Change in function
Remarks about function
Name
Hessel van Abbinga (Abbema) and Jel van Meskenwier (Jelckema)
Specification

Members of the commemorated party
Commemorated person(s)

[217] Jel van Meskenwier (Jelckema) (female)
[216] Hessel van Abbinga (Abbema) (male)

Commemorated institution(s)

Relation between commemorated persons
married couple
Relation specification
Additional remarks
Name
Composition of the commissioning party
Specification

Members of the commissioning party
Commissioning person(s)
Commissioning Institution(s)

Relation between commissioning party and commemorated party
Relation specification
Additional remarks
Material(s)
Specification
blue limestone
Traces of polychromy?
Reuse of older objects

Dimensions (cm)
Height x width x depth
234 x 131 x 0

Completeness
Largely complete: minor losses along the edges
Condition
In overall good condition. However, the inscription at the bottom (on the fictive drapery) is worn.
Conservation
Technical research
Specification (technical research)

Alterations
Alterations
Specification

Additional remarks
Provenance
Provenance
Marks of ownership
Type(s) of mark(s) of ownership
Specification

Leeman, Fred; Vos, Rik, Het nieuwe ornament ('s Gravenhage 1986), 139
Walle, Hessel de, Friezen uit vroeger eeuwen; Opschriften uit Friesland, 1280-1811 (Franeker 2007), 444
Wierstra, Simon, Genealogische bestanden van de oude Friese adel en aanverwante families tot 1800, http://www.simonwierstra.nl/index6.htm

Other documentation
Additional remarks
Additional remarks
Information provided by Meindert Tangerman
Tomb or floor slab (front) of [199] Floor slab of Hessel van Abbema and Jel van Jelckema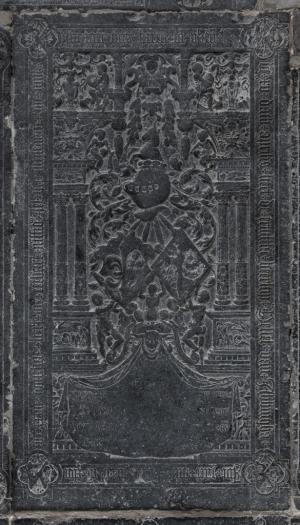 Indication of part
Indication of part
Tomb or floor slab (front)
Short description
Short description
Stone slab with allied arms held by putti under an arch with grotesque decorations, a worn inscription at the bottom, an inscription along the edge, and quatrefoils with allied arms in the corners
Dimensions (cm)
Height x Width x Depth
Date
Year
1554
Specified date
Argumentation

date given on the object (not date of death)

Specification
At the top of the slab: '[.] 1554 G'
Additional remarks
Holding institution
Holding institution
Huizum, Dorpskerk
Collection
Collection identifier
Online description link
Alternative or previous collections
Alternative of previous identifiers
Accessibility
Remarks about holding institution
The slab is located in the nave of the church, near the pulpit
Contract
Contract
Artist(s)

Identity
Name
Benedictus Gerbrants
Attribution
Specification
At the top of the slab: '[.] 1554 G'
Assignment
Role
not specified
Specification

Additional remarks
Filiation
Filiation
Additional remarks
Additional remarks
Heraldry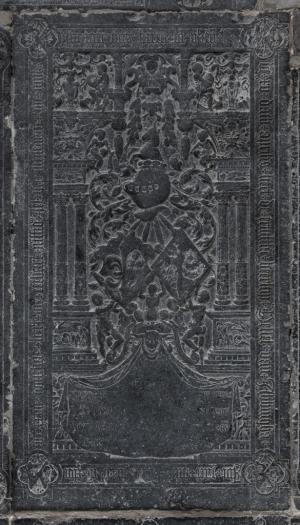 Indication of part
Indication of part
Tomb or floor slab (front)
Place of heraldry
Place of heraldry
in the centre of the slab, left shield
Specification of heraldry
Type of heraldry
Allied arms (2 coats of arms in 2 shields, respecting each other)
Specification
Shape of the shield
Late renaissance shield
Specification
Description of the shield
per pale, I: a demi fleur-de-lys; II: a clover leaf (gedeeld, I: een halve lelie; II: een klaverblad)
Description of the upper arms (helmet, crest and mantling)
crest: an issuant ox (helmteken: een uitkomende os)
Remarks
Additional parts of the achievement
Type of supporter

One or two mythical figures (angels or putti)

Specification
Three putti
Motto
English translation of the motto
Insignia or attributes
Heraldry belonging to
Heraldry belonging to
Abbema / Abbinga van Huizum

Person details
Person details

[216] Hessel van Abbinga (Abbema) (male)

Additional remarks
Additional remarks
Indication of part
Indication of part
Tomb or floor slab (front)
Place of heraldry
Place of heraldry
in the centre of the slab, right shield
Specification of heraldry
Type of heraldry
Allied arms (2 coats of arms in 2 shields, respecting each other)
Specification
Shape of the shield
Lozenge shield
Specification
Description of the shield
per pale, I: the Friesian eagle; II: a crescent, in chief a six-pointed star (gedeeld, I: de Friese adelaar; II: een wassenaar, boven vergezeld van een zespuntige ster)
Description of the upper arms (helmet, crest and mantling)
Remarks
Additional parts of the achievement
Type of supporter

One or two mythical figures (angels or putti)

Specification
Three putti
Motto
English translation of the motto
Insignia or attributes
Heraldry belonging to
Heraldry belonging to
Jelckema / Meskenwier

Person details
Person details

[217] Jel van Meskenwier (Jelckema) (female)

Additional remarks
Additional remarks
Indication of part
Indication of part
Tomb or floor slab (front)
Place of heraldry
Place of heraldry
upper left corner, left shield
Specification of heraldry
Type of heraldry
Allied arms (2 coats of arms in 2 shields, respecting each other)
Specification
Shape of the shield
Late renaissance shield
Specification
Description of the shield
per pale, I: a demi fleur-de-lys; II: a clover leaf (gedeeld, I: een halve lelie; II: een klaverblad)
Description of the upper arms (helmet, crest and mantling)
Remarks
Additional parts of the achievement
Type of supporter
Specification
Motto
English translation of the motto
Insignia or attributes
Heraldry belonging to
Heraldry belonging to
Abbema / Abbinga van Huizum

Person details
Person details

Additional remarks
Additional remarks
Heraldry referring to Hessel's paternal grandfather
Indication of part
Indication of part
Tomb or floor slab (front)
Place of heraldry
Place of heraldry
upper left corner, right shield
Specification of heraldry
Type of heraldry
Allied arms (2 coats of arms in 2 shields, respecting each other)
Specification
Shape of the shield
Lozenge shield
Specification
Description of the shield
per pale, I: the Frisian eagle; II: two quintfoils in pale (gedeeld, I: de Friese adelaar; II: twee vijfbladige bloemen onder elkaar)
Description of the upper arms (helmet, crest and mantling)
Remarks
Additional parts of the achievement
Type of supporter
Specification
Motto
English translation of the motto
Insignia or attributes
Heraldry belonging to
Heraldry belonging to
Oenema

Person details
Person details

Additional remarks
Additional remarks
Heraldry referring to Hessel's paternal grandmother
Indication of part
Indication of part
Tomb or floor slab (front)
Place of heraldry
Place of heraldry
lower left corner, left shield
Specification of heraldry
Type of heraldry
Allied arms (2 coats of arms in 2 shields, respecting each other)
Specification
Shape of the shield
Late renaissance shield
Specification
Description of the shield
per pale, I: the Friesian eagle; II: a crescent, in chief a six-pointed star (gedeeld, I: de Friese adelaar; II: een wassenaar, boven vergezeld van een zespuntige ster)
Description of the upper arms (helmet, crest and mantling)
Remarks
Additional parts of the achievement
Type of supporter
Specification
Motto
English translation of the motto
Insignia or attributes
Heraldry belonging to
Heraldry belonging to
Jelckema / Meskenwier

Person details
Person details

Additional remarks
Additional remarks
Heraldry referring to Jel's paternal grandfather
Indication of part
Indication of part
Tomb or floor slab (front)
Place of heraldry
Place of heraldry
lower left corner, right shield
Specification of heraldry
Type of heraldry
Allied arms (2 coats of arms in 2 shields, respecting each other)
Specification
Shape of the shield
Lozenge shield
Specification
Description of the shield
a garb (een korenschoof)
Description of the upper arms (helmet, crest and mantling)
Remarks
Additional parts of the achievement
Type of supporter
Specification
Motto
English translation of the motto
Insignia or attributes
Heraldry belonging to
Heraldry belonging to
Aytta

Person details
Person details

Additional remarks
Additional remarks
Heraldry referring to Jel's paternal grandmother
Indication of part
Indication of part
Tomb or floor slab (front)
Place of heraldry
Place of heraldry
upper right corner, left shield
Specification of heraldry
Type of heraldry
Allied arms (2 coats of arms in 2 shields, respecting each other)
Specification
Shape of the shield
Late renaissance shield
Specification
Description of the shield
quarterly, I and IV: a lion; II and III: three acorns, the stems under, 2-1 (gevierendeeld, I and IV: een leeuw; II en III: drie eikels, de stelen onder, 2-1)
Description of the upper arms (helmet, crest and mantling)
Remarks
Additional parts of the achievement
Type of supporter
Specification
Motto
English translation of the motto
Insignia or attributes
Heraldry belonging to
Heraldry belonging to
Harinxma

Person details
Person details

Additional remarks
Additional remarks
Heraldry referring to Hessel's maternal grandfather
Indication of part
Indication of part
Tomb or floor slab (front)
Place of heraldry
Place of heraldry
upper right corner, right shield
Specification of heraldry
Type of heraldry
Allied arms (2 coats of arms in 2 shields, respecting each other)
Specification
Shape of the shield
Lozenge shield
Specification
Description of the shield
per pale, I: the Friesian eagle; II: a comb, a six-pointed star and a wheel in pale (gedeeld, I: de Friese adelaar; II: een kam, een zespuntige ster en een rad boven elkaar)
Description of the upper arms (helmet, crest and mantling)
Remarks
Additional parts of the achievement
Type of supporter
Specification
Motto
English translation of the motto
Insignia or attributes
Heraldry belonging to
Heraldry belonging to
Camstra

Person details
Person details

Additional remarks
Additional remarks
Heraldry referring to Hessel's maternal grandmother
Indication of part
Indication of part
Tomb or floor slab (front)
Place of heraldry
Place of heraldry
lower right corner, left shield
Specification of heraldry
Type of heraldry
Allied arms (2 coats of arms in 2 shields, respecting each other)
Specification
Shape of the shield
Late renaissance shield
Specification
Description of the shield
per pale, I: the Friesian eagle; II: per fess, A: a six-pointed star; B: a rose (gedeeld, I: de Friese adelaar; II: doorsneden, A: een zespuntige ster; B: een roos)
Description of the upper arms (helmet, crest and mantling)
Remarks
Additional parts of the achievement
Type of supporter
Specification
Motto
English translation of the motto
Insignia or attributes
Heraldry belonging to
Heraldry belonging to
Juckema

Person details
Person details

Additional remarks
Additional remarks
Heraldry referring to Jel's maternal grandfather
Indication of part
Indication of part
Tomb or floor slab (front)
Place of heraldry
Place of heraldry
lower right corner, right shield
Specification of heraldry
Type of heraldry
Allied arms (2 coats of arms in 2 shields, respecting each other)
Specification
Shape of the shield
Lozenge shield
Specification
Description of the shield
a lion (een leeuw)
Description of the upper arms (helmet, crest and mantling)
Remarks
Additional parts of the achievement
Type of supporter
Specification
Motto
English translation of the motto
Insignia or attributes
Heraldry belonging to
Heraldry belonging to
Harinxma van Donia

Person details
Person details

Additional remarks
Additional remarks
Heraldry referring to Jel's maternal grandmother
Inscriptions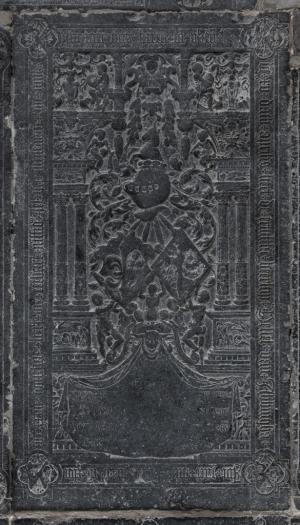 Indication of part
Indication of part
Tomb or floor slab (front)
Place of the inscription
Place of the inscription
along all four edges of the slab
Language(s)
Languages
Language specification
Transcription
Transcription
Int jaer Ons Heren MVc ende L, den XV dach aprilis, sterf den erntfesten heerscip Hessel van Abbingha. Int jaer Ons [Heren] MVc ende XLVI, den XXVIJ novembris, sterf die eerbare juffrow Jel van Metselwier, syn wyf.
Translation
English translation
In the year of Our Lord 1550, the 15th day of April, died the venerable lord Hessel van Abbinga. In the year of Our Lord 1546, the 27th of November, died the honourable mistress Jel van Metselwier, his wife.
Dutch translation
Lay–out
Lay-out
Gothic textualis
Inscription mentioning
Name
[216] Hessel van Abbinga (Abbema) (male)
Sex
male
Argumentation
the person is being commemorated
Name
[217] Jel van Meskenwier (Jelckema) (female)
Sex
female
Argumentation
the person is being commemorated
Additional remarks
Additional remarks
Indication of part
Indication of part
Tomb or floor slab (front)
Place of the inscription
Place of the inscription
at the bottom of the slab (on fictive drapery)
Language(s)
Languages
Language specification
Transcription
Transcription
Stat[us?] cad[...] [...]re scens / et subli [...] nis abit / arvit ac [...] oru / exol [...] [...]a.
Translation
English translation
Dutch translation
Lay–out
Lay-out
Roman majuscules
Inscription mentioning
Additional remarks
Additional remarks
The inscription is worn; the transcription is provisional.
Decorations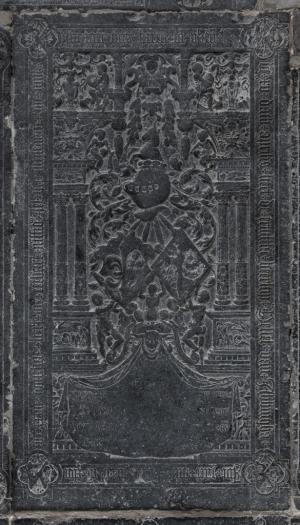 Indication of part
Indication of the part
Tomb or floor slab (front)
Type(s) of decoration(s)
Type(s) of decoration(s)

draperies
angels, putti or cherubs
architectural decorations
animals (pets/other)
mythical figures and/or creatures
mask(s)
scrollwork and/or strapwork
fruit
flowers/plants

Description of the decoration(s)
Description of the decoration(s)
At the upper left and right: a putto holding a (water) jug; a herm holding two snakes with knotted tails, flanked by gamecocks; draperies
Depicted allegories
Depicted allegories
Additional remarks
Additional remarks
Person Description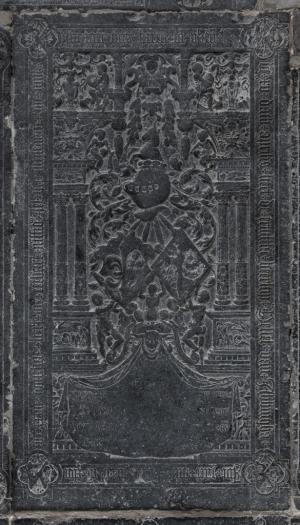 Personal identification number
Personal identification number
216
Personal details
Name
Hessel van Abbinga (Abbema)
Sex
male
Year/date of birth
Year/date of death
1550/04/15
Additional remarks
Son of Keimpe van Abbema and Hielkje van Harinxma. Hessel was married to Jel van Jelckema. He was buried as Hessel van Abbinga.
Social standing
Status
nobility
Arguments

mentioned in the inscription

Specification
Member of a convent
Religious order
Specification
Member of secular clergy
Type of secular clergy
Specification
Additional remarks
Additional remarks
Personal identification number
Personal identification number
217
Personal details
Name
Jel van Meskenwier (Jelckema)
Sex
female
Year/date of birth
Year/date of death
1546/11/27
Additional remarks
Born in the hamlet of Meskenwier. Daughter of Wiebe Jarigs van Jelckema and Tietje Lieuwes Juckema. Jel was married to Hessel van Abbema. She was buried as Jel van Meskenwier.
Social standing
Status
Arguments
Specification
Member of a convent
Religious order
Specification
Member of secular clergy
Type of secular clergy
Specification
Additional remarks
Additional remarks