Description - Memorial Object
Floor slab of Petrus van Zuyren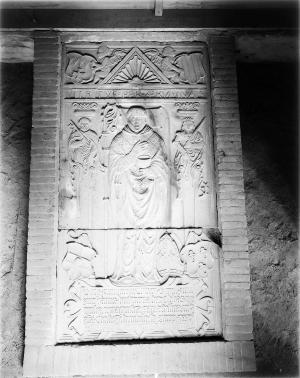 MeMO memorial object ID and name
MeMO memorial object ID
2021
Name
Floor slab of Petrus van Zuyren
Holding institution(s)
Holding institution(s)

Beesd, Landgoed Heerlijkheid Mariënwaerdt (Mariënwaerdt Estate)

Category
Type
Tomb monument, tomb slab or floor slab (physical object)
Classification
Tomb slab or floor slab
Short description
Stone slab with the effigy of an abbot in relief inside an aedicula which has saints as herms, two heraldic shields above and below, and a strapwork cartouche with inscription at the bottom
Remarks about category
General date
General date
1550-1600
Artist(s)
Artist(s)
Original institution(s)
Still in original institution?
no

Location inside the institution
In situ?
no
(Probable) original location
Argumentation
Related memorial objects in the same institution
Additional remarks (original location)

Additional remarks
The slab was located in Mariënwaard Abbey or its church. The complex burnt down in the second half of the 16th century. In the 20th century, the slab was discovered in a farm, where it functioned as threshold.

Memorial piece
Function
Specification
Additional remarks
Memorial monument or floor slab
Function
liturgical/religious and historical/political
Grave findings
Additional remarks
The inscription refers to a historical fact, i.e. to one or more donations or foundations by the commemorated party.

Original function
Floor slab
Change in function
The slab functioned as threshold for a long time
Remarks about function
Name
Petrus Zurenus (Petrus/Peter van Zuyren/Suyren)
Specification

Members of the commemorated party
Commemorated person(s)

[2445] Petrus Zurenus (Petrus/Peter van Zuyren/Suyren) (male)

Commemorated institution(s)

Relation between commemorated persons
no relation (only one person mentioned/depicted)
Relation specification
Additional remarks
Name
Composition of the commissioning party
Specification

Members of the commissioning party
Commissioning person(s)
Commissioning Institution(s)

Relation between commissioning party and commemorated party
Relation specification
Additional remarks
Material(s)
Specification
blue limestone
Traces of polychromy?
Reuse of older objects

Dimensions (cm)
Height x width x depth
260 x 137 x 0

Completeness
Largely complete: a small piece missing from the right edge
Condition
In overall good condition. Minor damages and a horizontal break.
Conservation
Technical research
Specification (technical research)

Alterations
Alterations
Specification

Additional remarks
Provenance
Provenance
Marks of ownership
Type(s) of mark(s) of ownership
Specification

Beaufort, R.F.P. de; Berg, Herma van den, De Betuwe ('s-Gravenhage 1968), 29

Other documentation
Additional remarks
Additional remarks
In January 1550, Petrus van Zuyren purchased a lot of blue limestone for wells and a floor slab
Tomb or floor slab (front) of [2021] Floor slab of Petrus van Zuyren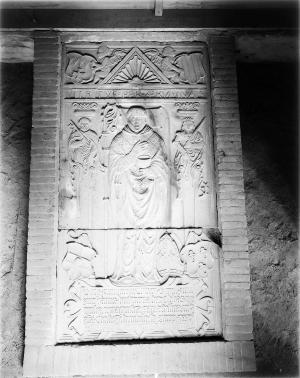 Indication of part
Indication of part
Tomb or floor slab (front)
Short description
Short description
Stone slab with the effigy of an abbot in relief inside an aedicula which has saints as herms, two heraldic shields above and below, and a strapwork cartouche with inscription at the bottom
Dimensions (cm)
Height x Width x Depth
260 x 137 x 0
Date
Year
1563
Specified date
1563/12/15
Argumentation

date of death given on the object

Specification
Additional remarks
Holding institution
Holding institution
Beesd, Landgoed Heerlijkheid Mariënwaerdt (Mariënwaerdt Estate)
Collection
Collection identifier
Online description link
Alternative or previous collections
Alternative of previous identifiers
Accessibility
Remarks about holding institution
The slab is located in a shed on the estate
Contract
Contract
Artist(s)
Filiation
Filiation
See also MeMO memorial object ID 887: 'Christ among the Doctors with devotional portrait of Petrus van Zuyren', a stained-glass window in the Janskerk (St John's Church) in Gouda
Additional remarks
Additional remarks
Portraits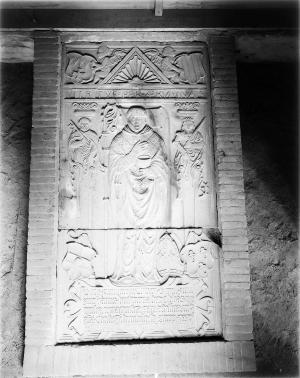 Indication of part
Indication of part
Tomb or floor slab (front)
Place of the portrait
Place of the portrait
in the centre of the slab
Portrait of
Name
Petrus Zurenus (Petrus/Peter van Zuyren/Suyren)
Sex
male
Argumentation

based on heraldry on the memorial object
based on text(s) on the memorial object

Specification
Portrait — portraiture
Physical state of the portrayed person
deceased
Argumentation
Specification
Posture
recumbent
Manner of portrayal
The man's head rests on a cushion. Eyes closed?
Portrait — clothing, attributes and insignia

Clothing
Type of clothing
clothes of an ecclesiastical office holder
Short description
Gloves, an alb and a chasuble with a Y-cross. This cross is decorated with leaves, flowers, fruit and - at the top - the shield of the Van Zuyren family.
Attributes
Attributes

liturgical vessels
(ecclesiastical) vestments
staff

Specification
Holding a chalice. A crosier to the man's right, a mitre to his left.
Insignia
Insignia
Specification
Remarks about clothing

Additional remarks
The depicted man was an abbot
Heraldry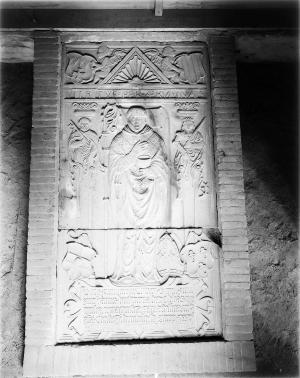 Indication of part
Indication of part
Tomb or floor slab (front)
Place of heraldry
Place of heraldry
at the upper left
Specification of heraldry
Type of heraldry
Personal use of family arms (one undivided shield)
Specification
Shape of the shield
Early renaissance shield
Specification
Description of the shield
A cross paty, a chief indented (Een breedarmig kruis, een hoekig schildhoofd)
Description of the upper arms (helmet, crest and mantling)
Remarks
Additional parts of the achievement
Type of supporter

One or two mythical figures (angels or putti)

Specification
Supported by a putto
Motto
English translation of the motto
Insignia or attributes
Heraldry belonging to
Heraldry belonging to
Van Zuyren

Person details
Person details

Additional remarks
Additional remarks
Indication of part
Indication of part
Tomb or floor slab (front)
Place of heraldry
Place of heraldry
at the upper right
Specification of heraldry
Type of heraldry
Personal use of family arms (one undivided shield)
Specification
Shape of the shield
Early renaissance shield
Specification
Description of the shield
Two pales (Twee palen)
Description of the upper arms (helmet, crest and mantling)
Remarks
Additional parts of the achievement
Type of supporter

One or two mythical figures (angels or putti)

Specification
Supported by a putto
Motto
English translation of the motto
Insignia or attributes
Heraldry belonging to
Heraldry belonging to
Additional remarks
Additional remarks
Indication of part
Indication of part
Tomb or floor slab (front)
Place of heraldry
Place of heraldry
at the lower left
Specification of heraldry
Type of heraldry
Personal use of family arms (one undivided shield)
Specification
Shape of the shield
Early renaissance shield
Specification
Description of the shield
On a fess a roundle (Een dwarsbalk beladen met een koek)
Description of the upper arms (helmet, crest and mantling)
Remarks
Additional parts of the achievement
Type of supporter

Other (guige or band, tree, branch)

Specification
Suspended from a belt
Motto
English translation of the motto
Insignia or attributes
Heraldry belonging to
Heraldry belonging to
Additional remarks
Additional remarks
Indication of part
Indication of part
Tomb or floor slab (front)
Place of heraldry
Place of heraldry
at the lower right
Specification of heraldry
Type of heraldry
Personal use of family arms (one undivided shield)
Specification
Shape of the shield
Early renaissance shield
Specification
Description of the shield
Three clover leaves, 2-1 (Drie klaverbladen, 2-1)
Description of the upper arms (helmet, crest and mantling)
Remarks
Additional parts of the achievement
Type of supporter

Other (guige or band, tree, branch)

Specification
Suspended from a belt
Motto
English translation of the motto
Insignia or attributes
Heraldry belonging to
Heraldry belonging to
Additional remarks
Additional remarks
Inscriptions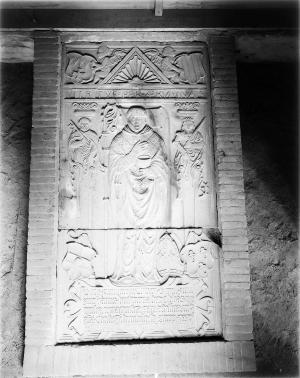 Indication of part
Indication of part
Tomb or floor slab (front)
Place of the inscription
Place of the inscription
in the strapwork cartouche at the bottom
Language(s)
Languages
Language specification
Transcription
Transcription
Obiit reverendus in Christo pater, dominus Petrus Zurenus Zutfanus, huius monasterii abbas, qui multa et magnifica erexit aedificia, cuius anima in Christo Jesu iubilet semper, anno MVc LXIII XVIII Calendas Ianuarii.
Translation
English translation
The reverend father in Christ, sir Petrus van Zuyren van Zutphen, abbot of this monastery, who has erected numerous and magnificent buildings, whose soul may be jubilant in Jesus Christ forever, died in the year 1563 on the 18th calends of January.
Dutch translation
De eerwaarde vader in Christus, heer Petrus van Zuyren van Zutphen, abt van dit klooster, die talrijke en grootse gebouwen heeft opgericht, wiens ziel voor altijd in Jezus Christus moge jubelen, is gestorven in het jaar 1563 op de 18de calendae van januari.
Lay–out
Lay-out
Raised Gothic textualis
Inscription mentioning
Name
[2445] Petrus Zurenus (Petrus/Peter van Zuyren/Suyren) (male)
Sex
male
Argumentation
the person is being commemorated
Additional remarks
Additional remarks
The 18th calends of January is December 15
Indication of part
Indication of part
Tomb or floor slab (front)
Place of the inscription
Place of the inscription
on the entablature of the aedicula
Language(s)
Languages
Language specification
Transcription
Transcription
Virtus per aerumnas.
Translation
English translation
Virtue through troubles.
Dutch translation
Deugd via moeiten.
Lay–out
Lay-out
Raised Roman majuscules
Inscription mentioning
Additional remarks
Additional remarks
Motto of the Cuijck Van Mierop family. Mariënwaard Abbey was founded by the widow of Hendrik van Cuijk in 1129.
Decorations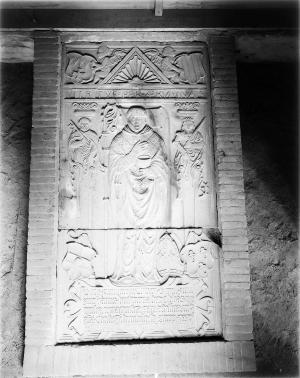 Indication of part
Indication of the part
Tomb or floor slab (front)
Type(s) of decoration(s)
Type(s) of decoration(s)

scrollwork and/or strapwork
architectural decorations
fruit
angels, putti or cherubs

Description of the decoration(s)
Description of the decoration(s)
• Aedicula: two herms in the form of St Peter (with key) and St Catherina of Alexandria (with crown, sword and broken wheel), surmounted by capitals with volutes and fruit which support an architrave and pediment. The pediment has a shell motif and is flanked by two putti. • Oblong cartouche with strapwork.
Depicted allegories
Depicted allegories
Additional remarks
Additional remarks
Person Description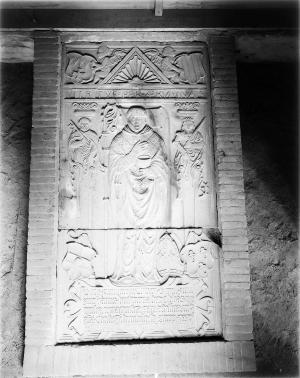 Personal identification number
Personal identification number
2445
Personal details
Name
Petrus Zurenus (Petrus/Peter van Zuyren/Suyren)
Sex
male
Year/date of birth
ca.1503
Year/date of death
1563/12/15
Additional remarks
Born in Zutphen. Son of Gerrit van Zuyren and Alith. Father of daughter Aaltje. He was buried in Marienwaard Abbey near Beesd.
Social standing
Status
member of a convent
Arguments

identification of the person (portrayed, mentioned in text or owning the coat of arms)

Specification
Member of a convent
Religious order
Premonstratensian (Norbertine)
Specification
abbot of the Norbertine Abbey of Mariënwaard, from 1545 until 1561
Member of secular clergy
Type of secular clergy
(parish or chantry) priest
Specification
provost in Kessel; parish priest in Schiedam
Additional remarks
Additional remarks