Description - Memorial Object
Floor slab of Maria van Munster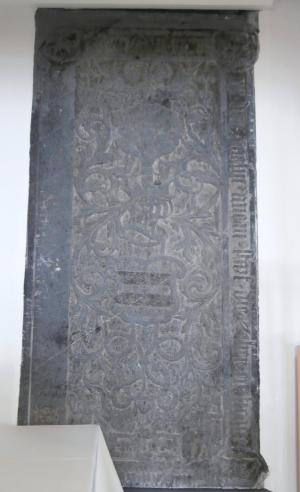 MeMO memorial object ID and name
MeMO memorial object ID
2063
Name
Floor slab of Maria van Munster
Holding institution(s)
Holding institution(s)
Category
Type
Tomb monument, tomb slab or floor slab (physical object)
Classification
Tomb slab or floor slab
Short description
Stone slab with a coat of arms in the centre, a garland above, two human figures below, an inscription along the edge, and roundels with heraldic shields in the corners
Remarks about category
General date
General date
1500-1550
Artist(s)
Artist(s)
Original institution(s)
Still in original institution?
yes

Location inside the institution
In situ?
no
(Probable) original location
Argumentation
The slab was found under the wooden floor of the choir during the restoration of the church in 1954/1955
Related memorial objects in the same institution
Additional remarks (original location)
Maria's brother- and sister-in-law Berend van Hackfort and Margriet van Egmond alias van Baak were also buried in the church of Vorden

Additional remarks

Memorial piece
Function
Specification
Additional remarks
Memorial monument or floor slab
Function
liturgical/religious; no information on possible other functions
Grave findings
Additional remarks
no information is available about possible other functions, because the object is too damaged or no photograph is available

Original function
Change in function
Remarks about function
Name
Maria van Munster
Specification

Members of the commemorated party
Commemorated person(s)

[7049] Maria van Munster (female)

Commemorated institution(s)

Relation between commemorated persons
no relation (only one person mentioned/depicted)
Relation specification
Additional remarks
The name of the commemorated person is no longer legible. The identification is based on the heraldry and date of death on the slab.
Name
Composition of the commissioning party
Specification

Members of the commissioning party
Commissioning person(s)
Commissioning Institution(s)

Relation between commissioning party and commemorated party
Relation specification
Additional remarks
Material(s)
Specification
blue limestone
Traces of polychromy?
Reuse of older objects

Dimensions (cm)
Height x width x depth

Completeness
Probably incomplete: cut down on the right-hand side and at the bottom?
Condition
The slab is badly worn: the inscription along the left edge is illegible. Several diagonal cracks or scratches.
Conservation
Technical research
Specification (technical research)

Alterations
Alterations
Specification

Additional remarks
Provenance
Provenance
Marks of ownership
Type(s) of mark(s) of ownership
Specification

, Verslag van onderzoek c.q. archeologische begeleiding van de werkzaamheden in de hervormde kerk te Vorden op het adres Kerkstraat 4 7251 BC , http://www.oudvorden.nl/ifile/Archeologisch%20rapport%20Dorpskerk%20Vorden%202011vs%203.pdf, 21-22; no. 6
Bloys van Treslong Prins, P.C., Genealogische en heraldische gedenkwaardigheden in de kerken van Gelderland, De Wapenheraut 22 (1918), 3-544, 435; no. 2
Kuile, E.H. ter, De Nederlandse monumenten van geschiedenis en kunst III. De provincie Gelderland, 2e stuk: Het kwartier van Zutfen (The Hague 1958), 148

Other documentation
Additional remarks
Additional remarks
Tomb or floor slab (front) of [2063] Floor slab of Maria van Munster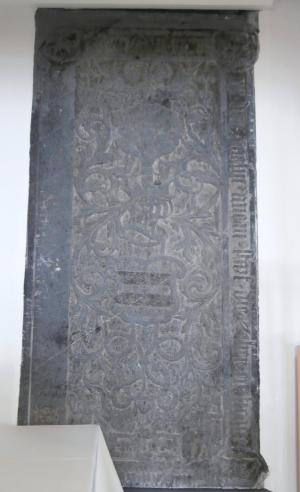 Indication of part
Indication of part
Tomb or floor slab (front)
Short description
Short description
Stone slab with a coat of arms in the centre, a garland above, two human figures below, an inscription along the edge, and roundels with heraldic shields in the corners
Dimensions (cm)
Height x Width x Depth
Date
Year
1536
Specified date
Argumentation

date of death given on the object

Specification
Additional remarks
Holding institution
Holding institution
Vorden, Antoniuskerk
Collection
Collection identifier
Online description link
Alternative or previous collections
Alternative of previous identifiers
Accessibility
Remarks about holding institution
The slab is located in the west side of the church, built into the east wall of the tower (since 1954/1955)
Contract
Contract
Artist(s)
Filiation
Filiation
Additional remarks
Additional remarks
Heraldry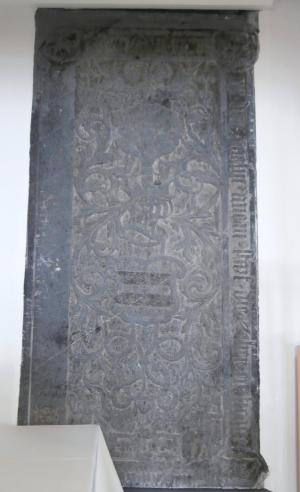 Indication of part
Indication of part
Tomb or floor slab (front)
Place of heraldry
Place of heraldry
in the centre
Specification of heraldry
Type of heraldry
Personal use of family arms (one undivided shield)
Specification
Shape of the shield
Late renaissance shield
Specification
Description of the shield
Two fesses (Twee dwarsbalken)
Description of the upper arms (helmet, crest and mantling)
Crest: a bundle of peacock feathers (Helmteken: een bos pauwenveren)
Remarks
Additional parts of the achievement
Type of supporter
Specification
Motto
English translation of the motto
Insignia or attributes
Heraldry belonging to
Heraldry belonging to
Van Munster

Person details
Person details

[7049] Maria van Munster (female)

Additional remarks
Additional remarks
Indication of part
Indication of part
Tomb or floor slab (front)
Place of heraldry
Place of heraldry
inside the roundels in the corners
Specification of heraldry
Type of heraldry
Personal use of family arms (one undivided shield)
Specification
Shape of the shield
Early renaissance shield
Specification
Description of the shield
Worn away (Weggesleten)
Description of the upper arms (helmet, crest and mantling)
Remarks
Additional parts of the achievement
Type of supporter
Specification
Motto
English translation of the motto
Insignia or attributes
Heraldry belonging to
Heraldry belonging to
Additional remarks
Additional remarks
Inscriptions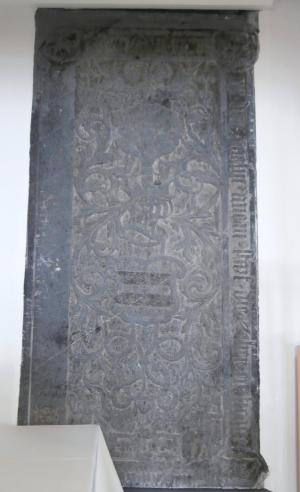 Indication of part
Indication of part
Tomb or floor slab (front)
Place of the inscription
Place of the inscription
along all four edges of the slab
Language(s)
Languages
Language specification
Transcription
Transcription
Anno MVc XXXVI / up den paelm avent starf die erber ende fromme / [...] / [...].
Translation
English translation
In the year 1536 / on the eve of Palm [Sunday] died the honourable and pious / [...] / [...].
Dutch translation
Lay–out
Lay-out
Raised Gothic textualis
Inscription mentioning
Additional remarks
Additional remarks
The inscription along the bottom is partly missing; the inscription along the left edge has worn away.
Decorations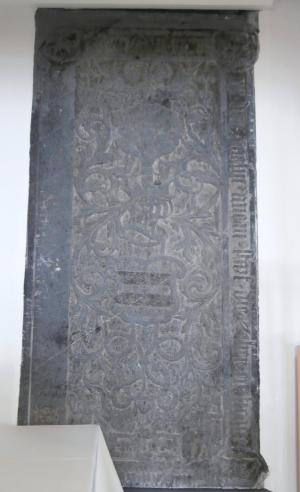 Indication of part
Indication of the part
Tomb or floor slab (front)
Type(s) of decoration(s)
Type(s) of decoration(s)

flowers/plants
human figures (incl. skeletons and skulls)
garland(s)

Description of the decoration(s)
Description of the decoration(s)
a garland with leaves (above); two naked human figures flanking a male head with a turban/headscarf (below)
Depicted allegories
Depicted allegories
Additional remarks
Additional remarks
Person Description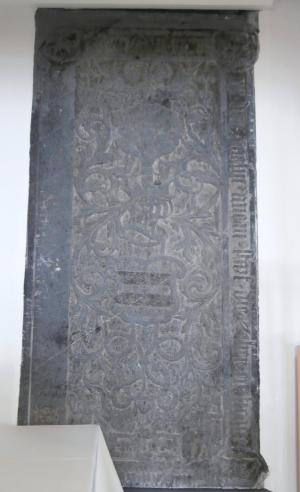 Personal identification number
Personal identification number
7049
Personal details
Name
Maria van Munster
Sex
female
Year/date of birth
Year/date of death
1536
Additional remarks
Daughter of Sondag van Munster and Elisabeth van Gehmen-Pröbsting. Maria was married to Hendrick van Hackfort, lord of Vorden (d. 1513). The couple lived in Vorden Castle and had a daughter named Henrica.
Social standing
Status
nobility
Arguments
Specification
Member of a convent
Religious order
Specification
Member of secular clergy
Type of secular clergy
Specification
Additional remarks
Additional remarks