Description - Memorial Object
Floor slab of Luwe tot Hardeweer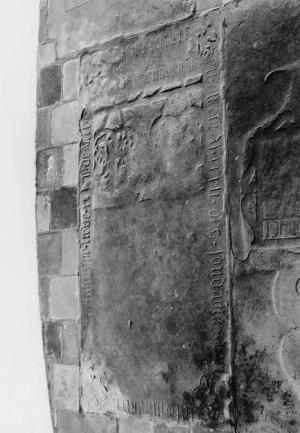 MeMO memorial object ID and name
MeMO memorial object ID
21
Name
Floor slab of Luwe tot Hardeweer
Holding institution(s)
Holding institution(s)

Ezinge, Nederlands Hervormde Kerk

Category
Type
Tomb monument, tomb slab or floor slab (physical object)
Classification
Tomb slab or floor slab
Short description
Stone slab with allied arms hanging from a branch in the upper half, an inscription along the edge, and quatrefoils with the evangelist symbols in the corners
Remarks about category
General date
General date
1525-1550
Artist(s)
Artist(s)
Original institution(s)
Still in original institution?
yes

Location inside the institution
In situ?
(Probable) original location

in the church/chapel (exact location unknown)

Argumentation
Related memorial objects in the same institution
Additional remarks (original location)

Additional remarks

Memorial piece
Function
Specification
Additional remarks
Memorial monument or floor slab
Function
liturgical/religious
Grave findings
Additional remarks

Original function
Change in function
Remarks about function
Name
Luwe tot Hardeweer
Specification

Members of the commemorated party
Commemorated person(s)

[17] Luwe to Hardeweer (male)

Commemorated institution(s)

Relation between commemorated persons
no relation (only one person mentioned/depicted)
Relation specification
Additional remarks
Name
Composition of the commissioning party
Specification

Members of the commissioning party
Commissioning person(s)
Commissioning Institution(s)

Relation between commissioning party and commemorated party
Relation specification
Additional remarks
Material(s)
Specification
sandstone
Traces of polychromy?
Reuse of older objects

Dimensions (cm)
Height x width x depth
171 x 87 x 0

Completeness
Complete
Condition
The slab is worn
Conservation
Technical research
Specification (technical research)

Alterations
Alterations
Specification

Additional remarks
Provenance
Provenance
Marks of ownership
Type(s) of mark(s) of ownership
Specification

Alma, Redmer, Groninger gedenkwaardigheden, http://www.redmeralma.nl; no. 307
Pathuis, A., Groninger gedenkwaardigheden; teksten, wapens en huismerken van 1298-1814 (Assen/Amsterdam 1977), 103; no. 307
Rijkens, J.G., Korte bijdrage over het dorp Ezinge, in: Departement Leens, Almanak ter bevordering van kennis en goeden smaak (Groningen 1845), 107-120, 115
Stenvert, Ronald, Monumenten in Nederland, Groningen (Zeist/Zwolle 1998), 85

Other documentation
SKKN: inv. no. 688-7 (1989)
Additional remarks
Additional remarks
Tomb or floor slab (front) of [21] Floor slab of Luwe tot Hardeweer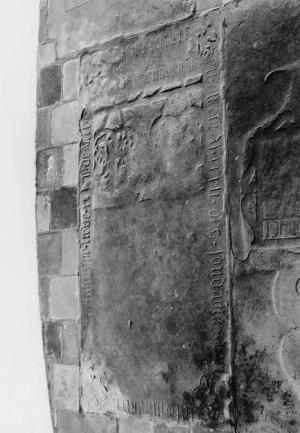 Indication of part
Indication of part
Tomb or floor slab (front)
Short description
Short description
Stone slab with allied arms hanging from a branch in the upper half, an inscription along the edge, and quatrefoils with the evangelist symbols in the corners
Dimensions (cm)
Height x Width x Depth
171 x 87 x 0
Date
Year
1539
Specified date
1539/07/06
Argumentation

date of death given on the object
date of death (from other sources)

Specification
Additional remarks
Holding institution
Holding institution
Ezinge, Nederlands Hervormde Kerk
Collection
Collection identifier
Online description link
Alternative or previous collections
Alternative of previous identifiers
Accessibility
Remarks about holding institution
The slab is located in the choir of the church
Contract
Contract
Artist(s)
Filiation
Filiation
Additional remarks
Additional remarks
Heraldry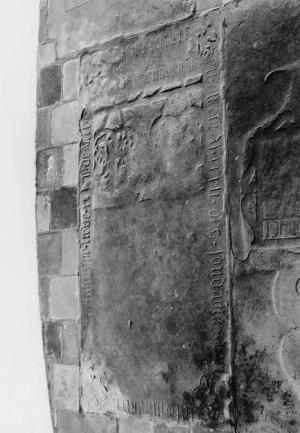 Indication of part
Indication of part
Tomb or floor slab (front)
Place of heraldry
Place of heraldry
in the upper half of the slab, left shield
Specification of heraldry
Type of heraldry
Allied arms (2 coats of arms in 2 shields, respecting each other)
Specification
Shape of the shield
Late renaissance shield
Specification
Description of the shield
per pale, I: the Friesian eagle; II: per fess, A: a six-pointed star; B: a mark (gedeeld, I: de Friese adelaar; II: doorsneden, A: een zespuntige ster; B: een merk)
Description of the upper arms (helmet, crest and mantling)
Remarks
Additional parts of the achievement
Type of supporter

Other (guige or band, tree, branch)

Specification
Hanging from a branch
Motto
English translation of the motto
Insignia or attributes
Heraldry belonging to
Heraldry belonging to
Hardeweer

Person details
Person details

Additional remarks
Additional remarks
Indication of part
Indication of part
Tomb or floor slab (front)
Place of heraldry
Place of heraldry
in the upper half of the slab, right shield
Specification of heraldry
Type of heraldry
Allied arms (2 coats of arms in 2 shields, respecting each other)
Specification
Shape of the shield
Late renaissance shield
Specification
Description of the shield
three escallops, 2-1 (drie st jacobsschelpen, 2-1)
Description of the upper arms (helmet, crest and mantling)
Remarks
Additional parts of the achievement
Type of supporter

Other (guige or band, tree, branch)

Specification
Hanging from a branch
Motto
English translation of the motto
Insignia or attributes
Heraldry belonging to
Heraldry belonging to
Additional remarks
Additional remarks
Inscriptions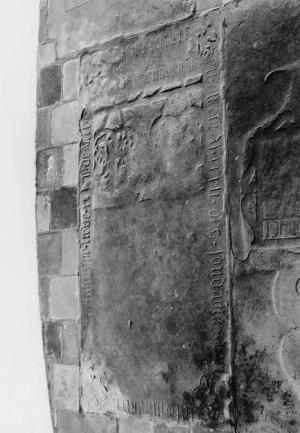 Indication of part
Indication of part
Tomb or floor slab (front)
Place of the inscription
Place of the inscription
along all four edges of the slab, and continuing across the top of the central field
Language(s)
Languages
Language specification
Transcription
Transcription
Int jaer ons heren dusent V XXXIX des sondaghes voer Su[n]te Margrete do starf sallyghe Luwe to Hardeweer, [de] Godt ghenadich sy.
Translation
English translation
In the year of our Lord 1539, the Sunday before [the feast day of] Saint Margaret, has died the blessed Luwe tot Hardeweer, to whom God be merciful.
Dutch translation
Lay–out
Lay-out
Incised Gothic textualis
Inscription mentioning
Name
[17] Luwe to Hardeweer (male)
Sex
male
Argumentation
the person is being commemorated
Additional remarks
Additional remarks
The feast day of St Margaret of Antioch was July 13. According to Pathuis (1977), the date of death is July 6.
Decorations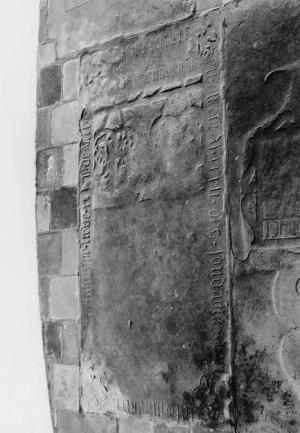 Indication of part
Indication of the part
Tomb or floor slab (front)
Type(s) of decoration(s)
Type(s) of decoration(s)
Description of the decoration(s)
Description of the decoration(s)
quatrefoils with the evangelist symbols in the corners
Depicted allegories
Depicted allegories
Additional remarks
Additional remarks
Person Description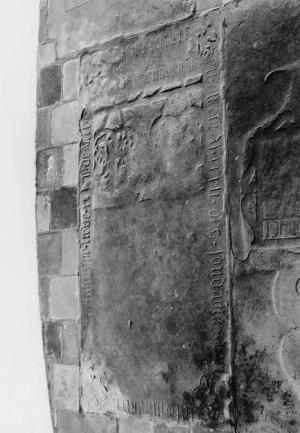 Personal identification number
Personal identification number
17
Personal details
Name
Luwe to Hardeweer
Sex
male
Year/date of birth
Year/date of death
1539/07/06
Additional remarks
Date of death taken from Pathuis (1977)
Social standing
Status
Arguments
Specification
Member of a convent
Religious order
Specification
Member of secular clergy
Type of secular clergy
Specification
Additional remarks
Additional remarks