Description - Memorial Object
Floor slab of Wytze van Cammingha, Rints van Minnema and Sjouck van Cammingha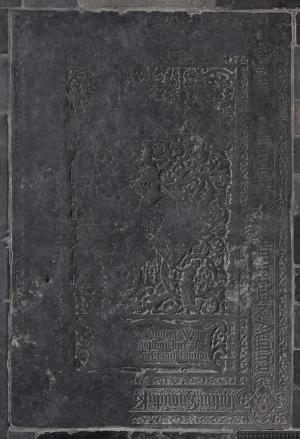 MeMO memorial object ID and name
MeMO memorial object ID
211
Name
Floor slab of Wytze van Cammingha, Rints van Minnema and Sjouck van Cammingha
Holding institution(s)
Holding institution(s)

Leeuwarden, Grote of Jacobijnerkerk

Category
Type
Tomb monument, tomb slab or floor slab (physical object)
Classification
Tomb slab or floor slab
Short description
Stone slab with allied arms held by human figures under a trefoil arch, a putto with banderole and skull below, a cartouche with worn inscription at the bottom, a worn inscription along the edge, and quatrefoils with heraldic shields in the corners
Remarks about category
General date
General date
1525-1575
Artist(s)
Artist(s)
Original institution(s)
Still in original institution?
probably yes

Location inside the institution
In situ?
(Probable) original location

in the church/chapel (exact location unknown)

Argumentation
Related memorial objects in the same institution
Additional remarks (original location)

Additional remarks

Memorial piece
Function
Specification
Additional remarks
Memorial monument or floor slab
Function
liturgical/religious, social and didactic
Grave findings
Additional remarks
• Commemorated on the object are a married couple, (members of) a nuclear family or (members of) an extended family: see Commemorated party. • Possibly an inscription with a didactic statement with a reference to the mortality of mankind; because the inscription is barely legible the didactic function cannot be ascertained. • No information is available about possible other functions, because the object is too damaged or no photograph is available

Original function
Change in function
Remarks about function
Name
Wyttie Kamminga (Wytze van Cammingha), Rints van Minnema and Sijouck Kamminga (Sjouck van Cammingha)
Specification

Members of the commemorated party
Commemorated person(s)

[235] Wyttie Kamminga (Wytze van Cammingha) (male)
[236] Rints van Minnema (female)
[6852] Sijouck Kamminga (Sjouck van Cammingha) (female)

Commemorated institution(s)

Relation between commemorated persons
nuclear family
Relation specification
a married couple with a daughter
Additional remarks
Name
Composition of the commissioning party
Specification

Members of the commissioning party
Commissioning person(s)
Commissioning Institution(s)

Relation between commissioning party and commemorated party
Relation specification
Additional remarks
Material(s)
Specification
blue limestone
Traces of polychromy?
Reuse of older objects

Dimensions (cm)
Height x width x depth
319 x 215 x 0

Completeness
Complete
Condition
The slab is badly worn, especially the left half
Conservation
Technical research
Specification (technical research)

Alterations
Alterations
Specification

Additional remarks
Provenance
Provenance
Marks of ownership
Type(s) of mark(s) of ownership
Specification

Engels, M.H.H.; Dolk, W., Grote of Jacobijner Kerk, grafregister 1768 - ca. 1800, http://www.mpaginae.nl/GroteKerk/grafregister.htm; 040 buitenregel ten N - regel 7, G 153
Walle, Hessel de, Friezen uit vroeger eeuwen; Opschriften uit Friesland, 1280-1811 (Franeker 2007), 510; no. 3563
Wierstra, Simon, Genealogische bestanden van de oude Friese adel en aanverwante families tot 1800, http://www.simonwierstra.nl/index6.htm; http://www.simonwierstra.nl/Cammingha.htm

Other documentation
• Register of graves: number 153. • Inventory drs. E. Makkes van der Deijl-Stam: number 32.
Additional remarks
Additional remarks
Tomb or floor slab (front) of [211] Floor slab of Wytze van Cammingha, Rints van Minnema and Sjouck van Cammingha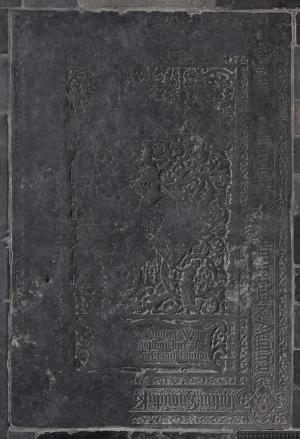 Indication of part
Indication of part
Tomb or floor slab (front)
Short description
Short description
Stone slab with allied arms held by human figures under a trefoil arch, a putto with banderole and skull below, a cartouche with worn inscription at the bottom, a worn inscription along the edge, and quatrefoils with heraldic shields in the corners
Dimensions (cm)
Height x Width x Depth
319 x 215 x 0
Date
Year
1533
Specified date
Argumentation

date of death (from other sources)

Specification
date of death of Wytze van Cammingha
Additional remarks
Holding institution
Holding institution
Leeuwarden, Grote of Jacobijnerkerk
Collection
Collection identifier
Online description link
Alternative or previous collections
Alternative of previous identifiers
Accessibility
Remarks about holding institution
The slab is located in the nave of the church (regel 7), west side
Contract
Contract
Artist(s)
Filiation
Filiation
Additional remarks
Additional remarks
Heraldry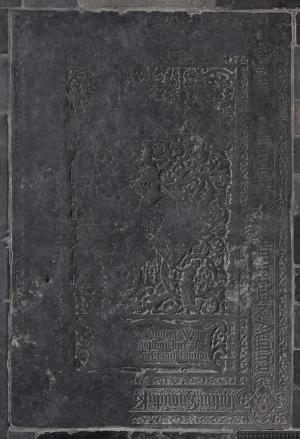 Indication of part
Indication of part
Tomb or floor slab (front)
Place of heraldry
Place of heraldry
in the centre of the slab, on the left
Specification of heraldry
Type of heraldry
Allied arms (2 coats of arms in 2 shields, respecting each other)
Specification
Shape of the shield
Late renaissance shield
Specification
Description of the shield
worn; a hart couchant between three combs, 2-1 (versleten; een liggend hert, vergezeld van drie kammen, 2-1)
Description of the upper arms (helmet, crest and mantling)
crest: an issuant lion (helmteken: een uitkomende leeuw)
Remarks
Additional parts of the achievement
Type of supporter
Specification
A male figure
Motto
English translation of the motto
Insignia or attributes
Heraldry belonging to
Heraldry belonging to
Cammingha

Person details
Person details

[235] Wyttie Kamminga (Wytze van Cammingha) (male)

Additional remarks
Additional remarks
Indication of part
Indication of part
Tomb or floor slab (front)
Place of heraldry
Place of heraldry
in the centre of the slab, on the right
Specification of heraldry
Type of heraldry
Allied arms (2 coats of arms in 2 shields, respecting each other)
Specification
Shape of the shield
Lozenge shield
Specification
Description of the shield
per pale, I: the Friesian eagle; II: per fess, A: worn away: B: a wine leaf (gedeeld, I: de Friese halve adelaar; II: doorsneden: A: weggesleten; B: een wijnblad)
Description of the upper arms (helmet, crest and mantling)
Remarks
Additional parts of the achievement
Type of supporter
Specification
A female figure
Motto
English translation of the motto
Insignia or attributes
Heraldry belonging to
Heraldry belonging to
Additional remarks
Additional remarks
Indication of part
Indication of part
Tomb or floor slab (front)
Place of heraldry
Place of heraldry
in the upper left corner, inside a quatrefoil
Specification of heraldry
Type of heraldry
Personal use of family arms (one undivided shield)
Specification
Shape of the shield
Early renaissance shield
Specification
Description of the shield
worn away (weggesleten)
Description of the upper arms (helmet, crest and mantling)
Remarks
Additional parts of the achievement
Type of supporter
Specification
Motto
English translation of the motto
Insignia or attributes
Heraldry belonging to
Heraldry belonging to
Additional remarks
Additional remarks
Indication of part
Indication of part
Tomb or floor slab (front)
Place of heraldry
Place of heraldry
in the lower left corner, inside a quatrefoil
Specification of heraldry
Type of heraldry
Personal use of family arms (one undivided shield)
Specification
Shape of the shield
Lozenge shield
Specification
Description of the shield
worn away (weggesleten)
Description of the upper arms (helmet, crest and mantling)
Remarks
Additional parts of the achievement
Type of supporter
Specification
Motto
English translation of the motto
Insignia or attributes
Heraldry belonging to
Heraldry belonging to
Additional remarks
Additional remarks
Indication of part
Indication of part
Tomb or floor slab (front)
Place of heraldry
Place of heraldry
in the upper right corner, inside a quatrefoil
Specification of heraldry
Type of heraldry
Personal use of family arms (one undivided shield)
Specification
Shape of the shield
Early renaissance shield
Specification
Description of the shield
a double-headed eagle? (een dubbelkoppige adelaar?)
Description of the upper arms (helmet, crest and mantling)
Remarks
Additional parts of the achievement
Type of supporter
Specification
Motto
English translation of the motto
Insignia or attributes
Heraldry belonging to
Heraldry belonging to
Additional remarks
Additional remarks
Indication of part
Indication of part
Tomb or floor slab (front)
Place of heraldry
Place of heraldry
in the lower right corner, inside a quatrefoil
Specification of heraldry
Type of heraldry
Personal use of family arms (one undivided shield)
Specification
Shape of the shield
Lozenge shield
Specification
Description of the shield
an eight-pointed star between in chief two fleurs de lys in fess and in base a crescent (een achtpuntige ster, boven vergezeld van twee lelies naast elkaar en onder van een wassenaar)
Description of the upper arms (helmet, crest and mantling)
Remarks
Additional parts of the achievement
Type of supporter
Specification
Motto
English translation of the motto
Insignia or attributes
Heraldry belonging to
Heraldry belonging to
Heringa van Ameland; alias Cammingha

Person details
Person details

Additional remarks
Additional remarks
Inscriptions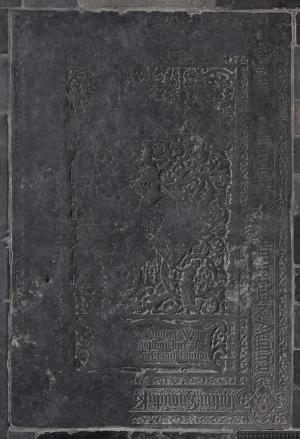 Indication of part
Indication of part
Tomb or floor slab (front)
Place of the inscription
Place of the inscription
along all four edges of the slab
Language(s)
Languages
Language specification
Transcription
Transcription
[...] Kamminga, raetshere des f[...]ssen nae des keiserlijcke majesteit, ende den V september Sijouck Ka[mminga] [...].
Translation
English translation
[...] Cammingha, councillor of the [...] of his imperial majesty, and on September 5 Sjouck van Cammingha [...].
Dutch translation
Lay–out
Lay-out
Raised Gothic textualis
Inscription mentioning
Name
[6852] Sijouck Kamminga (Sjouck van Cammingha) (female)
Sex
female
Argumentation
the person is being commemorated
Name
[235] Wyttie Kamminga (Wytze van Cammingha) (male)
Sex
male
Argumentation
the person is being commemorated
Additional remarks
Additional remarks
Indication of part
Indication of part
Tomb or floor slab (front)
Place of the inscription
Place of the inscription
in a cartouche at the bottom of the slab
Language(s)
Languages
Language specification
Transcription
Transcription
[...]ts Minnema, Wytti[e] [...] huijsfrou, sterf anno 1500 [...]n eersten dach februari.
Translation
English translation
[...]ts van Minnema, Wytze [...] wife, died in the year 15[...] first day of February.
Dutch translation
Lay–out
Lay-out
Raised Gothic textualis
Inscription mentioning
Name
[235] Wyttie Kamminga (Wytze van Cammingha) (male)
Sex
male
Argumentation
the person is used as a reference
Name
[236] Rints van Minnema (female)
Sex
female
Argumentation
the person is being commemorated
Additional remarks
Additional remarks
Indication of part
Indication of part
Tomb or floor slab (front)
Place of the inscription
Place of the inscription
on a banderole below the allied arms
Language(s)
Languages
Language specification
Transcription
Transcription
[...]s [...] (i?) (k or lr?)e [...](ii or u?). Psa(lm) 88.
Translation
English translation
Dutch translation
Lay–out
Lay-out
Incised Gothic textualis
Inscription mentioning
Additional remarks
Additional remarks
Only a few letters are legible, so that a translation cannot be given. The quotation refers to Psalm 88, probably in the Vulgate numbering (Psalm 89 in the Protestant numbering). A candidate would be Psalm 88(9): 49: Quis est homo qui vivet & non videbit mortem? (Who is the man who will live and not see death?).
Decorations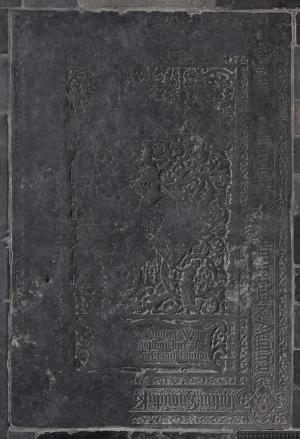 Indication of part
Indication of the part
Tomb or floor slab (front)
Type(s) of decoration(s)
Type(s) of decoration(s)

scrollwork and/or strapwork
angels, putti or cherubs
architectural decorations
flowers/plants
banderole(s)
human figures (incl. skeletons and skulls)

Description of the decoration(s)
Description of the decoration(s)
Depicted allegories
Depicted allegories
Additional remarks
Additional remarks
Person Description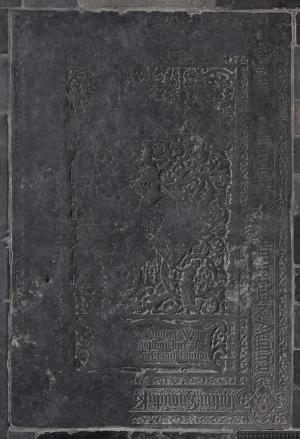 Personal identification number
Personal identification number
235
Personal details
Name
Wyttie Kamminga (Wytze van Cammingha)
Sex
male
Year/date of birth
Year/date of death
1533
Additional remarks
Son of Rienck van Eminga (later: van Cammingha) and Sjouck Hayes van Cammingha. Wytze was married to Rints van Minnema. He lived on the Oenemastate, an estate near Wirdum.
Social standing
Status
nobility
Arguments

according to literature
mentioned in the inscription

Specification
lord of the Camminghaburg (near Leeuwarden); councillor at the Frisian Court
Member of a convent
Religious order
Specification
Member of secular clergy
Type of secular clergy
Specification
Additional remarks
Additional remarks
Personal identification number
Personal identification number
236
Personal details
Name
Rints van Minnema
Sex
female
Year/date of birth
Year/date of death
1546/02/01
Additional remarks
Daughter of Frans Sipckes van Minnema and Rints Tietes van Hommema. Rints lived with her first husband, Wytze van Cammingha, on the Oenemastate, an estate near Wirdum. She remarried Here van Roorda, with whom she lived in Camminghaburg in Leeuwarden.
Social standing
Status
Arguments
Specification
Member of a convent
Religious order
Specification
Member of secular clergy
Type of secular clergy
Specification
Additional remarks
Additional remarks
Personal identification number
Personal identification number
6852
Personal details
Name
Sijouck Kamminga (Sjouck van Cammingha)
Sex
female
Year/date of birth
Year/date of death
Additional remarks
Daughter of Wytze van Cammingha and Rints van Minnema. Sjouck died on September 5 in an unknown year.
Social standing
Status
Arguments
Specification
Member of a convent
Religious order
Specification
Member of secular clergy
Type of secular clergy
Specification
Additional remarks
Additional remarks