Description - Memorial Object
Floor slab of Jacobus de Indoeten (fragment(s))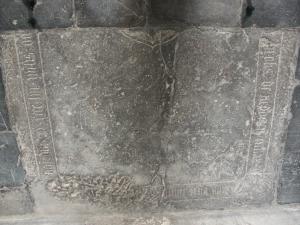 MeMO memorial object ID and name
MeMO memorial object ID
2115
Name
Floor slab of Jacobus de Indoeten (fragment(s))
Holding institution(s)
Holding institution(s)

Maastricht, St. Servaasbasiliek

Category
Type
Tomb monument, tomb slab or floor slab (physical object)
Classification
Tomb slab or floor slab
Short description
Fragment of a stone slab with an inscription along the edge and worn evangelist symbols inside quatrefoils in two corners
Remarks about category
General date
General date
1425-1475
Artist(s)
Artist(s)
Original institution(s)
Still in original institution?
probably yes

Location inside the institution
In situ?
(Probable) original location
Argumentation
Related memorial objects in the same institution
Additional remarks (original location)

Additional remarks

Memorial piece
Function
Specification
Additional remarks
Memorial monument or floor slab
Function
liturgical/religious; no information on possible other functions
Grave findings
Additional remarks
no information is available about possible other functions, because the object is too damaged or no photograph is available

Original function
Change in function
Remarks about function
Name
Jacobus de Indoeten
Specification

Members of the commemorated party
Commemorated person(s)

[4377] Jacobus de Indoeten (male)

Commemorated institution(s)

Relation between commemorated persons
not applicable (only one person mentioned/depicted)
Relation specification
Additional remarks
The rather long inscription in the large part of the fragment that remains indicates that just one person was commemorated in the inscription along the edges
Name
Composition of the commissioning party
Specification

Members of the commissioning party
Commissioning person(s)
Commissioning Institution(s)

Relation between commissioning party and commemorated party
Relation specification
Additional remarks
Material(s)
Specification
blue limestone
Traces of polychromy?
Reuse of older objects

Dimensions (cm)
Height x width x depth

Completeness
Incomplete: a fragment (the lower part of the original slab)
Condition
In poor condition. The fragment is badly worn and shows a large vertical break. The lower left corner is severely damaged.
Conservation
Technical research
Specification (technical research)

Alterations
Alterations
Specification

Additional remarks
Provenance
Provenance
Marks of ownership
Type(s) of mark(s) of ownership
Specification

Belonje, J., Genealogische en heraldische gedenkwaardigheden in en uit de kerken der provincie Limburg, Publications de la Société Historique et Archéologique dans le Limbourg 96-97 (1960), , 146; no. 48

Other documentation
SKKN: inv. no 13249-125, photo no. 13249-125_1
Additional remarks
Additional remarks
The top of the fragment shows what appears to be part of a large quatrefoil
Tomb or floor slab (front) of [2115] Floor slab of Jacobus de Indoeten (fragment(s))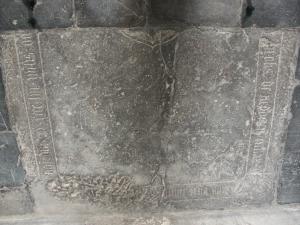 Indication of part
Indication of part
Tomb or floor slab (front)
Short description
Short description
Fragment of a stone slab with inscription along the edge and worn evangelist symbols inside quatrefoils in two corners
Dimensions (cm)
Height x Width x Depth
Date
Year
1453
Specified date
Argumentation

date of death given on the object

Specification
Additional remarks
Holding institution
Holding institution
Maastricht, St. Servaasbasiliek
Collection
Collection identifier
Online description link
Alternative or previous collections
Alternative of previous identifiers
Accessibility
Remarks about holding institution
The fragment is located in the cloister
Contract
Contract
Artist(s)
Filiation
Filiation
Additional remarks
Additional remarks
Inscriptions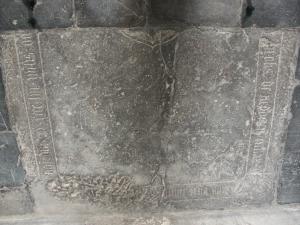 Indication of part
Indication of part
Tomb or floor slab (front)
Place of the inscription
Place of the inscription
probably along all four edges of the slab originally
Language(s)
Languages
Language specification
Transcription
Transcription
[...] Jacobus de Indoeten, ecclesiae [...] vixit [...] nativitate Domini M CCCC LIII mensis De[cembris ...]
Translation
English translation
[...] Jacobus de Indoeten, of [this] church [...] lived [...] birth of the Lord 1453 in the month of De[cember ...]
Dutch translation
[...] Jacobus de Indoeten, van [deze] kerk [...] leefde [...] geboorte van de Heer 1453 in de maand de[cember ...]
Lay–out
Lay-out
Gothic textualis
Inscription mentioning
Name
[4377] Jacobus de Indoeten (male)
Sex
male
Argumentation
the person is being commemorated
Additional remarks
Additional remarks
The fragment shows an inscription along the right, bottom and left edges of the slab. The inscription is worn and consequently hard to read. Furthermore, part of the inscription is missing.
Decorations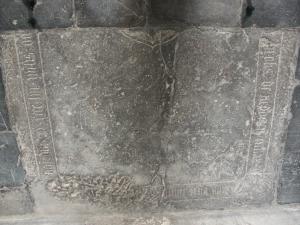 Indication of part
Indication of the part
Tomb or floor slab (front)
Type(s) of decoration(s)
Type(s) of decoration(s)
Description of the decoration(s)
Description of the decoration(s)
two worn evangelist symbols
Depicted allegories
Depicted allegories
Additional remarks
Additional remarks
Person Description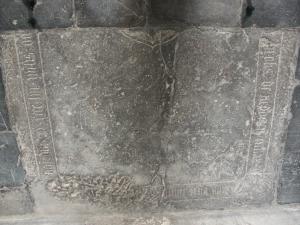 Personal identification number
Personal identification number
4377
Personal details
Name
Jacobus de Indoeten
Sex
male
Year/date of birth
Year/date of death
1453
Additional remarks
Social standing
Status
secular clergy
Arguments

mentioned in the inscription

Specification
The inscription mentions behind the name of the commemorated person that he was 'of this church ...'. This expresion, albeit just a fragment, combined with the fact that the inscription is in Latin, indicates that the commemorated person was a clergyman.
Member of a convent
Religious order
Specification
Member of secular clergy
Type of secular clergy
Specification
Additional remarks
Additional remarks