Description - Memorial Object
Floor slab of Matheu[...] Ogerus(?), Petrus [...] and Arnold van Elderen(?)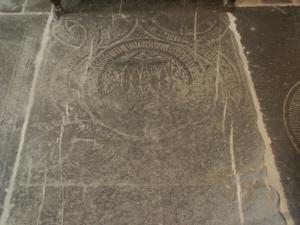 MeMO memorial object ID and name
MeMO memorial object ID
2118
Name
Floor slab of Matheu[...] Ogerus(?), Petrus [...] and Arnold van Elderen(?)
Holding institution(s)
Holding institution(s)

Maastricht, St. Servaasbasiliek

Category
Type
Tomb monument, tomb slab or floor slab (physical object)
Classification
Tomb slab or floor slab
Short description
Large stone slab with several banderoles containing inscriptions, and a centrally placed double circle in which a circular inscription and a heraldic shield suspended from a ribbon
Remarks about category
General date
General date
1450-1500
Artist(s)
Artist(s)
Original institution(s)
Still in original institution?
yes

Location inside the institution
In situ?
(Probable) original location
Argumentation
Related memorial objects in the same institution
Additional remarks (original location)

Additional remarks

Memorial piece
Function
Specification
Additional remarks
Memorial monument or floor slab
Function
liturgical/religious and social
Grave findings
Additional remarks
• For social function, see Commemorated party. • No information is available about possible other functions, because the object is too damaged or no photograph is available.

Original function
Change in function
Remarks about function
Name
Matheu[...] Ogerus(?), Petrus [...] and Arnold van Elderen(?)
Specification

Members of the commemorated party
Commemorated person(s)

[4668] Arnold van Elderen (male)
[4392] Petrus [...] (male)
[4391] Matheu[...] Ogerus(?) (male)

Commemorated institution(s)

Relation between commemorated persons
office holders/officials (ecclesiastical or public office)
Relation specification
all three men were probably ecclesiastical office holders at St. Servaaskerk (St Servatius's Church) in Maastricht
Additional remarks
The name of the person who is commemorated in the centrally placed circular inscription is no longer legible. Based on the given date of death (1487) and the accompanying heraldic shield (Hamal van Elderen), Van Nispen tot Sevenaer (1926) suggests that scholaster Arnold van Elderen was originally mentioned here.
Name
Composition of the commissioning party
Specification

Members of the commissioning party
Commissioning person(s)
Commissioning Institution(s)

Relation between commissioning party and commemorated party
Relation specification
Additional remarks
Material(s)
Specification
blue limestone
Traces of polychromy?
Reuse of older objects

Dimensions (cm)
Height x width x depth
230 x 110 x 0

Completeness
Complete
Condition
The slab is badly worn and shows scratches. The inscriptions are hard to read.
Conservation
Technical research
Specification (technical research)

Alterations
Alterations
Specification

Additional remarks
Provenance
Provenance
Marks of ownership
Type(s) of mark(s) of ownership
Specification

Belonje, J., Genealogische en heraldische gedenkwaardigheden in en uit de kerken der provincie Limburg, Publications de la Société Historique et Archéologique dans le Limbourg 96-97 (1960), , 142; no. 20
Doppler, P., Lijst der kanunniken van het vrije Rijkskapittel van St. Servaas te Maastricht (1050-1795), Publications de la Société Historique et Archéologique dans le Limbourg 75 (1939), , 115-117
Nispen tot Sevenaer, E. van, De monumenten van geschiedenis van kunst V. De provincie Limburg. Eerste stuk: gemeente Maastricht, tweede aflevering ('s-Gravenhage 1930), 368; no. 8

Other documentation
SKKN: inv. no. 13249-127, photo no. 13249-127_1
Additional remarks
Additional remarks
Tomb or floor slab (front) of [2118] Floor slab of Matheu[...] Ogerus(?), Petrus [...] and Arnold van Elderen(?)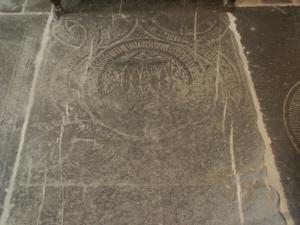 Indication of part
Indication of part
Tomb or floor slab (front)
Short description
Short description
Large stone slab with several banderoles containing inscriptions, and a centrally placed double circle in which a circular inscription and a heraldic shield suspended from a ribbon
Dimensions (cm)
Height x Width x Depth
230 x 110 x 0
Date
Year
1450-1500
Specified date
Argumentation

date of death given on the object

Specification
dates of death that are legible: 148[.] and 1487
Additional remarks
Holding institution
Holding institution
Maastricht, St. Servaasbasiliek
Collection
Collection identifier
Online description link
Alternative or previous collections
Alternative of previous identifiers
Accessibility
Remarks about holding institution
The slab is located in the 'St. Antonius van Padua-kapel' (chapel of St Anthony of Padua)
Contract
Contract
Artist(s)
Filiation
Filiation
Additional remarks
Additional remarks
Heraldry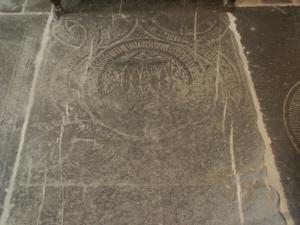 Indication of part
Indication of part
Tomb or floor slab (front)
Place of heraldry
Place of heraldry
in double circle in the centre
Specification of heraldry
Type of heraldry
Personal use of family arms (one undivided shield)
Specification
Shape of the shield
Late gothic shield
Specification
Description of the shield
five fusils conjoined in fess, over all a sinister bendlet (vijf aanstotende spitsruiten naast elkaar, over alles heen een linker schuinstreep)
Description of the upper arms (helmet, crest and mantling)
Remarks
Additional parts of the achievement
Type of supporter

Other (guige or band, tree, branch)

Specification
Suspended from a ribbon
Motto
English translation of the motto
Insignia or attributes
Heraldry belonging to
Heraldry belonging to
Hamal van Elderen

Person details
Person details

[4668] Arnold van Elderen (male)

Additional remarks
Additional remarks
Inscriptions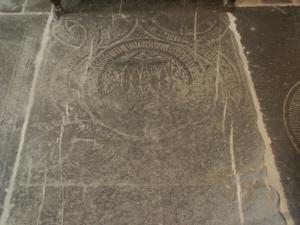 Indication of part
Indication of part
Tomb or floor slab (front)
Place of the inscription
Place of the inscription
on a banderole
Language(s)
Languages
Language specification
Transcription
Transcription
Hic iacet sepultus [...] [vir? Pet?]rus, [...] huius ecclesie Santi Servatii, qui obiit anno 148[...]
Translation
English translation
Here lies buried [...] [man? Pet?]rus, [...] of this church of St Servatius, who died in the year 148[...]
Dutch translation
Hier ligt begraven [...] [man? Pet?]rus, [...] van deze kerk van St. Servaas, die stierf in het jaar 148[...]
Lay–out
Lay-out
Gothic textualis
Inscription mentioning
Name
[4392] Petrus [...] (male)
Sex
male
Argumentation
the person is being commemorated
Additional remarks
Additional remarks
The inscription is worn and consequently hard to read
Indication of part
Indication of part
Tomb or floor slab (front)
Place of the inscription
Place of the inscription
inside the double circle in the centre (circular inscription)
Language(s)
Languages
Language specification
Transcription
Transcription
MCCCCLXXXVII mensis [...] anima requiescat in pace.
Translation
English translation
1487 of the month [...] soul may rest in peace.
Dutch translation
1487 van de maand [...] ziel in vrede moge rusten.
Lay–out
Lay-out
Gothic textualis
Inscription mentioning
Additional remarks
Additional remarks
The inscription is worn and consequently hard to read. This inscription might relate to the scholaster Arnold van Elderen.
Indication of part
Indication of part
Tomb or floor slab (front)
Place of the inscription
Place of the inscription
on a banderole
Language(s)
Languages
Language specification
Transcription
Transcription
Dominus Matheu[...] Ogerus(?), huius ecclesie sacellanus.
Translation
English translation
Sir Matheu[...] Ogerus(?), chaplain of this church.
Dutch translation
Heer Matheu[...] Ogerus(?), kapelaan van deze kerk.
Lay–out
Lay-out
Gothic textualis
Inscription mentioning
Name
[4391] Matheu[...] Ogerus(?) (male)
Sex
male
Argumentation
the person is being commemorated
Additional remarks
Additional remarks
The inscription is worn and consequently hard to read
Person Description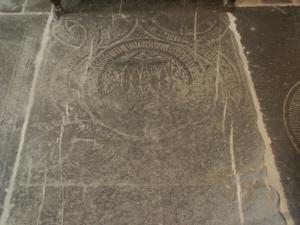 Personal identification number
Personal identification number
4391
Personal details
Name
Matheu[...] Ogerus(?)
Sex
male
Year/date of birth
Year/date of death
Additional remarks
Social standing
Status
secular clergy
Arguments

mentioned in the inscription

Specification
Member of a convent
Religious order
Specification
Member of secular clergy
Type of secular clergy
(parish or chantry) priest
Specification
chaplain of the St. Servaaskerk (St Servatius's Church) in Maastricht
Additional remarks
Additional remarks
Personal identification number
Personal identification number
4392
Personal details
Name
Petrus [...]
Sex
male
Year/date of birth
Year/date of death
Additional remarks
He died in the 1480s.
Social standing
Status
secular clergy
Arguments

mentioned in the inscription

Specification
attached to the St. Servaaskerk (St Servatius's Church) in Maastricht
Member of a convent
Religious order
Specification
Member of secular clergy
Type of secular clergy
Specification
Additional remarks
Additional remarks
Personal identification number
Personal identification number
4668
Personal details
Name
Arnold van Elderen
Sex
male
Year/date of birth
Year/date of death
1487
Additional remarks
Arnold van Elderen studied in Louvain and was a regular at the court of Charles the Bold. He was a patron of Mattheus Herbenus. Arnold was succeeded as scholaster by Jan van Heinsberg on 16 June 1487, which means that he died some time before that date (see Van Nispen tot Sevenaer, 1926).
Social standing
Status
secular clergy
Arguments
Specification
Member of a convent
Religious order
Specification
Member of secular clergy
Type of secular clergy
canon
Specification
canon and scholaster at the St. Servaaskerk (St Servatius's Church) in Maastricht
Additional remarks
Additional remarks