Description - Memorial Object
Floor slab of Robinus(?) and Simon Anckers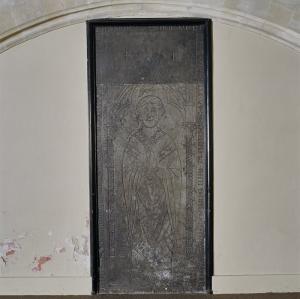 MeMO memorial object ID and name
MeMO memorial object ID
2186
Name
Floor slab of Robinus(?) and Simon Anckers
Holding institution(s)
Holding institution(s)

Maastricht, Chapel of former Nieuwenhof beguinage

Category
Type
Tomb monument, tomb slab or floor slab (physical object)
Classification
Tomb slab or floor slab
Short description
Large stone slab with the incised effigy of a priest under the Manus Dei, Gothic architecture, inscriptions on pillars and along the edge
Remarks about category
General date
General date
1275-1300
Artist(s)
Artist(s)
Original institution(s)
Still in original institution?
yes

Location inside the institution
In situ?
no
(Probable) original location
Argumentation
Related memorial objects in the same institution
Additional remarks (original location)

Additional remarks
The slab probably originates from the former location of Nieuwenhof beguinage, just outside the town walls of Maastricht. When, around 1482, the beguinage was rebuilt at its current location inside the town walls, the slab may have been moved there as well. See also Provenance.

Memorial piece
Function
Specification
Additional remarks
Memorial monument or floor slab
Function
liturgical/religious and social
Grave findings
Additional remarks
Commemorated on the object are holders of the same office or members of the same corporation or religious order: see Commemorated party

Original function
Change in function
Remarks about function
Name
Robinus(?) and Simon Anckers
Specification

Members of the commemorated party
Commemorated person(s)

[4462] Robinus(?) (male)
[4463] Simon Anckers (male)

Commemorated institution(s)

Relation between commemorated persons
office holders/officials (ecclesiastical or public office)
Relation specification
priests of Nieuwenhof beguinage in Maastricht
Additional remarks
Name
Composition of the commissioning party
Specification

Members of the commissioning party
Commissioning person(s)
Commissioning Institution(s)

Relation between commissioning party and commemorated party
Relation specification
Additional remarks
Material(s)
Specification
Traces of polychromy?
Reuse of older objects

Dimensions (cm)
Height x width x depth

Completeness
Complete? The upper part of the slab appears to be of a later date: an addition or reconstruction?
Condition
In good condition. The slab is slightly worn.
Conservation
Technical research
Specification (technical research)

Alterations
Alterations
Specification
Initially the floor slab of Robinus(?); two and a half centuries later it was reused for Simon Anckers

Additional remarks
Provenance
Provenance
Nieuwenhof beguinage just outside the town walls of Maastricht; Nieuwenhof beguinage inside the town walls of Maastricht, at the 'Zwingelput'
Marks of ownership
Type(s) of mark(s) of ownership
Specification

Belonje, J., Genealogische en heraldische gedenkwaardigheden in en uit de kerken der provincie Limburg, Publications de la Société Historique et Archéologique dans le Limbourg 96-97 (1960), , 165; no. 1
Nispen tot Sevenaer, E. van, De monumenten van geschiedenis van kunst V. De provincie Limburg. Eerste stuk: gemeente Maastricht, tweede aflevering ('s-Gravenhage 1930), 283; no. 1

Other documentation
RCE: object no. 508.970
Additional remarks
Additional remarks
Tomb or floor slab (front) of [2186] Floor slab of Robinus(?) and Simon Anckers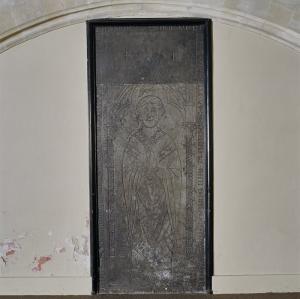 Indication of part
Indication of part
Tomb or floor slab (front)
Short description
Short description
Large stone slab with the incised effigy of a priest under the Manus Dei, Gothic architecture, inscriptions on pillars and along the edge
Dimensions (cm)
Height x Width x Depth
Date
Year
1286
Specified date
Argumentation

date of death given on the object

Specification
date of death of Robinus(?), the earliest date mentioned on the slab
Additional remarks
Holding institution
Holding institution
Maastricht, Chapel of former Nieuwenhof beguinage
Collection
Collection identifier
Online description link
Alternative or previous collections
Alternative of previous identifiers
Accessibility
Remarks about holding institution
The slab is located in the choir bay in the north side of the chapel, against the wall
Contract
Contract
Artist(s)
Filiation
Filiation
The slab is stylistically related to the 'Floor slab of Wolterus de Cortenberg', see MeMO Memorial Object ID [2187]
Additional remarks
Additional remarks
Portraits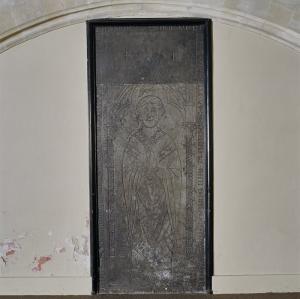 Indication of part
Indication of part
Tomb or floor slab (front)
Place of the portrait
Place of the portrait
in the centre
Portrait of
Name
Robinus(?)
Sex
male
Argumentation

based on text(s) on the memorial object

Specification
Portrait — portraiture
Physical state of the portrayed person
cannot be determined
Argumentation
Specification
Posture
uncertain/cannot be determined
Manner of portrayal
folded hands
Portrait — clothing, attributes and insignia

Clothing
Type of clothing
clothes of an ecclesiastical office holder
Short description
alb underneath a chasuble decorated with crosses
Attributes
Attributes
Specification
Insignia
Insignia
Specification
Remarks about clothing

Additional remarks
This is probably the effigy of Robinus(?), for whom the slab was initially made
Inscriptions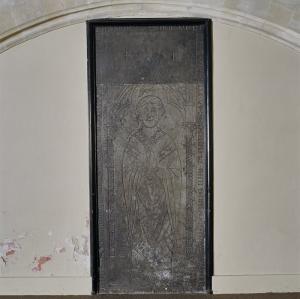 Indication of part
Indication of part
Tomb or floor slab (front)
Place of the inscription
Place of the inscription
along all four edges of the slab
Language(s)
Languages
Language specification
Transcription
Transcription
Anno Domini M C C LXXX VI septimo Kalendas Maii obiit dominus Robinus(?), rector beghinarum Nove Curie iuxta Traiectum. Anima eius per misericordiam Dei requiescat in pace. Orate pro eo.
Translation
English translation
In the year of the Lord 1286 on the seventh [day before] the calends of May, died sir Robinus, rector of Nieuwenhof beguinage near Maastricht. May his soul by God's mercy rest in peace. Pray for him.
Dutch translation
In het jaar des Heren 1286 op de zevende [dag vóór] de calendae van mei, stierf heer Robinus, rector van begijnhof Nieuwenhof bij Maastricht. Moge zijn ziel door Gods barmhartigheid in vrede rusten. Bid voor hem.
Lay–out
Lay-out
Lombardic majuscules
Inscription mentioning
Name
[4462] Robinus(?) (male)
Sex
male
Argumentation
the person is being commemorated
Additional remarks
Additional remarks
• The name 'Robinus' is not completely certain. The slab reads 'Robn'. • The seventh day before the calends of May is on April 25.
Indication of part
Indication of part
Tomb or floor slab (front)
Place of the inscription
Place of the inscription
on the pillars
Language(s)
Languages
Language specification
Transcription
Transcription
Hir lict begraven broder Simon Anckers [...]sdic pater dis konvens sterf anno XVc en XXX II.
Translation
English translation
Here lies buried brother Simon Anckers [...] priest of this convent, died in the year 1500 and 32.
Dutch translation
Lay–out
Lay-out
Gothic textualis
Inscription mentioning
Name
[4463] Simon Anckers (male)
Sex
male
Argumentation
the person is being commemorated
Additional remarks
Additional remarks
This inscription was added later
Decorations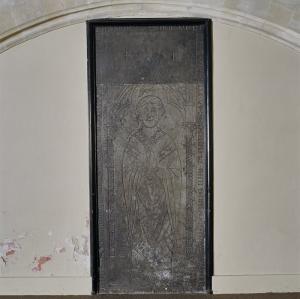 Indication of part
Indication of the part
Tomb or floor slab (front)
Type(s) of decoration(s)
Type(s) of decoration(s)

religious representations
architectural decorations

Description of the decoration(s)
Description of the decoration(s)
• Gothic architecture: pillars; gable and pinnacles decorated with finials, crockets and trefoils. • Manus Dei (Hand of God).
Depicted allegories
Depicted allegories
Additional remarks
Additional remarks
Person Description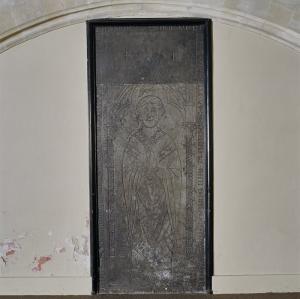 Personal identification number
Personal identification number
4462
Personal details
Name
Robinus(?)
Sex
male
Year/date of birth
Year/date of death
1286
Additional remarks
Social standing
Status
secular clergy
Arguments

mentioned in the inscription

Specification
Member of a convent
Religious order
Specification
Member of secular clergy
Type of secular clergy
(parish or chantry) priest
Specification
rector of Nieuwenhof beguinage in Maastricht
Additional remarks
Additional remarks
Personal identification number
Personal identification number
4463
Personal details
Name
Simon Anckers
Sex
male
Year/date of birth
Year/date of death
1532
Additional remarks
Social standing
Status
secular clergy
Arguments

mentioned in the inscription

Specification
Member of a convent
Religious order
Specification
Member of secular clergy
Type of secular clergy
(parish or chantry) priest
Specification
priest of Nieuwenhof beguinage in Maastricht
Additional remarks
Additional remarks