Description - Memorial Object
Sarcophagus lid of unknown person(s)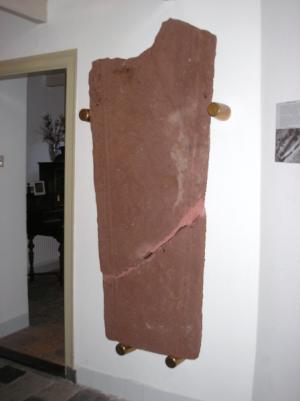 MeMO memorial object ID and name
MeMO memorial object ID
2342
Name
Sarcophagus lid of unknown person(s)
Holding institution(s)
Holding institution(s)

Limmen, Nederlands Hervormde Kerk

Category
Type
Tomb monument, tomb slab or floor slab (physical object)
Classification
Sarcophagus (lid)
Short description
Tapered stone lid with worn geometric patterns
Remarks about category
General date
General date
1000-1200
Artist(s)
Artist(s)
Original institution(s)

| | |
| --- | --- |
| Original institution | [822] St. Maartenskerk (St Martin's Church), Limmen |
| Arguments | based on research (literature, archival or archaeological research) |
| Specification | The lid and sarcophagus were found in 1953, while digging a new grave in the churchyard north of the church |

Still in original institution?
probably yes

Location inside the institution
In situ?
no
(Probable) original location
Argumentation
Related memorial objects in the same institution
Additional remarks (original location)

Additional remarks

Memorial piece
Function
Specification
Additional remarks
Memorial monument or floor slab
Function
liturgical/religious; no information on possible other functions
Grave findings
Additional remarks
No information is available about possible other functions, because only the lid of the sarcophagus remains

Original function
Change in function
Remarks about function
Name
Specification

Members of the commemorated party
Commemorated person(s)
Commemorated institution(s)

Relation between commemorated persons
Relation specification
Additional remarks
Name
Composition of the commissioning party
Specification

Members of the commissioning party
Commissioning person(s)
Commissioning Institution(s)

Relation between commissioning party and commemorated party
Relation specification
Additional remarks
Material(s)
Specification
red sandstone
Traces of polychromy?
Reuse of older objects

Dimensions (cm)
Height x width x depth

Completeness
The top left corner is lost: it was destroyed in 1953 by the gravedigger
Condition
The lid is badly worn. A diagonal break in the lower half.
Conservation
Technical research
Specification (technical research)

Alterations
Alterations
Specification

Additional remarks
Provenance
Provenance
Marks of ownership
Type(s) of mark(s) of ownership
Specification

Druijven, Kees; Koelemeij, Rein, De Protestantse Kerk te Limmen; historie, restauraties en inventarisatie (Almere 2009), 69-70
Hundertmark, H., De lappendeken van Limmen. Een bouwhistorisch onderzoek naar de bouwgeschiedenis van de Nederlands Hervormde kerk te Limmen., Bulletin van de Koninklijke Nederlandse Oudheidkundige Bond 104 (2005), 37-57, 39

Other documentation
Additional remarks
Additional remarks
The lid originally covered a sarcophagus made of tufa. The present location of the sarcophagus is unknown.
Sarcophagus (lid) of [2342] Sarcophagus lid of unknown person(s)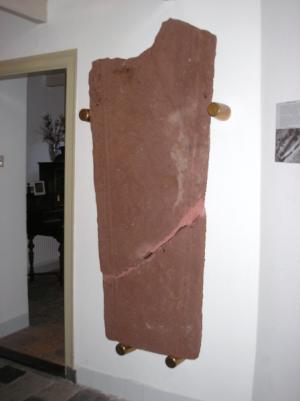 Indication of part
Indication of part
Sarcophagus (lid)
Short description
Short description
Tapered stone lid with worn geometric patterns
Dimensions (cm)
Height x Width x Depth
Date
Year
1000-1200
Specified date
Argumentation

based on stylistic research

Specification
Additional remarks
Holding institution
Holding institution
Limmen, Nederlands Hervormde Kerk
Collection
Collection identifier
Online description link
Alternative or previous collections
Alternative of previous identifiers
Accessibility
Remarks about holding institution
The lid is located in the hall of the church, against a wall (since 2006). The present whereabouts of the sarcophagus are unknown.
Contract
Contract
Artist(s)
Filiation
Filiation
Additional remarks
Additional remarks