Description - Memorial Object
Floor slab of Arend van Abcoude (fragment(s))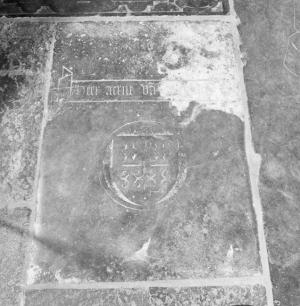 MeMO memorial object ID and name
MeMO memorial object ID
2495
Name
Floor slab of Arend van Abcoude (fragment(s))
Holding institution(s)
Holding institution(s)
Category
Type
Tomb monument, tomb slab or floor slab (physical object)
Classification
Tomb slab or floor slab
Short description
Fragment of a stone slab with a heraldic shield inside a roundel and an inscription above
Remarks about category
General date
General date
1450-1500
Artist(s)
Artist(s)
Original institution(s)
Still in original institution?
yes

Location inside the institution
In situ?
(Probable) original location
Argumentation
Description of the location by Buchelius: originally located in the north side of the church?
Related memorial objects in the same institution
Additional remarks (original location)

Additional remarks

Memorial piece
Function
Specification
Additional remarks
Memorial monument or floor slab
Function
liturgical/religious; no information on possible other functions
Grave findings
Additional remarks
no information is available about possible other functions, because the object is too damaged or no photograph is available

Original function
Change in function
Remarks about function
Name
Aernt (Arend) van Abcoude
Specification

Members of the commemorated party
Commemorated person(s)

[4883] Aernt (Arend) van Abcoude (male)

Commemorated institution(s)

Relation between commemorated persons
not applicable (only one person mentioned/depicted)
Relation specification
Additional remarks
Name
Composition of the commissioning party
Specification

Members of the commissioning party
Commissioning person(s)
Commissioning Institution(s)

Relation between commissioning party and commemorated party
Relation specification
Additional remarks
Material(s)
Specification
blue limestone
Traces of polychromy?
Reuse of older objects

Dimensions (cm)
Height x width x depth
140 x 100 x 0

Completeness
Incomplete: a fragment
Condition
In reasonable condition. The fragment is worn.
Conservation
Technical research
Specification (technical research)

Alterations
Alterations
Specification

Additional remarks
The dimensions are estimates
Provenance
Provenance
Marks of ownership
Type(s) of mark(s) of ownership
Specification

Buchelius, A., Monumenta passim in templis ac monasteriis Traiectinae urbis atque agri inventa (Utrecht ), 87; 47r

Other documentation
SKKN: inv. no. 969-76
Additional remarks
Additional remarks
Tomb or floor slab (front) of [2495] Floor slab of Arend van Abcoude (fragment(s))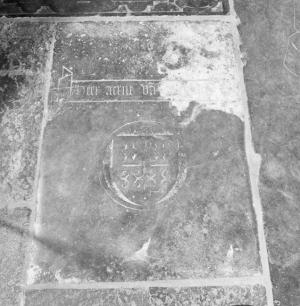 Indication of part
Indication of part
Tomb or floor slab (front)
Short description
Short description
Fragment of a stone slab with a heraldic shield inside a roundel and inscription in Gothic textualis above
Dimensions (cm)
Height x Width x Depth
140 x 100 x 0
Date
Year
1480
Specified date
1480/05/01
Argumentation

date of death (from other sources)

Specification
date of death mentioned by Buchelius
Additional remarks
Holding institution
Holding institution
Utrecht, Janskerk
Collection
Collection identifier
Online description link
Alternative or previous collections
Alternative of previous identifiers
Accessibility
Remarks about holding institution
The slab is located in the south transept
Contract
Contract
Artist(s)
Filiation
Filiation
Additional remarks
Additional remarks
Heraldry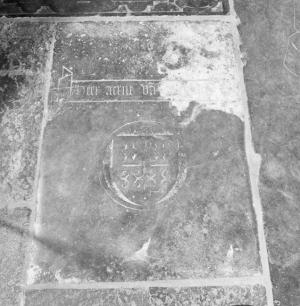 Indication of part
Indication of part
Tomb or floor slab (front)
Place of heraldry
Place of heraldry
inside central roundel
Specification of heraldry
Type of heraldry
Personal use of family arms (one undivided shield)
Specification
Shape of the shield
High gothic shield
Specification
Description of the shield
quarterly, a zule in each quarter (gevierdendeeld, in elke kwartier een zuil)
Description of the upper arms (helmet, crest and mantling)
Remarks
Additional parts of the achievement
Type of supporter
Specification
Motto
English translation of the motto
Insignia or attributes
Heraldry belonging to
Heraldry belonging to
Additional remarks
Additional remarks
Inscriptions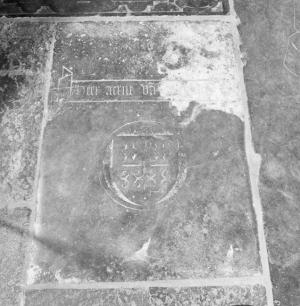 Indication of part
Indication of part
Tomb or floor slab (front)
Place of the inscription
Place of the inscription
above the heraldic shield in the fragment (one line)
Language(s)
Languages
Language specification
Transcription
Transcription
Heer aernt van abcoude.
Translation
English translation
Sir Arend van Abcoude.
Dutch translation
Heer Arend van Abcoude.
Lay–out
Lay-out
Gothic textualis
Inscription mentioning
Name
[4883] Aernt (Arend) van Abcoude (male)
Sex
male
Argumentation
the person is being commemorated
Additional remarks
Additional remarks
Part of the inscription is now missing. According to Buchelius, the complete inscription read: "In 't jaer ons Heeren MCCCCLXXX, op meydach, sterft heer Aernt van Abcoude, canonick deser kercken, bidt voor de ziel" (In the year of Our Lord 1480, on the first day of May, died sir Arend van Abcoude, canon of this church, pray for the soul).
Person Description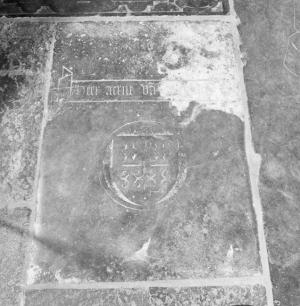 Personal identification number
Personal identification number
4883
Personal details
Name
Aernt (Arend) van Abcoude
Sex
male
Year/date of birth
Year/date of death
1480/05/01
Additional remarks
Social standing
Status
secular clergy
Arguments

mentioned in the inscription

Specification
Member of a convent
Religious order
Specification
Member of secular clergy
Type of secular clergy
canon
Specification
canon at the St. Janskerk (St John's Church) in Utrecht
Additional remarks
Additional remarks