Description - Memorial Object
Floor slab of Aelken Rutger Ingerdaensdr. (fragment)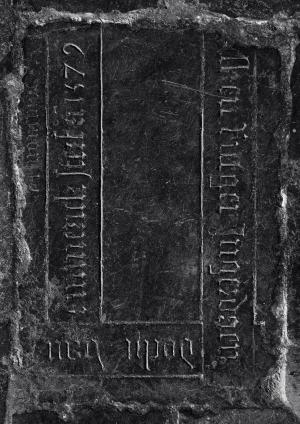 MeMO memorial object ID and name
MeMO memorial object ID
2769
Name
Floor slab of Aelken Rutger Ingerdaensdr. (fragment)
Holding institution(s)
Holding institution(s)

's-Hertogenbosch, St. Janskathedraal

Category
Type
Tomb monument, tomb slab or floor slab (physical object)
Classification
Tomb slab or floor slab
Short description
Fragment of a stone slab with an inscription on a banderole along the edge
Remarks about category
General date
General date
1550-1600
Artist(s)
Artist(s)
Original institution(s)
Still in original institution?
probably yes

Location inside the institution
In situ?
(Probable) original location

in the church/chapel (exact location unknown)

Argumentation
Related memorial objects in the same institution
Additional remarks (original location)

Additional remarks

Memorial piece
Function
Specification
Additional remarks
Memorial monument or floor slab
Function
liturgical/religious; no information on possible other functions
Grave findings
Additional remarks
No information is available about possible other functions, because the object is too damaged

Original function
Change in function
Remarks about function
Name
Aelken Rutger Ingerdaen
Specification

Members of the commemorated party
Commemorated person(s)

[5295] Aelken Rutger Ingerdaen (female)

Commemorated institution(s)

Relation between commemorated persons
not applicable (only one person mentioned/depicted)
Relation specification
Additional remarks
Name
Composition of the commissioning party
Specification

Members of the commissioning party
Commissioning person(s)
Commissioning Institution(s)

Relation between commissioning party and commemorated party
Relation specification
Additional remarks
Material(s)
Specification
Meuse hardstone
Traces of polychromy?
Reuse of older objects

Dimensions (cm)
Height x width x depth
74 x 50 x 0

Completeness
Incomplete: the top edge of the slab is missing
Condition
Worn
Conservation
Technical research
Specification (technical research)

Alterations
Alterations
Specification

Additional remarks
Provenance
Provenance
Marks of ownership
Type(s) of mark(s) of ownership
Specification

Oudheusden, J.A.F.M. van; Tummers, H. A. , De grafzerken van de Sint-Jan te 's-Hertogenbosch, http://www.grafzerkensintjan.nl/default.aspx, 261

Other documentation
Additional remarks
Additional remarks
Tomb or floor slab (front) of [2769] Floor slab of Aelken Rutger Ingerdaensdr. (fragment)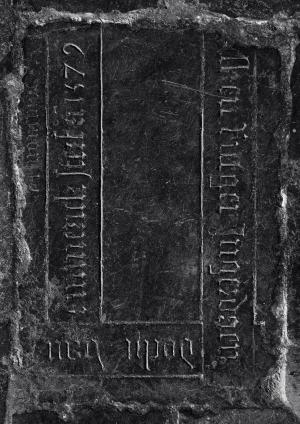 Indication of part
Indication of part
Tomb or floor slab (front)
Short description
Short description
Fragment of a stone slab with an inscription on a banderole along the edge
Dimensions (cm)
Height x Width x Depth
74 x 50 x 0
Date
Year
1579
Specified date
1579/11/14
Argumentation

date of death given on the object

Specification
Additional remarks
Holding institution
Holding institution
's-Hertogenbosch, St. Janskathedraal
Collection
Collection identifier
Online description link
Alternative or previous collections
Alternative of previous identifiers
Accessibility
Remarks about holding institution
The slab is situated in the south outer aisle of the nave
Contract
Contract
Artist(s)
Filiation
Filiation
Additional remarks
Additional remarks
Inscriptions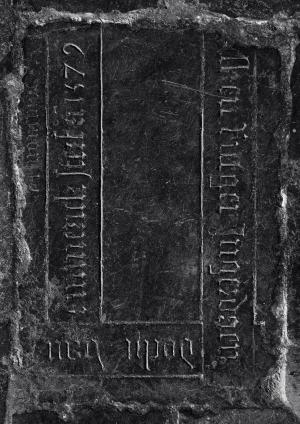 Indication of part
Indication of part
Tomb or floor slab (front)
Place of the inscription
Place of the inscription
along all four edges of the slab originally
Language(s)
Languages
Language specification
Transcription
Transcription
[Hier leet begraven Ae]lken Rutger Ingerdaen dochter van Emmerick sterf 1579 [den 14] november
Translation
English translation
[Here lies buried Ae]lken Rutger Ingerdaen, daughter of Emmerich, died in 1579 [on 14] November.
Dutch translation
Lay–out
Lay-out
Incised Gothic textualis lettering on a folded banderole
Inscription mentioning
Name
[5295] Aelken Rutger Ingerdaen (female)
Sex
female
Argumentation
the person is being commemorated
Name
[7709] Rutger Ingerdaen (male)
Sex
male
Argumentation
the person is used as a reference
Additional remarks
Additional remarks
Transcription completed on the basis of that recorded in MS 1709, 176.6. The fragment shows an inscription along the right, bottom and left edges of the slab.
Person Description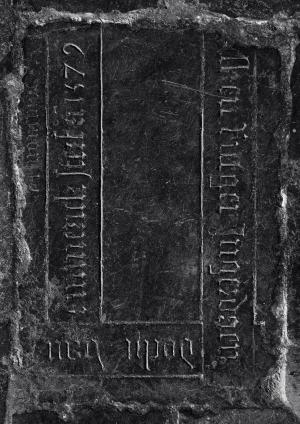 Personal identification number
Personal identification number
5295
Personal details
Name
Aelken Rutger Ingerdaen
Sex
female
Year/date of birth
Year/date of death
1579/11/14
Additional remarks
Aelken or Aleyt Rutgers Ingerdaen (also Yngherdanen, Ingardanen, in Joirdanen) originally came from Emmerich. The first record of her in 's-Hertogenbosch dates from 1569/70 when she becomes an ordinary member of the Illustrious Confraternity of Our Lady. In 1574 she bought a house on Papenhulst. Her heirs were the two young children of local tanner Willem Jans Roevers.
Social standing
Status
citizen of city
Arguments
Specification
Member of a convent
Religious order
Specification
Member of secular clergy
Type of secular clergy
Specification
Additional remarks
Additional remarks
Personal identification number
Personal identification number
7709
Personal details
Name
Rutger Ingerdaen
Sex
male
Year/date of birth
Year/date of death
Additional remarks
Father of Aelken
Social standing
Status
Arguments
Specification
Member of a convent
Religious order
Specification
Member of secular clergy
Type of secular clergy
Specification
Additional remarks
Additional remarks