Description - Memorial Object
Floor slab of Michael Janz. and his wife Lisbet S[...]lendr.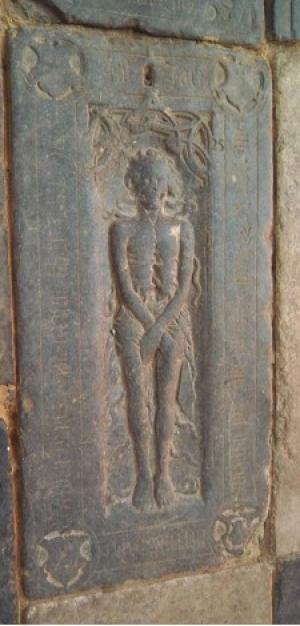 MeMO memorial object ID and name
MeMO memorial object ID
281
Name
Floor slab of Michael Janz. and his wife Lisbet S[...]lendr.
Holding institution(s)
Holding institution(s)
Category
Type
Tomb monument, tomb slab or floor slab (physical object)
Classification
Tomb slab or floor slab
Short description
Stone slab with a cadaver effigy in the centre, an inscription along the edge, and medallions with heraldic shields in the corners
Remarks about category
General date
General date
1500-1550
Artist(s)
Artist(s)
Original institution(s)
Still in original institution?
yes

Location inside the institution
In situ?
(Probable) original location

in the church/chapel (exact location unknown)

Argumentation
Related memorial objects in the same institution
Additional remarks (original location)

Additional remarks

Memorial piece
Function
Specification
Additional remarks
Memorial monument or floor slab
Function
liturgical/religious, social and didactic
Grave findings
Additional remarks
• Commemorated on the object are a married couple, (members of) a nuclear family or (members of) an extended family: see Commemorated party. • Inscription(s) and/or decoration(s) with a didactic statement, usually with references to the mortality of mankind / variations on 'Remember that you will die'.

Original function
Change in function
Remarks about function
Name
Michael Janz. and his wife Lisbet S[...]lendr.
Specification

Members of the commemorated party
Commemorated person(s)

[397] Michael Janz. (male)
[398] Lisbet S[...]lendr., wife of Michael Janz. (female)

Commemorated institution(s)

Relation between commemorated persons
married couple
Relation specification
Additional remarks
Name
Composition of the commissioning party
Specification

Members of the commissioning party
Commissioning person(s)
Commissioning Institution(s)

Relation between commissioning party and commemorated party
Relation specification
Additional remarks
Material(s)
Specification
Traces of polychromy?
Reuse of older objects

Dimensions (cm)
Height x width x depth
198 x 100 x 0

Completeness
Complete
Condition
In reasonable condition. The slab is worn. The inscription is hard to read and the devices of the shields have almost worn away.
Conservation
Technical research
Specification (technical research)

Alterations
Alterations
Specification

Additional remarks
Provenance
Provenance
Marks of ownership
Type(s) of mark(s) of ownership
Specification

, Binnenlandvaarderskapel 25, http://www.gravenopinternet.nl
Janse, H., De Oude Kerk te Amsterdam. Bouwgeschiedenis en restauratie (Zwolle 2004), 342

Other documentation
Additional remarks
Additional remarks
Tomb or floor slab (front) of [281] Floor slab of Michael Janz. and his wife Lisbet S[...]lendr.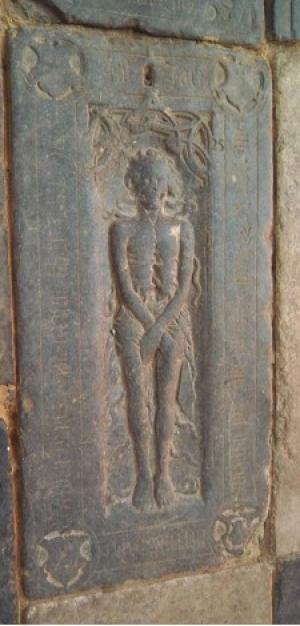 Indication of part
Indication of part
Tomb or floor slab (front)
Short description
Short description
Stone slab with a cadaver effigy in the centre, an inscription along the edge, and medallions with heraldic shields in the corners
Dimensions (cm)
Height x Width x Depth
198 x 100 x 0
Date
Year
1522
Specified date
Argumentation

date of death given on the object

Specification
Additional remarks
Holding institution
Holding institution
Amsterdam, Oude Kerk
Collection
Collection identifier
Online description link
Alternative or previous collections
Alternative of previous identifiers
Accessibility
Remarks about holding institution
The slab is located in the Binnenlandvaarderskapel (no. 25)
Contract
Contract
Artist(s)
Filiation
Filiation
Additional remarks
Additional remarks
Portraits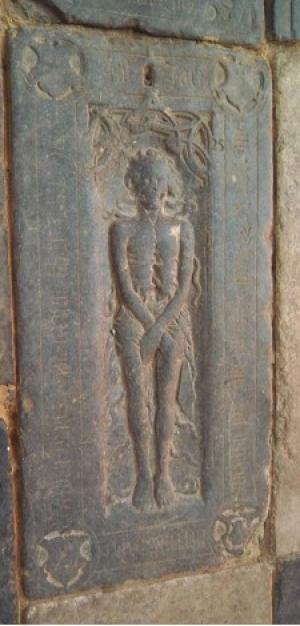 Indication of part
Indication of part
Tomb or floor slab (front)
Place of the portrait
Place of the portrait
in the centre of the slab
Portrait of
Name
Michael Janz.
Sex
male
Argumentation

based on text(s) on the memorial object

Specification
most likely a male effigy
Portrait — portraiture
Physical state of the portrayed person
deceased
Argumentation

skeleton/cadaver
unusual/different clothing

Specification
Posture
uncertain/cannot be determined
Manner of portrayal
the hands crossed across the lower abdomen
Portrait — clothing, attributes and insignia

Clothing
Type of clothing
Short description
a loincloth?
Attributes
Attributes
Specification
Insignia
Insignia
Specification
Remarks about clothing

Additional remarks
The cadaver is eaten by worms
Heraldry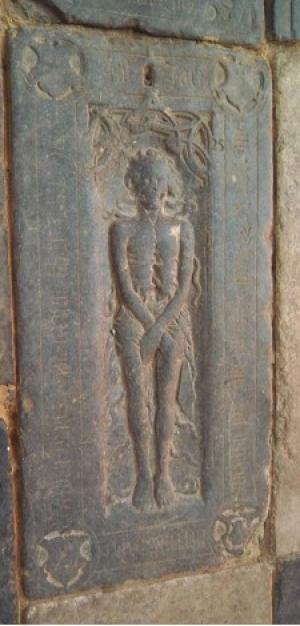 Indication of part
Indication of part
Tomb or floor slab (front)
Place of heraldry
Place of heraldry
in the upper left corner
Specification of heraldry
Type of heraldry
Personal use of family arms (one undivided shield)
Specification
Shape of the shield
Late renaissance shield
Specification
Description of the shield
a six-pointed star (een zespuntige ster)
Description of the upper arms (helmet, crest and mantling)
Remarks
Additional parts of the achievement
Type of supporter
Specification
Motto
English translation of the motto
Insignia or attributes
Heraldry belonging to
Heraldry belonging to
Additional remarks
Additional remarks
Indication of part
Indication of part
Tomb or floor slab (front)
Place of heraldry
Place of heraldry
in the lower left corner
Specification of heraldry
Type of heraldry
Personal use of family arms (one undivided shield)
Specification
Shape of the shield
Late renaissance shield
Specification
Description of the shield
a mark (een merk)
Description of the upper arms (helmet, crest and mantling)
Remarks
Additional parts of the achievement
Type of supporter
Specification
Motto
English translation of the motto
Insignia or attributes
Heraldry belonging to
Heraldry belonging to
Additional remarks
Additional remarks
Indication of part
Indication of part
Tomb or floor slab (front)
Place of heraldry
Place of heraldry
in the upper right corner
Specification of heraldry
Type of heraldry
Personal use of family arms (one undivided shield)
Specification
Shape of the shield
Late renaissance shield
Specification
Description of the shield
a mark (een merk)
Description of the upper arms (helmet, crest and mantling)
Remarks
Additional parts of the achievement
Type of supporter
Specification
Motto
English translation of the motto
Insignia or attributes
Heraldry belonging to
Heraldry belonging to
Additional remarks
Additional remarks
Indication of part
Indication of part
Tomb or floor slab (front)
Place of heraldry
Place of heraldry
in the lower right corner
Specification of heraldry
Type of heraldry
Personal use of family arms (one undivided shield)
Specification
Shape of the shield
Late renaissance shield
Specification
Description of the shield
an escallop (een st. jacobsschelp)
Description of the upper arms (helmet, crest and mantling)
Remarks
Additional parts of the achievement
Type of supporter
Specification
Motto
English translation of the motto
Insignia or attributes
Heraldry belonging to
Heraldry belonging to
Additional remarks
Additional remarks
Inscriptions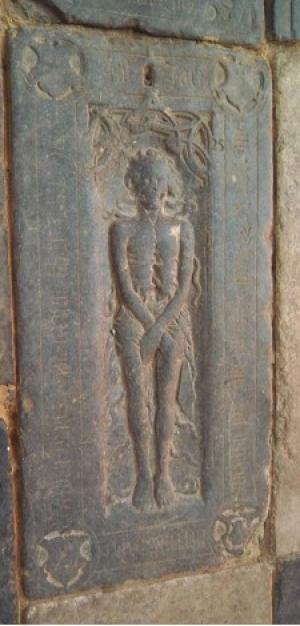 Indication of part
Indication of part
Tomb or floor slab (front)
Place of the inscription
Place of the inscription
along all four edges of the slab
Language(s)
Languages
Language specification
Transcription
Transcription
Int jaer ons here 1522 starff Michael Janz. Int jaer ons heren 151[.] den [...] starf Lisbet S[...]lendr.
Translation
English translation
In the year of Our Lord 1522 died Michael Janz. In the year of Our Lord 151[.] on [...] died Lisbet S[...]lendr.
Dutch translation
Lay–out
Lay-out
Gothic textualis
Inscription mentioning
Name
[397] Michael Janz. (male)
Sex
male
Argumentation
the person is being commemorated
Name
[398] Lisbet S[...]lendr., wife of Michael Janz. (female)
Sex
female
Argumentation
the person is being commemorated
Additional remarks
Additional remarks
The inscription is worn and consequently hard to read
Decorations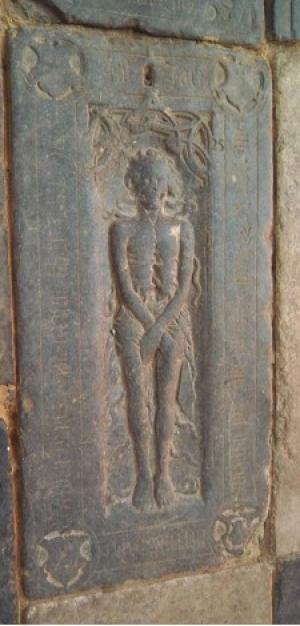 Indication of part
Indication of the part
Tomb or floor slab (front)
Type(s) of decoration(s)
Type(s) of decoration(s)

architectural decorations

Description of the decoration(s)
Description of the decoration(s)
Gothic decorations at the top of the central field
Depicted allegories
Depicted allegories
Additional remarks
Additional remarks
Person Description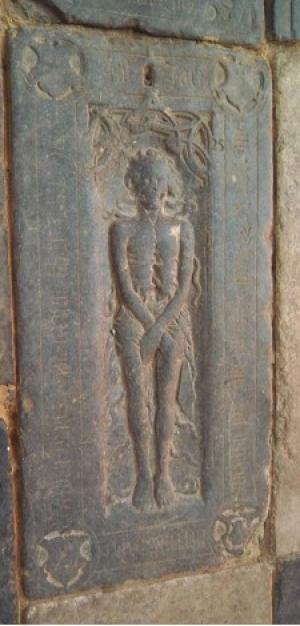 Personal identification number
Personal identification number
397
Personal details
Name
Michael Janz.
Sex
male
Year/date of birth
Year/date of death
1522
Additional remarks
Husband of Lisbet S[...]lendr. He was buried in the Oude Kerk, Amsterdam.
Social standing
Status
Arguments
Specification
Member of a convent
Religious order
Specification
Member of secular clergy
Type of secular clergy
Specification
Additional remarks
Additional remarks
Personal identification number
Personal identification number
398
Personal details
Name
Lisbet S[...]lendr., wife of Michael Janz.
Sex
female
Year/date of birth
Year/date of death
Additional remarks
Date of death is possibly 1517.
Social standing
Status
Arguments
Specification
Member of a convent
Religious order
Specification
Member of secular clergy
Type of secular clergy
Specification
Additional remarks
Additional remarks