Description - Memorial Object
Floor slab of unknown person(s)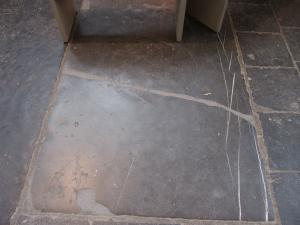 MeMO memorial object ID and name
MeMO memorial object ID
2828
Name
Floor slab of unknown person(s)
Holding institution(s)
Holding institution(s)

Utrecht, Domkerk (St. Maartenskerk)

Category
Type
Tomb monument, tomb slab or floor slab (physical object)
Classification
Tomb slab or floor slab
Short description
Worn stone slab with a centrally placed medallion in which a heraldic shield
Remarks about category
General date
General date
1500-1600
Artist(s)
Artist(s)
Original institution(s)
Still in original institution?
yes

Location inside the institution
In situ?
yes
(Probable) original location

in a chapel
in the ambulatory

Argumentation
mentioned by Buchelius
Related memorial objects in the same institution
Additional remarks (original location)

Additional remarks
The slab has always been located in the eastern radiating chapel, the 'Heilig Kruiskapel' (chapel of the Holy Cross)

Memorial piece
Function
Specification
Additional remarks
Memorial monument or floor slab
Function
liturgical/religious; no information on possible other functions
Grave findings
Additional remarks
No information is available about possible other functions, because the object is too damaged or no photograph is available.

Original function
Change in function
Remarks about function
Name
Specification

Members of the commemorated party
Commemorated person(s)
Commemorated institution(s)

Relation between commemorated persons
no information about the commemorated party (one or more persons)
Relation specification
Additional remarks
The commemorated party is unknown: the inscription is (almost) completely lost (if there was any inscription). The heraldic shield has not (yet) been identified.
Name
Composition of the commissioning party
Specification

Members of the commissioning party
Commissioning person(s)
Commissioning Institution(s)

Relation between commissioning party and commemorated party
Relation specification
Additional remarks
Material(s)
Specification
blue limestone
Traces of polychromy?
Reuse of older objects

Dimensions (cm)
Height x width x depth
260 x 143 x 0

Completeness
Practically complete. Some losses along the edges.
Condition
In poor condition. The slab is badly worn and shows a diagonal break in the centre. The break and losses have been filled with cement.
Conservation
Technical research
Specification (technical research)

Alterations
Alterations
Specification

Additional remarks
Provenance
Provenance
Marks of ownership
Type(s) of mark(s) of ownership
Specification

Buchelius, A., Monumenta passim in templis ac monasteriis Traiectinae urbis atque agri inventa (Utrecht ), 26; fol. 15v
Groot, A. de, De Dom van Utrecht in de zestiende eeuw. Inrichting, decoratie en gebruik van de katholieke kathedraal (Amsterdam 2011), 278, 341; no. 9
Peeters, C.J.A.C.; Haslinghuis, E.J., De Nederlandse Monumenten van Geschiedenis en Kunst, dl. II, De provincie Utrecht, Eerste stuk, De gemeente Utrecht, Tweede aflevering, De Dom van Utrecht ('s-Gravenhage 1965), 393; 31

Other documentation
SKKN: inv. no. 967-148, photo no. 967-148_1
Additional remarks
Additional remarks
It is unclear whether the slab was never inscribed with a text or that the inscription has worn away. The slab was already badly worn when it was recorded by Buchelius in the early 17th century. He states that "the shield has almost completely worn away due to the many feet that have walked on it".
Tomb or floor slab (front) of [2828] Floor slab of unknown person(s)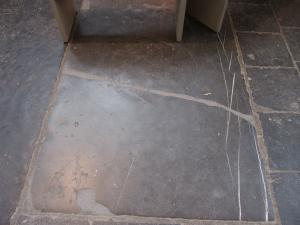 Indication of part
Indication of part
Tomb or floor slab (front)
Short description
Short description
Worn stone slab with a centrally placed medallion in which a heraldic shield
Dimensions (cm)
Height x Width x Depth
260 x 143 x 0
Date
Year
1500-1600
Specified date
Argumentation

based on stylistic research

Specification
Additional remarks
Holding institution
Holding institution
Utrecht, Domkerk (St. Maartenskerk)
Collection
Collection identifier
Online description link
Alternative or previous collections
Alternative of previous identifiers
Accessibility
Partly covered by a bench
Remarks about holding institution
The slab is located in the eastern radiating chapel, the 'Heilig Kruiskapel' (chapel of the Holy Cross)
Contract
Contract
Artist(s)
Filiation
Filiation
Additional remarks
Additional remarks
Heraldry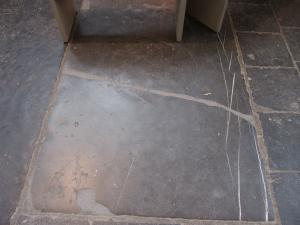 Indication of part
Indication of part
Tomb or floor slab (front)
Place of heraldry
Place of heraldry
inside the centrally placed medallion
Specification of heraldry
Type of heraldry
Personal use of family arms (one undivided shield)
Specification
Shape of the shield
Early accolade shield
Specification
Description of the shield
Worn. Description of the shield based on Buchelius's drawing: six six-pointed stars, 3-2-1, on an inescutcheon five saltirels, 1-3-3 (zes zespuntige sterren, 3-2 -1, rondom een hartschild waarin vijf schuinkruisjes, 1-3-1)
Description of the upper arms (helmet, crest and mantling)
Remarks
Additional parts of the achievement
Type of supporter
Specification
Motto
English translation of the motto
Insignia or attributes
Heraldry belonging to
Heraldry belonging to
Additional remarks
Additional remarks