Description - Memorial Object
Floor slab of Jozine van Pottelberghe Jacopsdr., Jan Duuvenee Gherartsz. and Botten van Waterscot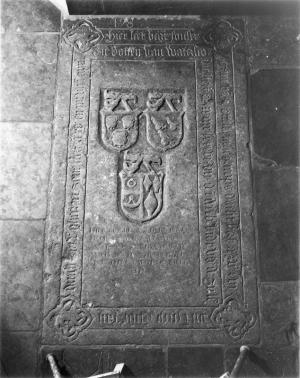 MeMO memorial object ID and name
MeMO memorial object ID
2891
Name
Floor slab of Jozine van Pottelberghe Jacopsdr., Jan Duuvenee Gherartsz. and Botten van Waterscot
Holding institution(s)
Holding institution(s)

Hulst, St. Willibrordusbasiliek

Category
Type
Tomb monument, tomb slab or floor slab (physical object)
Classification
Tomb slab or floor slab
Short description
Stone slab with three heraldic shields in the centre, a (partially double) inscription along the edge, and quatrefoils with the evangelist symbols in the corners
Remarks about category
General date
General date
1475-1525
Artist(s)
Artist(s)
Original institution(s)
Still in original institution?
probably yes

Location inside the institution
In situ?
(Probable) original location

in the church/chapel (exact location unknown)

Argumentation
Related memorial objects in the same institution
Additional remarks (original location)

Additional remarks

Memorial piece
Function
Specification
Additional remarks
Memorial monument or floor slab
Function
liturgical/religious and social
Grave findings
Additional remarks
For social function, see Commemorated party

Original function
Change in function
Remarks about function
Name
Jozine van Pottelberghe Jacopsdr., Jan Duuvenee Gherartsz. and Botten van Waterscot
Specification

Members of the commemorated party
Commemorated person(s)

[5503] Jozine van Pottelberghe Jacopsdr. (female)
[5504] Jan Duuvenee Gherartsz. (male)
[5505] Botten van Waterscot ()

Commemorated institution(s)

Relation between commemorated persons
relation (type of relation unknown)
Relation specification
The commemorated persons are mentioned in the inscription along the edge, which suggests a relationship, but its nature is unknown.
Additional remarks
Name
Composition of the commissioning party
Specification

Members of the commissioning party
Commissioning person(s)
Commissioning Institution(s)

Relation between commissioning party and commemorated party
Relation specification
Additional remarks
Material(s)
Specification
Traces of polychromy?
Reuse of older objects

Dimensions (cm)
Height x width x depth
205 x 115 x 0

Completeness
Minor losses along the upper edge
Condition
Worn
Conservation
Technical research
Specification (technical research)

Alterations
Alterations
Specification
Inscription in Roman majuscules added below the heraldic shields

Additional remarks
Provenance
Provenance
Marks of ownership
Type(s) of mark(s) of ownership
Specification

Oudheidkundige Kring 'De Vier Ambachten', Grafzerken en andere herdenkingstekens, http://www.devierambachten.nl/kring/grafzerken/198.php

Other documentation
Death book of the city of Hulst ('Doodboek der stad Hulst') by W.T. Hattinga, 1762: number 198
Additional remarks
Additional remarks
• Incised number: 198. • Information provided by Sarina Hendrikse.
Tomb or floor slab (front) of [2891] Floor slab of Jozine van Pottelberghe Jacopsdr., Jan Duuvenee Gherartsz. and Botten van Waterscot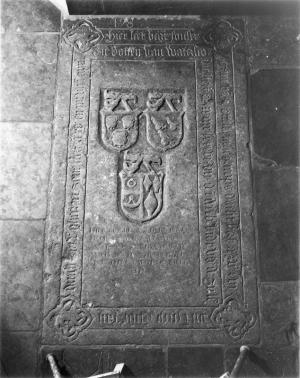 Indication of part
Indication of part
Tomb or floor slab (front)
Short description
Short description
Stone slab with three heraldic shields in the centre, a (partially double) inscription along the edge, and quatrefoils with the evangelist symbols in the corners
Dimensions (cm)
Height x Width x Depth
205 x 115 x 0
Date
Year
1486
Specified date
1486/12/07
Argumentation

date of death given on the object

Specification
Botten van Waterscot died in 1486, but from the inscription it is doubtful whether the slab was made as a result of this fact
Additional remarks
Holding institution
Holding institution
Hulst, St. Willibrordusbasiliek
Collection
Collection identifier
Online description link
Alternative or previous collections
Alternative of previous identifiers
Accessibility
Remarks about holding institution
The slab is located in the north aisle, to the left of the entrance
Contract
Contract
Artist(s)
Filiation
Filiation
Additional remarks
Additional remarks
Heraldry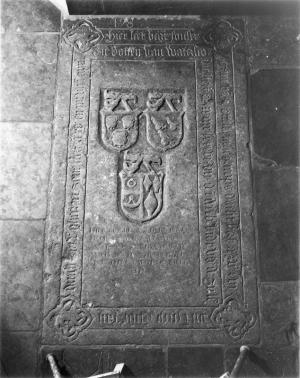 Indication of part
Indication of part
Tomb or floor slab (front)
Place of heraldry
Place of heraldry
in the centre, upper left
Specification of heraldry
Type of heraldry
Personal use of family arms (one undivided shield)
Specification
Shape of the shield
Early renaissance shield
Specification
Description of the shield
three cooking pots, 2-1 (drie kookpotten, 2-1)
Description of the upper arms (helmet, crest and mantling)
Remarks
Additional parts of the achievement
Type of supporter
Specification
Motto
English translation of the motto
Insignia or attributes
Heraldry belonging to
Heraldry belonging to
Van Pottelberghe

Person details
Person details

[5503] Jozine van Pottelberghe Jacopsdr. (female)

Additional remarks
Additional remarks
Indication of part
Indication of part
Tomb or floor slab (front)
Place of heraldry
Place of heraldry
in the centre, upper right
Specification of heraldry
Type of heraldry
Personal use of family arms (one undivided shield)
Specification
Shape of the shield
Early renaissance shield
Specification
Description of the shield
three doves on a roundle, 2-1 (drie duiven op een koek 2-1)
Description of the upper arms (helmet, crest and mantling)
Remarks
Additional parts of the achievement
Type of supporter
Specification
Motto
English translation of the motto
Insignia or attributes
Heraldry belonging to
Heraldry belonging to
Duvenee

Person details
Person details

[5504] Jan Duuvenee Gherartsz. (male)

Additional remarks
Additional remarks
Indication of part
Indication of part
Tomb or floor slab (front)
Place of heraldry
Place of heraldry
in the centre, lower middle
Specification of heraldry
Type of heraldry
Marshalled arms (2 coats of arms in one shield per pale or per fess)
Specification
Shape of the shield
Early renaissance shield
Specification
Description of the shield
per pale, I: per fess, a: a finger ring; b: a hunting horn; II: three jugs (?), 2-1 (gedeeld, I; doorsneden, a: een vingerring; b: een jachthoorn; II: drie kruiken (?), 2-1)
Description of the upper arms (helmet, crest and mantling)
Remarks
Additional parts of the achievement
Type of supporter
Specification
Motto
English translation of the motto
Insignia or attributes
Heraldry belonging to
Heraldry belonging to
Van Waterschoot?

Person details
Person details

[5505] Botten van Waterscot ()

Additional remarks
Additional remarks
Inscriptions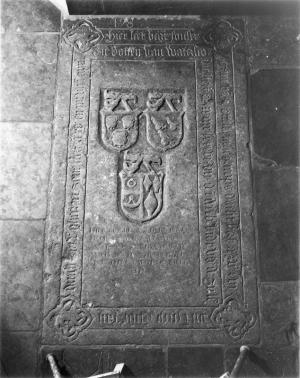 Indication of part
Indication of part
Tomb or floor slab (front)
Place of the inscription
Place of the inscription
along all four edges of the slab and continuing along the top and right side
Language(s)
Languages
Language specification
Transcription
Transcription
Hier leet begraven jouffrou Jozine van Pottelberghe Jacopsdochter sterf anno XVc XVI VII in mey ende Jan Duuvenee Gherartzone sterf anno XVc ende IIII VII in april ende Botten van Waterscot die sterf anno MIIIIc LXXXVI VII dach in december. Bidt voer de zielen.
Translation
English translation
Here lies buried mistress Jozine van Pottelberghe Jacopsdr., died in the year 1516 on the 7th in May, and Jan Duuvenee Gherartsz., died in the year 1504 on the 7th in April, and Botten van Waterscot, who died in the year 1486 on the 7th day in December. Pray for the souls.
Dutch translation
Lay–out
Lay-out
Incised Gothic textualis
Inscription mentioning
Name
[5504] Jan Duuvenee Gherartsz. (male)
Sex
male
Argumentation
the person is being commemorated
Name
[5503] Jozine van Pottelberghe Jacopsdr. (female)
Sex
female
Argumentation
the person is being commemorated
Name
[5505] Botten van Waterscot ()
Sex
Argumentation
the person is being commemorated
Additional remarks
Additional remarks
Decorations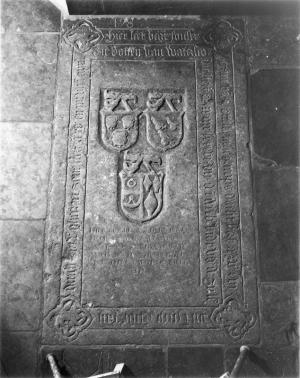 Indication of part
Indication of the part
Tomb or floor slab (front)
Type(s) of decoration(s)
Type(s) of decoration(s)
Description of the decoration(s)
Description of the decoration(s)
quatrefoils with the evangelist symbols
Depicted allegories
Depicted allegories
Additional remarks
Additional remarks
Person Description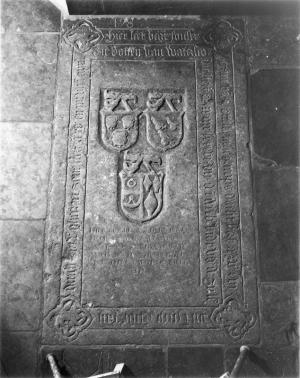 Personal identification number
Personal identification number
5503
Personal details
Name
Jozine van Pottelberghe Jacopsdr.
Sex
female
Year/date of birth
Year/date of death
1516/05/07
Additional remarks
Social standing
Status
Arguments
Specification
Member of a convent
Religious order
Specification
Member of secular clergy
Type of secular clergy
Specification
Additional remarks
Additional remarks
Personal identification number
Personal identification number
5504
Personal details
Name
Jan Duuvenee Gherartsz.
Sex
male
Year/date of birth
Year/date of death
1504/04/07
Additional remarks
Social standing
Status
Arguments
Specification
Member of a convent
Religious order
Specification
Member of secular clergy
Type of secular clergy
Specification
Additional remarks
Additional remarks
Personal identification number
Personal identification number
5505
Personal details
Name
Botten van Waterscot
Sex
Year/date of birth
Year/date of death
1486/12/07
Additional remarks
Possibly a male named Boudijn or Boudewijn. Church accounts of 1468-1469 make mention of a 'sepulture' of a 'Boudiin van Waterscoot'.
Social standing
Status
Arguments
Specification
Member of a convent
Religious order
Specification
Member of secular clergy
Type of secular clergy
Specification
Additional remarks
Additional remarks