Description - Memorial Object
Floor slab of Gerard Mulert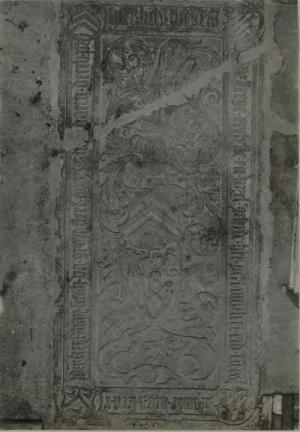 MeMO memorial object ID and name
MeMO memorial object ID
3080
Name
Floor slab of Gerard Mulert
Holding institution(s)
Holding institution(s)

Groningen, Der Aa-kerk (Onze Lieve Vrouwe ter Aa)

Category
Type
Tomb monument, tomb slab or floor slab (physical object)
Classification
Tomb slab or floor slab
Short description
Stone slab with a coat of arms in the central field, and inscription along the edge, and roundels with heraldic shields in the corners
Remarks about category
General date
General date
1525-1550
Artist(s)
Artist(s)
Original institution(s)
Still in original institution?
yes

Location inside the institution
In situ?
(Probable) original location

in the church/chapel (exact location unknown)

Argumentation
Related memorial objects in the same institution
Additional remarks (original location)

Additional remarks

Memorial piece
Function
Specification
Additional remarks
Memorial monument or floor slab
Function
liturgical/religious
Grave findings
Additional remarks

Original function
Change in function
Remarks about function
Name
Gert Muelert (Gerard Mulert)
Specification

Members of the commemorated party
Commemorated person(s)

[5766] Gert Muelert (Gerard Mulert) (male)

Commemorated institution(s)

Relation between commemorated persons
not applicable (only one person mentioned/depicted)
Relation specification
Additional remarks
Name
Composition of the commissioning party
Specification

Members of the commissioning party
Commissioning person(s)
Commissioning Institution(s)

Relation between commissioning party and commemorated party
Relation specification
Additional remarks
Material(s)
Specification
Traces of polychromy?
Reuse of older objects

Dimensions (cm)
Height x width x depth
262 x 124 x 0

Completeness
Minor losses along the edges
Condition
The slab is slightly damaged. A diagonal break across the top.
Conservation
Technical research
Specification (technical research)

Alterations
Alterations
Specification

Additional remarks
Provenance
Provenance
Marks of ownership
Type(s) of mark(s) of ownership
Specification

Alma, Redmer, Groningen (Akerk), grafzerken naar ligging of verblijfplaats, http://www.redmeralma.nl/groningen_AK2.htm; nos. 1.1.02 / 328
Pathuis, A., Groninger gedenkwaardigheden; teksten, wapens en huismerken van 1298-1814 (Assen/Amsterdam 1977), 107; no. 328
Repertorium van ambtsdragers en ambtenaren 1428-1861, Mr. Gerard ridder Mulert, http://resources.huygens.knaw.nl/repertoriumambtsdragersambtenaren1428-1861/app/personen/10716

Other documentation
• SKKN: inv. no. 718-153. • Register of graves: no. 650.
Additional remarks
Additional remarks
Tomb or floor slab (front) of [3080] Floor slab of Gerard Mulert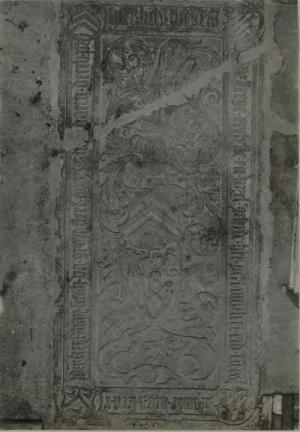 Indication of part
Indication of part
Tomb or floor slab (front)
Short description
Short description
Stone slab with a coat of arms in the central field, and inscription along the edge, and roundels with heraldic shields in the corners
Dimensions (cm)
Height x Width x Depth
262 x 124 x 0
Date
Year
1538
Specified date
1538/12/??
Argumentation

date of death given on the object

Specification
Additional remarks
Holding institution
Holding institution
Groningen, Der Aa-kerk (Onze Lieve Vrouwe ter Aa)
Collection
Collection identifier
Online description link
Alternative or previous collections
Alternative of previous identifiers
Accessibility
Remarks about holding institution
The slab is located in the high choir
Contract
Contract
Artist(s)
Filiation
Filiation
Additional remarks
Additional remarks
Heraldry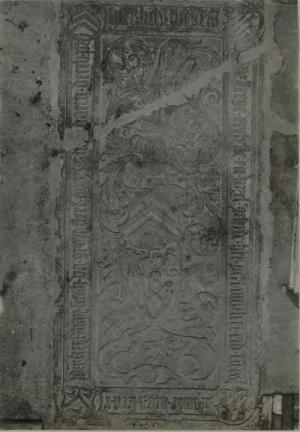 Indication of part
Indication of part
Tomb or floor slab (front)
Place of heraldry
Place of heraldry
in the central field
Specification of heraldry
Type of heraldry
Personal use of family arms (one undivided shield)
Specification
Shape of the shield
Late renaissance shield
Specification
Description of the shield
three chevrons (drie kepers)
Description of the upper arms (helmet, crest and mantling)
crest: three reed maces (helmteken: drie lisdodden)
Remarks
Additional parts of the achievement
Type of supporter
Specification
Motto
English translation of the motto
Insignia or attributes
Heraldry belonging to
Heraldry belonging to
Mulert

Person details
Person details

[5766] Gert Muelert (Gerard Mulert) (male)

Additional remarks
Additional remarks
Indication of part
Indication of part
Tomb or floor slab (front)
Place of heraldry
Place of heraldry
in the upper left corner
Specification of heraldry
Type of heraldry
Personal use of family arms (one undivided shield)
Specification
Shape of the shield
Early renaissance shield
Specification
Description of the shield
three chevrons (drie kepers)
Description of the upper arms (helmet, crest and mantling)
Remarks
Additional parts of the achievement
Type of supporter
Specification
Motto
English translation of the motto
Insignia or attributes
Heraldry belonging to
Heraldry belonging to
Mulert

Person details
Person details

Additional remarks
Additional remarks
Indication of part
Indication of part
Tomb or floor slab (front)
Place of heraldry
Place of heraldry
in the lower left corner
Specification of heraldry
Type of heraldry
Personal use of family arms (one undivided shield)
Specification
Shape of the shield
Early renaissance shield
Specification
Description of the shield
a chevron between three martlets, 2-1 (een keper vergezeld van drie merletten)
Description of the upper arms (helmet, crest and mantling)
Remarks
Additional parts of the achievement
Type of supporter
Specification
Motto
English translation of the motto
Insignia or attributes
Heraldry belonging to
Heraldry belonging to
Van Isselmuden

Person details
Person details

Additional remarks
Additional remarks
Indication of part
Indication of part
Tomb or floor slab (front)
Place of heraldry
Place of heraldry
in the upper right corner
Specification of heraldry
Type of heraldry
Personal use of family arms (one undivided shield)
Specification
Shape of the shield
Late renaissance shield
Specification
Description of the shield
five bends sinister (vijf linkerschuinbalken)
Description of the upper arms (helmet, crest and mantling)
Remarks
Additional parts of the achievement
Type of supporter
Specification
Motto
English translation of the motto
Insignia or attributes
Heraldry belonging to
Heraldry belonging to
De Vos van Steenwijk

Person details
Person details

Additional remarks
Additional remarks
Indication of part
Indication of part
Tomb or floor slab (front)
Place of heraldry
Place of heraldry
in the lower right corner
Specification of heraldry
Type of heraldry
Personal use of family arms (one undivided shield)
Specification
Shape of the shield
Late renaissance shield
Specification
Description of the shield
three neckless asses' heads, 2-1 (drie ezelskoppen zonder hals)
Description of the upper arms (helmet, crest and mantling)
Remarks
Additional parts of the achievement
Type of supporter
Specification
Motto
English translation of the motto
Insignia or attributes
Heraldry belonging to
Heraldry belonging to
Ittersum

Person details
Person details

Additional remarks
Additional remarks
Inscriptions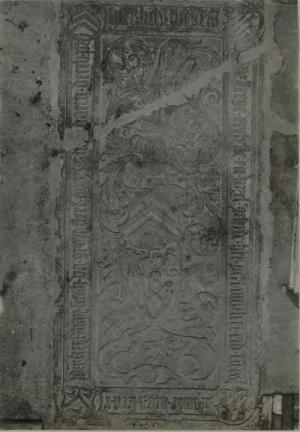 Indication of part
Indication of part
Tomb or floor slab (front)
Place of the inscription
Place of the inscription
along all four edges of the slab
Language(s)
Languages
Language specification
Transcription
Transcription
Hier licht begraven de gestrenge erenfeste ende wael gelerde her Gert Muelert, ridder ende raet van den hoegen screten raet der keyserlycke mayesteyt statholder van Groeningen, sterf anno 1538, d[...] daech december, pr.
Translation
English translation
Here lies buried the distinguished, venerable and well-learned lord Gerard Mulert, knight and councillor of the High Privy Council of the Imperial Majesty, stadtholder of Groningen, died in the year 1538, [...] day of December, [?].
Dutch translation
Lay–out
Lay-out
Raised Gothic textualis
Inscription mentioning
Name
[5622] Charles V, Holy Roman Emperor (male)
Sex
male
Argumentation
the person is used as a reference
Name
[5766] Gert Muelert (Gerard Mulert) (male)
Sex
male
Argumentation
the person is being commemorated
Additional remarks
Additional remarks
The last two letters are an abbreviation. It is unclear what they stand for.
Person Description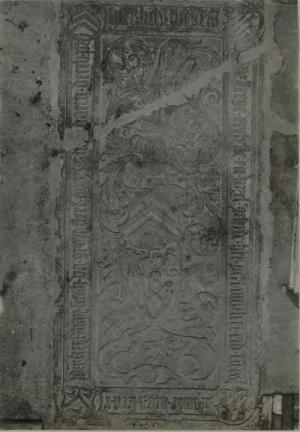 Personal identification number
Personal identification number
5622
Personal details
Name
Charles V, Holy Roman Emperor
Sex
male
Year/date of birth
1500/02/24
Year/date of death
1558/09/21
Additional remarks
Descendant of the House of Habsburg. Eldest son of Philip the Fair and Joanna the Mad. He married his first cousin Isabella of Portugal on 10 March 1526.
Social standing
Status
nobility
Arguments
Specification
Duke of Burgundy, Lord of the Netherlands (1506-1556, since 1543 of all regions, including Friesland since 1524); Count Palatine of Burgundy (1506-1555); King of Spain (1516-1556); King of Italy (1519-1556); Holy Roman Emperor (1519-1556).
Member of a convent
Religious order
Specification
Member of secular clergy
Type of secular clergy
Specification
Additional remarks
Additional remarks
Personal identification number
Personal identification number
5766
Personal details
Name
Gert Muelert (Gerard Mulert)
Sex
male
Year/date of birth
Year/date of death
1538/12/00
Additional remarks
Born in Utrecht as a son of Gerrit (or Ernst) Mulert and Beatrix de Vos van Steenwijk. Geard Mulert was married to Catharina Poth.
Social standing
Status
nobility and patriciate
Arguments

mentioned in the inscription
according to literature

Specification
knight; councillor of the Frisian Court (1515-1523); councillor of the Court of Holland (1516-1519); councillor of the Privy Council in Brussels (1519 of 1523); councillor of the Great Council in Mechelen (1527-1538); lieutenant-stadtholder of Groningen under Georg Schenck van Toutenburg
Member of a convent
Religious order
Specification
Member of secular clergy
Type of secular clergy
Specification
Additional remarks
Additional remarks