Description - Memorial Object
Floor slab of Mathijs Aelbertsz.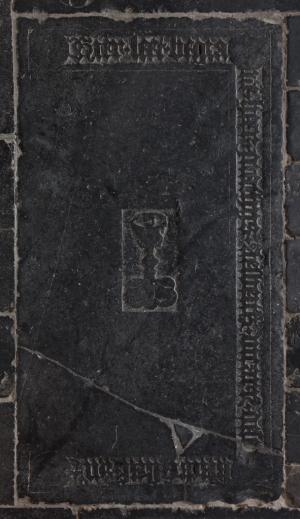 MeMO memorial object ID and name
MeMO memorial object ID
3102
Name
Floor slab of Mathijs Aelbertsz.
Holding institution(s)
Holding institution(s)

Zaltbommel, Grote of St. Maartenskerk

Category
Type
Tomb monument, tomb slab or floor slab (physical object)
Classification
Tomb slab or floor slab
Short description
Broken stone slab with a rectangular indent with a chalice and host in the centre, an inscription along the edge, and blank roundels in the corners
Remarks about category
General date
General date
1550-1599
Artist(s)
Artist(s)
Original institution(s)
Still in original institution?
yes

Location inside the institution
In situ?
(Probable) original location

in the church/chapel (exact location unknown)

Argumentation
Related memorial objects in the same institution
Additional remarks (original location)

Additional remarks

Memorial piece
Function
Specification
Additional remarks
Memorial monument or floor slab
Function
liturgical/religious
Grave findings
Additional remarks

Original function
Change in function
Remarks about function
Name
Mathijs Aelbertsz.
Specification

Members of the commemorated party
Commemorated person(s)

[5783] Mathijs Aelbertsz. (male)

Commemorated institution(s)

Relation between commemorated persons
not applicable (only one person mentioned/depicted)
Relation specification
Additional remarks
Name
Composition of the commissioning party
Specification

Members of the commissioning party
Commissioning person(s)
Commissioning Institution(s)

Relation between commissioning party and commemorated party
Relation specification
Additional remarks
Material(s)
Specification
blue hardstone
Traces of polychromy?
Reuse of older objects

Dimensions (cm)
Height x width x depth
189 x 104 x 0

Completeness
Minor losses along the edges and breaks
Condition
Broken across, but otherwise good
Conservation
Technical research
Specification (technical research)

Alterations
Alterations
Specification

Additional remarks
Provenance
Provenance
Marks of ownership
Type(s) of mark(s) of ownership
Specification

Bams, W., Het Necrologium van de Sint-Maartenskerk te Zaltbommel (1312-1569) (Zaltbommel, Streekarchief Bommelerwaard )
Muschart, R.T., De Grafzerken in de St. Maartenskerk te Zaltbommel, Gelre 46 (1943), , 152
Zalm, Peter van der, Het Wapenalbum Bommelerwaard, http://www.streekarchiefbommelerwaard.nl

Other documentation
Additional remarks
Additional remarks
Information provided by Peter van der Zalm
Tomb or floor slab (front) of [3102] Floor slab of Mathijs Aelbertsz.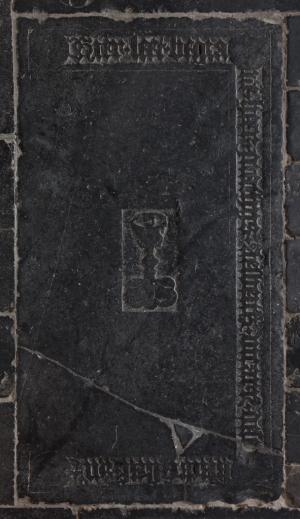 Indication of part
Indication of part
Tomb or floor slab (front)
Short description
Short description
Broken stone slab with a rectangular indent with a chalice and host in the centre, an inscription along the edge, and blank roundels in the corners
Dimensions (cm)
Height x Width x Depth
189 x 104 x 0
Date
Year
1550-1599
Specified date
Argumentation

based on stylistic research
based on historical evidence (in literature)

Specification
Additional remarks
The date of death was left blank, but Mathijs Aelbertszoon is recorded in the Utrecht episcopal archive as (parish?)priest of Zaltbommel in 1564
Holding institution
Holding institution
Zaltbommel, Grote of St. Maartenskerk
Collection
Collection identifier
Online description link
Alternative or previous collections
Alternative of previous identifiers
Accessibility
Remarks about holding institution
The slab is situated in the west side of the north aisle
Contract
Contract
Artist(s)
Filiation
Filiation
Additional remarks
Additional remarks
Inscriptions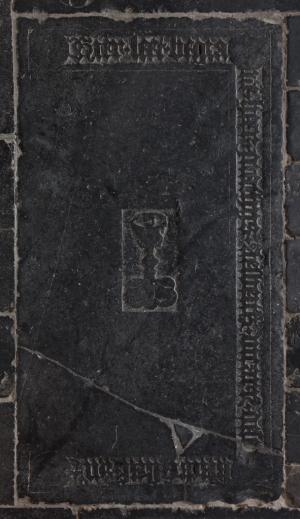 Indication of part
Indication of part
Tomb or floor slab (front)
Place of the inscription
Place of the inscription
along the top, right and bottom edges of the slab
Language(s)
Languages
Language specification
Transcription
Transcription
Hier leet begraven heer Mathys Aelbertszn vicaris deser kercke sterf anno [...].
Translation
English translation
Here lies buried lord Mathijs Aelbertsz., chantry (?) priest of this church, died in the year [...].
Dutch translation
Lay–out
Lay-out
Raised Gothic textualis lettering on a sunken text band, with the date of death left blank
Inscription mentioning
Name
[5783] Mathijs Aelbertsz. (male)
Sex
male
Argumentation
the person is being commemorated
Additional remarks
Additional remarks
The inscription has not been completed
Decorations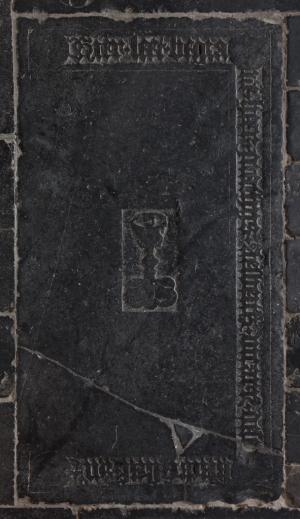 Indication of part
Indication of the part
Tomb or floor slab (front)
Type(s) of decoration(s)
Type(s) of decoration(s)
Description of the decoration(s)
Description of the decoration(s)
Chalice and host inside a rectangular compartment
Depicted allegories
Depicted allegories
Additional remarks
Additional remarks
Person Description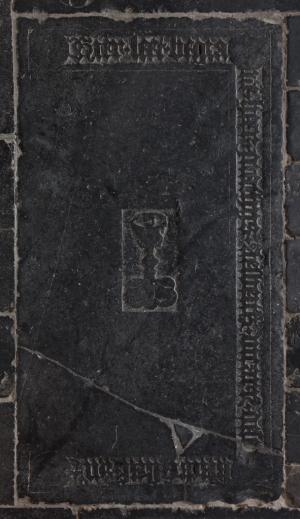 Personal identification number
Personal identification number
5783
Personal details
Name
Mathijs Aelbertsz.
Sex
male
Year/date of birth
Year/date of death
Additional remarks
Mathijs Aelbertsz. was a priest, probably a chantry priest. His date of death is not given on this slab, which indicates that it must have been in place before his death. He is not recorded in the Necrologium of St Martin's church, but in the episcopal records in Utrecht he is listed as 'Matthias Alberti ecclesie S.Martini in Bommel vicarius 1564 et notar. publicus'.
Social standing
Status
secular clergy
Arguments

mentioned in the inscription
according to literature
attribute of the portrayed/commemorated person (e.g. a priest's chalice)

Specification
Member of a convent
Religious order
Specification
Member of secular clergy
Type of secular clergy
Specification
Additional remarks
Additional remarks