Description - Memorial Object
Floor slab of Willem van Heusden and an unknown person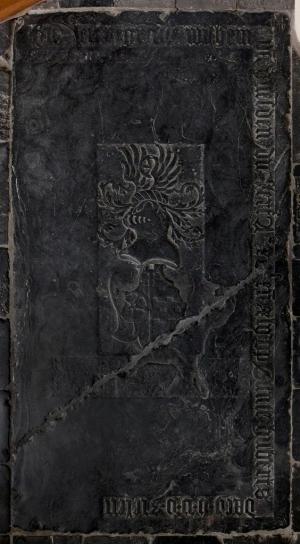 MeMO memorial object ID and name
MeMO memorial object ID
3114
Name
Floor slab of Willem van Heusden and an unknown person
Holding institution(s)
Holding institution(s)

Zaltbommel, Grote of St. Maartenskerk

Category
Type
Tomb monument, tomb slab or floor slab (physical object)
Classification
Tomb slab or floor slab
Short description
Large broken stone slab with a centrally placed rectangular indent in which a coat of arms, a worn inscription below, and an inscription along the edge
Remarks about category
General date
General date
1525-1575
Artist(s)
Artist(s)
Original institution(s)
Still in original institution?
yes

Location inside the institution
In situ?
(Probable) original location

in the church/chapel (exact location unknown)

Argumentation
Related memorial objects in the same institution
Additional remarks (original location)

Additional remarks

Memorial piece
Function
Specification
Additional remarks
Memorial monument or floor slab
Function
liturgical/religious; no information on possible other functions
Grave findings
Additional remarks
No information is available about possible other functions, because the object is too worn/damaged or no photograph is available

Original function
Change in function
Remarks about function
Name
Willem van Heusden and an unknown person
Specification

Members of the commemorated party
Commemorated person(s)

[5798] Willem van Heusden (male)

Commemorated institution(s)

Relation between commemorated persons
no information about the commemorated party (one or more persons)
Relation specification
A second person is commemorated in the inscription in Roman majuscules below the coat of arms. His/her identity is unknown; the text is virtually illegible. No information about the relation (if any) between the commemorated persons.
Additional remarks
Name
Composition of the commissioning party
Specification

Members of the commissioning party
Commissioning person(s)
Commissioning Institution(s)

Relation between commissioning party and commemorated party
Relation specification
Additional remarks
Material(s)
Specification
blue hardstone
Traces of polychromy?
Reuse of older objects

Dimensions (cm)
Height x width x depth
258 x 140 x 0

Completeness
Largely complete
Condition
Broken diagonally across and worn with flaking across the surface of the slab, making the inscription in the central field virtually illegible
Conservation
Technical research
Specification (technical research)

Alterations
Alterations
Specification

Additional remarks
Provenance
Provenance
Marks of ownership
Type(s) of mark(s) of ownership
Specification

Bams, W., Het Necrologium van de Sint-Maartenskerk te Zaltbommel (1312-1569) (Zaltbommel, Streekarchief Bommelerwaard ), 133v
Muschart, R.T., De Grafzerken in de St. Maartenskerk te Zaltbommel, Gelre 46 (1943), , 171
Zalm, Peter van der, Het Wapenalbum Bommelerwaard, http://www.streekarchiefbommelerwaard.nl

Other documentation
Additional remarks
Additional remarks
Information provided by Peter van der Zalm
Tomb or floor slab (front) of [3114] Floor slab of Willem van Heusden and an unknown person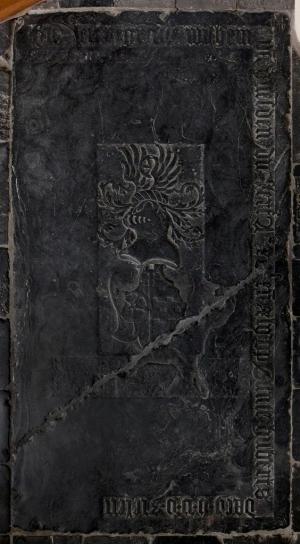 Indication of part
Indication of part
Tomb or floor slab (front)
Short description
Short description
Large broken stone slab with a centrally placed rectangular indent in which a coat of arms, a worn inscription below, and an inscription along the edge
Dimensions (cm)
Height x Width x Depth
258 x 140 x 0
Date
Year
1542
Specified date
1542/11/03
Argumentation

date of death given on the object

Specification
Additional remarks
Holding institution
Holding institution
Zaltbommel, Grote of St. Maartenskerk
Collection
Collection identifier
Online description link
Alternative or previous collections
Alternative of previous identifiers
Accessibility
Remarks about holding institution
The slab is situated in the centre of the north aisle
Contract
Contract
Artist(s)
Filiation
Filiation
Additional remarks
Additional remarks
Heraldry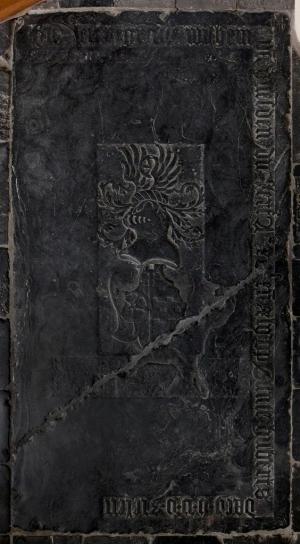 Indication of part
Indication of part
Tomb or floor slab (front)
Place of heraldry
Place of heraldry
inside a centrally placed rectangular indent
Specification of heraldry
Type of heraldry
Marshalled arms (2 coats of arms in one shield per pale or per fess)
Specification
Shape of the shield
Late renaissance shield
Specification
Description of the shield
per pale, I: a five-spoked wheel between three ermine spots, 2-1; II: two embattled and counterembattled fesses (gedeeld, I: een vijfspakig rad vergezeld van drie hermelijnstaartjes, 2-1 (Heusden); II: twee beurtelings gekanteelde dwarsbalken)
Description of the upper arms (helmet, crest and mantling)
crest: the wheel of the arms between two wings (helmteken: het wiel van het schild tussen een vlucht)
Remarks
Additional parts of the achievement
Type of supporter
Specification
Motto
English translation of the motto
Insignia or attributes
Heraldry belonging to
Heraldry belonging to
Van Heusden

Person details
Person details

[5798] Willem van Heusden (male)

Additional remarks
Additional remarks
Inscriptions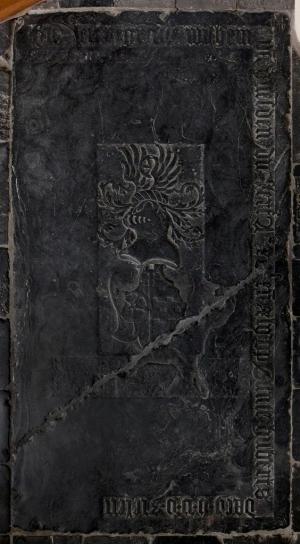 Indication of part
Indication of part
Tomb or floor slab (front)
Place of the inscription
Place of the inscription
along the top, right and bottom edges of the slab
Language(s)
Languages
Language specification
Transcription
Transcription
Hier leyt begraven Wilhem van Huesden die sterf Anno XVc ende XLII op Sunte huberts dach; b.v.d. zielen.
Translation
English translation
Here lies buried Willem van Heusden, who died in the year 1542 on St Hubert's Day [= 3 November]. Pray for the souls.
Dutch translation
Lay–out
Lay-out
Raised Gothic textualis lettering on a sunken text band
Inscription mentioning
Name
[5798] Willem van Heusden (male)
Sex
male
Argumentation
the person is being commemorated
Additional remarks
Additional remarks
Indication of part
Indication of part
Tomb or floor slab (front)
Place of the inscription
Place of the inscription
below the coat of arms
Language(s)
Languages
Language specification
Transcription
Transcription
Hier le[...] [...].
Translation
English translation
Here [lies] [...].
Dutch translation
Lay–out
Lay-out
Raised Roman majuscules in a sunken text field
Inscription mentioning
Additional remarks
Additional remarks
Three lines of inscription. The text is badly worn/damaged and virtually illegible.
Person Description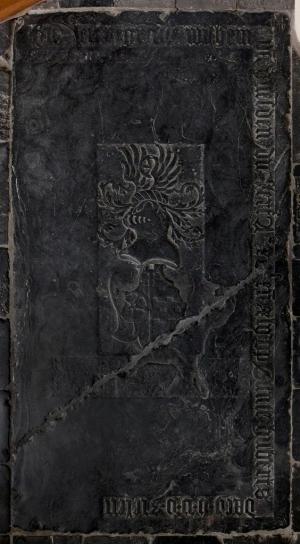 Personal identification number
Personal identification number
5798
Personal details
Name
Willem van Heusden
Sex
male
Year/date of birth
Year/date of death
1542/11/03
Additional remarks
Willem van Heusden was alderman of the town of Zaltbommel in 1511
Social standing
Status
citizen of city
Arguments
Specification
Member of a convent
Religious order
Specification
Member of secular clergy
Type of secular clergy
Specification
Additional remarks
Additional remarks