Description - Memorial Object
Tomb monument of Jan III van Egmond and Magdalena van Waardenburg (fragment(s))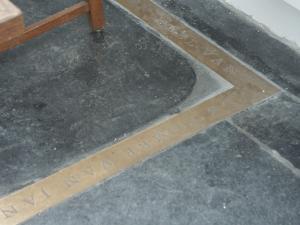 MeMO memorial object ID and name
MeMO memorial object ID
3148
Name
Tomb monument of Jan III van Egmond and Magdalena van Waardenburg (fragment(s))
Holding institution(s)
Holding institution(s)

Egmond aan den Hoef, Slotkapel

Category
Type
Tomb monument, tomb slab or floor slab (physical object)
Classification
Tomb monument
Short description
Fragment of a stone tomb monument: a slab (now integrated in the floor) which originallly served as the upper or lower part of a tomb
Remarks about category
General date
General date
1500-1550
Artist(s)
Artist(s)
Original institution(s)
Still in original institution?
yes

Location inside the institution
In situ?
(Probable) original location

in the church/chapel (exact location unknown)

Argumentation
Related memorial objects in the same institution
Additional remarks (original location)

Additional remarks

Memorial piece
Function
Specification
Additional remarks
Memorial monument or floor slab
Function
liturgical/religious and social
Grave findings
Additional remarks
• Commemorated on the object are a married couple, (members of) a nuclear family or (members of) an extended family: see Commemorated party. • No information is available about possible other functions, because the object is too damaged or no photograph is available.

Original function
Change in function
Remarks about function
Name
Jan III van Egmond and Magdalena van Waardenburg
Specification

Members of the commemorated party
Commemorated person(s)

[1335] Jan III van Egmond, First Count of Egmond (male)
[1338] Magdalena van Waardenburg (female)

Commemorated institution(s)

Relation between commemorated persons
married couple
Relation specification
Additional remarks
Name
Composition of the commissioning party
Specification

Members of the commissioning party
Commissioning person(s)
Commissioning Institution(s)

Relation between commissioning party and commemorated party
Relation specification
Additional remarks
Material(s)

brass (copper alloy)
stone

Specification
blue limestone; brass
Traces of polychromy?
Reuse of older objects

Dimensions (cm)
Height x width x depth
250 x 150 x 0

Completeness
Incomplete: a fragment. Originally the upper or lower part of a tomb monument.
Condition
Conservation
Technical research
Specification (technical research)

Alterations
Alterations
Specification
The brass frame is a modern addition

Additional remarks
The dimensions are estimates
Provenance
Provenance
Marks of ownership
Type(s) of mark(s) of ownership
Specification

Belonje, J.; Bloys van Treslong Prins, P.C., Genealogische en heraldische gedenkwaardigheden in en uit de kerken der provincie Noord-Holland. Deel III Eenigenburg tot Hoorn (Noorderkerk) (Utrecht 1929), 24-25
Holterman, Bart, Representations of Jerusalem pilgrims, http://staticweb.hum.uu.nl/memo/jerusalem/pages/graves.html

Other documentation
SKKN: inv. no. 4853-76, photo no. 4853-76_1
Additional remarks
Additional remarks
The tomb monument showed the brass gisants of Jan III van Egmond and his wife Magdalena van Waardenburg. The monument was known as 'het ledikantje' (the little bedstead).
Tomb or floor slab (front) of [3148] Tomb monument of Jan III van Egmond and Magdalena van Waardenburg (fragment(s))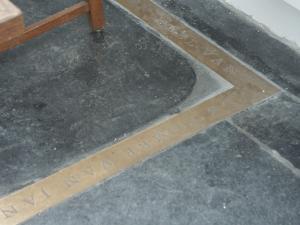 Indication of part
Indication of part
Tomb or floor slab (front)
Short description
Short description
Fragment of a stone tomb monument: a slab (now integrated in the floor) which originallly served as the upper or lower part of a tomb
Dimensions (cm)
Height x Width x Depth
250 x 150 x 0
Date
Year
1500-1550
Specified date
Argumentation

date of death (from other sources)

Specification
dates of death of Jan III van Egmond (d.1516) and Magdalena van Waardenburg (d.1538)
Additional remarks
Holding institution
Holding institution
Egmond aan den Hoef, Slotkapel
Collection
Collection identifier
Online description link
Alternative or previous collections
Alternative of previous identifiers
Accessibility
Remarks about holding institution
The fragment is located in the back of the choir
Contract
Contract
Artist(s)
Filiation
Filiation
Additional remarks
Additional remarks
Person Description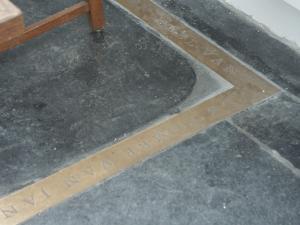 Personal identification number
Personal identification number
1335
Personal details
Name
Jan III van Egmond, First Count of Egmond
Sex
male
Year/date of birth
1438-1441
Year/date of death
1516/08/21
Additional remarks
Nicknamed 'Manke Jan' (Crippled Jan). Born in Hattem, died in Egmond. Son of Willem van Egmond and Walburga van Meurs. Husband of Magdalena van Waardenburg. Father of Jan IV van Egmond, Second Count of Egmond, and of Joris (George) van Egmond, bishop of Utrecht.
Social standing
Status
nobility
Arguments
Specification
Lord of Baer, Lathum, Hoogwoude, Aarstwoude and Purmerend; Count of Egmond; stadtholder of Holland, Zeeland and West-Friesland
Member of a convent
Religious order
Specification
Member of secular clergy
Type of secular clergy
Specification
Additional remarks
Additional remarks
Personal identification number
Personal identification number
1338
Personal details
Name
Magdalena van Waardenburg
Sex
female
Year/date of birth
1464
Year/date of death
1538
Additional remarks
Also known as Magdalena van Werdenburg, Werdenberg or Waardenborgh. Wife of Jan III van Egmond, First Count of Egmond. Mother of Jan IV van Egmond, Second Count of Egmond, and of bishop Joris (George) van Egmond. Cousin of Maximilian of Austria.
Social standing
Status
nobility
Arguments
Specification
Countess of Werdenberg and Egmond
Member of a convent
Religious order
Specification
Member of secular clergy
Type of secular clergy
Specification
Additional remarks
Additional remarks