Description - Memorial Object
Floor slab of P[...] Clemens Willemszdr.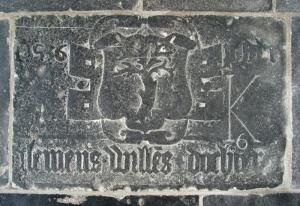 MeMO memorial object ID and name
MeMO memorial object ID
315
Name
Floor slab of P[...] Clemens Willemszdr.
Holding institution(s)
Holding institution(s)

Oudewater, Grote of St. Michaelskerk

Category
Type
Tomb monument, tomb slab or floor slab (physical object)
Classification
Tomb slab or floor slab
Short description
Small rectangular slab showing a shield with a dead tree and an inscription
Remarks about category
General date
General date
1525-1575
Artist(s)
Artist(s)
Original institution(s)
Still in original institution?
probably yes

Location inside the institution
In situ?
(Probable) original location

in the church/chapel (exact location unknown)

Argumentation
Related memorial objects in the same institution
Additional remarks (original location)
The deceased is not mentioned in the Oudewater registers of graves

Additional remarks

Memorial piece
Function
Specification
Additional remarks
Memorial monument or floor slab
Function
liturgical/religious
Grave findings
Additional remarks

Original function
Change in function
Remarks about function
Name
P[...] Clemens Willemszdr.
Specification

Members of the commemorated party
Commemorated person(s)

[452] P[...] Clemens Willemszdr. (female)

Commemorated institution(s)

Relation between commemorated persons
no relation (only one person mentioned/depicted)
Relation specification
Additional remarks
Name
Composition of the commissioning party
Specification

Members of the commissioning party
Commissioning person(s)
Commissioning Institution(s)

Relation between commissioning party and commemorated party
Relation specification
Additional remarks
Material(s)
Specification
Traces of polychromy?
Reuse of older objects

Dimensions (cm)
Height x width x depth
48 x 75 x 0

Completeness
Complete
Condition
There is some wear on the right wide where the word 'p[...]' has become largely illegible
Conservation
Technical research
Specification (technical research)

Alterations
Alterations
Specification

Additional remarks
Provenance
Provenance
Marks of ownership
Type(s) of mark(s) of ownership
Specification

Bloys van Treslong Prins, P.C., Genealogische en heraldische gedenkwaardigheden in en uit de kerken der provincie Zuid-Holland, part IIa (Utrecht 1922), 286
Oosterwijk, Sophie, The floor slabs of Oudewater, http://memo.hum.uu.nl/oudewater/index.html

Other documentation
Additional remarks
Additional remarks
Information provided by C.H. van Wijngaarden. The added letter K and number 6 (i.e. grave no. 6) indicate that the grave must have reverted to the church at a later date.
Tomb or floor slab (front) of [315] Floor slab of P[...] Clemens Willemszdr.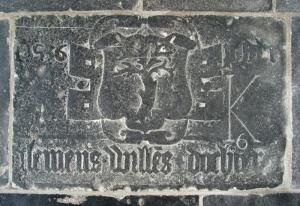 Indication of part
Indication of part
Tomb or floor slab (front)
Short description
Short description
Small rectangular slab showing a shield with a dead tree and an inscription
Dimensions (cm)
Height x Width x Depth
48 x 75 x 0
Date
Year
1536
Specified date
Argumentation

date of death given on the object

Specification
Additional remarks
Holding institution
Holding institution
Oudewater, Grote of St. Michaelskerk
Collection
Collection identifier
Online description link
Alternative or previous collections
Alternative of previous identifiers
Accessibility
Remarks about holding institution
The slab is situated in the north aisle of the nave (noorderkerk)
Contract
Contract
Artist(s)
Filiation
Filiation
Additional remarks
Additional remarks
Heraldry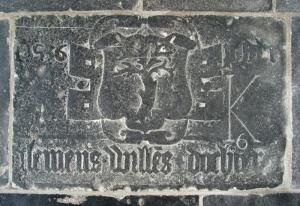 Indication of part
Indication of part
Tomb or floor slab (front)
Place of heraldry
Place of heraldry
inside a centrally placed cartouche
Specification of heraldry
Type of heraldry
Personal use of family arms (one undivided shield)
Specification
Shape of the shield
Late renaissance shield
Specification
Description of the shield
an erased dead tree (een uitgerukte dode boom)
Description of the upper arms (helmet, crest and mantling)
Remarks
Additional parts of the achievement
Type of supporter
Specification
Motto
English translation of the motto
Insignia or attributes
Heraldry belonging to
Heraldry belonging to
Van Hensbeeck

Person details
Person details

Additional remarks
Additional remarks
Inscriptions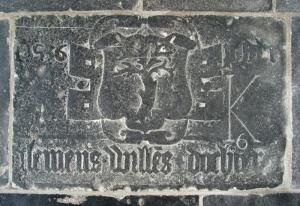 Indication of part
Indication of part
Tomb or floor slab (front)
Place of the inscription
Place of the inscription
top left and right, and along the bottom of the slab
Language(s)
Languages
Language specification
Transcription
Transcription
1536 P[...] Clemens Willems dochter.
Translation
English translation
1536 P[...] Clemens Willemszdr.
Dutch translation
Lay–out
Lay-out
Raised Gothic textualis
Inscription mentioning
Name
[452] P[...] Clemens Willemszdr. (female)
Sex
female
Argumentation
the person is being commemorated
Additional remarks
Additional remarks
Person Description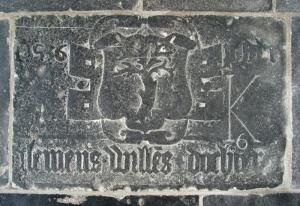 Personal identification number
Personal identification number
452
Personal details
Name
P[...] Clemens Willemszdr.
Sex
female
Year/date of birth
Year/date of death
1536
Additional remarks
Social standing
Status
Arguments
Specification
Member of a convent
Religious order
Specification
Member of secular clergy
Type of secular clergy
Specification
Additional remarks
Additional remarks