Description - Memorial Object
Sarcophagus lid of unknown person(s) (fragment(s))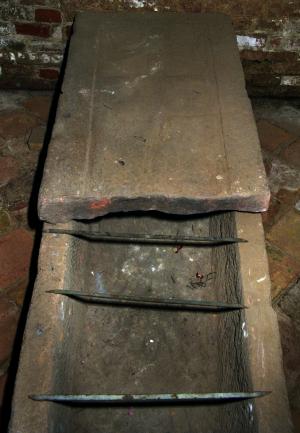 MeMO memorial object ID and name
MeMO memorial object ID
3234
Name
Sarcophagus lid of unknown person(s) (fragment(s))
Holding institution(s)
Holding institution(s)

Ter Apel, Klooster Ter Apel

Category
Type
Tomb monument, tomb slab or floor slab (physical object)
Classification
Sarcophagus (lid)
Short description
Fragment of a tapered stone lid with a Latin cross in the centre and palmette-like quarter-circles in the upper corners
Remarks about category
General date
General date
1050-1100
Artist(s)
Artist(s)
Original institution(s)
Still in original institution?
no

Location inside the institution
In situ?
(Probable) original location
Argumentation
Related memorial objects in the same institution
Additional remarks (original location)

Additional remarks

Memorial piece
Function
Specification
Additional remarks
Memorial monument or floor slab
Function
liturgical/religious; no information on possible other functions
Grave findings
Additional remarks
No information is available about possible other functions, because only the lid of the sarcophagus remains

Original function
Sarcophagus lid (based on the tapered shape and the decorations)
Change in function
Until 1891, the lid was part of the pavement of a worker's house
Remarks about function
The chest and lid do not belong together
Name
Specification

Members of the commemorated party
Commemorated person(s)
Commemorated institution(s)

Relation between commemorated persons
Relation specification
Additional remarks
Name
Composition of the commissioning party
Specification

Members of the commissioning party
Commissioning person(s)
Commissioning Institution(s)

Relation between commissioning party and commemorated party
Relation specification
Additional remarks
Material(s)
Specification
red sandstone
Traces of polychromy?
Reuse of older objects

Dimensions (cm)
Height x width x depth
114 x 70 x 0

Completeness
Incomplete: a fragment. The lower half of the lid is missing.
Condition
The fragment is worn
Conservation
Technical research
Specification (technical research)

Alterations
Alterations
Specification

Additional remarks
Width: 70 cm at the top and 64 cm at the bottom
Provenance
Provenance
Marks of ownership
Type(s) of mark(s) of ownership
Specification

Martin, H., Vroeg-middeleeuwse zandstenen sarcophagen in Friesland en elders in Nederland (Drachten 1957), 61; no. 39; figure 39
Waslander, Christine; Homan, Peter, Dekselse graven. Noordnederlandse grafsculptuur in de elfde en twaalfde eeuw (Meppel 1991)

Other documentation
SKKN: Museum Het Klooster, Ter Apel, inv. no. 16467-32
Additional remarks
Additional remarks
•The chest and lid do not belong together. • Information and photographs provided by Christine Waslander and Peter Homan (inv. no. II 21).
Sarcophagus (lid) of [3234] Sarcophagus lid of unknown person(s) (fragment(s))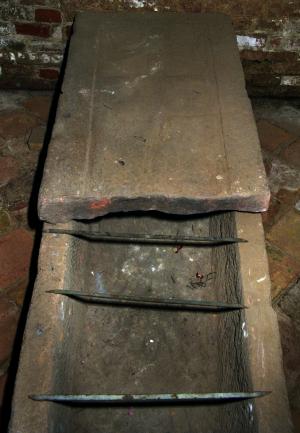 Indication of part
Indication of part
Sarcophagus (lid)
Short description
Short description
Fragment of a tapered stone lid with a Latin cross in the centre and palmette-like quarter-circles in the upper corners
Dimensions (cm)
Height x Width x Depth
114 x 70 x 0
Date
Year
1050-1100
Specified date
Argumentation

based on stylistic research

Specification
Additional remarks
Holding institution
Holding institution
Ter Apel, Klooster Ter Apel
Collection
Collection identifier
Online description link
Alternative or previous collections
on loan from the Groninger Museum since 1976
Alternative of previous identifiers
0000.0454
Accessibility
Remarks about holding institution
Contract
Contract
Artist(s)
Filiation
Filiation
Additional remarks
Additional remarks
Decorations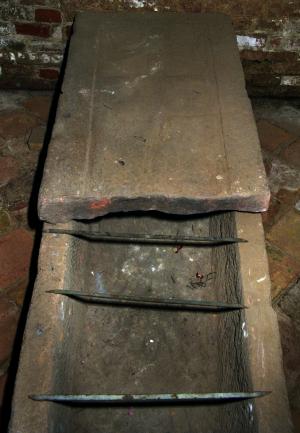 Indication of part
Indication of the part
Sarcophagus (lid)
Type(s) of decoration(s)
Type(s) of decoration(s)

religious attributes or symbols
geometric patterns

Description of the decoration(s)
Description of the decoration(s)
A Latin cross in the centre and palmette-like quarter-circles in the upper corners
Depicted allegories
Depicted allegories
Additional remarks
Additional remarks