Description - Memorial Object
Floor slab of Aelbert Cornelis Lotthum and Roelof van Niewael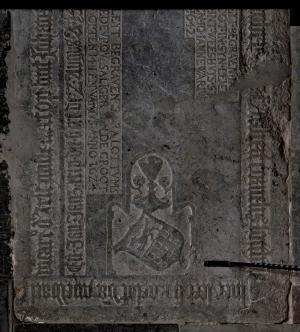 MeMO memorial object ID and name
MeMO memorial object ID
3242
Name
Floor slab of Aelbert Cornelis Lotthum and Roelof van Niewael
Holding institution(s)
Holding institution(s)

Zaltbommel, Grote of St. Maartenskerk

Category
Type
Tomb monument, tomb slab or floor slab (physical object)
Classification
Tomb slab or floor slab
Short description
Broken stone slab with successive inscriptions and a niche with a heraldic shield below and a chalice and host flanked by two flowers above in low relief
Remarks about category
General date
General date
1525-1575
Artist(s)
Artist(s)
Original institution(s)
Still in original institution?
yes

Location inside the institution
In situ?
(Probable) original location

in the church/chapel (exact location unknown)

Argumentation
Related memorial objects in the same institution
Additional remarks (original location)

Additional remarks

Memorial piece
Function
Specification
Additional remarks
Memorial monument or floor slab
Function
liturgical/religious and social
Grave findings
Additional remarks
For social function, see Commemorated party

Original function
Change in function
Remarks about function
Name
Aelbert Cornelis Lotthum and Roelof van Niewael
Specification

Members of the commemorated party
Commemorated person(s)

[5984] Aelbert Cornelis Lotthum (male)
[5983] Roelof van Niewael (male)

Commemorated institution(s)

Relation between commemorated persons
relation (type of relation unknown)
Relation specification
Additional remarks
The two persons are commemorated in one inscription, which suggests a relationship, but its nature is unknown
Name
Composition of the commissioning party
Specification

Members of the commissioning party
Commissioning person(s)
Commissioning Institution(s)

Relation between commissioning party and commemorated party
Relation specification
Additional remarks
Material(s)
Specification
Traces of polychromy?
Reuse of older objects

Dimensions (cm)
Height x width x depth
156 x 135 x 0

Completeness
Losses along the edges and break lines
Condition
Broken and damaged; the upper part of the slab lies hidden under a bench and could not be checked
Conservation
Technical research
Specification (technical research)

Alterations
Alterations
Specification
Later inscriptions commemorate Jan Janz Trip (murdered 1585), who was married to Salome, daughter of Aelbert Cornelis Lotthum; and two members of the De Groot(?) family (d. 1624 and 1642).

Additional remarks
The full length of the slab could not be measured because it is partly hidden under a church bench
Provenance
Provenance
Marks of ownership
Type(s) of mark(s) of ownership
Specification

Bams, W., Het Necrologium van de Sint-Maartenskerk te Zaltbommel (1312-1569) (Zaltbommel, Streekarchief Bommelerwaard ), 78, 110
Zalm, Peter van der, Het Wapenalbum Bommelerwaard, http://www.streekarchiefbommelerwaard.nl; Discussion of the arms of the Van Nywael, Lotthum(s) and Trip families

Other documentation
Additional remarks
Additional remarks
Information provided by Peter van der Zalm. The slab was not described by R.C. Muschart.
Tomb or floor slab (front) of [3242] Floor slab of Aelbert Cornelis Lotthum and Roelof van Niewael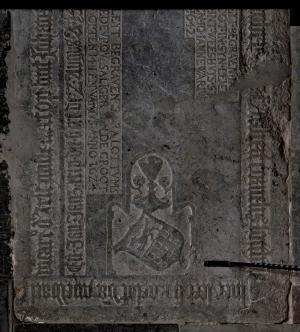 Indication of part
Indication of part
Tomb or floor slab (front)
Short description
Short description
Broken stone slab with successive inscriptions and a niche with a heraldic shield below and a chalice and host flanked by two flowers above in low relief
Dimensions (cm)
Height x Width x Depth
156 x 135 x 0
Date
Year
1522
Specified date
1522/06/24
Argumentation

date of death (from other sources)
based on historical evidence (in literature)

Specification
According to the Necrologium of St Martin's church, Roelof van Niewael died in 1522, long before Aelbert Cornelis Lotthum, and the heraldic shield and chalice mark this slab as having been carved for him, yet the first name in the inscription is that of Aelbert.
Additional remarks
Holding institution
Holding institution
Zaltbommel, Grote of St. Maartenskerk
Collection
Collection identifier
Online description link
Alternative or previous collections
Alternative of previous identifiers
Accessibility
Partly hidden under a church bench so that only the lower half is now visible
Remarks about holding institution
The slab is situated near the pulpit, towards the west
Contract
Contract
Artist(s)
Filiation
Filiation
Additional remarks
Additional remarks
Heraldry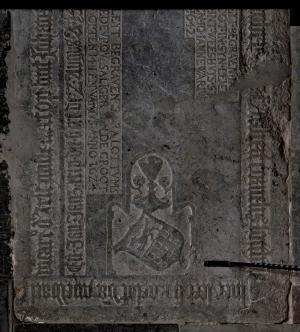 Indication of part
Indication of part
Tomb or floor slab (front)
Place of heraldry
Place of heraldry
placed diagonally inside an arched compartment in the lower part of the slab
Specification of heraldry
Type of heraldry
Personal use of family arms (one undivided shield)
Specification
Shape of the shield
Late gothic shield
Specification
Description of the shield
three vair pales, in a chief a courant fox (drie palen van vair, in een schildhoofd een springende vos (Van Nieuwaal))
Description of the upper arms (helmet, crest and mantling)
Remarks
Additional parts of the achievement
Type of supporter
Specification
Motto
English translation of the motto
Insignia or attributes
Heraldry belonging to
Heraldry belonging to
Roelof van Niewael

Person details
Person details

[5983] Roelof van Niewael (male)

Additional remarks
Additional remarks
Inscriptions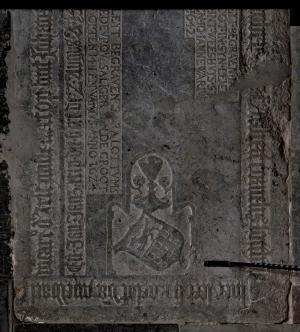 Indication of part
Indication of part
Tomb or floor slab (front)
Place of the inscription
Place of the inscription
along all four edges of the slab
Language(s)
Languages
Language specification
Transcription
Transcription
[... ?septe]mber sterf Aelbert Cornelis Lotthum. Hier leet b[egraven] Roelof van Nyewael vicaris der 1rste misse sterf op sint Johannes [dach ...]
Translation
English translation
[... ?Septe]mber died Aelbert Cornelis Lotthum. Here lies buried Roelof van Nyewael, chantry priest of the first mass, died on the [feastday?] of St John [...].
Dutch translation
Lay–out
Lay-out
Raised Gothic textualis lettering on separate sunken text bands, the second inscription (to Roelof van Niewael) starting in the lower right corner below the compartment with the chalice and shield
Inscription mentioning
Name
[5983] Roelof van Niewael (male)
Sex
male
Argumentation
the person is being commemorated
Name
[5984] Aelbert Cornelis Lotthum (male)
Sex
male
Argumentation
the person is being commemorated
Additional remarks
Additional remarks
The upper half of the slab lies hidden under a bench, so that only the latter part of the first and the start of the second inscription can be read, with damage causing further problems
Decorations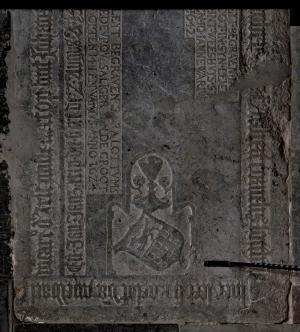 Indication of part
Indication of the part
Tomb or floor slab (front)
Type(s) of decoration(s)
Type(s) of decoration(s)
Description of the decoration(s)
Description of the decoration(s)
Chalice and host flanked by two flowers, in low relief inside an arched compartment
Depicted allegories
Depicted allegories
Additional remarks
Additional remarks
Person Description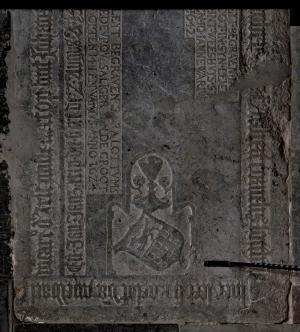 Personal identification number
Personal identification number
5983
Personal details
Name
Roelof van Niewael
Sex
male
Year/date of birth
Year/date of death
1522/06/24
Additional remarks
Social standing
Status
secular clergy
Arguments

according to literature
attribute of the portrayed/commemorated person (e.g. a priest's chalice)
mentioned in the inscription

Specification
Member of a convent
Religious order
Specification
Member of secular clergy
Type of secular clergy
(parish or chantry) priest
Specification
chantry priest of the first mass at St Martin's church, Zaltbommel
Additional remarks
Additional remarks
Personal identification number
Personal identification number
5984
Personal details
Name
Aelbert Cornelis Lotthum
Sex
male
Year/date of birth
Year/date of death
1558/09/08
Additional remarks
Aelbert was presumably the father-in-law of Jan Janszoon Trip, who is recorded as having been married to Salome van Lottum, daughter of Aelbert Cornelis van Lottum and his wife Anna Eliasdochter de Raet. Jan Trip was an innkeeper in Zaltbommel and was buried in the grave of Aelbert after he had been stabbed to death at his inn in 1585.
Social standing
Status
citizen of city
Arguments
Specification
Member of a convent
Religious order
Specification
Member of secular clergy
Type of secular clergy
Specification
Additional remarks
Additional remarks