Description - Memorial Object
Floor slab of Ydt Hobbes and family(?)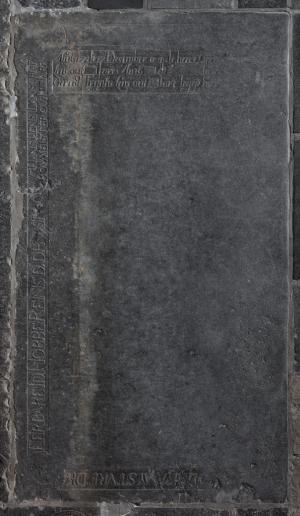 MeMO memorial object ID and name
MeMO memorial object ID
3428
Name
Floor slab of Ydt Hobbes and family(?)
Holding institution(s)
Holding institution(s)

Leeuwarden, Grote of Jacobijnerkerk

Category
Type
Tomb monument, tomb slab or floor slab (physical object)
Classification
Tomb slab or floor slab
Short description
Stone slab with an inscription along the edge, a later text field at the top, and roundels in the corners
Remarks about category
General date
General date
1550-1600
Artist(s)
Artist(s)
Original institution(s)
Still in original institution?
yes

Location inside the institution
In situ?
(Probable) original location

in the church/chapel (exact location unknown)

Argumentation
Related memorial objects in the same institution
Additional remarks (original location)
The parents-in-law of Ydt Hobbes were buried in the church as well

Additional remarks

Memorial piece
Function
Specification
Additional remarks
Memorial monument or floor slab
Function
liturgical/religious and social
Grave findings
Additional remarks
• Commemorated on the object are possibly a married couple, (members of) a nuclear family or (members of) an extended family: see Commemorated party. • No information is available about possible other functions, because the object is too damaged/worn or no photograph is available.

Original function
Change in function
Remarks about function
Name
Id Hobbe Reinsdochter (Ydt Hobbes) and family(?)
Specification

Members of the commemorated party
Commemorated person(s)

[6309] Id Hobbe Reinsdochter (Ydt Hobbes) (female)

Commemorated institution(s)

Relation between commemorated persons
nuclear family (of which one or more members died after 1580)
Relation specification
Additional remarks
Inscriptions added for two members of the Lens family who died after 1580, possibly child(ren) of Ydt Hobbes (see Physical Description). The upper and right edge appear to have been left blank. Ydt's husband Hans Lens (d. 1622) was buried under another slab in the same church.
Name
Composition of the commissioning party
Specification

Members of the commissioning party
Commissioning person(s)
Commissioning Institution(s)

Relation between commissioning party and commemorated party
Relation specification
Additional remarks
Material(s)
Specification
blue limestone
Traces of polychromy?
Reuse of older objects

Dimensions (cm)
Height x width x depth
229 x 130 x 0

Completeness
Minor losses along the edges
Condition
The slab is worn, especially the right-hand side
Conservation
Technical research
Specification (technical research)

Alterations
Alterations
Specification
A text field added at the top of the slab, commemorating [...] Lens (d. 1617) and Tryntje Lens, whose date of death was never completed (d. 16[..]). They are child(ren) of Ydt Hobbes and her husband Hans Lens and/or child(ren) of Hans Lens from his later marriage(s).

Additional remarks
Unclear whether the roundels in the corners have been left blank or whether any depictions have been effaced
Provenance
Provenance
Marks of ownership
Type(s) of mark(s) of ownership
Specification

Engels, M.H.H.; Dolk, W., Grote of Jacobijner Kerk, grafregister 1768 - ca. 1800, http://www.mpaginae.nl/GroteKerk/grafregister.htm; 112 regel 17, G 112
Walle, Hessel de, Friezen uit vroeger eeuwen; Opschriften uit Friesland, 1280-1811 (Franeker 2007), 529; no. 3714

Other documentation
• Register of graves: number 112. • Inventory drs. E. Makkes van der Deijl-Stam: number 152.
Additional remarks
Additional remarks
Tomb or floor slab (front) of [3428] Floor slab of Ydt Hobbes and family(?)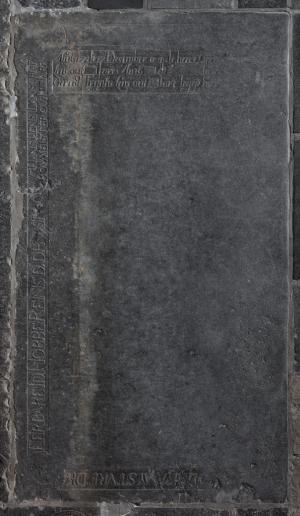 Indication of part
Indication of part
Tomb or floor slab (front)
Short description
Short description
Stone slab with an inscription along the edge, a later text field at the top, and roundels in the corners
Dimensions (cm)
Height x Width x Depth
229 x 130 x 0
Date
Year
1574
Specified date
1574/05/17
Argumentation

date of death given on the object

Specification
earliest date of death given on the slab, that of Ydt Hobbes
Additional remarks
Holding institution
Holding institution
Leeuwarden, Grote of Jacobijnerkerk
Collection
Collection identifier
Online description link
Alternative or previous collections
Alternative of previous identifiers
Accessibility
Remarks about holding institution
The slab is located in the nave
Contract
Contract
Artist(s)
Filiation
Filiation
Additional remarks
Additional remarks
Inscriptions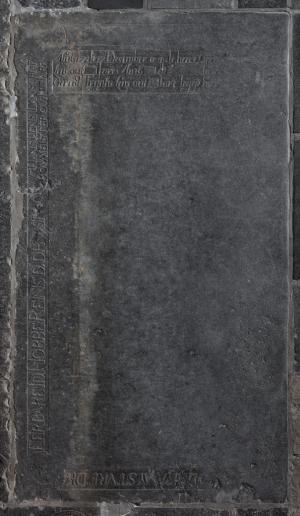 Indication of part
Indication of part
Tomb or floor slab (front)
Place of the inscription
Place of the inscription
along the lower and left edge of the slab
Language(s)
Languages
Language specification
Transcription
Transcription
[...] [15]74 den 17 may sturf de eerbare Id Hobbe Reins dochter, d(e) huisfrou van Hans Lens lanschaps boumeister, out [ ] iaren.
Translation
English translation
[...] [15]74 the 17th of May, died the honourable Ydt, daughter of Hobbe Reins, the wife of Hans Lens, master builder of Friesland, [ ] years old.
Dutch translation
[...] [15]74 de 17e mei, stierf de eerbare Ydt Hobbe Reinsdochter, de echtgenote van Hans Lens, bouwmeester van het landschap (= Friesland), [ ] jaar oud.
Lay–out
Lay-out
Raised Roman majuscules
Inscription mentioning
Name
[6310] Hans Lens (the Younger) (male)
Sex
male
Argumentation
the person is used as a reference
Name
[6309] Id Hobbe Reinsdochter (Ydt Hobbes) (female)
Sex
female
Argumentation
the person is being commemorated
Additional remarks
Additional remarks
• The age of Ydt was never added. • The upper edge appears to have been left blank (the right edge is now too worn to tell).
Person Description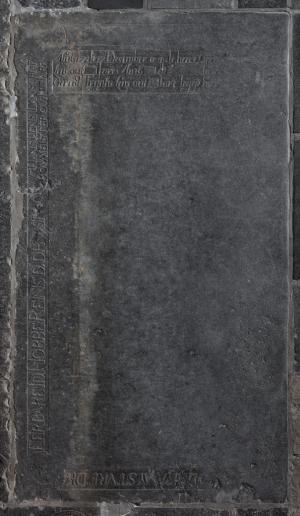 Personal identification number
Personal identification number
6309
Personal details
Name
Id Hobbe Reinsdochter (Ydt Hobbes)
Sex
female
Year/date of birth
Year/date of death
1574/05/17
Additional remarks
Daughter of Hobbe Reins. Ydt was married to Hans Lens (the Younger).
Social standing
Status
Arguments
Specification
Member of a convent
Religious order
Specification
Member of secular clergy
Type of secular clergy
Specification
Additional remarks
Additional remarks
Personal identification number
Personal identification number
6310
Personal details
Name
Hans Lens (the Younger)
Sex
male
Year/date of birth
Year/date of death
1622
Additional remarks
Son of Hans Lens (the Elder) and Trijn Jacobs (van Oosten?), see MeMO memorial object ID 1096. Hans was married to 1) Ydt Hobbes, 2) Els Jans, and 3) Jelcke Gerritsma. He was buried in the Grote of Jacobijnerkerk in Leeuwarden.
Social standing
Status
patriciate
Arguments

mentioned in the inscription

Specification
master builder of Friesland ('landschapsbouwmeester')
Member of a convent
Religious order
Specification
Member of secular clergy
Type of secular clergy
Specification
Additional remarks
Additional remarks