Description - Monastery
Nieuwenhof, Begijnhof (Catharina Bongert) in Maastricht, Limburg, NL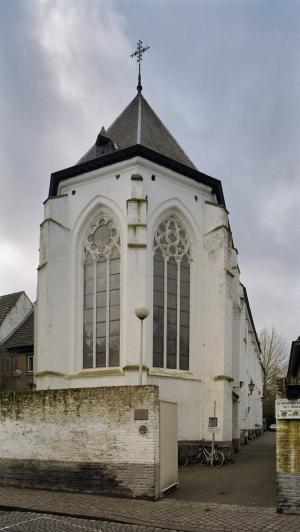 MeMO institution ID and name
MeMO institution ID
366
Name (Dutch)
Nieuwenhof, Begijnhof (Catharina Bongert)
Name (English)
Nieuwenhof, Beguinage (Catharina Bongert)
Patron saint(s)
Additional remarks
Location (according to current geography)
Province
Limburg, NL - Netherlands
Settlement
Maastricht
Coordinates
176/318
Diocese before 1559
Liege
Diocese after 1559
Roermond
Parish
Maastricht - Sint Servatius / Sint Jan
Date of foundation
1251
Founder(s) or main benefactor(s)

Religious order
Type of religious order
Beguines
Associated with
Type of institution
women
Mother house
Name of the mother house

Phases in the institutional history
1251: Beguines, settled in the Aldenhof near the Helpoort, plagued by floodings. 1265: Relocation to a place outside the city walls: first 'Nieuwenhof'. 1482: Relocation inside the city walls: second 'Nieuwenhof' or Catharina Bongert. 1502: Adoption of Tertiary status.
Date of transition to secular management
Date of dissolution
1796
Additional remarks
Extant memorial objects and/or texts concerning memoria
Memorial objects
Text carriers
Type of extant material
institution archive/archival material
Storage
in one place
Short description of the material
RHCL: 14.D026 - Klooster de Nieuwenhof te Maastricht. Size: 0,9 metre - 1 charter. Date: 1420-1796. Inventory: Delahaye, R.M., Magazijnlijsten kleinere archieven van kloosters en stichtingen (Maastricht 1982).

Holding institution(s)
Name
Regionaal Historisch Centrum Limburg (RHCL)
Settlement
Maastricht, Limburg, NL
Website

Additional remarks
Remark: Also known as Sinte Gertrude's monastery, Beguines of the Nieuwenhof, Sinte Catharijnen Bomgaert.

Denslagen, Wim, Begijnhoven in Noord-Nederlandse steden, Bulletin van de Koninklijke Nederlandse Oudheidkundige Bond 77 (1978), 205-225, 223
Doppler, P., Het klooster of begijnhof 'De Nieuwenhof' te Maastricht, De Maasgouw 41 (1921), 28-29
Offermans, J.P.L.G., De Nieuwenhof (Maastricht 1991)
Ramakers, E., Historische Atlas van Maastricht: 2000 jaar aan Maas en Jeker (Amsterdam 2005); nr. 30
Rensch, Th.J. van, Parochies in Middeleeuws Maastricht, in: , Munsters in de Maasgouw. Archeologie en Kerkgeschiedenis in Limburg (Maastricht 1986), 139-157; nr. 29
Roebroeks, F.H.M., Van Aldenhof tot Sint-Catharina Bongart, bijdrage tot de geschiedenis van een Maastrichts begijnhof, in: , Munsters in de Maasgouw. Archeologie en Kerkgeschiedenis in Limburg (Maastricht 1986), 158-173
Schoengen, M., Monasticon Batavum I: De Franciscaansche orden (Amsterdam 1941), 142
Simons, Walter, Cities of ladies. Beguine communities in the medieval Low Countries 1200-1565 (Philadelphia 2001); nr. 66A
Ubachs, P.J.H., Tweeduizend jaar Maastricht (Maastricht 1993); nr. 31

Links
Building history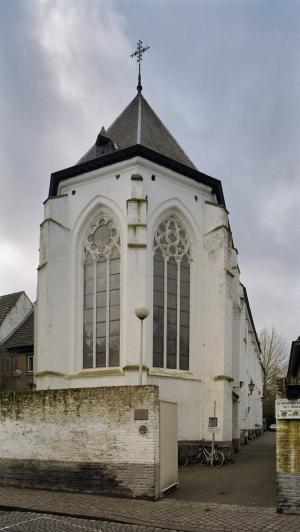 General date of construction
1489

Church or chapel(s)
Name
Maastricht, Chapel Nieuwenhof
Date of foundation
1482
Date of consecration
Short history of the building stages
1489: The Gothic church on the second 'Nieuwenhof' inside the city walls, where the beguines moved in 1482, was constructed in 1489. The choir still dates from this time. 1662: Construction of the nave of the chapel, which replaced a 1494 timber-frame nave. The other extant buildings of the beguinage also date from the seventeenth century. <1900: In the nineteenth century, the chapel was restored by Pierre Cuypers.
Additional remarks

Burial ground
Location
Date of consecration
Date of clearance

Extant building remnants
Demolition
Additional remarks
The beguinage currently houses the University College Maastricht.