Description - Monastery
Franciscanen (Oude of Wilde Minderbroeders) in Maastricht, Limburg, NL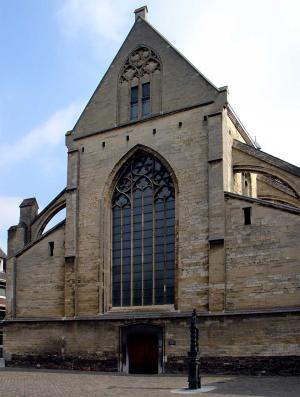 MeMO institution ID and name
MeMO institution ID
369
Name (Dutch)
Franciscanen (Oude of Wilde Minderbroeders)
Name (English)
Convent of Franciscan Friars (Old or Wild Friars Minor)
Patron saint(s)
Additional remarks
The nickname 'Old or Wild Friars Minor' refers to the foundation of an Observant Franciscan Convent at Lichtenberg south of Maastricht in 1457.
Location (according to current geography)
Province
Limburg, NL - Netherlands
Settlement
Maastricht
Coordinates
176/318
Diocese before 1559
Liege
Diocese after 1559
Roermond
Parish
Maastricht - Onze Lieve Vrouwe / Sint Nicolaas
Date of foundation
1234
Founder(s) or main benefactor(s)
Jean d'Epe (bishop Liege).

Religious order
Type of religious order
Franciscan
Associated with
Type of institution
men
Mother house
Name of the mother house

Phases in the institutional history
Date of transition to secular management
Date of dissolution
1639
Additional remarks
Extant memorial objects and/or texts concerning memoria
Memorial objects
Text carriers

Ramakers, E., Historische Atlas van Maastricht: 2000 jaar aan Maas en Jeker (Amsterdam 2005); nr. 27
Rensch, Th.J. van, Parochies in Middeleeuws Maastricht, in: , Munsters in de Maasgouw. Archeologie en Kerkgeschiedenis in Limburg (Maastricht 1986), 139-157; nr. 26
Schoengen, M., Monasticon Batavum I: De Franciscaansche orden (Amsterdam 1941), 135-137
Ubachs, P.J.H., Tweeduizend jaar Maastricht (Maastricht 1993); nr. 29

Links
Building history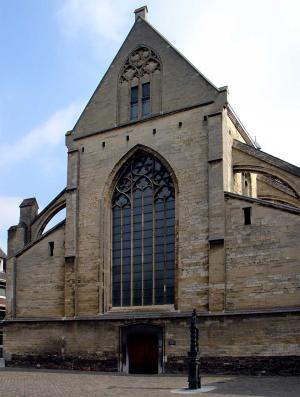 General date of construction
<1300

Church or chapel(s)
Name
Maastricht, Franciscan Convent
Date of foundation
1234
Date of consecration
Short history of the building stages
<1300: The Gothic church dates from the late thirteenth century. <1350: The still extant wing of the monastery buildings was constructed in the early fourteenth century. 1884: Restauration and reconstruction for the purpose of housing the State Archives. 1939-1942, 1995: Restauration.
Additional remarks

Burial ground
Location
Date of consecration
Date of clearance

Extant building remnants
Demolition
Additional remarks
The church currently houses the Regionaal Historisch Centrum Limburg (RHCL).