Description - Monastery
Lopsen, Regulieren (St. Hieronymusdal) in Leiden, Zuid-Holland, NL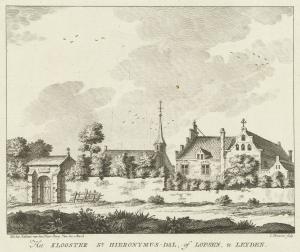 MeMO institution ID and name
MeMO institution ID
371
Name (Dutch)
Lopsen, Regulieren (St. Hieronymusdal)
Name (English)
Lopsen Monastery, Regular Canons (St Hieronymusdal)
Patron saint(s)
Additional remarks
Location (according to current geography)
Province
Zuid-Holland, NL - Netherlands
Settlement
Leiden
Coordinates
94/464C
Diocese before 1559
Utrecht
Diocese after 1559
Utrecht
Parish
Leiden - Onze Lieve Vrouwe
Date of foundation
ca.1404
Founder(s) or main benefactor(s)

Religious order
Type of religious order
Canons Regular
Associated with
1404: Chapter of Utrecht. 1459-1460: Chapter of Windesheim.
Type of institution
men
Mother house
Name of the mother house

Phases in the institutional history
Originally Jan Rembrandsz house in Lopsen. Devout brethren. 1404: Tertiaries; Chapter of Utrecht. 1459-1460: Regular Canons; Chapter of Windesheim.
Date of transition to secular management
Date of dissolution
1526
Additional remarks
Extant memorial objects and/or texts concerning memoria
Memorial objects
Text carriers
Type of extant material
institution archive/archival material
Storage
in one place
Short description of the material
RegA Leiden: Kloosters inv. 96-230. Access: J.C. Overvoorde, Archieven van de kloosters (Leiden 1917).

Holding institution(s)
Name
Erfgoed Leiden en Omstreken (formerly known as: Regionaal Archief Leiden)
Settlement
Leiden, Zuid-Holland, NL
Website

Additional remarks
Type of extant material
extant manuscripts and printed books
Storage
in one place
Short description of the material
(Stooker and Verbeij): 740. Leiden GA.

Holding institution(s)
Name
Erfgoed Leiden en Omstreken (formerly known as: Regionaal Archief Leiden)
Settlement
Leiden, Zuid-Holland, NL
Website

Additional remarks

Kohl, W; Weiler, A.G.; Persoons, E, Monasticon Windeshemense III: Niederlande (Brussel 1980), 265-278
Luijk, Madelon van, Bruiden van Christus. De tweede religieuze vrouwenbeweging in Leiden en Zwolle, 1380-1580 (Zutphen 2004), 51
Obbema, P.F.J., Lopsen onder Leiden en Sint Janskamp bij Vollenhove, twee verwante kloosters, in: Marsilje, J.W., Uit Leidse bron geleverd. Studies Leverland (Leiden 1989), 173-181
Schoengen, M., Monasticon Batavum II De Augustijnsche orden, benevens de broeders en zusters van het gemeene leven (Amsterdam 1941), 110-111; Number 1 and 4
Smithuis, J., Lopsen en de Moderne Devotie. Een Leids klooster nader bekeken, Jaarboek Sociale en economische geschiedenis Leiden en omstreken (1996), 13-34
Weiler, A.G., Volgens de norm van de vroege kerk. De geschiedenis van de huizen van de broeders van het Gemene leven in Nederland (Nijmegen 1997), 187-189

Links
Building history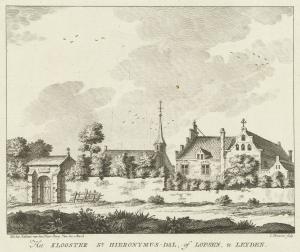 General date of construction
ca.1404

Church or chapel(s)
Name
Leiden, Monastery Hiëronymusdal (Lopsen)
Date of foundation
<1404
Date of consecration
Short history of the building stages
ca.1400: The monastery complex was probably built after 1400. 1526: Reconstruction to serve as plague and syphilis hospital. 1572: Demolition.
Additional remarks

Burial ground
Location
Date of consecration
Date of clearance

Extant building remnants
Demolition
1572
Additional remarks
Between 1526 and 1570, the monastery buildings were used by St Catherine's Hospital as an annex for plague and syphilis patients.