Description - Memorial Object
Floor slab of Willem van Roderlo and his wife (Agnes Kaelsack?)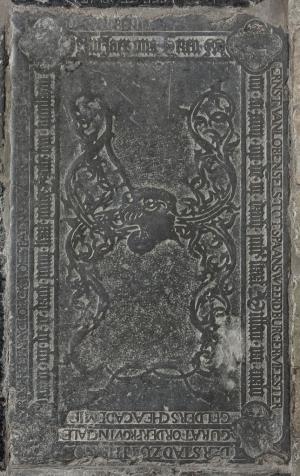 MeMO memorial object ID and name
MeMO memorial object ID
3813
Name
Floor slab of Willem van Roderlo and his wife (Agnes Kaelsack?)
Holding institution(s)
Holding institution(s)

Zutphen, Walburgiskerk (Walburgkerk)

Category
Type
Tomb monument, tomb slab or floor slab (physical object)
Classification
Tomb slab or floor slab
Short description
Stone slab with an effaced coat of arms in the centre, a double band of inscriptions along the edge, and quatrefoils with effaced evangelist symbols in the corners
Remarks about category
General date
General date
1475-1525
Artist(s)
Artist(s)
Original institution(s)
Still in original institution?
yes

Location inside the institution
In situ?
(Probable) original location

in the church/chapel (exact location unknown)

Argumentation
Related memorial objects in the same institution
Additional remarks (original location)

Additional remarks

Memorial piece
Function
Specification
Additional remarks
Memorial monument or floor slab
Function
liturgical/religious and social
Grave findings
Additional remarks
Commemorated on the object are a married couple, (members of) a nuclear family or (members of) an extended family: see Commemorated party

Original function
Change in function
Remarks about function
Name
Willem van Roderlo (Rurlo) and his wife (Agnes (Niese) Kaelsack?)
Specification

Members of the commemorated party
Commemorated person(s)

[7071] wife of Willem van Roderlo (Agnes (Niese) Kaelsack?) (female)
[7070] Willem van Roderlo (Rurlo) (male)

Commemorated institution(s)

Relation between commemorated persons
extended family (of which one or more members died after 1580)
Relation specification
a married couple with extended family
Additional remarks
The first name of Willem's wife is difficult to read on the slab (a last name is not given). Van Spaen, 1701 (via Muschart 1937), reads 'Niese', which is a variation on Agnes. In Zutphen there was a Willem van Roderlo who was married to an Agnes Kaelsack. This Willem was a son of Willem van Roderlo and Margaretha Cloeck, who was a distant family member of the Helena Cloeck who is also commemorated on this slab. See also Physical Description and Person Description.
Name
Composition of the commissioning party
Specification

Members of the commissioning party
Commissioning person(s)
Commissioning Institution(s)

Relation between commissioning party and commemorated party
Relation specification
Additional remarks
Material(s)
Specification
blue limestone
Traces of polychromy?
Reuse of older objects

Dimensions (cm)
Height x width x depth
226 x 141 x 0

Completeness
Largely complete: some losses along the edges
Condition
The slab is worn and badly damaged
Conservation
Technical research
Specification (technical research)

Alterations
Alterations

decoration(s) removed
heraldry removed
inscription(s) added
inscription(s) removed

Specification
The coat of arms (centre) and the evangelist symbols (corners) have been hacked away. Inscriptions in Roman majuscules added along the outer edge, commemorating Helena Cloeck van Spaenswerd (d. after 1654), widow of Valentijn van Löben, and her grandson mayor Ernst van Löben Sels (d. 1777). The inscription for the latter replaced part of the original edge inscription (bottom of the slab).

Additional remarks
Provenance
Provenance
Marks of ownership
Type(s) of mark(s) of ownership
Specification

Muschart, R.T., Grafzerken, grafmonumenten en memoriesteenen in de Groote of St. Walburgskerk te Zutphen, Gelre 40 (1937), 174-275, 184-185; no. 23

Other documentation
Additional remarks
Additional remarks
Incised number: 3
Tomb or floor slab (front) of [3813] Floor slab of Willem van Roderlo and his wife (Agnes Kaelsack?)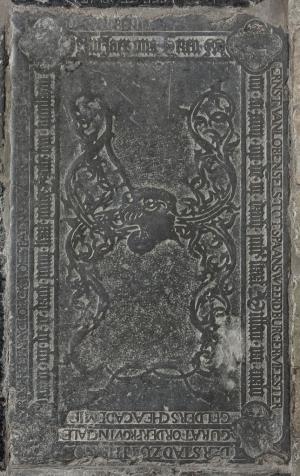 Indication of part
Indication of part
Tomb or floor slab (front)
Short description
Short description
Stone slab with an effaced coat of arms in the centre, a double band of inscriptions along the edge, and quatrefoils with effaced evangelist symbols in the corners
Dimensions (cm)
Height x Width x Depth
226 x 141 x 0
Date
Year
1506
Specified date
1506/06/09
Argumentation

date of death given on the object

Specification
earliest date of death mentioned on the slab, that of Willem
Additional remarks
Holding institution
Holding institution
Zutphen, Walburgiskerk (Walburgkerk)
Collection
Collection identifier
Online description link
Alternative or previous collections
Alternative of previous identifiers
Accessibility
Remarks about holding institution
The slab is located in the north aisle
Contract
Contract
Artist(s)
Filiation
Filiation
Additional remarks
Additional remarks
Heraldry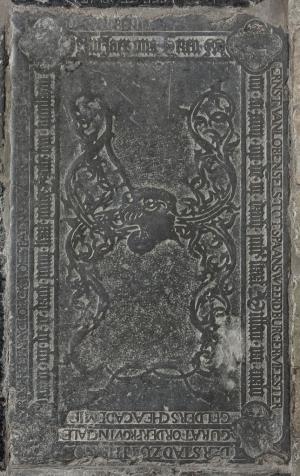 Indication of part
Indication of part
Tomb or floor slab (front)
Place of heraldry
Place of heraldry
in the centre
Specification of heraldry
Type of heraldry
Specification
Shape of the shield
Specification
Description of the shield
Effaced (Uitgehakt)
Description of the upper arms (helmet, crest and mantling)
Crest: effaced (Helmteken: uitgehakt)
Remarks
Additional parts of the achievement
Type of supporter
Specification
Motto
English translation of the motto
Insignia or attributes
Heraldry belonging to
Heraldry belonging to
Additional remarks
Additional remarks
Inscriptions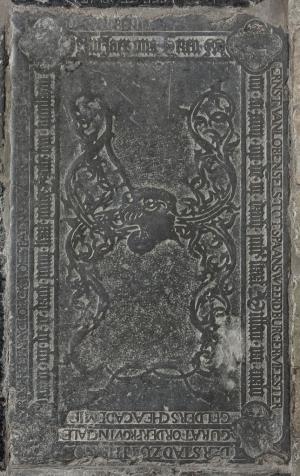 Indication of part
Indication of part
Tomb or floor slab (front)
Place of the inscription
Place of the inscription
in the inner text band along all four edges of the slab
Language(s)
Languages
Language specification
Transcription
Transcription
Int jaer ons Heren M / CCCC XCVII op den VI dach julius starf Willem van Rurlo / [ ] / ende VI op den IX dach juny starf joffer Niese(?) syn huysfrou.
Translation
English translation
In the year of Our Lord / 1497 on the 6th day of July died Willem van Roderlo / [ ] / and 6 on the 9th day of June died mistress Nies(?), his wife.
Dutch translation
In het jaar onzes Heren / 1497 op de 6de dag van juli stierf Willem van Roderlo / [ ] / en 6 op de 9de dag van juni stierf juffer Niese(?), zijn vrouw.
Lay–out
Lay-out
Raised Gothic textualis
Inscription mentioning
Name
[7071] wife of Willem van Roderlo (Agnes (Niese) Kaelsack?) (female)
Sex
female
Argumentation
the person is being commemorated
Name
[7070] Willem van Roderlo (Rurlo) (male)
Sex
male
Argumentation
the person is being commemorated
Additional remarks
Additional remarks
Part of the inscription (bottom of the slab) has been replaced. See Physical description for the later inscriptions in the outer text band.
Decorations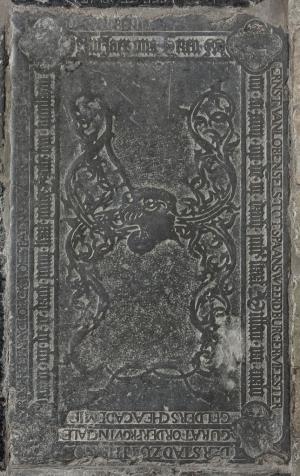 Indication of part
Indication of the part
Tomb or floor slab (front)
Type(s) of decoration(s)
Type(s) of decoration(s)
Description of the decoration(s)
Description of the decoration(s)
effaced evangelist symbols inside quatrefoils in the corners
Depicted allegories
Depicted allegories
Additional remarks
Additional remarks
Person Description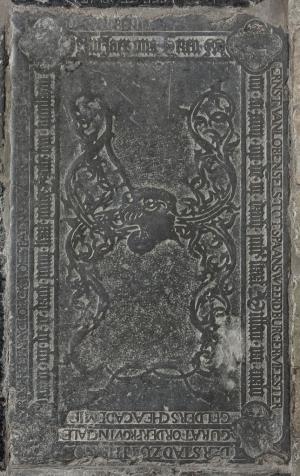 Personal identification number
Personal identification number
7070
Personal details
Name
Willem van Roderlo (Rurlo)
Sex
male
Year/date of birth
Year/date of death
1497/07/06
Additional remarks
Probably the Willem van Roderlo who was a son of Willem van Roderlo and Margaretha Cloeck, although in literature 6 June 1496 is usually given as his date of death. Willem was married to Agnes Kaelsack.
Social standing
Status
nobility
Arguments
Specification
lord of Bakensweerd and Nederlaer; alderman of Zutphen
Member of a convent
Religious order
Specification
Member of secular clergy
Type of secular clergy
Specification
Additional remarks
Additional remarks
Personal identification number
Personal identification number
7071
Personal details
Name
wife of Willem van Roderlo (Agnes (Niese) Kaelsack?)
Sex
female
Year/date of birth
Year/date of death
1506/06/09
Additional remarks
The name of Willem's wife is hard to read on the slab, but may be 'Niese', a variation on Agnes. Willem van Roderlo (Rurlo) was married to Agnes Kaelsack, a daughter of Hendrik Kaelsack and Anna van Kreken.
Social standing
Status
Arguments
Specification
Member of a convent
Religious order
Specification
Member of secular clergy
Type of secular clergy
Specification
Additional remarks
Additional remarks