Description - Memorial Object
Floor slab of unknown person(s)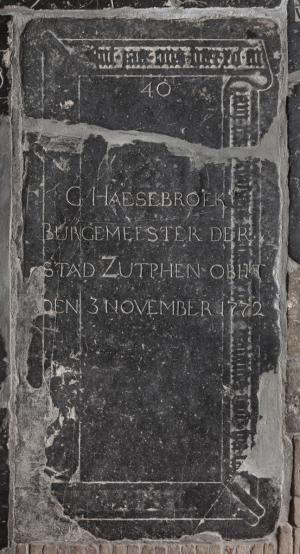 MeMO memorial object ID and name
MeMO memorial object ID
3819
Name
Floor slab of unknown person(s)
Holding institution(s)
Holding institution(s)

Zutphen, Walburgiskerk (Walburgkerk)

Category
Type
Tomb monument, tomb slab or floor slab (physical object)
Classification
Tomb slab or floor slab
Short description
Stone slab with a heraldic shield inside a roundel in the upper half, an inscription on banderoles along the edge, and a later inscription in the centre
Remarks about category
General date
General date
1525-1575
Artist(s)
Artist(s)
Original institution(s)
Still in original institution?
yes

Location inside the institution
In situ?
(Probable) original location

in the church/chapel (exact location unknown)

Argumentation
Related memorial objects in the same institution
Additional remarks (original location)

Additional remarks

Memorial piece
Function
Specification
Additional remarks
Memorial monument or floor slab
Function
liturgical/religious; no information on possible other functions
Grave findings
Additional remarks
No information is available about possible other functions, because the object is too damaged or no photograph is available

Original function
Change in function
Remarks about function
Name
Specification

Members of the commemorated party
Commemorated person(s)

[7081] unknown person (unknown)

Commemorated institution(s)

Relation between commemorated persons
no information about the commemorated party (one or more persons)
Relation specification
Additional remarks
The slab commemorated at least one and possibly more persons: the inscription on the banderoles is partly worn away. The heraldry is also too worn for identification.
Name
Composition of the commissioning party
Specification

Members of the commissioning party
Commissioning person(s)
Commissioning Institution(s)

Relation between commissioning party and commemorated party
Relation specification
Additional remarks
Material(s)
Specification
blue limestone
Traces of polychromy?
Reuse of older objects

Dimensions (cm)
Height x width x depth
202 x 102 x 0

Completeness
Incomplete: major losses along the edges, especially the lower left (filled with cement)
Condition
The slab is badly worn and damaged. A horizontal break in the upper half.
Conservation
Technical research
Specification (technical research)

Alterations
Alterations
Specification
Inscription in Roman majuscules added in the centre of the slab, commemorating mayor Gerhard Haesebroek (d. 1772)

Additional remarks
Provenance
Provenance
Marks of ownership
Type(s) of mark(s) of ownership
Specification

Muschart, R.T., Grafzerken, grafmonumenten en memoriesteenen in de Groote of St. Walburgskerk te Zutphen, Gelre 40 (1937), 174-275, 198; no. 57

Other documentation
Additional remarks
Additional remarks
Incised number: 40
Tomb or floor slab (front) of [3819] Floor slab of unknown person(s)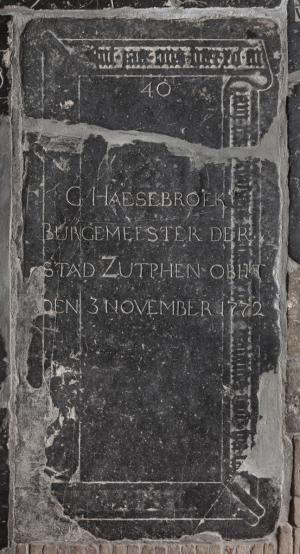 Indication of part
Indication of part
Tomb or floor slab (front)
Short description
Short description
Stone slab with a heraldic shield inside a roundel in the upper half, an inscription on banderoles along the edge, and a later inscription in the centre
Dimensions (cm)
Height x Width x Depth
202 x 102 x 0
Date
Year
1525-1575
Specified date
Argumentation

date of death given on the object

Specification
The date of death on the slab is hard to read (1527?,1567?)
Additional remarks
Holding institution
Holding institution
Zutphen, Walburgiskerk (Walburgkerk)
Collection
Collection identifier
Online description link
Alternative or previous collections
Alternative of previous identifiers
Accessibility
Remarks about holding institution
The slab is located in the north transept
Contract
Contract
Artist(s)
Filiation
Filiation
Additional remarks
Additional remarks
Heraldry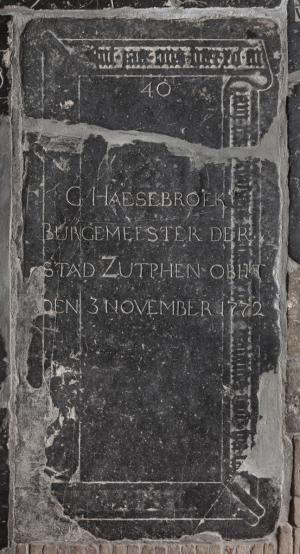 Indication of part
Indication of part
Tomb or floor slab (front)
Place of heraldry
Place of heraldry
in the upper half, inside the roundel
Specification of heraldry
Type of heraldry
Personal use of family arms (one undivided shield)
Specification
Shape of the shield
Specification
Description of the shield
Worn, probably a mark (Versleten, waarschijnlijk een merk)
Description of the upper arms (helmet, crest and mantling)
Remarks
Additional parts of the achievement
Type of supporter
Specification
Motto
English translation of the motto
Insignia or attributes
Heraldry belonging to
Heraldry belonging to
Additional remarks
Additional remarks
Inscriptions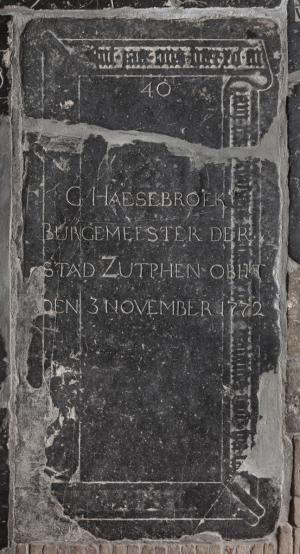 Indication of part
Indication of part
Tomb or floor slab (front)
Place of the inscription
Place of the inscription
on banderoles along three or four edges of the slab
Language(s)
Languages
Language specification
Transcription
Transcription
Int jaer ons here XVc ende/ X?(L?)XVII [...] [...] [...] [...] Valerius? (Valenus?) [...] hir [begraven] / [...]
Translation
English translation
In the year of Our Lord / 1527? (1567?) [...] [...] [...] [...] Valerius? (Valenus?) [...] buried here / [...]
Dutch translation
In het jaar onzes Heren / 1527? (1567?) [...] [...] [...] [...] Valerius? (Valenus?) [...] hier begraven / [...]
Lay–out
Lay-out
Raised Gothic textualis
Inscription mentioning
Name
[7081] unknown person (unknown)
Sex
unknown
Argumentation
the person is being commemorated
Additional remarks
Additional remarks
The inscription is badly worn and consequently hard to read. The banderole along the left edge appears to be blank, but it is also possible that the text along this edge has worn away.
Decorations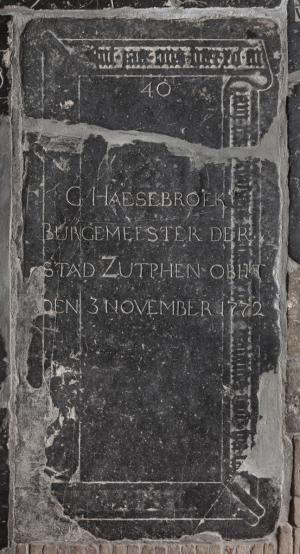 Indication of part
Indication of the part
Tomb or floor slab (front)
Type(s) of decoration(s)
Type(s) of decoration(s)
Description of the decoration(s)
Description of the decoration(s)
two banderoles along the edges
Depicted allegories
Depicted allegories
Additional remarks
Additional remarks
Person Description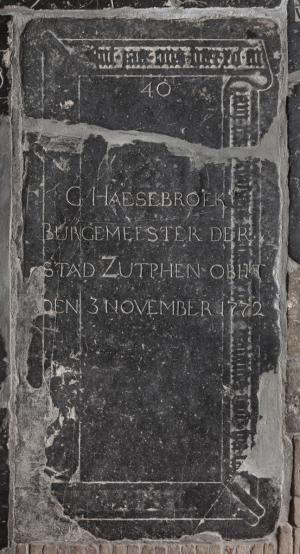 Personal identification number
Personal identification number
7081
Personal details
Name
unknown person
Sex
unknown
Year/date of birth
Year/date of death
Additional remarks
A Valerius or Valenus who died in 1527 or 1567?
Social standing
Status
Arguments
Specification
Member of a convent
Religious order
Specification
Member of secular clergy
Type of secular clergy
Specification
Additional remarks
Additional remarks