Description - Memorial Object
Floor slab of [...]tus Schelwert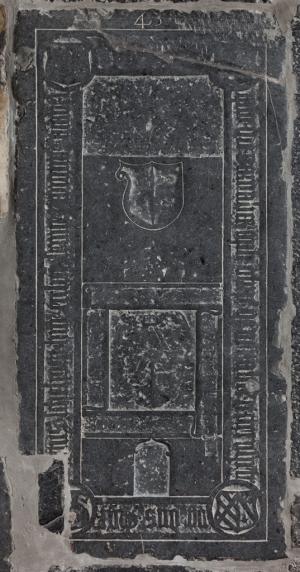 MeMO memorial object ID and name
MeMO memorial object ID
3844
Name
Floor slab of [...]tus Schelwert
Holding institution(s)
Holding institution(s)

Zutphen, Walburgiskerk (Walburgkerk)

Category
Type
Tomb monument, tomb slab or floor slab (physical object)
Classification
Tomb slab or floor slab
Short description
Stone slab with two (effaced) heraldic shields, two effaced inscriptions and a niche with an effaced chalice in the central field, an inscription along the edge, and roundels with heraldic shields in the corners
Remarks about category
General date
General date
1450-1550
Artist(s)
Artist(s)
Original institution(s)
Still in original institution?
yes

Location inside the institution
In situ?
(Probable) original location

in the church/chapel (exact location unknown)

Argumentation
Related memorial objects in the same institution
Additional remarks (original location)

Additional remarks

Memorial piece
Function
Specification
Additional remarks
Memorial monument or floor slab
Function
liturgical/religious; no information on possible other functions
Grave findings
Additional remarks
No information is available about possible other functions, because the object is too damaged or no photograph is available

Original function
Change in function
Remarks about function
Name
[...]tus Schelwert
Specification

Members of the commemorated party
Commemorated person(s)

[7134] [...]tus Schelwert (male)

Commemorated institution(s)

Relation between commemorated persons
not applicable (only one person mentioned/depicted)
Relation specification
Additional remarks
The man may possibly be identified as Aelt Schelwert, see also Person Description
Name
Composition of the commissioning party
Specification

Members of the commissioning party
Commissioning person(s)
Commissioning Institution(s)

Relation between commissioning party and commemorated party
Relation specification
Additional remarks
Material(s)
Specification
blue limestone
Traces of polychromy?
Reuse of older objects

Dimensions (cm)
Height x width x depth
234 x 114 x 0

Completeness
Incomplete: the lower left corner is missing
Condition
The slab is worn and badly damaged. Some parts of the edge inscription are illegible.
Conservation
Technical research
Specification (technical research)

Alterations
Alterations

decoration(s) removed
heraldry removed
inscription(s) removed

Specification
Inscriptions removed from the central field: at the top and on the banderole. The heraldic shield inside the banderole has been effaced. The heraldic shield above is either worn or effaced. The chalice inside the niche has been hacked away.

Additional remarks
Provenance
Provenance
Marks of ownership
Type(s) of mark(s) of ownership
Specification

Muschart, R.T., Grafzerken, grafmonumenten en memoriesteenen in de Groote of St. Walburgskerk te Zutphen, Gelre 40 (1937), 174-275, 224; no. 152

Other documentation
Additional remarks
Additional remarks
Incised number: 43
Tomb or floor slab (front) of [3844] Floor slab of [...]tus Schelwert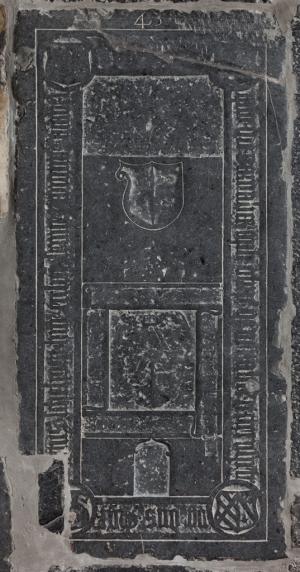 Indication of part
Indication of part
Tomb or floor slab (front)
Short description
Short description
Stone slab with two (effaced) heraldic shields, two effaced inscriptions and a niche with an effaced chalice in the central field, an inscription along the edge, and roundels with heraldic shields in the corners
Dimensions (cm)
Height x Width x Depth
234 x 114 x 0
Date
Year
1450-1550
Specified date
????/06/11
Argumentation

date of death given on the object
based on stylistic research

Specification
The year of death is illegible
Additional remarks
Holding institution
Holding institution
Zutphen, Walburgiskerk (Walburgkerk)
Collection
Collection identifier
Online description link
Alternative or previous collections
Alternative of previous identifiers
Accessibility
Remarks about holding institution
The slab is located in the south aisle
Contract
Contract
Artist(s)
Filiation
Filiation
Additional remarks
Additional remarks
Heraldry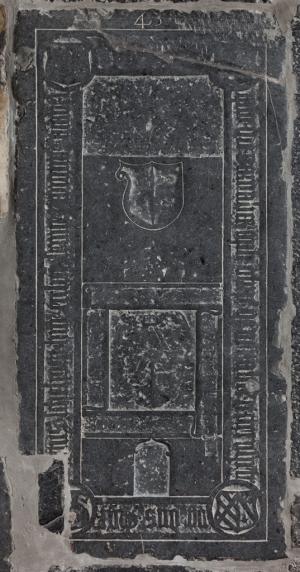 Indication of part
Indication of part
Tomb or floor slab (front)
Place of heraldry
Place of heraldry
in the central field, upper half
Specification of heraldry
Type of heraldry
Marshalled arms (2 coats of arms in one shield per pale or per fess)
Specification
Shape of the shield
Tournament shield
Specification
Description of the shield
Worn or effaced. Per pale, I: unknown; three objects, 2-1 (Afgesleten of uitgehakt. Gedeeld, I: onbekend; II: drie objecten, 2-1)
Description of the upper arms (helmet, crest and mantling)
Remarks
Additional parts of the achievement
Type of supporter
Specification
Motto
English translation of the motto
Insignia or attributes
Heraldry belonging to
Heraldry belonging to
Additional remarks
Additional remarks
Indication of part
Indication of part
Tomb or floor slab (front)
Place of heraldry
Place of heraldry
in the central field, inside the banderole
Specification of heraldry
Type of heraldry
Marshalled arms (2 coats of arms in one shield per pale or per fess)
Specification
Shape of the shield
Specification
Description of the shield
Effaced (Uitgehakt)
Description of the upper arms (helmet, crest and mantling)
Remarks
Additional parts of the achievement
Type of supporter

Other (guige or band, tree, branch)

Specification
Hanging from a branch
Motto
English translation of the motto
Insignia or attributes
Heraldry belonging to
Heraldry belonging to
Additional remarks
Additional remarks
Indication of part
Indication of part
Tomb or floor slab (front)
Place of heraldry
Place of heraldry
upper left corner, inside the roundel
Specification of heraldry
Type of heraldry
Specification
Shape of the shield
Early renaissance shield
Specification
Description of the shield
Worn away (Weggesleten)
Description of the upper arms (helmet, crest and mantling)
Remarks
Additional parts of the achievement
Type of supporter
Specification
Motto
English translation of the motto
Insignia or attributes
Heraldry belonging to
Heraldry belonging to
Additional remarks
Additional remarks
Indication of part
Indication of part
Tomb or floor slab (front)
Place of heraldry
Place of heraldry
lower left corner, inside the roundel
Specification of heraldry
Type of heraldry
Specification
Shape of the shield
Early renaissance shield
Specification
Description of the shield
Worn away and partly missing (Weggesleten en gedeeltelijk ontbrekend)
Description of the upper arms (helmet, crest and mantling)
Remarks
Additional parts of the achievement
Type of supporter
Specification
Motto
English translation of the motto
Insignia or attributes
Heraldry belonging to
Heraldry belonging to
Additional remarks
Additional remarks
Indication of part
Indication of part
Tomb or floor slab (front)
Place of heraldry
Place of heraldry
upper right corner, inside the roundel
Specification of heraldry
Type of heraldry
Specification
Shape of the shield
Early renaissance shield
Specification
Description of the shield
Worn away (Weggesleten)
Description of the upper arms (helmet, crest and mantling)
Remarks
Additional parts of the achievement
Type of supporter
Specification
Motto
English translation of the motto
Insignia or attributes
Heraldry belonging to
Heraldry belonging to
Additional remarks
Additional remarks
Indication of part
Indication of part
Tomb or floor slab (front)
Place of heraldry
Place of heraldry
lower right corner, inside the roundel
Specification of heraldry
Type of heraldry
Marshalled arms (2 coats of arms in one shield per pale or per fess)
Specification
Shape of the shield
Early renaissance shield
Specification
Description of the shield
Per pale, I: three bends, over all a bend sinister; II: a bend between stars(?) (Gedeeld, I: drie schuinbalken, over alles heen een linkerschuinbalk; II: een schuinbalk vergezeld van sterren(?))
Description of the upper arms (helmet, crest and mantling)
Remarks
Additional parts of the achievement
Type of supporter
Specification
Motto
English translation of the motto
Insignia or attributes
Heraldry belonging to
Heraldry belonging to
Additional remarks
Additional remarks
Inscriptions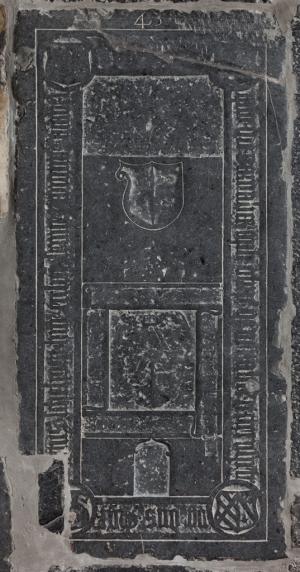 Indication of part
Indication of part
Tomb or floor slab (front)
Place of the inscription
Place of the inscription
in the central field, at the top
Language(s)
Languages
Language specification
Transcription
Transcription
Translation
English translation
Dutch translation
Lay–out
Lay-out
Inscription mentioning
Additional remarks
Additional remarks
This inscription has been hacked away
Indication of part
Indication of part
Tomb or floor slab (front)
Place of the inscription
Place of the inscription
along all four edges of the slab
Language(s)
Languages
Language specification
Transcription
Transcription
[...] / [...] die Barnabae apostoli obiit venerabilis et circumspectus / vir dominus magister / [...]tus Schelwert huius ecclesie senior canonicus […].
Translation
English translation
[...] / [...] feast day of Barnabas the Apostle died the venerable and prudent / man, sir master / [...]tus Schelwert, senior canon of this church […].
Dutch translation
[...] / [...] feestdag van Barnabas Apostel stierf de eerbiedwaardige en bedachtzame / man, heer meester / [...]tus Schelwert, senior kanunnik van deze kerk […].
Lay–out
Lay-out
Raised Gothic textualis
Inscription mentioning
Name
[7134] [...]tus Schelwert (male)
Sex
male
Argumentation
the person is being commemorated
Additional remarks
Additional remarks
The inscription is worn and damaged, and consequently partially illegible. The feast of Saint Barnabas the Apostle is celebrated on June 11.
Indication of part
Indication of part
Tomb or floor slab (front)
Place of the inscription
Place of the inscription
in the central field, on the banderole
Language(s)
Languages
Language specification
Transcription
Transcription
Translation
English translation
Dutch translation
Lay–out
Lay-out
Inscription mentioning
Additional remarks
Additional remarks
This inscription has been hacked away
Decorations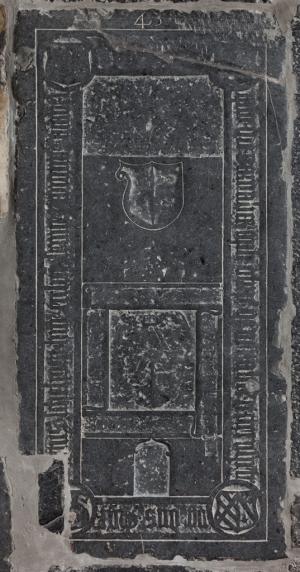 Indication of part
Indication of the part
Tomb or floor slab (front)
Type(s) of decoration(s)
Type(s) of decoration(s)

chalice (and host)
banderole(s)

Description of the decoration(s)
Description of the decoration(s)
an effaced chalice inside a niche; a banderole
Depicted allegories
Depicted allegories
Additional remarks
Additional remarks
Person Description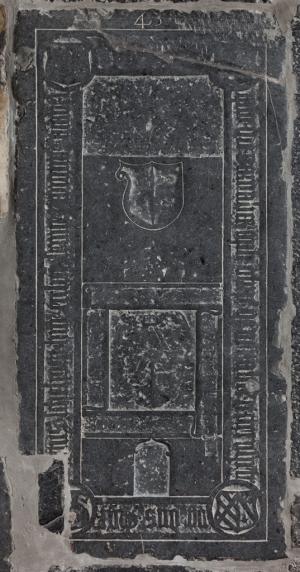 Personal identification number
Personal identification number
7134
Personal details
Name
[...]tus Schelwert
Sex
male
Year/date of birth
Year/date of death
Additional remarks
Variations on his surname: Schelweert, Schelwart, Schelwaert etc. He died on June 11. The year of death is unknown due to damages on his floor slab. The man may possibly be identified as Aelt Schelwert: in 1533 an 'Ailt Schelwart, senior canon' is mentioned; in 1540 the death of a 'master Aelt Schelweert' is recorded (Regionaal Archief Zutphen, entry no. 0325, inv. nos. 506 and 48).
Social standing
Status
secular clergy
Arguments

mentioned in the inscription
attribute of the portrayed/commemorated person (e.g. a priest's chalice)

Specification
Member of a convent
Religious order
Specification
Member of secular clergy
Type of secular clergy
canon
Specification
senior canon at the St. Walburgiskerk (St Walpurga's Church) in Zutphen
Additional remarks
Additional remarks