Description - Memorial Object
Floor slab of Andolf Nittersum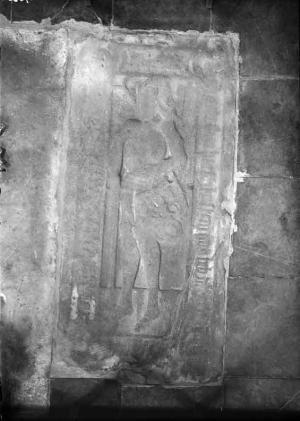 MeMO memorial object ID and name
MeMO memorial object ID
39
Name
Floor slab of Andolf Nittersum
Holding institution(s)
Holding institution(s)
Category
Type
Tomb monument, tomb slab or floor slab (physical object)
Classification
Tomb slab or floor slab
Short description
Stone slab with a human figure, a shield with a heraldic device by his left side, an inscription along the edge, and quatrefoils in the corners
Remarks about category
General date
General date
1450-1499
Artist(s)
Artist(s)
Original institution(s)
Still in original institution?
yes

Location inside the institution
In situ?
(Probable) original location

in the church/chapel (exact location unknown)

Argumentation
Related memorial objects in the same institution
Additional remarks (original location)

Additional remarks

Memorial piece
Function
Specification
Additional remarks
Memorial monument or floor slab
Function
liturgical/religious; no information on possible other functions
Grave findings
Additional remarks
no information is available about possible other functions, because the object is too damaged or no photograph is available

Original function
Change in function
Remarks about function
Name
Andeloff Nittersum (Andolf Nittersum)
Specification

Members of the commemorated party
Commemorated person(s)

[36] Andeloff Nittersum (male)

Commemorated institution(s)

Relation between commemorated persons
no relation (only one person mentioned/depicted)
Relation specification
Additional remarks
Name
Composition of the commissioning party
Specification

Members of the commissioning party
Commissioning person(s)
Commissioning Institution(s)

Relation between commissioning party and commemorated party
Relation specification
Additional remarks
Material(s)
Specification
Blonde sandstone
Traces of polychromy?
Reuse of older objects

Dimensions (cm)
Height x width x depth
211 x 102 x 0

Completeness
The slab appears largely complete
Condition
The slab is badly worn. There is a break in the bottom right corner.
Conservation
Technical research
Specification (technical research)

Alterations
Alterations
Specification

Additional remarks
Provenance
Provenance
Marks of ownership
Type(s) of mark(s) of ownership
Specification

Alma, Redmer, Groninger gedenkwaardigheden, http://www.redmeralma.nl; 456
Alma, Redmer, Portretzerken in Groningen, Groninger kerken 22 (2005), 105-108, 117-120, 106
Ozinga, M.D., De Nederlandsche Monumenten van Geschiedenis en Kunst, deel VI De Provincie Groningen, eerste stuk: Oost-Groningen ('s Gravenhage 1940), 159
Pathuis, A., Groninger gedenkwaardigheden; teksten, wapens en huismerken van 1298-1814 (Assen/Amsterdam 1977), 131-132; no. 456

Other documentation
Additional remarks
Additional remarks
The tomb slab shows similarities to the slab of Ghert to Petkum (d. 1478), who was buried in Petkum, a village now belonging to Germany.
Tomb or floor slab (front) of [39] Floor slab of Andolf Nittersum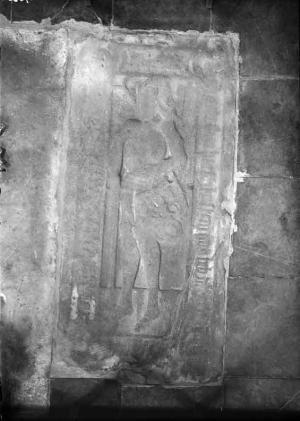 Indication of part
Indication of part
Tomb or floor slab (front)
Short description
Short description
Stone slab with a human figure, a shield with a heraldic device by his left side, an inscription along the edge, and quatrefoils in the corners
Dimensions (cm)
Height x Width x Depth
211 x 102 x 0
Date
Year
1474
Specified date
1474/11/11
Argumentation

date of death given on the object

Specification
According to Pathuis: 11 November 1471
Additional remarks
Holding institution
Holding institution
Stedum, Bartolomeuskerk
Collection
Collection identifier
Online description link
Alternative or previous collections
Alternative of previous identifiers
Accessibility
Remarks about holding institution
The slab is located in the choir of the church, covering the burial vault of the Clant family or the Nittersum family. The daughter of Andeloff Nittersum married Egbert Clant, making the Nittersum house to a possession of the Clant family. By this fact the lords of Clant became also the lords of Stedum.
Contract
Contract
Artist(s)
Filiation
Filiation
Additional remarks
Additional remarks
Portraits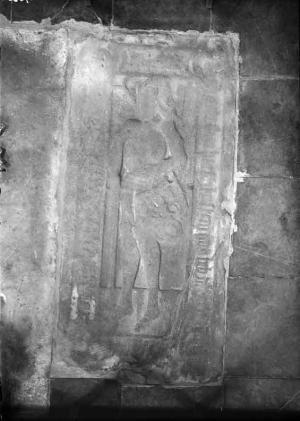 Indication of part
Indication of part
Tomb or floor slab (front)
Place of the portrait
Place of the portrait
central part of the slab
Portrait of
Name
Andeloff Nittersum
Sex
male
Argumentation
Specification
Portrait — portraiture
Physical state of the portrayed person
alive
Argumentation
Specification
Posture
standing
Manner of portrayal
The figure carries his shield on one arm and with the other he holds his sword
Portrait — clothing, attributes and insignia

Clothing
Type of clothing
aristocratic/noble attire
Short description
Andelof Nittersum is in full armour, wearing his helmet on his head
Attributes
Attributes
Specification
Insignia
Insignia
Specification
Remarks about clothing

Additional remarks
Heraldry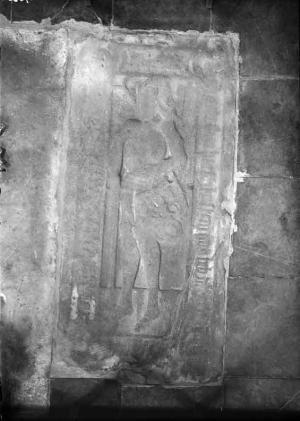 Indication of part
Indication of part
Tomb or floor slab (front)
Place of heraldry
Place of heraldry
at the left side of the man
Specification of heraldry
Type of heraldry
Specification
Shape of the shield
Specification
Description of the shield
an issuant two-headed eagle (een uitkomende dubbele adelaar (Nittersum))
Description of the upper arms (helmet, crest and mantling)
crest / helmteken.
Remarks
Additional parts of the achievement
Type of supporter
Specification
Motto
English translation of the motto
Insignia or attributes
Heraldry belonging to
Heraldry belonging to
Additional remarks
Additional remarks
Inscriptions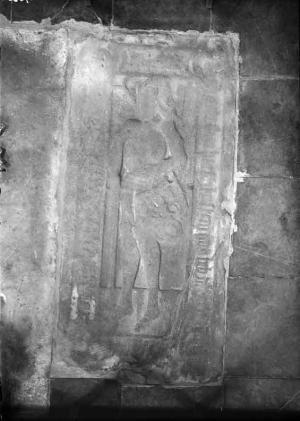 Indication of part
Indication of part
Tomb or floor slab (front)
Place of the inscription
Place of the inscription
along the edge
Language(s)
Languages
Language specification
Transcription
Transcription
In het jaer Uns Hern MCCCCLXXI, up Sunt Martens dach, starff Andeloff Nittersum, hoeflink te Stem. God heb de zele.
Translation
English translation
In the year of Our Lord 1471 [or 1474], on the day of Saint Martin, died Andeloff Nittersum, official in Stedum. God have the soul.
Dutch translation
Lay–out
Lay-out
Gothic textualis
Inscription mentioning
Name
[36] Andeloff Nittersum (male)
Sex
male
Argumentation
the person is being commemorated
Additional remarks
Additional remarks
Decorations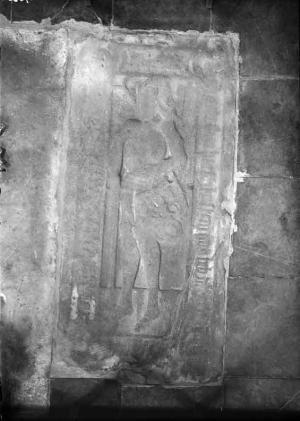 Indication of part
Indication of the part
Tomb or floor slab (front)
Type(s) of decoration(s)
Type(s) of decoration(s)
Description of the decoration(s)
Description of the decoration(s)
Illegible
Depicted allegories
Depicted allegories
Additional remarks
Additional remarks
Person Description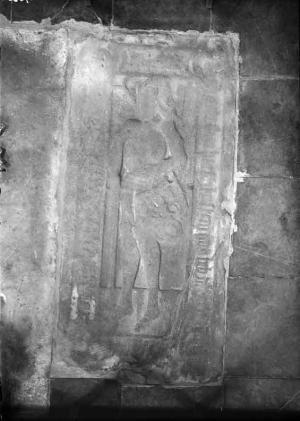 Personal identification number
Personal identification number
36
Personal details
Name
Andeloff Nittersum
Sex
male
Year/date of birth
Year/date of death
1474/11/11
Additional remarks
The daughter of Andeloff Nittersum (Andolf Nittersum) married Egbert Clant, through which the Nittersum house came in the possession of the Clant family and the lords of Clant became lords of Stedum as well.
Social standing
Status
nobility
Arguments
Specification
Andeloff Nittersum was also a leading person in his area, a 'hoofdeling' (an official).
Member of a convent
Religious order
Specification
Member of secular clergy
Type of secular clergy
Specification
Additional remarks
Additional remarks