Description - Memorial Object
Tracery filling with heraldry of Philip the Good and Isabella of Portugal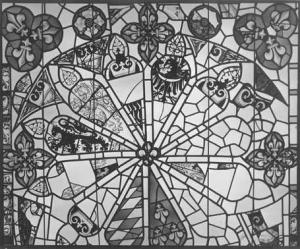 MeMO memorial object ID and name
MeMO memorial object ID
3948
Name
Tracery filling with heraldry of Philip the Good and Isabella of Portugal
Holding institution(s)
Holding institution(s)
Category
Type
Memorial item (physical object)
Classification
Stained-glass panel or window
Short description
Stained glass-panel showing tracery filling with heraldic fragments
Remarks about category
General date
General date
1425-1450
Artist(s)
Artist(s)
Original institution(s)
Still in original institution?
no

Location inside the institution
In situ?
(Probable) original location
Argumentation
The filling originates from a window in the Avesnes chapel, on the south side of the choir
Related memorial objects in the same institution
Additional remarks (original location)

Additional remarks

Memorial piece
Function

liturgical/religious
social

Specification
Additional remarks
Commemorated on the object are a married couple, (members of) a nuclear family or (members of) an extended family: see Commemorated party
Memorial monument or floor slab
Function
Grave findings
Additional remarks

Original function
Change in function
Remarks about function
Name
Philip the Good and Isabella of Portugal
Specification

Members of the commemorated party
Commemorated person(s)

[7314] Isabella of Portugal (female)
[7313] Philip the Good (male)

Commemorated institution(s)

Relation between commemorated persons
married couple
Relation specification
Additional remarks
Name
Composition of the commissioning party
Specification

Members of the commissioning party
Commissioning person(s)
Commissioning Institution(s)

Relation between commissioning party and commemorated party
Relation specification
Additional remarks
Material(s)
Specification
glass; lead
Traces of polychromy?
Reuse of older objects

Dimensions (cm)
Height x width x depth
172 x 209 x 0

Completeness
Incomplete: stained-glass fragments from the top of a window (tracery). The rest of the window, which showed a biblical scene and the portraits of John the Good, Isabella of Portugal and their three sons, is lost. The current panel is a 20th-century reconstruction. Furthermore it is a composite panel: the pieces with acanthus leaves along the sides probably originate from the choir windows of the Domkerk.
Condition
The glass shows pitting
Conservation
Technical research
Specification (technical research)

Alterations
Alterations
Specification

Additional remarks
The dimensions include the frame
Provenance
Provenance
Domkerk, Utrecht (ca. 1448/49 - late 19th century); remaining fragments on loan to the Centraal Museum, Utrecht (since the late 19th century)
Marks of ownership
Type(s) of mark(s) of ownership
Specification

Ruyven-Zeman, Z. van, Stained Glass in the Netherlands before 1795. Corpus Vitrearum the Netherlands IV. Part I: The North (Amsterdam 2011), 232-234
Schuylenburg, W.C.; Jonge, C.H. de, Catalogus van het Historisch Museum der Stad: Centraal Museum Utrecht (Utrecht 1928)

Other documentation
Additional remarks
Additional remarks
The Centraal Museum in Utrecht owns a late 19th-century drawing by F.J. Nieuwenhuis (inv. no. 2042) which depicts the state of the window of Philip the Good and Isabella of Portugal before its demolition. By that time only the top of the window still contained fragments of stained-glass.
Stained-glass panel or window of [3948] Tracery filling with heraldry of Philip the Good and Isabella of Portugal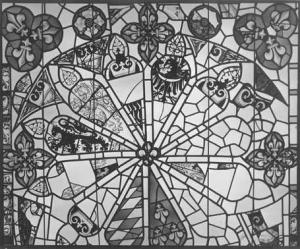 Indication of part
Indication of part
Stained-glass panel or window
Short description
Short description
Tracery filling with heraldic fragments
Dimensions (cm)
Height x Width x Depth
172 x 209 x 0
Date
Year
ca.1448-1449
Specified date
Argumentation

based on historical and/or technical research

Specification
Additional remarks
Holding institution
Holding institution
Utrecht, Centraal Museum
Collection
Collection identifier
863
Online description link
Alternative or previous collections
Alternative of previous identifiers
Accessibility
Remarks about holding institution
Contract
Contract
Artist(s)
Filiation
Filiation
Additional remarks
Additional remarks
Heraldry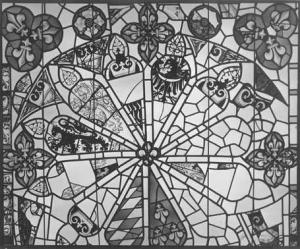 Indication of part
Indication of part
Stained-glass panel or window
Place of heraldry
Place of heraldry
rosette in the centre, first dagger-like compartment (clockwise)
Specification of heraldry
Type of heraldry
Personal use of family arms (one undivided shield)
Specification
Shape of the shield
Specification
Description of the shield
a black eagle (een zwarte adelaar)
Description of the upper arms (helmet, crest and mantling)
Remarks
Additional parts of the achievement
Type of supporter
Specification
Motto
English translation of the motto
Insignia or attributes
Heraldry belonging to
Heraldry belonging to
Additional remarks
Additional remarks
Indication of part
Indication of part
Stained-glass panel or window
Place of heraldry
Place of heraldry
rosette in the centre, fourth dagger-like compartment (clockwise)
Specification of heraldry
Type of heraldry
Specification
Shape of the shield
Specification
Description of the shield
fragmented; unclear (gefragmenteerd; onduidelijk)
Description of the upper arms (helmet, crest and mantling)
Remarks
Additional parts of the achievement
Type of supporter
Specification
Motto
English translation of the motto
Insignia or attributes
Heraldry belonging to
Heraldry belonging to
Additional remarks
Additional remarks
Indication of part
Indication of part
Stained-glass panel or window
Place of heraldry
Place of heraldry
rosette in the centre, sixth dagger-like compartment (clockwise)
Specification of heraldry
Type of heraldry
Personal use of family arms (one undivided shield)
Specification
Shape of the shield
Specification
Description of the shield
in blue three gold fleurs-de-lis, 2-1 (in blauw drie gouden lelies, 2-1)
Description of the upper arms (helmet, crest and mantling)
Remarks
Additional parts of the achievement
Type of supporter
Specification
Motto
English translation of the motto
Insignia or attributes
Heraldry belonging to
Heraldry belonging to
Valois

Person details
Person details

Additional remarks
Additional remarks
Indication of part
Indication of part
Stained-glass panel or window
Place of heraldry
Place of heraldry
rosette in the centre, seventh dagger-like compartment (clockwise)
Specification of heraldry
Type of heraldry
Personal use of family arms (one undivided shield)
Specification
Shape of the shield
Specification
Description of the shield
barry and bendy silver and blue (gedwarsbalkt en geschuinbalkt van zilver en blauw)
Description of the upper arms (helmet, crest and mantling)
Remarks
Additional parts of the achievement
Type of supporter
Specification
Motto
English translation of the motto
Insignia or attributes
Heraldry belonging to
Heraldry belonging to
Bavaria

Person details
Person details

Additional remarks
Additional remarks
Indication of part
Indication of part
Stained-glass panel or window
Place of heraldry
Place of heraldry
rosette in the centre, ninth dagger-like compartment (clockwise)
Specification of heraldry
Type of heraldry
Specification
Shape of the shield
Specification
Description of the shield
fragmented; unclear (gefragmenteerd; onduidelijk)
Description of the upper arms (helmet, crest and mantling)
Remarks
Additional parts of the achievement
Type of supporter
Specification
Motto
English translation of the motto
Insignia or attributes
Heraldry belonging to
Heraldry belonging to
Additional remarks
Additional remarks
Indication of part
Indication of part
Stained-glass panel or window
Place of heraldry
Place of heraldry
rosette in the centre, tenth dagger-like compartment (clockwise)
Specification of heraldry
Type of heraldry
Personal use of family arms (one undivided shield)
Specification
Shape of the shield
Specification
Description of the shield
a black lion rampant (een zwarte klimmende leeuw)
Description of the upper arms (helmet, crest and mantling)
Remarks
Additional parts of the achievement
Type of supporter
Specification
Motto
English translation of the motto
Insignia or attributes
Heraldry belonging to
Heraldry belonging to
Flanders?

Person details
Person details

Additional remarks
Additional remarks
Indication of part
Indication of part
Stained-glass panel or window
Place of heraldry
Place of heraldry
rosette in the centre, eleventh dagger-like compartment (clockwise)
Specification of heraldry
Type of heraldry
Personal use of family arms (one undivided shield)
Specification
Shape of the shield
Specification
Description of the shield
a silver lion rampant crowned (een zilveren klimmende gekroonde leeuw)
Description of the upper arms (helmet, crest and mantling)
Remarks
Additional parts of the achievement
Type of supporter
Specification
Motto
English translation of the motto
Insignia or attributes
Heraldry belonging to
Heraldry belonging to
Additional remarks
Additional remarks
Indication of part
Indication of part
Stained-glass panel or window
Place of heraldry
Place of heraldry
rosette in the centre, twelfth dagger-like compartment (clockwise)
Specification of heraldry
Type of heraldry
Specification
Shape of the shield
Specification
Description of the shield
in black [a flint with steel], and sparks below (in zwart [een tondeldoos met vuursteen], en vonken daaronder
Description of the upper arms (helmet, crest and mantling)
Remarks
Additional parts of the achievement
Type of supporter
Specification
Motto
English translation of the motto
Insignia or attributes
Heraldry belonging to
Heraldry belonging to
emblems of the House of Burgundy

Person details
Person details

Additional remarks
Additional remarks
Person Description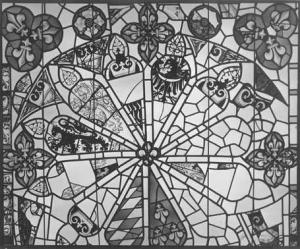 Personal identification number
Personal identification number
7313
Personal details
Name
Philip the Good
Sex
male
Year/date of birth
1396
Year/date of death
1467/06/15
Additional remarks
Born in Dijon as son of John the Fearless and Margaret of Bavaria. Philip the Good was married to 1) Michelle of Valois, 2) Bonne of Artois, and 3) Isabella of Portugal. Two of his illegitimate sons, Philip and David of Burgundy, became bishop of Utrecht. He died in Bruges and was buried in Dijon.
Social standing
Status
nobility
Arguments
Specification
Count of Charolais (1405-1433); Duke of Burgundy and Count of Flanders, Artois and Franche-Comté (1419); Margrave of Namur (1429); Duke of Brabant, Limburg and Lothier (1430); Count of Hainaut, Holland, Friesland and Zeeland (1432/33); Duke of Luxembourg (1443).
Member of a convent
Religious order
Specification
Member of secular clergy
Type of secular clergy
Specification
Additional remarks
Additional remarks
Personal identification number
Personal identification number
7314
Personal details
Name
Isabella of Portugal
Sex
female
Year/date of birth
1397
Year/date of death
1471/12/17
Additional remarks
Born in Évora as the daughter of John I of Portugal and Philippa of Lancaster. Isabella of Portugal was the third wife of Philip the Good, Duke of Burgundy. The couple had three sons together: Antoine, Joseph and Charles the Bold. She died in Dijon.
Social standing
Status
nobility
Arguments
Specification
Duchess of Burgundy (1430-1467); regent of the Burgundian Low Countries (1432 and 1441-1443)
Member of a convent
Religious order
Specification
Member of secular clergy
Type of secular clergy
Specification
Additional remarks
Additional remarks