Description - Memorial Object
Floor slab of Fye, widow of Henrick Ghijsbertsz.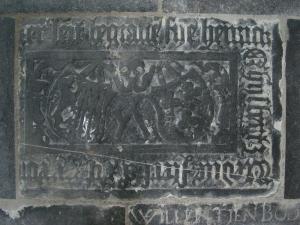 MeMO memorial object ID and name
MeMO memorial object ID
397
Name
Floor slab of Fye, widow of Henrick Ghijsbertsz.
Holding institution(s)
Holding institution(s)

Oudewater, Grote of St. Michaelskerk

Category
Type
Tomb monument, tomb slab or floor slab (physical object)
Classification
Tomb slab or floor slab
Short description
Stone slab with a skull and two shields in the centre and an inscription along the edge
Remarks about category
General date
General date
1525-1575
Artist(s)
Artist(s)
Original institution(s)
Still in original institution?
probably yes

Location inside the institution
In situ?
(Probable) original location

in the church/chapel (exact location unknown)

Argumentation
The deceased is not listed in the register of graves
Related memorial objects in the same institution
Additional remarks (original location)

Additional remarks

Memorial piece
Function
Specification
Additional remarks
Memorial monument or floor slab
Function
liturgical/religious and didactic
Grave findings
Additional remarks
inscription and/or decoration with a didactic statement, usually with references to the mortality of mankind/variations on 'Remember that you will die'

Original function
Change in function
Remarks about function
Name
Fye, widow of Henrick Ghijsbertsz.
Specification

Members of the commemorated party
Commemorated person(s)

[577] Fye, widow of Henrick Ghijsbertsz. (female)

Commemorated institution(s)

Relation between commemorated persons
not applicable (only one person mentioned/depicted)
Relation specification
Additional remarks
Name
Composition of the commissioning party
Specification

Members of the commissioning party
Commissioning person(s)
Commissioning Institution(s)

Relation between commissioning party and commemorated party
Relation specification
Additional remarks
Material(s)
Specification
Traces of polychromy?
Reuse of older objects

Dimensions (cm)
Height x width x depth
47 x 69 x 0

Completeness
The slab has been cut down on the left side, thereby losing part of the inscription
Condition
Some wear in places, but otherwise reasonable
Conservation
Technical research
Specification (technical research)

Alterations
Alterations
Specification

Additional remarks
Provenance
Provenance
Marks of ownership
Type(s) of mark(s) of ownership
Specification

Bloys van Treslong Prins, P.C., Genealogische en heraldische gedenkwaardigheden in en uit de kerken der provincie Zuid-Holland, part IIa (Utrecht 1922), 288
Oosterwijk, Sophie, The floor slabs of Oudewater, http://memo.hum.uu.nl/oudewater/index.html

Other documentation
Additional remarks
Additional remarks
Information provided by C.H. van Wijngaarden
Tomb or floor slab (front) of [397] Floor slab of Fye, widow of Henrick Ghijsbertsz.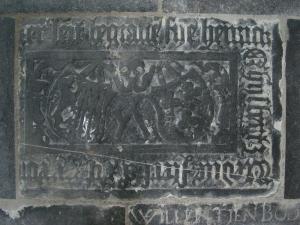 Indication of part
Indication of part
Tomb or floor slab (front)
Short description
Short description
Stone slab with a skull and two shields in the centre and an inscription along the edge
Dimensions (cm)
Height x Width x Depth
47 x 69 x 0
Date
Year
1537
Specified date
Argumentation

date of death (from other sources)
date of death given on the object

Specification
Additional remarks
Because the left side of the slab is cut down and part of the inscription lost, it is possible that the year is incomplete and that Fye died in 1538 instead of 1537
Holding institution
Holding institution
Oudewater, Grote of St. Michaelskerk
Collection
Collection identifier
Online description link
Alternative or previous collections
Alternative of previous identifiers
Accessibility
Remarks about holding institution
Situated in the south aisle
Contract
Contract
Artist(s)
Filiation
Filiation
Additional remarks
Additional remarks
Heraldry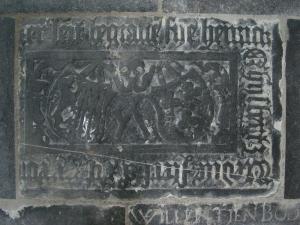 Indication of part
Indication of part
Tomb or floor slab (front)
Place of heraldry
Place of heraldry
Within rectangular central compartment flanking a skull and merchant's mark
Specification of heraldry
Type of heraldry
Allied arms (2 coats of arms in 2 shields, respecting each other)
Specification
Shape of the shield
Late gothic shield
Specification
Description of the shield
left: I: per pale, I: a lion contourny; II: three lances, 2-1 (Henrick Ghijsbertz.); right: II: three trefoils, 2-1 (Fye) (links: I: gedeeld, I: een omgewende leeuw; II: drie lansen, 2-1; rechts: II: drie klaverbladen, 2-1)
Description of the upper arms (helmet, crest and mantling)
Remarks
Additional parts of the achievement
Type of supporter
Specification
Motto
English translation of the motto
Insignia or attributes
Heraldry belonging to
Heraldry belonging to
Additional remarks
Additional remarks
Inscriptions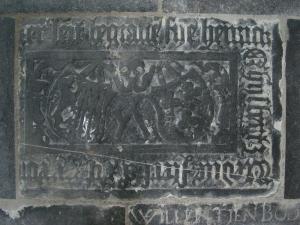 Indication of part
Indication of part
Tomb or floor slab (front)
Place of the inscription
Place of the inscription
along all four edges of the slab
Language(s)
Languages
Language specification
Transcription
Transcription
[H]ier leit begraven Fye, Henrick Ghijsbertsz wedue, sterf anno XVc XXXVII[...].
Translation
English translation
Here lies buried Fye, widow of Henrick Ghijsbertsz., died in the year 1537(?).
Dutch translation
Lay–out
Lay-out
Inscription in raised Gothic textualis along the top, right and lower edges; left side cut down
Inscription mentioning
Name
[577] Fye, widow of Henrick Ghijsbertsz. (female)
Sex
female
Argumentation
the person is being commemorated
Name
[578] Henrick Ghijsbertsz (male)
Sex
male
Argumentation
the person is used as a reference
Additional remarks
Additional remarks
Person Description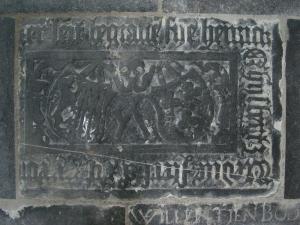 Personal identification number
Personal identification number
577
Personal details
Name
Fye, widow of Henrick Ghijsbertsz.
Sex
female
Year/date of birth
Year/date of death
ca.1537
Additional remarks
Fye was the married to Henrick Ghijsbertsz.; she died in 1537 or 1538
Social standing
Status
Arguments
Specification
Member of a convent
Religious order
Specification
Member of secular clergy
Type of secular clergy
Specification
Additional remarks
Additional remarks
Personal identification number
Personal identification number
578
Personal details
Name
Henrick Ghijsbertsz
Sex
male
Year/date of birth
Year/date of death
Additional remarks
Henrick Ghijsbertsz was married to Fye
Social standing
Status
Arguments
Specification
Member of a convent
Religious order
Specification
Member of secular clergy
Type of secular clergy
Specification
Additional remarks
Additional remarks