Description - Text Carrier
Missal of Loenersloot castle (fragment); Leiden, UB, BPL 2879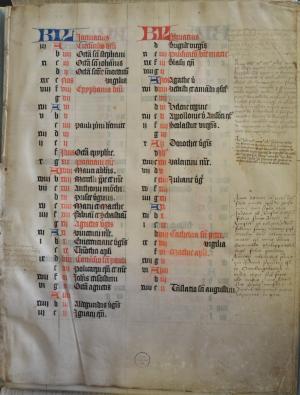 Title and MeMO text carrier ID
MeMO text carrier ID
445
Name
Missal of Loenersloot castle (fragment); Leiden, UB, BPL 2879

| | |
| --- | --- |
| [2199] Calendar with notes concerning the families Van Swieten and Amstel van Mijnden | 1r - 4v |
| [2198] Missal (fragment) | 104r - 116v |

Category
Type of text carrier
Manuscript with more than one text
Classification
Miscellany
Short description
Fragment of a missal of Loenersloot castle from 1438, consisting of a calendar and two quires with prayers and chants for the mass. The calendar contains notes in various hands about the families Van Swieten (owners of Loenersloot castle in 1438) and Amstel van Mijnden (owners of the castle since 1515), covering the years 1428-1554, as well as some notes about Loenersloot and surroundings.
Additional remarks
Holding institution
Leiden, Universiteitsbibliotheek Leiden
Collection
Special collections
Entry number collection
Identifier in collection
BPL 2879
Link to online description
Alternative collection
Alternative collection identifiers
Accessibility
some grayscale digital images online
Additional remarks
Original institution(s)
Original institution(s)
Dates of separate texts
Date
Author(s)
Author(s)
Text material(s)
Watermark(s)
Number of leaves
17
Collation
12, 24, 32+3

Dimensions (mm)
Height x width
380 x 290

Condition of the text carrier
Many quires lost. Still existing quires are in good condition.
Conservation

Adaptations
Type(s) of adaption
Specification
Cover
Cover material(s)
Specification
no cover
Date of the cover
Specification

Additional remarks
Only three quires still exist, which were foliated when the missing quires were still there. The first quire contains the calendar (ff. 1-4), the two other quires were the last quires of a missal (ff. 104-116), and contains a colophon on the last folio.

Table of contents
Is there a contemporary (e.g. medieval) table of contents in the text carrier?
no
Specification
Colophon
Is there a colophon in the text carrier?
yes
Specification
f. 116v: contemporary colophon providing a date (1438, St Victor's feast day), place (Mariënpoel convent in Oegstgeest) and scribe (a Sister Elizabeth de Gorinchem)
Rubrication
Are the texts in the text carrier rubricated?
yes
Heraldry
Number of heraldic items
Locations of the heraldry in the text carrier
Specification
Illustration(s)
Location(s) of the illustration(s)

accompanying a non-memorial text

Types of illustrations
Specification
f. 106r (in the missal): initial E from gold leaf, decorated with elaborate red penwork flourishing, partly coloured in with blue and green.

Additional remarks
Provenance
Provenance
Bought by the University at the antiquarian B.M. Rosenthal, San Francisco, in 1978.
Marks of ownership
Type(s) of mark(s) of ownership
Specification
stamp of Leiden University on f. 1r
Additional remarks

Leiden, University Library, Some facsimile images of Missal of Loenersloot castle, https://socrates.leidenuniv.nl/R/-?func=dbin-jump-full&object_id=672727

Additional remarks

Bouwman, W.P., Aantekeningen uit het missaal van het kasteel Loenersloot: Latijnse aantekeningen getranscribeerd, vertaald in het Nederlands en historisch toegelicht (Goes 1989)
Bouwman, W.P., Latijnse aantekeningen uit het missaal van het kasteel Loenersloot betreffende de families Van Zwieten en Van Amstel van Mijnden, De Nederlandsche Leeuw 115 (1998), 1-21

Additional remarks
Other documentation
Additional remarks
Additional remarks
The manuscript was made in 1438 in the convent Mariënpoel, Oegstgeest. The convent was founded some years earlier by Boudewijn van Swieten, who owned the Loenersloot castle.
Memorial text in: [445] Missal of Loenersloot castle (fragment); Leiden, UB, BPL 2879 [445]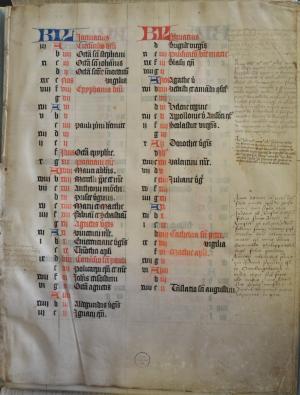 Keywords (type(s) of memorial text)
Keywords (type(s) of memorial text)

narative source containing one or more historical events
narative source containing one or more biographies
memorial register (memorial services)

Title and MeMO memorial text ID
Title
Calendar with notes concerning the families Van Swieten and Amstel van Mijnden
MeMO memorial text ID
2199
Pagination or foliation
Page(s)
Specification
Folio(s)
Specification

Date of creation (physical object)
Date
1438-1554
Argumentation

date(s) are mentioned in the text
based on research

Specification
the manuscript was made in 1438, notes added until 1554
Date of creation (contents of the text)
Date
1438
Argumentation
Specification
as mentioned in the colophon (f. 116v), the missal, with the calendar, was made in 1438
Period covered by the memorial text
Date
1428-1554
Argumentation

date(s) are mentioned in the text

Specification

Additional remarks
Original institution(s)
Name
Name of the commissioning party of the original text
Composition of the commissioning party
Specification (composition)

Members of the commissioning party
Commissioning person(s)
Commissioning institution(s)

Additional remarks
Language
Language
Specification
Description of hands
Description of hands
various hands, gothic textualis (for the calendar proper; hand of sister Elizabeth de Gorinchem) and cursive (for the historical and biographical entries)
Statement of responsibility
Person(s)

| | |
| --- | --- |
| Name | Elizabeth de Gorinchem |
| Sex | female |
| Year of birth | |
| Year of death | |
| Role | Scribe |
| Specification | |
| Remarks | sister of Mariënpoel convent, Oegstgeest |

Additional remarks
Place(s) of production
Place(s) of production
Mariënpoel convent, Oegstgeest (mentioned in the colophon on f. 116v)

Users
Intended users/audience

for communal purposes in an institution or community (liturgical)

Specification
Usage
Intended place of usage
Specification (intended place)
Depository inside the institution
Specification (depository)
Traces of usage

Additional remarks
Order of the data in the text
Type of registration
in a calendar (Roman/Julian/Gregorian)
Specification
Filiation
Filiation
Register of memorial services
Type(s) of memorial services
Number of memorial services
< 50
Frequency of memorial services
Executor(s) of memorial services

Commemorated persons
Number of the commemorated persons
< 50
Sex of the commemorated persons
50% male, 50% female
Background of commemorated persons

people associated with the institution (socially)

Specification
members of the Van Swieten and Amstel van den Mijnden families
Supplementary information
The register contains supplementary information concerning
Specification
the calendar also contains various notes about the births in both families

Additional remarks
It is not clear whether the memorial notes in the calendar were intended to be used as a calendar of memorial services for some institution in the strict sense. Many notes also contain different information about the families, such as births, and historical notes about events in Loenersloot and surroundings.
Incipit
Incipit
KL Januarius. Circumcisio domini
Explicit
Explicit
Anno domini m cccc xlvii obiit domicella Margareta de Swieten uxor Johannis de Poelgeest, ipso die sancti Stephani marteris. Requiescat in pace.
Illustration(s)
Illustrations or decorations