Description - Memorial Object
Floor slab of Hendrik van Ghemmenich and Elisabeth van Zuilen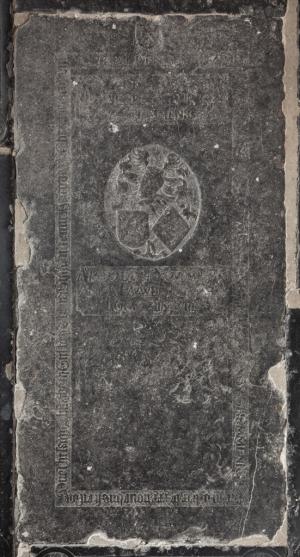 MeMO memorial object ID and name
MeMO memorial object ID
455
Name
Floor slab of Hendrik van Ghemmenich and Elisabeth van Zuilen
Holding institution(s)
Holding institution(s)
Category
Type
Tomb monument, tomb slab or floor slab (physical object)
Classification
Tomb slab or floor slab
Short description
Stone slab with effaced allied arms and three text fields in the central field, an inscription along the edge, and a heraldic shield at the top
Remarks about category
General date
General date
1550-1575
Artist(s)
Artist(s)
Original institution(s)
Still in original institution?
probably yes

Location inside the institution
In situ?
(Probable) original location

in the church/chapel (exact location unknown)

Argumentation
Related memorial objects in the same institution
Additional remarks (original location)

Additional remarks

Memorial piece
Function
Specification
Additional remarks
Memorial monument or floor slab
Function
liturgical/religious and social
Grave findings
Additional remarks
Commemorated on the object are a married couple, (members of) a nuclear family or (members of) an extended family: see Commemorated party

Original function
Change in function
Remarks about function
Name
Henrick (Hendrik) Jacobs van Ghemmenich and Elijzabeth Gijsbertsdochter van Suijlen (Elisabeth Gijsberts van Zuilen)
Specification

Members of the commemorated party
Commemorated person(s)

[665] Elijzabeth Gijsbertsdochter van Suijlen (Elisabeth Gijsberts van Zuilen) (female)
[664] Henrick (Hendrik) Jacobs van Ghemmenich (male)

Commemorated institution(s)

Relation between commemorated persons
extended family (of which one or more members died after 1580)
Relation specification
a married couple with extended family
Additional remarks
Inscriptions added for a son and daughter-in-law of the couple
Name
Composition of the commissioning party
Specification

Members of the commissioning party
Commissioning person(s)
Commissioning Institution(s)

Relation between commissioning party and commemorated party
Relation specification
Additional remarks
Material(s)
Specification
Namur stone?
Traces of polychromy?
Reuse of older objects

Dimensions (cm)
Height x width x depth
254 x 129 x 0

Completeness
Incomplete: losses along the edges
Condition
The slab is badly worn and damaged
Conservation
Technical research
Specification (technical research)

Alterations
Alterations

heraldry removed
inscription(s) added

Specification
• Three text fields added in the central field, one above the central oval and two below. From top to bottom: 1) Inscription in Roman majuscules commemorating Wilhelm Henrickxz van Ghemmenich (d. 1602), son of Hendrik and Elisabeth. According to Zandveld, Wilhelm Henrickxz was an organist in the St. Martinikerk in Franeker; 2) Inscription in Roman majuscules commemorating Anna Pauwelsdochter Lock (d. 1599), Wilhelm's wife; 3) A now badly worn (or effaced?) inscription in italics commemorating an unknown person. • The heraldry inside the oval has been effaced.

Additional remarks
Provenance
Provenance
Marks of ownership
Type(s) of mark(s) of ownership
Specification

Cannegieter, Dominicus, Grafsteenen, lijkgedichten, gedenkteekenen en wapenborden in de Sint Martinikerk te Franeker, http://www.mpaginae.nl/Franeker/Cannegieter.htm; A 38
Walle, Hessel de, Friezen uit vroeger eeuwen; Opschriften uit Friesland, 1280-1811 (Franeker 2007), 242; no. 1642
Zandveld, Frits, Register van grafzerken in de Martinikerk te Franeker, http://members.home.nl/frits.zandveld/zerken/zplatte.htm; no. 28

Other documentation
Register G. van der Heide (1993): record 28
Additional remarks
Additional remarks
Tomb or floor slab (front) of [455] Floor slab of Hendrik van Ghemmenich and Elisabeth van Zuilen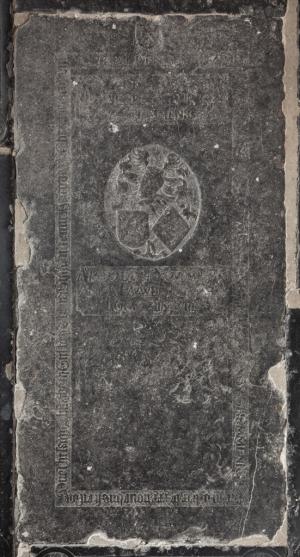 Indication of part
Indication of part
Tomb or floor slab (front)
Short description
Short description
Stone slab with effaced allied arms and three text fields in the central field, an inscription along the edge, and a heraldic shield at the top
Dimensions (cm)
Height x Width x Depth
254 x 129 x 0
Date
Year
1569
Specified date
1569/11/30
Argumentation

date of death given on the object

Specification
earliest date of death given on the slab, that of Elisabeth van Zuilen
Additional remarks
Holding institution
Holding institution
Franeker, Martinikerk
Collection
Collection identifier
Online description link
Alternative or previous collections
Alternative of previous identifiers
Accessibility
Remarks about holding institution
The slab is located in the south aisle, near column 2 (groundplan website Cannegieter and Zandveld)
Contract
Contract
Artist(s)
Filiation
Filiation
Additional remarks
Additional remarks
Heraldry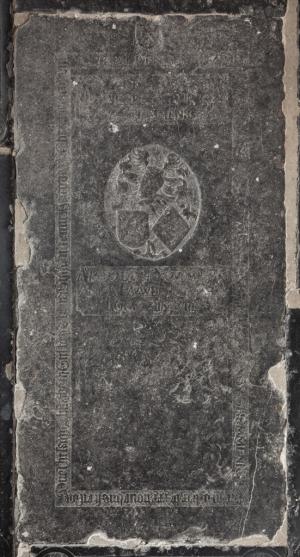 Indication of part
Indication of part
Tomb or floor slab (front)
Place of heraldry
Place of heraldry
in the central oval, left shield
Specification of heraldry
Type of heraldry
Allied arms (2 coats of arms in 2 shields, respecting each other)
Specification
Shape of the shield
Semicircular shield
Specification
Description of the shield
effaced (uitgehakt)
Description of the upper arms (helmet, crest and mantling)
crest: a ? between two wings (helmteken: een ? tussen een vlucht)
Remarks
Additional parts of the achievement
Type of supporter
Specification
Motto
English translation of the motto
Insignia or attributes
Heraldry belonging to
Heraldry belonging to
Additional remarks
Additional remarks
Indication of part
Indication of part
Tomb or floor slab (front)
Place of heraldry
Place of heraldry
in the central oval, right shield
Specification of heraldry
Type of heraldry
Allied arms (2 coats of arms in 2 shields, respecting each other)
Specification
Shape of the shield
Lozenge shield
Specification
Description of the shield
effaced (uitgehakt)
Description of the upper arms (helmet, crest and mantling)
Remarks
Additional parts of the achievement
Type of supporter
Specification
Motto
English translation of the motto
Insignia or attributes
Heraldry belonging to
Heraldry belonging to
Additional remarks
Additional remarks
Indication of part
Indication of part
Tomb or floor slab (front)
Place of heraldry
Place of heraldry
at the top
Specification of heraldry
Type of heraldry
Personal use of family arms (one undivided shield)
Specification
Shape of the shield
Semicircular shield
Specification
Description of the shield
a chevron between in chief two wings and in base a clover leaf (een keper, boven vergezeld van twee vleugels en beneden van een klaverblad)
Description of the upper arms (helmet, crest and mantling)
Remarks
Additional parts of the achievement
Type of supporter
Specification
Motto
English translation of the motto
Insignia or attributes
Heraldry belonging to
Heraldry belonging to
Ghemmenich

Person details
Person details

[664] Henrick (Hendrik) Jacobs van Ghemmenich (male)

Additional remarks
Additional remarks
Inscriptions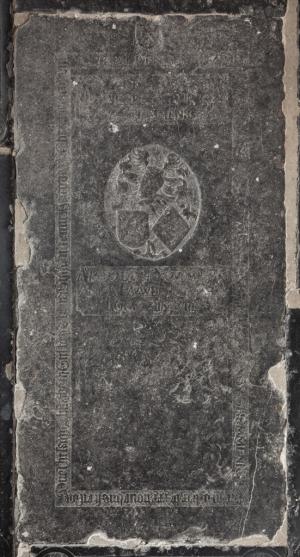 Indication of part
Indication of part
Tomb or floor slab (front)
Place of the inscription
Place of the inscription
along all four edges of the slab
Language(s)
Languages
Language specification
Transcription
Transcription
[Anno MVc L] XXII den [XX september sterf den eersamen] man Henrick [Jacobs van] Ghemmenich. Anno MVc L XIX den XXX novembris sterf die duechtsame Elijzabeth Gijsbertsdochter van Suijlen Henrick Jacobs van Ghemmenichs wijf.
Translation
English translation
In the year 1572, the 20th of September, died the honourable man Hendrik Jacobs van Ghemmenich. In the year 1569, the 30th of November, died the virtuous Elisabeth Gijsberts van Zuilen, Hendrik Jacobs van Ghemmenich's wife.
Dutch translation
Lay–out
Lay-out
The inscription of Hendrik is in Roman majuscules, while the inscription of Elisabeth is in Gothic textualis
Inscription mentioning
Name
[665] Elijzabeth Gijsbertsdochter van Suijlen (Elisabeth Gijsberts van Zuilen) (female)
Sex
female
Argumentation
the person is being commemorated
Name
[664] Henrick (Hendrik) Jacobs van Ghemmenich (male)
Sex
male
Argumentation
the person is being commemorated
Additional remarks
Additional remarks
The bracketed text is now illegible and taken from Zandveld, who completed the text with the help of an old register of graves.
Person Description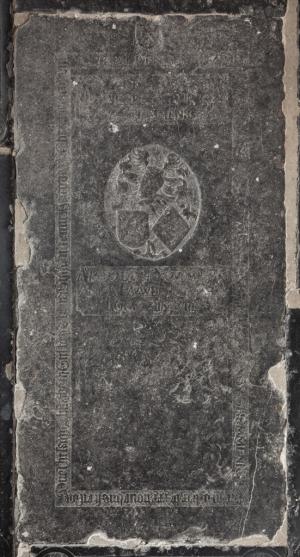 Personal identification number
Personal identification number
664
Personal details
Name
Henrick (Hendrik) Jacobs van Ghemmenich
Sex
male
Year/date of birth
Year/date of death
1572/09/20
Additional remarks
Husband of Elisabeth Gijsberts van Zuilen. Father of Wilhelm (Willem).
Social standing
Status
Arguments
Specification
Member of a convent
Religious order
Specification
Member of secular clergy
Type of secular clergy
Specification
Additional remarks
Additional remarks
Personal identification number
Personal identification number
665
Personal details
Name
Elijzabeth Gijsbertsdochter van Suijlen (Elisabeth Gijsberts van Zuilen)
Sex
female
Year/date of birth
Year/date of death
1569/11/30
Additional remarks
Wife of Hendrik Jacobs van Ghemmenich. Mother of Wilhelm (Willem).
Social standing
Status
Arguments
Specification
Member of a convent
Religious order
Specification
Member of secular clergy
Type of secular clergy
Specification
Additional remarks
Additional remarks