Description - Memorial Object
Floor slab of unknown persons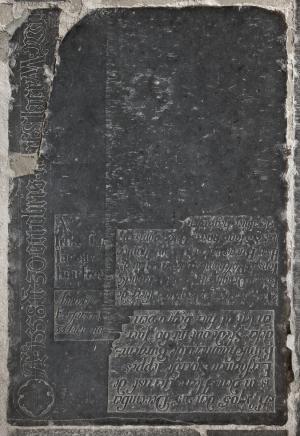 MeMO memorial object ID and name
MeMO memorial object ID
469
Name
Floor slab of unknown persons
Holding institution(s)
Holding institution(s)
Category
Type
Tomb monument, tomb slab or floor slab (physical object)
Classification
Tomb slab or floor slab
Short description
Stone slab with several (effaced) text fields, an inscription along the edge, and a roundel with a heraldic shield in the lower left corner
Remarks about category
General date
General date
1525-1575
Artist(s)
Artist(s)
Original institution(s)
Still in original institution?
probably yes

Location inside the institution
In situ?
(Probable) original location

in the church/chapel (exact location unknown)

Argumentation
Related memorial objects in the same institution
Additional remarks (original location)

Additional remarks

Memorial piece
Function
Specification
Additional remarks
Memorial monument or floor slab
Function
liturgical/religious and social
Grave findings
Additional remarks
• For social function: see Commemorated party. • No information is available about possible other functions, because the object is too damaged and/or no photograph is available.

Original function
Change in function
Remarks about function
Name
Specification

Members of the commemorated party
Commemorated person(s)

[694] [.]laer M. M[...] (unknown)

Commemorated institution(s)

Relation between commemorated persons
relation (type of relation unknown)
Relation specification
Additional remarks
More than one person commemorated originally. They were mentioned in one inscription (along the edge), which suggests a relationship but its nature is unknown. The heraldry is effaced.
Name
Composition of the commissioning party
Specification

Members of the commissioning party
Commissioning person(s)
Commissioning Institution(s)

Relation between commissioning party and commemorated party
Relation specification
Additional remarks
Material(s)
Specification
blue limestone
Traces of polychromy?
Reuse of older objects

Dimensions (cm)
Height x width x depth
172 x 114 x 0

Completeness
The top part of the slab is missing
Condition
The slab is worn and badly damaged (effaced)
Conservation
Technical research
Specification (technical research)

Alterations
Alterations

heraldry removed
inscription(s) added
inscription(s) removed

Specification
Three text fields added in the central field, of which at least two date from the 17th century (legible dates of death: 16[..] and 1662). In the 18th century two more text fields were added - placed in an upside-down position compared to the other texts - commemorating former mayor Sjoerdt Jeppes Klinkhamer (d. 1705) and his widow Janneke Jansen Posthumus (d. 1727). Furthermore, the upper half of the slab was largely effaced. This all caused the loss of parts of the edge inscription, the 17th-century text fields, and heraldry.

Additional remarks
Provenance
Provenance
Marks of ownership
Type(s) of mark(s) of ownership
Specification

Walle, Hessel de, Friezen uit vroeger eeuwen; Opschriften uit Friesland, 1280-1811 (Franeker 2007), 245-246; no. 1665
Zandveld, Frits, Register van grafzerken in de Martinikerk te Franeker, http://members.home.nl/frits.zandveld/zerken/zplatte.htm; no. 255

Other documentation
Register G. van der Heide (1993): record 255
Additional remarks
Additional remarks
Tomb or floor slab (front) of [469] Floor slab of unknown persons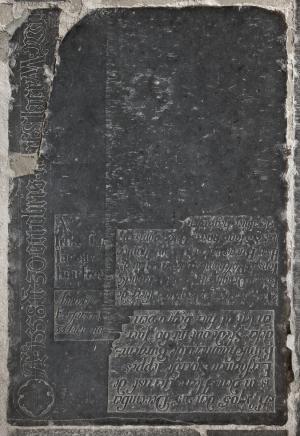 Indication of part
Indication of part
Tomb or floor slab (front)
Short description
Short description
Stone slab with several (effaced) text fields, an inscription along the edge, and a roundel with a heraldic shield in the lower left corner
Dimensions (cm)
Height x Width x Depth
172 x 114 x 0
Date
Year
1558
Specified date
1558/10/30
Argumentation

date of death given on the object

Specification
earliest legible date of death given on the slab
Additional remarks
Holding institution
Holding institution
Franeker, Martinikerk
Collection
Collection identifier
Online description link
Alternative or previous collections
Alternative of previous identifiers
Accessibility
Remarks about holding institution
The slab is located in the north aisle, northwestern corner, near column 30 (groundplan Cannegieter and Zandveld)
Contract
Contract
Artist(s)
Filiation
Filiation
Additional remarks
Additional remarks
Heraldry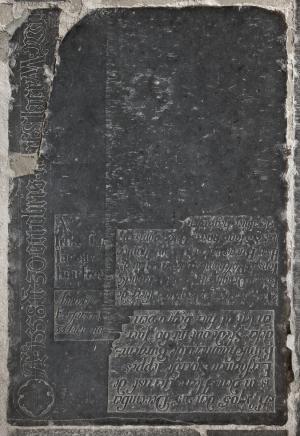 Indication of part
Indication of part
Tomb or floor slab (front)
Place of heraldry
Place of heraldry
in the upper half
Specification of heraldry
Type of heraldry
Specification
Shape of the shield
Late renaissance shield
Specification
Description of the shield
effaced (uitgehakt)
Description of the upper arms (helmet, crest and mantling)
Remarks
Additional parts of the achievement
Type of supporter
Specification
Motto
English translation of the motto
Insignia or attributes
Heraldry belonging to
Heraldry belonging to
Additional remarks
Additional remarks
Indication of part
Indication of part
Tomb or floor slab (front)
Place of heraldry
Place of heraldry
in the lower left corner, inside a roundel
Specification of heraldry
Type of heraldry
Specification
Shape of the shield
Late renaissance shield
Specification
Description of the shield
worn (versleten)
Description of the upper arms (helmet, crest and mantling)
Remarks
Additional parts of the achievement
Type of supporter
Specification
Motto
English translation of the motto
Insignia or attributes
Heraldry belonging to
Heraldry belonging to
Additional remarks
Additional remarks
Inscriptions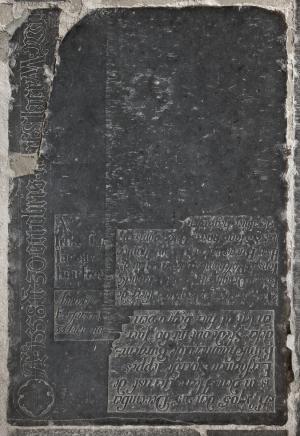 Indication of part
Indication of part
Tomb or floor slab (front)
Place of the inscription
Place of the inscription
along the lower and left edges of the slab
Language(s)
Languages
Language specification
Transcription
Transcription
[...]. Anno 1558 den 30 octobris sterf [.]laer M. M[...].
Translation
English translation
[...]. In the year 1558, the 30th of October, died [...].
Dutch translation
Lay–out
Lay-out
Raised Gothic textualis
Inscription mentioning
Name
[694] [.]laer M. M[...] (unknown)
Sex
unknown
Argumentation
the person is being commemorated
Additional remarks
Additional remarks
All four edges of the slab were probably inscribed originally (see Physical description). The last part of the inscription is incomplete and difficult to interpret. De Walle (2007) reads 'Claer' but is the first letter of the name really a 'c'?
Person Description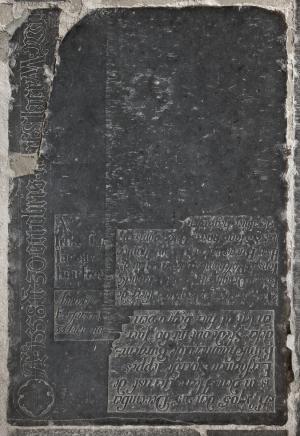 Personal identification number
Personal identification number
694
Personal details
Name
[.]laer M. M[...]
Sex
unknown
Year/date of birth
Year/date of death
1558/10/30
Additional remarks
Social standing
Status
Arguments
Specification
Member of a convent
Religious order
Specification
Member of secular clergy
Type of secular clergy
Specification
Additional remarks
Additional remarks