Description - Memorial Object
Floor slab of Ode Huinga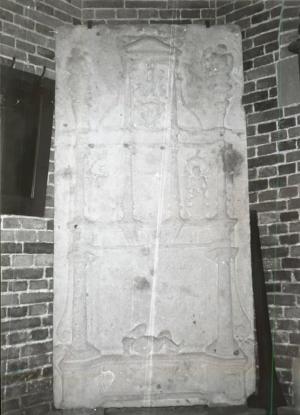 MeMO memorial object ID and name
MeMO memorial object ID
47
Name
Floor slab of Ode Huinga
Holding institution(s)
Holding institution(s)

Uithuizermeeden, Mariakerk

Category
Type
Tomb monument, tomb slab or floor slab (physical object)
Classification
Tomb slab or floor slab
Short description
Worn stone slab with the effigy of a recumbent human figure(?), an inscription and heraldry within an architectural framework decorated with human figures, angels and masks
Remarks about category
General date
General date
1550-1575
Artist(s)
Artist(s)
Original institution(s)
Still in original institution?
yes

Location inside the institution
In situ?
no
(Probable) original location
Argumentation
In 1845 the mortal remains of Ode and Rodolf Huinga were found near the high altar, not in the family vault. See: http://home.kpn.nl/ogroke2/index.htm
Related memorial objects in the same institution
Additional remarks (original location)

Additional remarks

Memorial piece
Function
Specification
Additional remarks
Memorial monument or floor slab
Function
liturgical/religious and didactic
Grave findings
Additional remarks
Inscription and/or decoration with a didactic statement, usually with references to the mortality of mankind/variations on 'Remember that you will die'.

Original function
Change in function
Remarks about function
Name
Ode Huynge (Ode Huinga)
Specification

Members of the commemorated party
Commemorated person(s)
Commemorated institution(s)

Relation between commemorated persons
no relation (only one person mentioned/depicted)
Relation specification
Additional remarks
Name
Composition of the commissioning party
Specification

Members of the commissioning party
Commissioning person(s)
Commissioning Institution(s)

Relation between commissioning party and commemorated party
Relation specification
Additional remarks
Material(s)
Specification
Sandstone
Traces of polychromy?
Reuse of older objects

Dimensions (cm)
Height x width x depth
210 x 105 x 0

Completeness
Condition
The slab is considerably worn
Conservation
Technical research
Specification (technical research)

Alterations
Alterations
Specification

Additional remarks
Provenance
Provenance
The slab was removed from its original location in the choir before 1870
Marks of ownership
Type(s) of mark(s) of ownership
Specification

Alma, Redmer, Groninger gedenkwaardigheden, http://www.redmeralma.nl; 471
Alma, Redmer, Portretzerken in Groningen, Groninger kerken 22 (2005), 105-108, 117-120, 118-119
Pathuis, A., Groninger gedenkwaardigheden; teksten, wapens en huismerken van 1298-1814 (Assen/Amsterdam 1977), 134; no. 471

Other documentation
Inventory SKKN: church 1680, object 16
Additional remarks
Additional remarks
The design of the tomb slab is clearly recognizable in a drawing made by J.E.H. Hooft van Iddekinge around 1870 (see publication Alma in Groninger Kerken).
Tomb or floor slab (front) of [47] Floor slab of Ode Huinga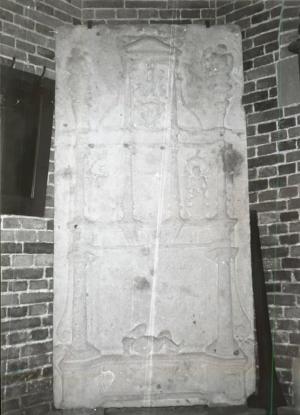 Indication of part
Indication of part
Tomb or floor slab (front)
Short description
Short description
Worn stone slab with the effigy of a recumbent human figure(?), an inscription and heraldry within an architectural framework decorated with human figures, angels and masks
Dimensions (cm)
Height x Width x Depth
210 x 105 x 0
Date
Year
1562
Specified date
1562/12/20
Argumentation

date of death given on the object

Specification
Additional remarks
Holding institution
Holding institution
Uithuizermeeden, Mariakerk
Collection
Collection identifier
Online description link
Alternative or previous collections
Alternative of previous identifiers
Accessibility
Remarks about holding institution
The slab is placed against the south wall of the tower portal
Contract
Contract
Artist(s)
Filiation
Filiation
The tomb slab shares similarities with an epitaph in the German village Dykhausen
Additional remarks
Additional remarks
Heraldry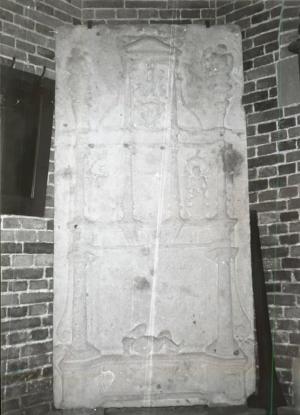 Indication of part
Indication of part
Tomb or floor slab (front)
Place of heraldry
Place of heraldry
bovenin
Specification of heraldry
Type of heraldry
Specification
Shape of the shield
Specification
Description of the shield
worn away (afgesleten)
Description of the upper arms (helmet, crest and mantling)
Remarks
Additional parts of the achievement
Type of supporter
Specification
Motto
English translation of the motto
Insignia or attributes
Heraldry belonging to
Heraldry belonging to
Additional remarks
Additional remarks
vastgehouden door een engel
Indication of part
Indication of part
Tomb or floor slab (front)
Place of heraldry
Place of heraldry
halverwege, links
Specification of heraldry
Type of heraldry
Specification
Shape of the shield
Specification
Description of the shield
worn away (afgesleten)
Description of the upper arms (helmet, crest and mantling)
Remarks
Additional parts of the achievement
Type of supporter
Specification
In nis links, vastgehouden door een mens
Motto
English translation of the motto
Insignia or attributes
Heraldry belonging to
Heraldry belonging to
Additional remarks
Additional remarks
Indication of part
Indication of part
Tomb or floor slab (front)
Place of heraldry
Place of heraldry
halverwege, rechts
Specification of heraldry
Type of heraldry
Specification
Shape of the shield
Specification
Description of the shield
worn away (afgesleten)
Description of the upper arms (helmet, crest and mantling)
Remarks
Additional parts of the achievement
Type of supporter
Specification
In nis rechts, vastgehouden door een mens
Motto
English translation of the motto
Insignia or attributes
Heraldry belonging to
Heraldry belonging to
Additional remarks
Additional remarks
Indication of part
Indication of part
Tomb or floor slab (front)
Place of heraldry
Place of heraldry
at the top, centre
Specification of heraldry
Type of heraldry
Marshalled arms (2 coats of arms in one shield per pale or per fess)
Specification
Shape of the shield
Late renaissance shield
Specification
Description of the shield
per pale, I: unrecognisable; II: per fess, a: plain; b: a fess (gedeeld, I: onherkenbaar; II: doorsneden, a: effen; b: een dwarsbalk (Tamminga))
Description of the upper arms (helmet, crest and mantling)
crest: an eagle (helmteken: een adelaar (=Huinga))
Remarks
Additional parts of the achievement
Type of supporter
Specification
Motto
English translation of the motto
Insignia or attributes
Heraldry belonging to
Heraldry belonging to
Additional remarks
Additional remarks
Indication of part
Indication of part
Tomb or floor slab (front)
Place of heraldry
Place of heraldry
bovenin
Specification of heraldry
Type of heraldry
Specification
Shape of the shield
Specification
Description of the shield
worn away (afgesleten)
Description of the upper arms (helmet, crest and mantling)
Remarks
Additional parts of the achievement
Type of supporter
Specification
Motto
English translation of the motto
Insignia or attributes
Heraldry belonging to
Heraldry belonging to
Additional remarks
Additional remarks
Vastgehouden door een engel
Inscriptions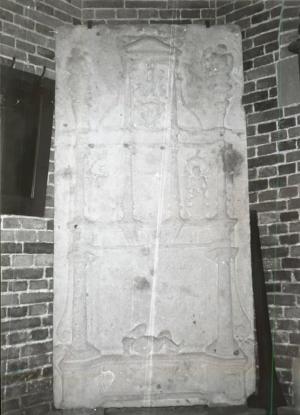 Indication of part
Indication of part
Tomb or floor slab (front)
Place of the inscription
Place of the inscription
on the lower part of the slab
Language(s)
Languages
Language specification
Transcription
Transcription
Anno 1562, op den 20 december stilo vetero, is in Godt verstorven de eerbaere en veel deugtsaeme juffer Ode Huynge. Mors ultima linea rerum.
Translation
English translation
In the year 1562, on the 20th December in the old style, died in the Lord the honourable and very virtuous mistress Ode Huynge. Death is the final boundary of things.
Dutch translation
In het jaar 1562, op de 20ste december in de oude stijl, is in God verstorven de eerbare en heel deugdzame juffer Ode Huynge. De dood is de grenslijn van [alle] dingen.
Lay–out
Lay-out
Inscription mentioning
Name
[44] Ode Huynge (female)
Sex
female
Argumentation
the person is being commemorated
Additional remarks
Additional remarks
After Horace
Decorations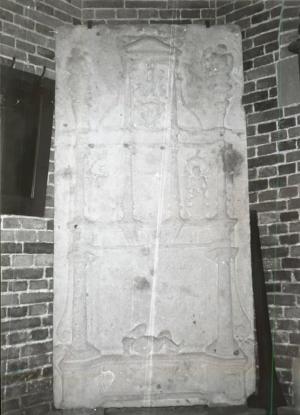 Indication of part
Indication of the part
Tomb or floor slab (front)
Type(s) of decoration(s)
Type(s) of decoration(s)

architectural decorations
human figures (incl. skeletons and skulls)
angels, putti or cherubs
mask(s)

Description of the decoration(s)
Description of the decoration(s)
Depicted allegories
Depicted allegories
Additional remarks
Additional remarks
Person Description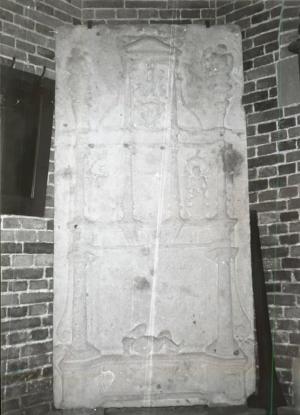 Personal identification number
Personal identification number
44
Personal details
Name
Ode Huynge
Sex
female
Year/date of birth
Year/date of death
1562/12/20
Additional remarks
Ode Huinga was a sister of Rodolf, who had a tomb in the choir of the church
Social standing
Status
nobility
Arguments
Specification
The Huinga family was an influential family in the area of Uithuizermeeden and lived in the house (a so called 'borg') called 'Ungersma', near the village.
Member of a convent
Religious order
Specification
Member of secular clergy
Type of secular clergy
Specification
Additional remarks
Additional remarks